H
appy Friday!!!
Another week just flew by without any notice whatsoever!! Am I the only one who thinks 24 hours isn't enough these days?
Sounds pretty sad, huh?!?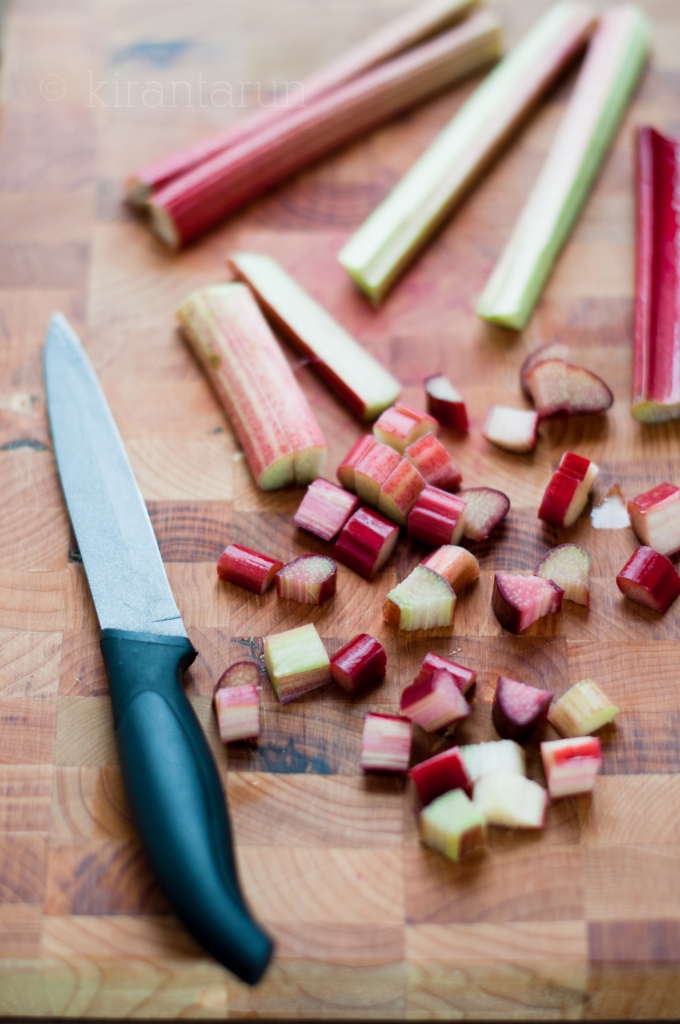 On a more cheerful note, I've been updating my Facebook page pretty often these days. Daily, to be exact. I love that its a place where there's constant engaging discussions over food, food and more food.
Well, we do discuss stuff that is not related to food too — but food definitely dominates the overall subject matter 😉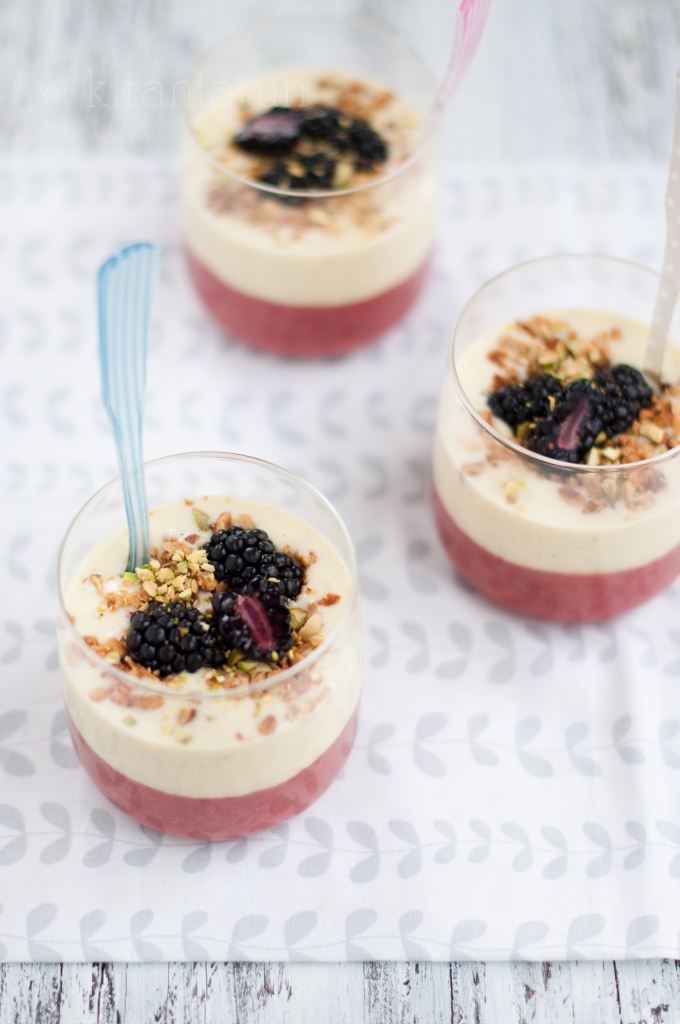 For example, I posted a question 2 days ago — Are you a "clean-it-as-you-go" while preparing food in the kitchen or "deal-with-the-aftermath-later" kinda person?
And the replies were pretty intimidating. Well, nothing wrong in that except I was one of very few to admit that I'm a deal-with-the-aftermath-later gal.
Pretty daunting, huh? Or am I just a slacker?
Either way, I'm off to drown my sorrows into some pretty amazing verrines. Oh rhubarb and coconut — I can't live without thee.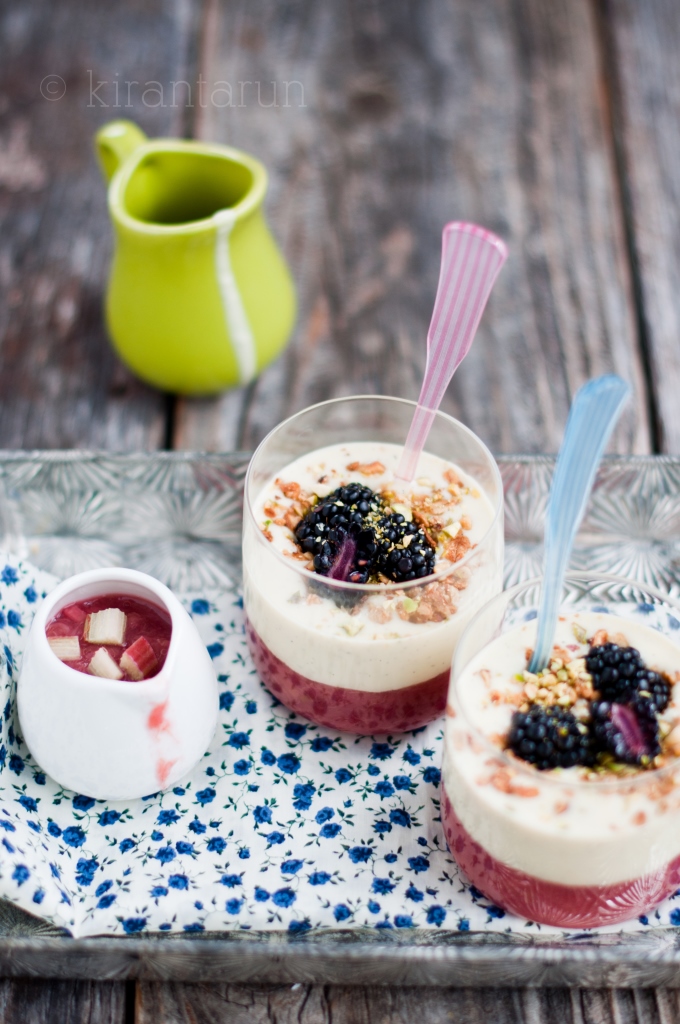 Print This Recipe
Ingredients:
For rhubarb compote:
6 medium stalks of rhubarb (almost 3 cups of cubed rhubarb)
1/3 cup water
1/3 cup sugar
1/4 tsp cardamom powder
For coconut custard:
1.5 cups of full fat coconut milk
1 vanilla bean
3 small egg yolks
3 tbsp sugar
2 tbsp fine coconut powder (or 2 tsp cornstarch)
For hazelnut crumble:
1/3 cup old-fashioned oatmeal
1/3 cup hazelnuts, chopped
2 tbsp hazelnut flour
2 tbsp honey
1 tbsp cold butter
Directions:
Prepare rhubarb compote by heating a small saucepan on medium. Add chopped rhubarb, water and sugar. Stir to combine and bring to a simmer. Keep stirring in between until rhubarb breaks down into a compote. This should take about 4 minutes.

Just before removing compote, sprinkle in some cardamom powder. Stir and allow compote to cool down completely before chilling in the refrigerator.

To prepare coconut custard, add coconut milk and slited vanilla bean into a saucepan. Heat on medium and bring to a gentle simmer. Turn off heat and allow vanilla bean to infuse into coconut milk for 15 minutes. Strain mixture into a measuring pitcher.

In a bowl, combine egg yolks, sugar and fine coconut powder. Drizzle in warm vanilla infused coconut milk slowly while whisking egg mixture to avoid scrambling. Return the mixture into saucepan and gently cook it over medium-low heat for a few minutes. Do not simmer, just continue whisking until mixture thickens into a light custard. This should take 5 to 7 minutes.
Remove coconut custard into a bowl, cover the top of cream with a layer of plastic wrap (to avoid forming a skin) and refrigerate to chill.
Preheat oven to 325F. In a bowl, add all the ingredients to prepare hazelnut crumble. Stir to coat and combine. Spread it all on a baking sheet and bake for 8 to 10 minutes. Rotate and toss ingredients in between for even toasting and avoid burn. Remove from oven, transfer onto a plate to completely cool.
To assemble verrines: begin by spooning a thick layer of rhubarb compote into the bottom of a glass, followed by a layer of coconut custard, sprinkle some hazelnut crumble and topped it all with blackberry halves and chopped pistachios for color!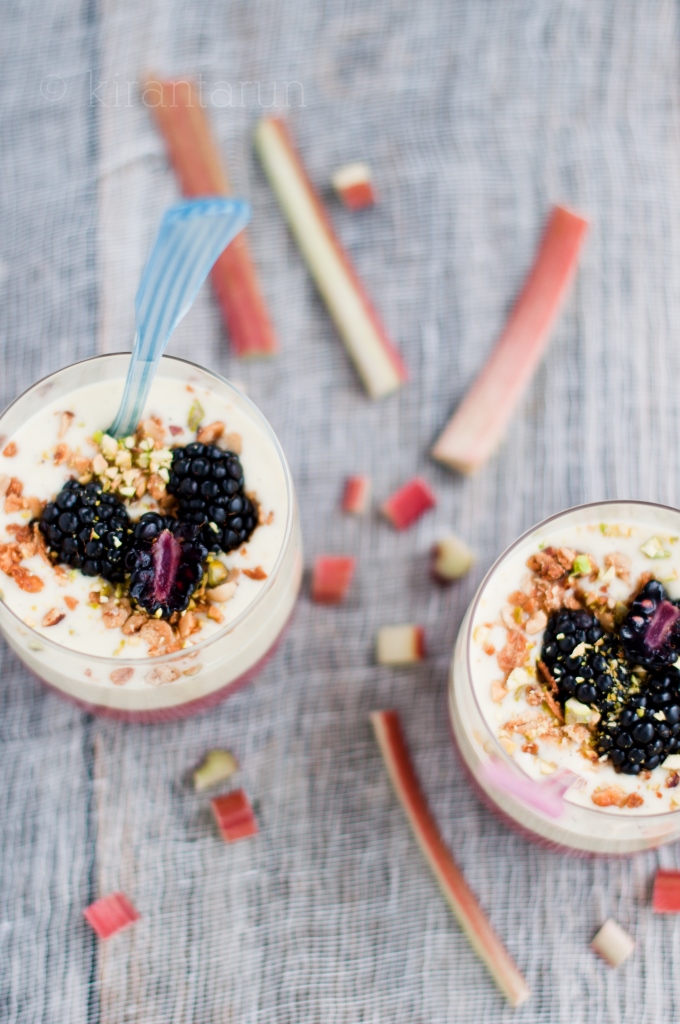 And now, it's your turn —
Are you a "clean-it-as-you-go" while preparing food in the kitchen or "deal-with-the-aftermath-later" kinda person?
Truth only, please 😀