O
ne of my fondest childhood memories has to be celebrating Christmas. I feel fortunate enough to have been nurtured in a society that celebrates different religions, cultures and rituals.
And growing up in a joint family with my cousins had some colorful advantages. Like when we all would insist to put up a Christmas tree one year.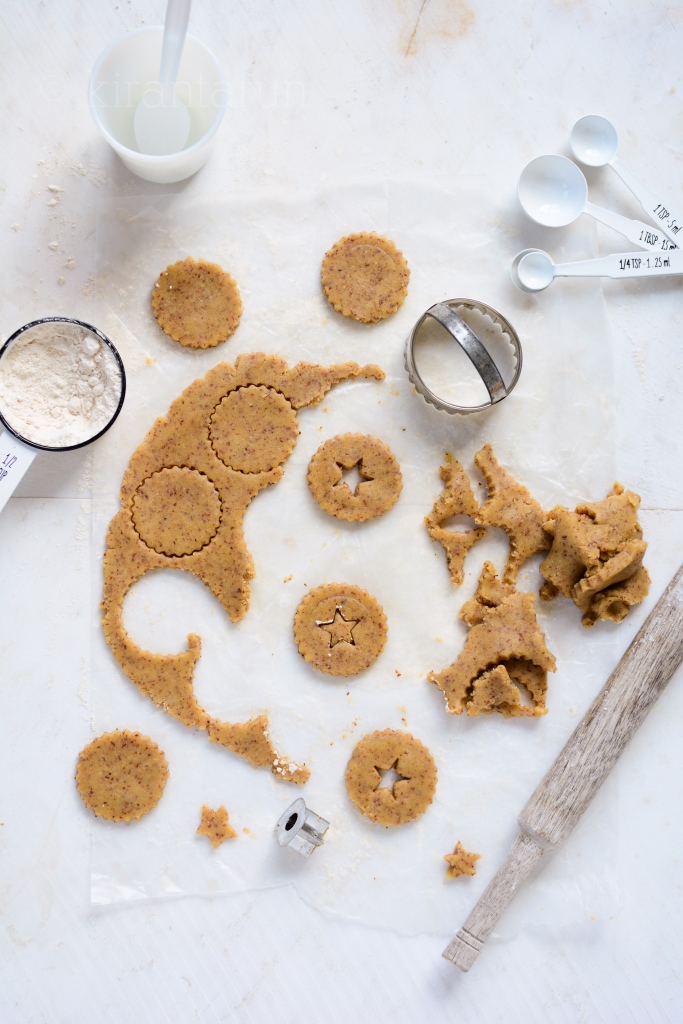 It wasn't a grand celebration but we insisted for a small tree, some homemade cookies and presents. We couldn't afford it all so we had to DIY a lot and that was so much fun! I mean, in a joint family with an aunt, uncle and cousins — each and everyone brainstorming wonderful ideas — the results were pretty impressive!
I want it all back, I want to be in the past just to appreciate it all better 🙂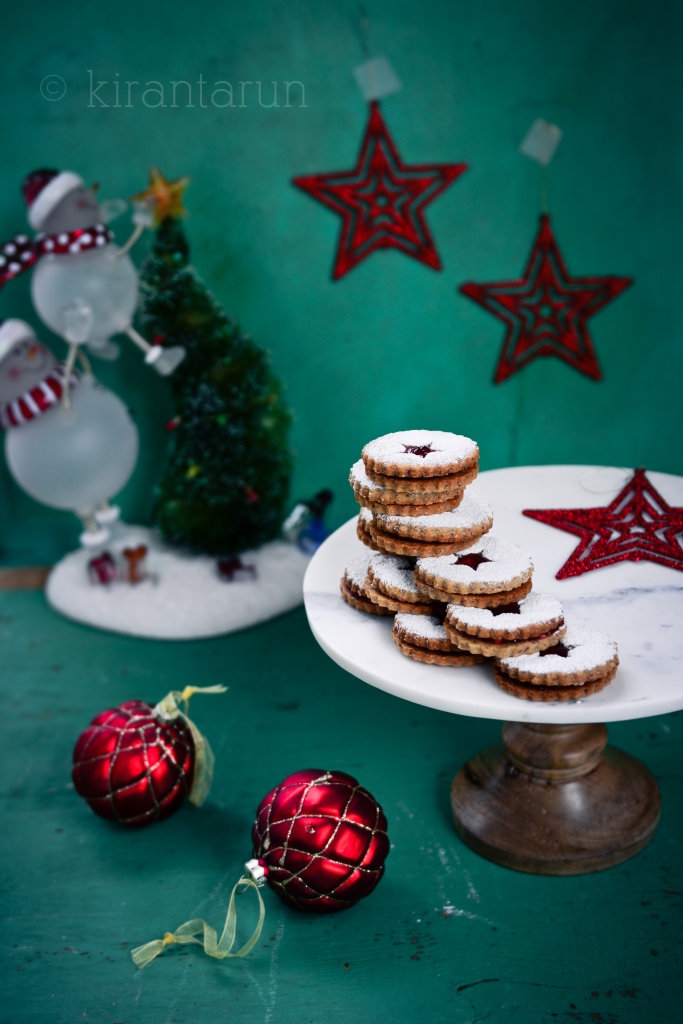 I recall decorating a small tree, with pieces of raw cotton to act as snow. Colorful cardboard cutouts in various shapes acted as ornaments. Shiny ribbons made it festive and reusable Diwali lights lit up the tree at night.
It was magical and we were just kids having so much fun, soaking it all up! Including inhaling these wonderful linzer cookies. Oh, the memories 🙂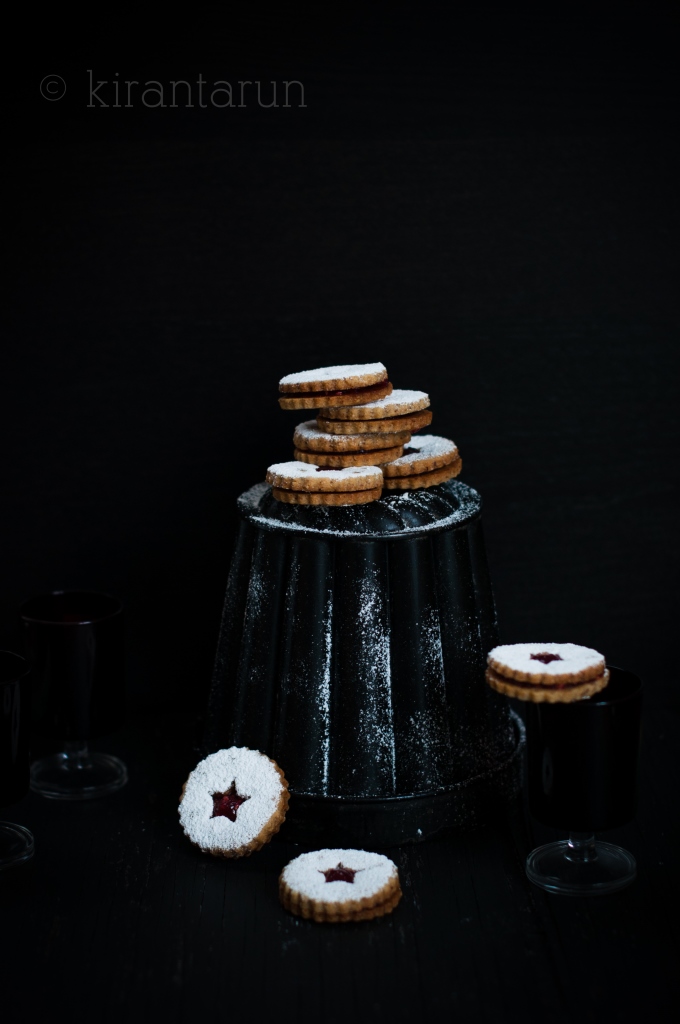 Print This Recipe
Makes 30 to 32 sandwiched cookies
Ingredients:
1.5 cups of whole wheat pastry flour
1.5 cups of almond flour/meal, sifted
1/4 tsp salt
1.5 sticks (6 oz) of butter, unsalted and softened at room temperature
1 egg, at room temperature
1 tsp vanilla extract
1/2 cup seedless raspberry jam
confectioner/powdered sugar
Directions:
Preheat oven to 350F. Line two cookie sheets with parchment or silpat. Set aside.
In a stand mixer fitted with paddle, add softened butter and sugar. Cream on medium speed until light, for 2 minutes.
Add an egg and vanilla extract. On low speed, stir just to combine.
Sift all the dry ingredients (flours and salt) in a large bowl. Add it all into the stand mixer.
Cream cookie dough on medium speed until just combined.
Divide cookie dough onto two cling wraps, form it into flatten disks and refrigerated for at least an hour.
On a lightly floured surface, roll out each piece of chilled dough to a 1/8 inch thickness (keep remaining dough chilled). If dough becomes too soft to roll out, rewrap and chill until firm.
Using a round or fluted cookie cutter, cut out as many cookies as possible from the dough into rounds and place on parchment lined cookie sheets, arranging about 1 inch apart.
Using smaller decorative center cutters, cut out centers from half of cookies.
Bake for 10 to 12 minutes, rotating the cookie sheets halfway. Cool slightly on the cookie sheets, before transferring to wire racks to cool completely.
Dust confectioners' sugar on the cookies with holes. Spread 1/2 tsp of raspberry jam on the remaining cookies and sandwich it with the confectioners' sugar covered cookies.
Store cookies in an airtight container at room temperature for up to 5 days.
Enjoy cookies with a side of hot tea or coffee. Merry Christmas!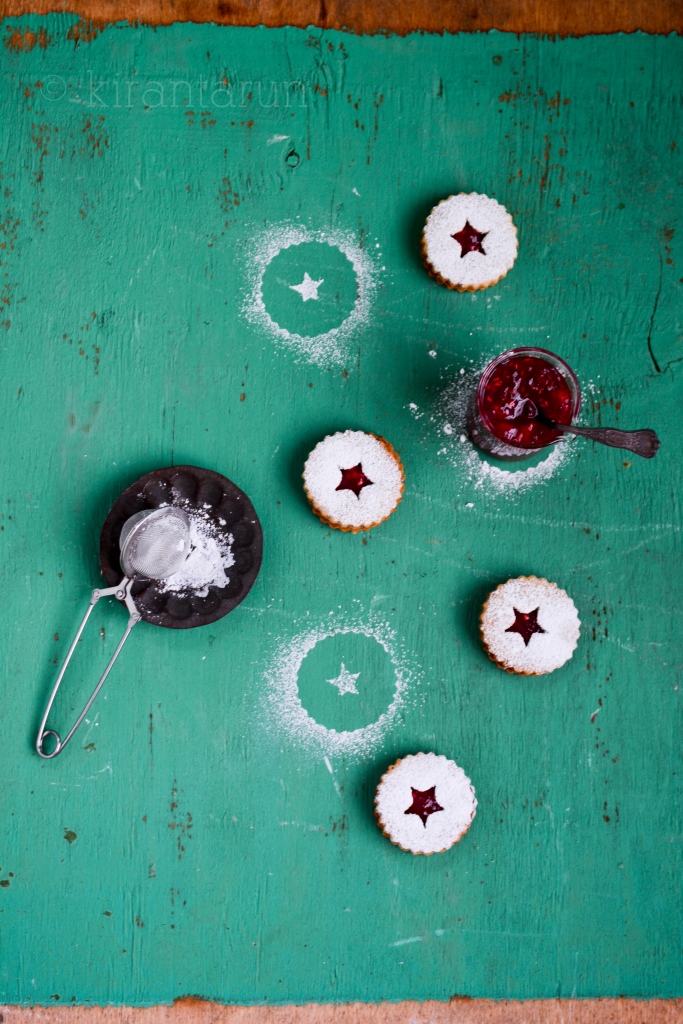 Have a wonderful weekend, my friends and a very Happy and Merry Christmas!! 🙂
What were your childhood Christmas memories?