A
fter a long week of celebrations, good food and sugar rush, I needed a break from kitchen chores. Heck, I needed a break from household chores.
Someone please send me a maid.
This recipe isn't exactly what one would make or indulge during Diwali or to offer as a treat during Halloween. Since I've complained about kitchen chores and feeling blessed with cooler temperatures these days – I whipped up a simple, hearty and delicious soup. You can definitely have this as an appetizer or entree. I would have it for lunch and dinner, all day long in cold winter.
Have you noticed my pumpkin craze for the last few days? Well, it never gets old.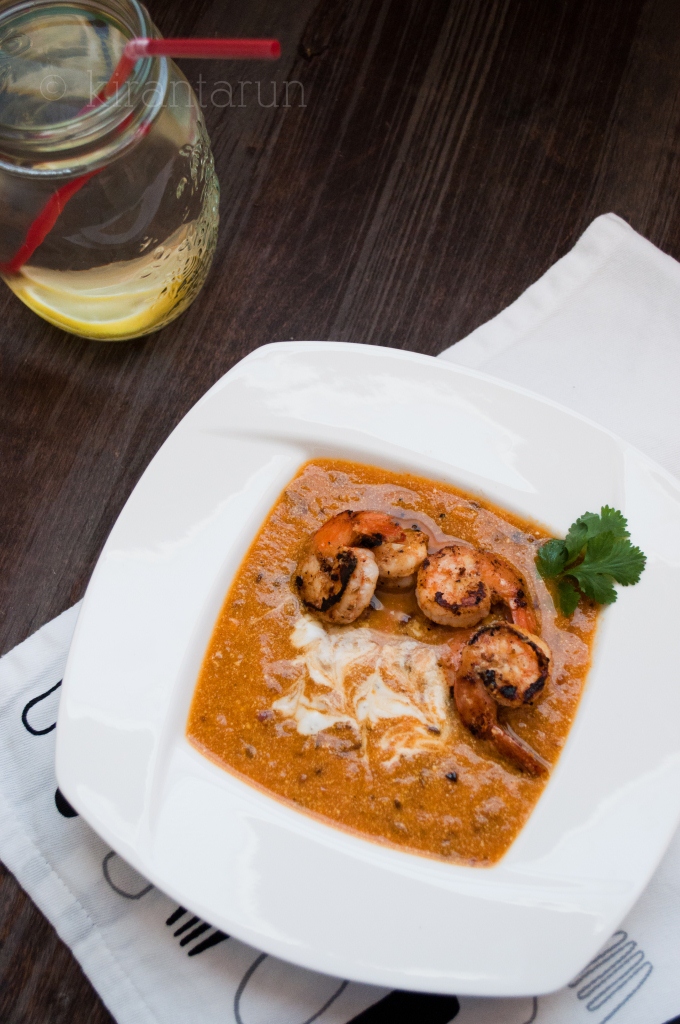 A note about seafood – I am finally no longer a scallop-tasting-virgin. We feasted great seafood for dinner with some friends a few nights ago. But I must say, it was a dissapointing scallop experience. Why or why does it happen to me? I was so looking forward to a great taste of scallops. Perhaps the expectation of it was too high? I totally love my share of crabs, shrimps and fish every now and then. Perhaps it wasn't done well. I just find it a little too bland for my taste.
This soup with a healthy dose of grilled shrimps, definitely made up for the failed scallop experience. Well, you loose some – you gain some.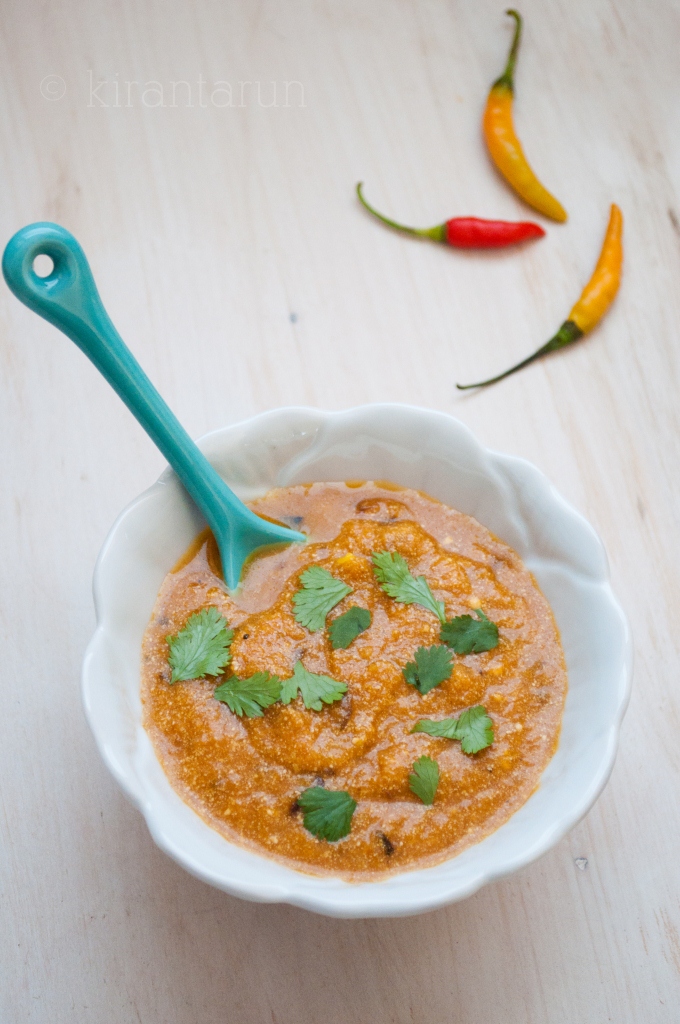 Print This Recipe
Ingredients:
1 shallot, finely minced
1 heaping tbsp clarified butter/ghee
1/2 tsp cumin seeds
1/2 tsp ginger paste
1 green chili, finely minced
1/2 cup pumpkin puree
1/3 cup low fat yogurt
1 cup vegetable broth
1/2 cup hot water
1/2 tsp spice mix (a mix of cinnamon, cloves, nutmeg and cardamom powder) or pumpkin pie spice
salt & pepper to taste
1 tbsp olive oil for grilled shrimp
Shrimp marinade
12 – 14 pieces of shrimp, peeled and deveined
1/2 tsp cumin powder
1/2 tsp coriander powder
1/2 tsp salt
1/2 tsp chili powder (for mild, add less)
1- 2 tbsp low fat yogurt
Directions:
In a bowl, add marinade ingredients and mix till each shrimp is coated in marinade. Marinate for 30 minutes.
Heat a non-stick skillet on medium high. Add ghee, and once its hot throw in cumin seeds.
Wait till cumin seeds crackle and add finely minced shallots. Fry till fragrant.
Once shallots are translucent, add in ginger paste and minced green chili (skip the chili if you want to avoid spiciness).
Add pumpkin puree, vegetable broth, water and bring the soup to a simmer for 10 minutes. Stir occasionally.
Sprinkle in some salt & pepper.
Remove soup from heat and add a healthy dollop of yogurt. Mix to combine.
Heat a griddle or grill pan on medium high. Add a drizzle of olive oil and once the pan is hot, lay shrimps to grill for a few minutes on each side. It shouldn't take more than 4-5 minutes in total to grill shrimps.
Garnish soup with a few marinated grilled shrimps. Serve hot or room temperature.
And clearly this soup has to be serve with a nice chunk of
bread
. I would, if only I had more bread to photograph. Apparently, I was too hungry.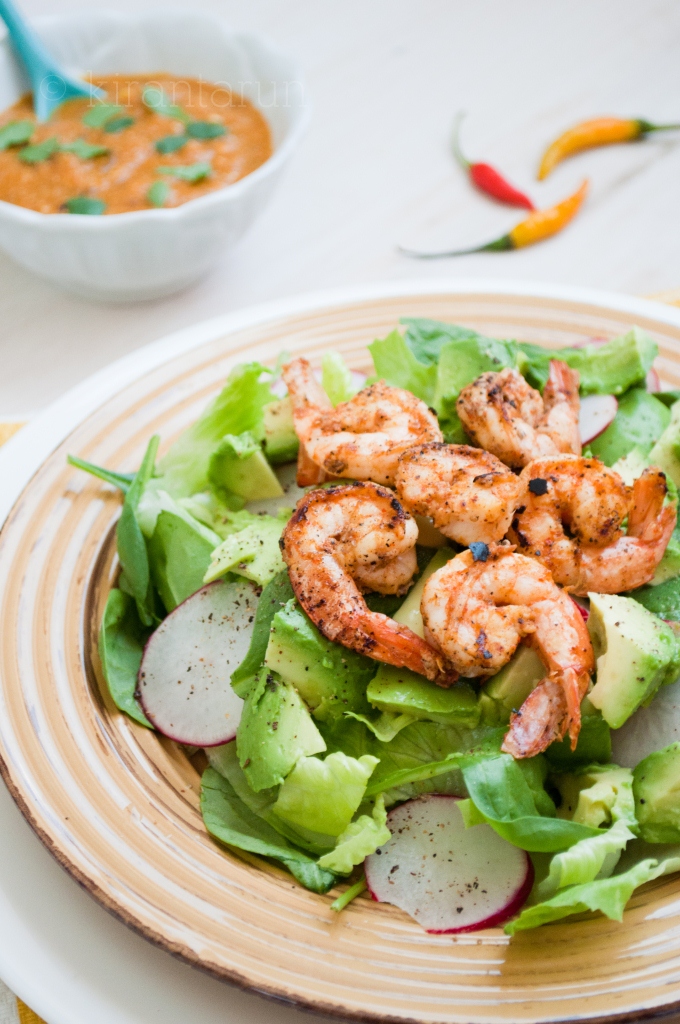 I had some leftover soup the next day. With the sun shining so bright, I was definitely not in a good mood to have hot soup. This soup tastes so good the next day, out of the fridge nice and chill. Coupled with a craving for a nice big salad, I made a huge bowl with: lettuce, sliced radishes, sliced avocado's, a generous sprinkle of black pepper and a nice twist of lemon juice, topped with a few marinated shrimps. Mmmm.. Lip-smackingly good.
I love coining words.
What is your favorite fall or comfort soup?