T
here's so many ingredients or foods that I won't live without. If I'm force to narrow down to
my top five favorites
, it has to be:
PUMPKIN
HUMMUS
OATMEAL
YOGURT
NUT BUTTERS
Mom's cooking has a special place in my heart 😉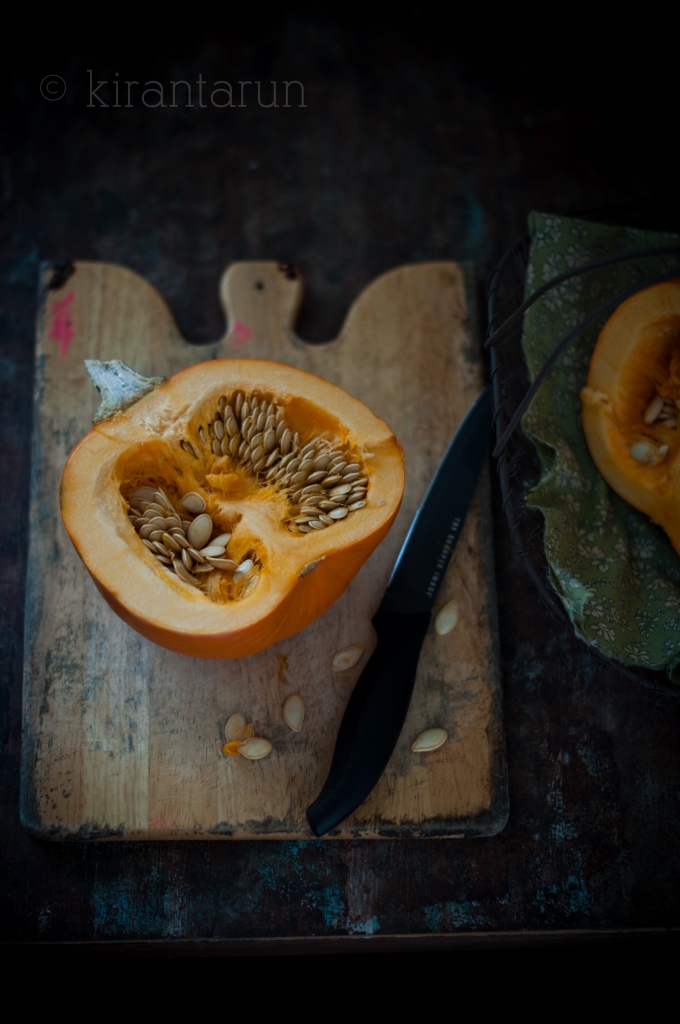 Naturally, the top two favorite foods has to collide someday. And mom was curious for a taste. So, off we went to scour the ingredients to make this hummus. While grocery shopping, all I wanted to spot was pumpkins. Sad eh? I missed it that much, but not so much when it costs an arm and a leg over here.
Whoopsies!
Unfortunately, we came home almost empty handed. Looks like I'll have to patiently wait for my return in order to devour. Until then, I'm elated with mom's cooking.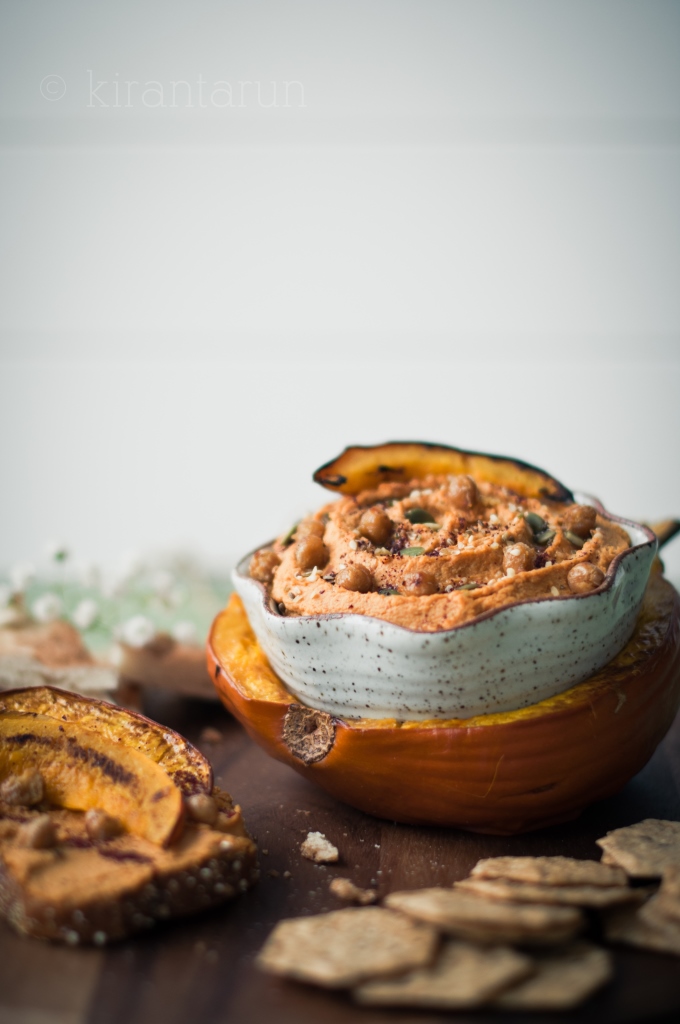 As for mom, she's just amazed at what all we make with pumpkins!
… "Promise, my world doesn't revolve just around pumpkins, Mom"… Well, who am I kidding 😉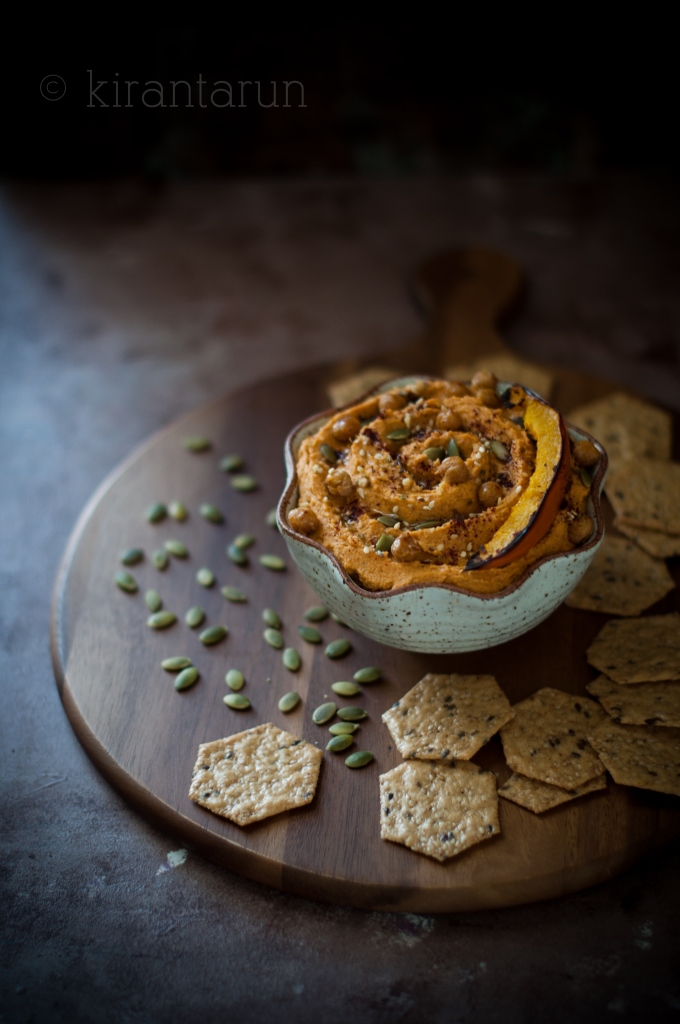 Print This Recipe
Ingredients:
1 small sweet pumpkin pie, halved
1 whole head of garlic, halved
1 cup cooked chickpeas
1 cup roasted pumpkin puree
1/3 cup tahini
1/2 medium lemon, juiced
1 tsp roasted garlic puree
3/4 tsp salt
1/4 tsp black pepper
1 tsp toasted cumin powder
1/2 tsp ground cinnamon
2 tsp harissa or roasted chili paste
some extra virgin olive oil
Optional: sumac, toasted chickpeas, pepita and sesame seeds
Directions:
Preheat oven to 400F. Line a baking sheet with foil.
Lightly oil pumpkin halves and place it on the baking sheet, cut side down. In a small foil, add halved garlic head, smear on some oil and wrap the foil tightly. Keep the foil on the same baking sheet with pumpkins.
Roast pumpkin and garlic for 30 minutes. Once done, remove from the oven to cool.
Once roasted pumpkin is cooled, scoop out the flesh and measure 1 cup. Add it into a food processor fitted with blade.
Add in the rest of ingredients right up to harrisa. Pulse to puree until smooth.
Before serving, drizzle some extra virgin olive oil, toasted chickpeas, sumac, pepita and sesame seeds. Serve it up with pita chips.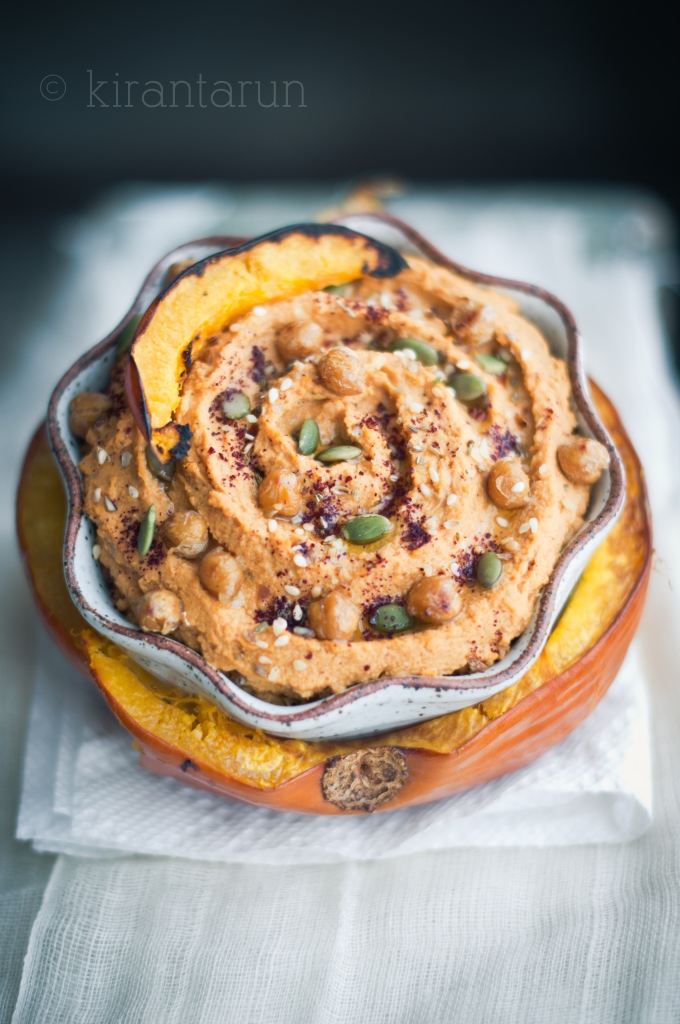 I know I'm supposed to be indulging with the family instead of daydreaming about pumpkins. But can you do me a favor? Make this pumpkin hummus and leave us a comment. Mom is anxious to read about your experience 🙂
Have a great week, friends!
What's your top 5 favorite foods/ingredients?