H
ey there!
A few things before I begin blabbering as usual:
I cannot thank you enough for supporting my efforts to raise donations for the victims of Support the Sandy movement.
There's still so much to do and we should continuously rally to rebuild the lives affected by Hurricane Sandy.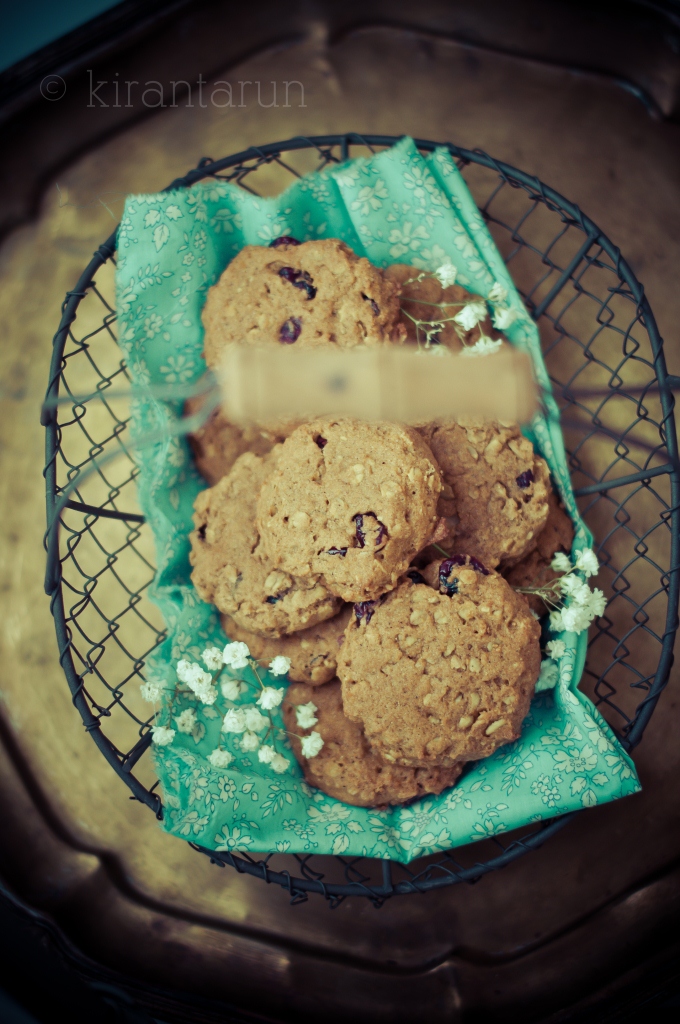 Onto celebrations —
I hope you are having a great week! A very Happy Diwali to family and friends celebrating the Festival of Lights!
It's gonna be Thanksgiving soon, and then Christmas. Throw in Black Friday and Cyber Monday craziness — I feel like a zombie trying to keep up with everything while traveling.
Could seriously use a cookie or two right about now.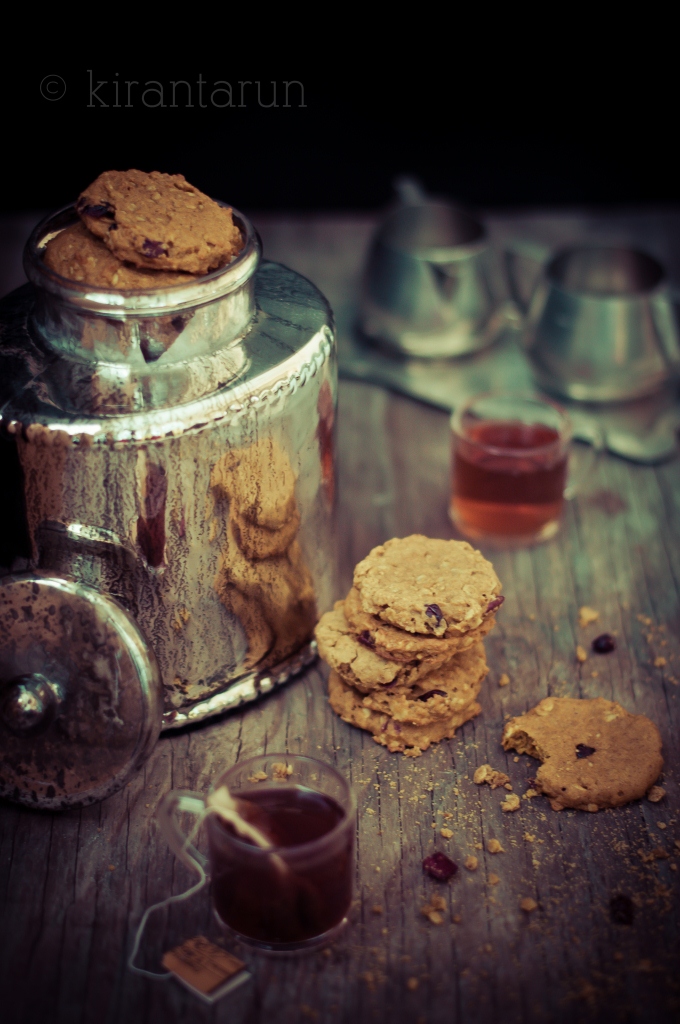 We have been traveling so much and I think it needs an update:
I'm unsure if you are aware of my personal blog, where I usually rant about our travels, marriage, restaurant reviews and everything in between.
There's a post about our recent trip to New York City. And it involves chattering about the best chicken meatballs we've ever tasted, macarons to die for (literally!) and biryani cart — all gobbled up in the Big Apple.
If you weren't drooling enough, here's something that can get you going again.
These may not look like fancy cookies from a famous NYC bakery, but they sure are tasty. At least, I'm willingly sharing the recipe 😉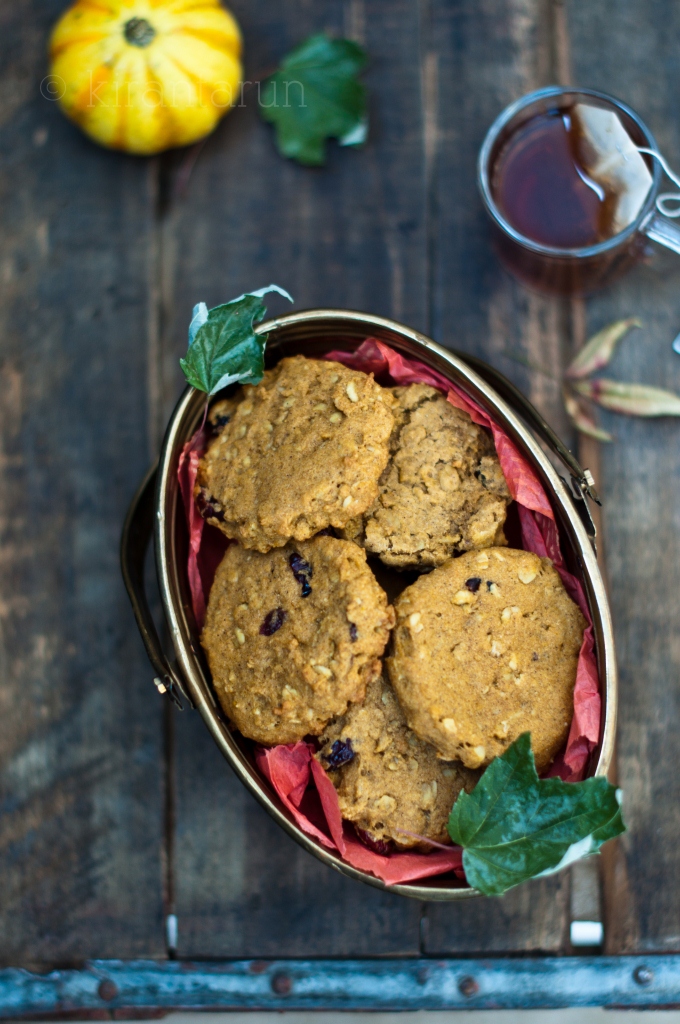 Print This Recipe
Makes 26 cookies
Ingredients:
1.5 cups whole wheat pastry flour
1 cup rolled oats
1/4 cup bran wheat
1/4 tsp salt
1/2 tsp baking soda
1 tsp cinnamon powder
1/4 tsp nutmeg powder
1/2 tsp allspice powder
1/4 ground ginger
1/3 cup dried cranberries
1 whole organic egg
1/2 cup light brown sugar
1/2 cup almond oil
1/2 cup pumpkin puree
1 tsp vanilla extract
Directions:
Preheat oven to 350F. Line two baking sheets with parchment paper or silicone liner.
In a large bowl, mix all dry ingredients thoroughly. Fold in dried cranberries and set aside.
Cream 1 egg and light brown sugar in a stand mixer (or hand mixer) on medium for 1 minute. Add almond oil, pumpkin puree and vanilla extract. Beat until thoroughly mixed.
With the stand mixer on lowest setting, slowly fold in the dry ingredients with wet ingredients. Do not over-mix dough at this point.
Using a small cookie scoop, scoop out cookie dough on lined baking sheets. With the back of cookie scoop, gently press down cookie dough, and bake for 15 minutes.
Remove and allow cookies to rest on baking sheet for 5 minutes. Transfer cookies onto a cooling rack to cool completely.
Serve with a cuppa hot tea or latte.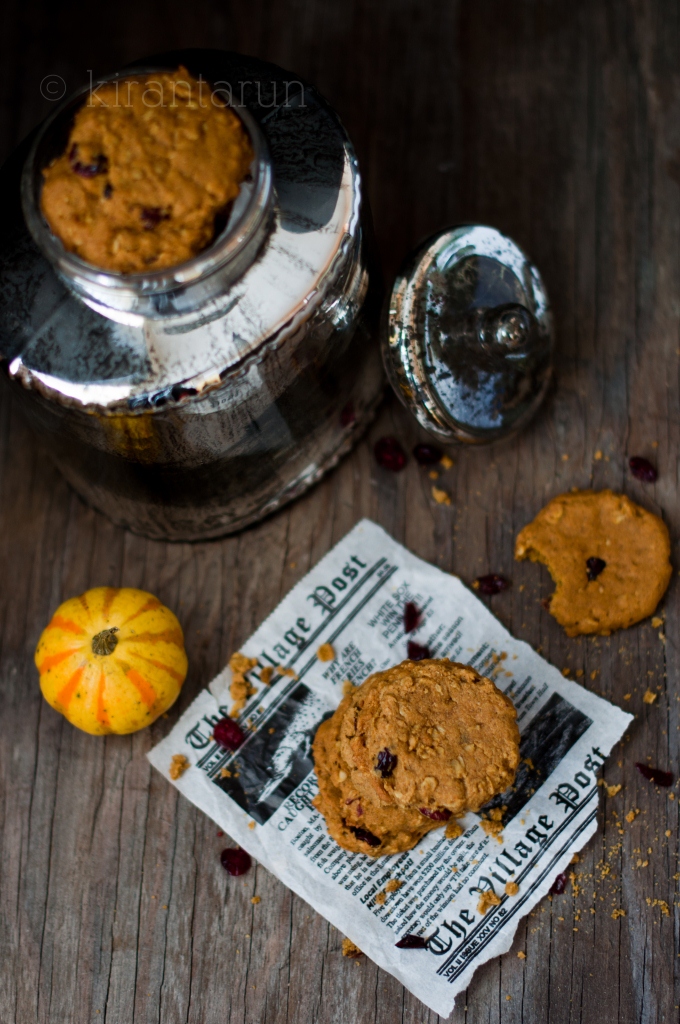 I don't know about you, but I'm just not willing to part with autumn. Nope. Especially with pumpkins. Can't wait to get home and dig into the freezer.
Yup! I froze some of these cookies at home for us. Only trouble is, when will we ever return home? Or how soon? 😀
Are you a frequent flier? Or do you hate traveling? What's your favorite place or where do you dream of traveling to?