H
ey there.
As I sit at my desk, typing away at the recipe for this post, I cannot help but ponder how much my life is now surrounded not only with family and friends — but with food.
I'm definitely not a trained chef or whatever — but like humanity has evolved, I'd love to think the same for the appreciation I have for food. There's a whole lotta sauce simmering in my head with so many ideas. And dare I say everything screams "food" all the time?
Yup, my life evolves around food. Most of the time.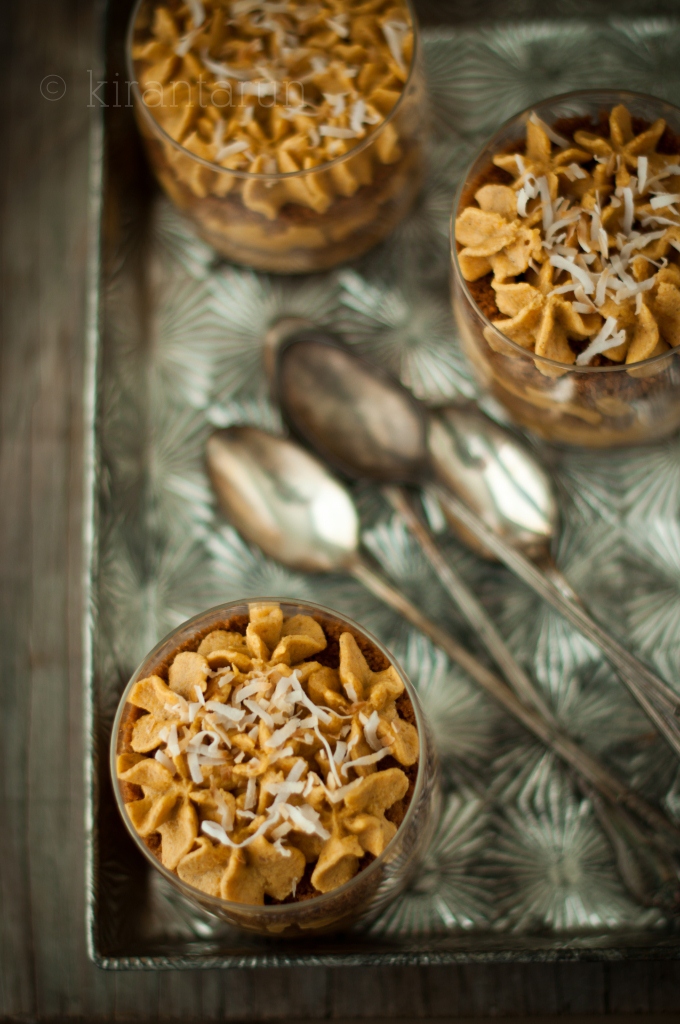 Cooking is sort of natural to me — I begin at a tender age of 12, where I was allowed to pan fry vegetables, naturally with an adult supervision.
But decorating desserts is a game changer for me. Really.
Its not that I dislike it — but it involves a mad set of skills. I have "mad" skills. Just not in baking or cake decorating.
Le sigh. Let me narrate to you an example.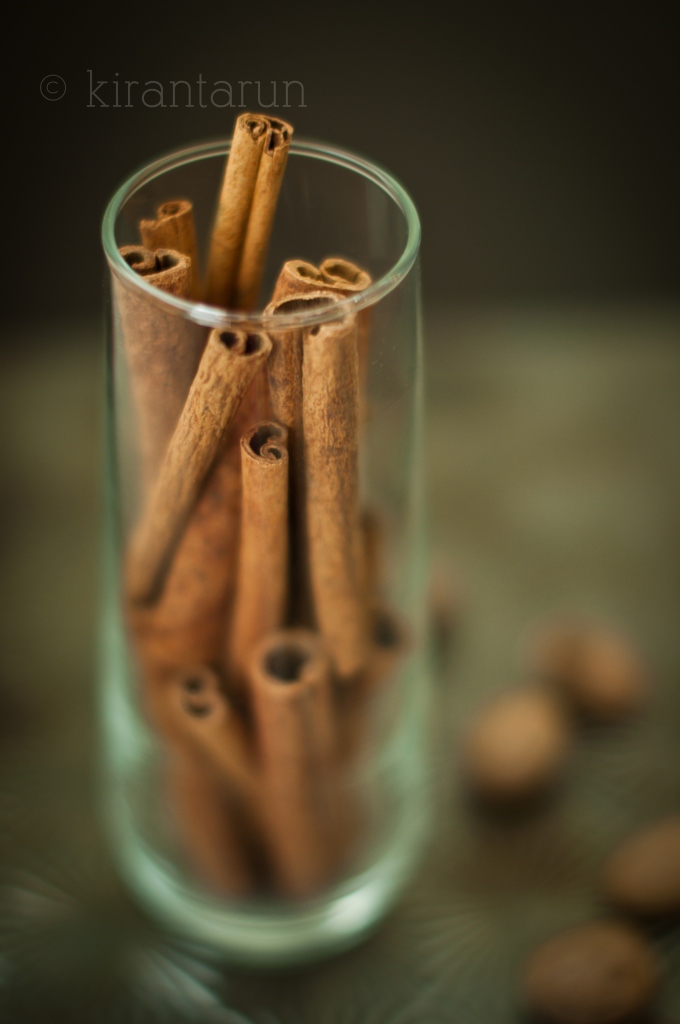 Making trifle is so easy, but layering it for a shot is so difficult. At least to me. First, I used a couple of spoons. And that definitely dirtied the dessert cups. And more spoons to wash.
Messy I tell ya.
Then I used different pastry bag tips to experiment. Definitely ate my weight along the way too. But still couldn't pipe fancily.
I almost threw in the towel, and was so tempted to just gobble it all up and call it quits.
But I'm a sharer. Nothing is consumed in my home without sharing. Even if that meant a teaspoon or a morsel of food.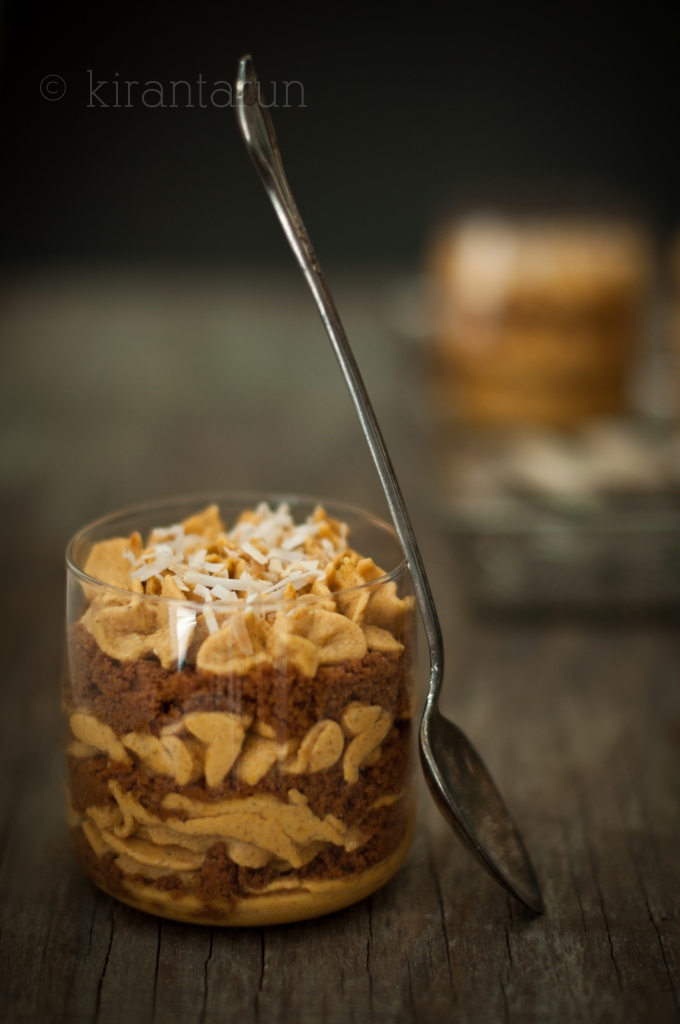 Print This Recipe
Servings: 4
Ingredients:
1 whole packet of Biscoff cookies*
2 to 3 tbsp of coconut oil
1 (15oz) can of pumpkin puree, chilled
1 (14oz) can of coconut cream, chilled *
1/8 cup agave nectar or honey
1/2 tsp all-spice or pumpkin spice powder
1/2 tsp cinnamon powder
a pinch of freshly grated nutmeg
Directions:
In a food processor, pulse Biscoff cookies with coconut oil until coarse crumbs. Cover with cling-wrap and chill in the refrigerator for a hour.
Add the rest of ingredients in a huge prep glass bowl. Fold everything until combined. Be careful not to over-mix.
Cover pumpkin coconut cream with a cling-wrap and chill for a minimum of 1 hour.
Serve in fancy dessert glasses by layering cookie crumbs with chilled cream.
Serve immediately topped with toasted coconut flakes.
Any cookies are fine as a substitute.
Coconut cream has to be thick. No water residue whatsoever. If needed, double-fold a muslin cloth and place coconut cream to drain excess moisture before making the trifle.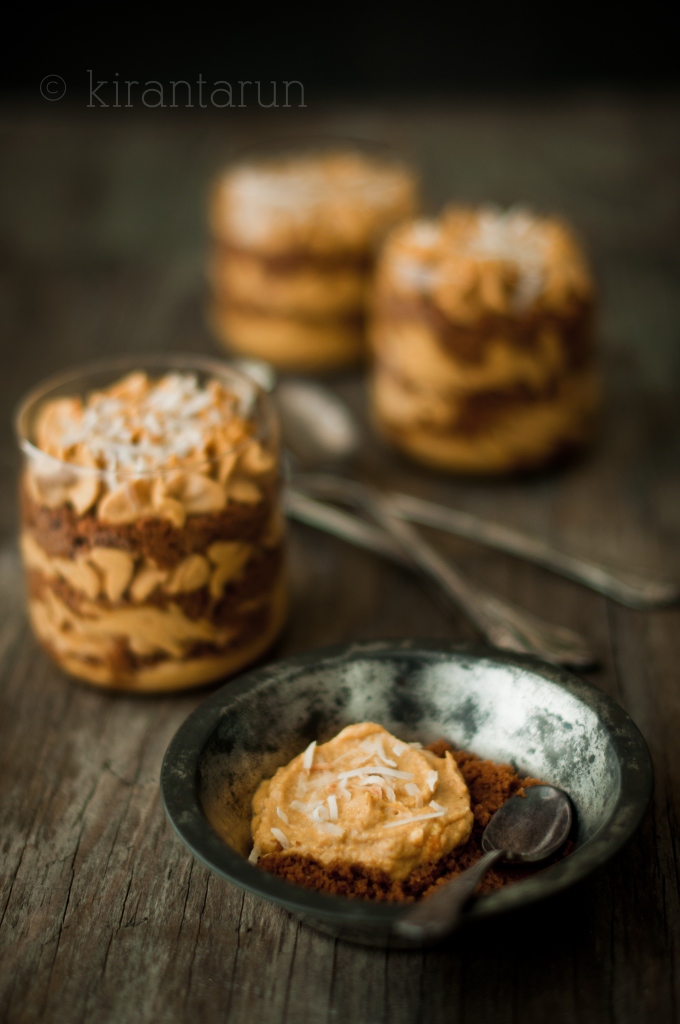 If you don't mind the rusticness of serving trifle, then just go ahead and make a pile in a dessert plate. Grab a fork and dig in. Don't be me, wasting precious time judging skills that I might never acquire. Ever.
But who cares? It only needs to taste good, right?
Does your life evolves around food too? What is simmering in your thoughts right this second? 😀