I
just figured out another AWESOME reason for not owning a TV or cable — chances are scary, loud and spooky ads that usually creeps me out this time of the year is practically non-existent.
If you ever meet me anywhere, please come and say Hi but don't creep up on me all of a sudden, with a tap on the shoulder. That truly freaks me out! Sudden sound and movements gets me startled all the time.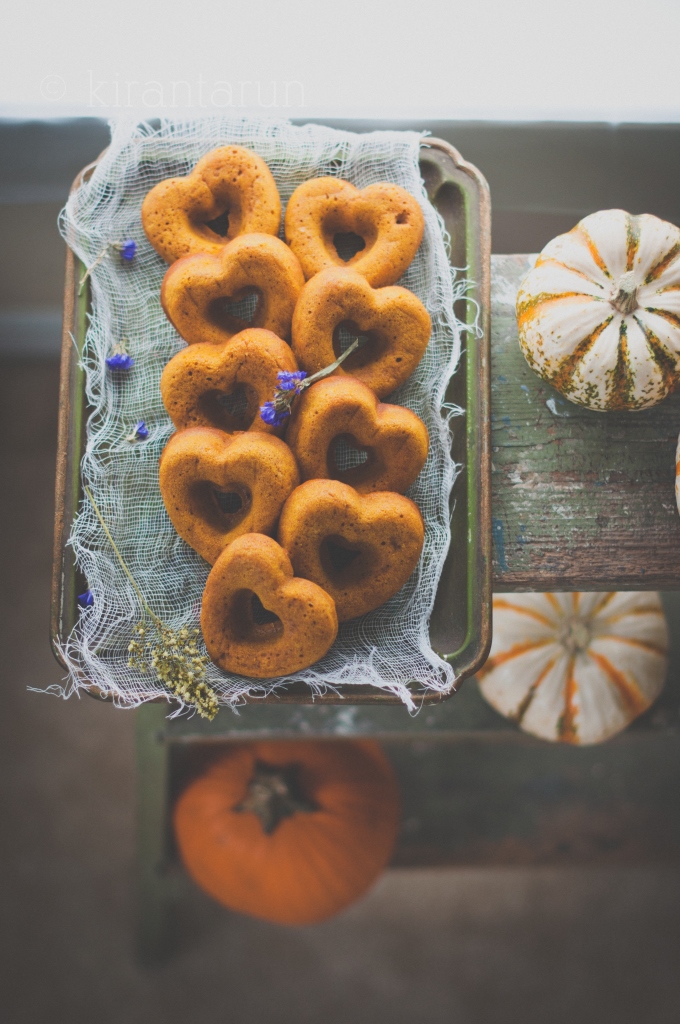 The Husband giggles whenever I let out a scream during a very suspenseful scene in a film. Gosh, I'm a baby. Horror, suspense and a tap on my shoulder or sudden movements is not my forte.
Not at all.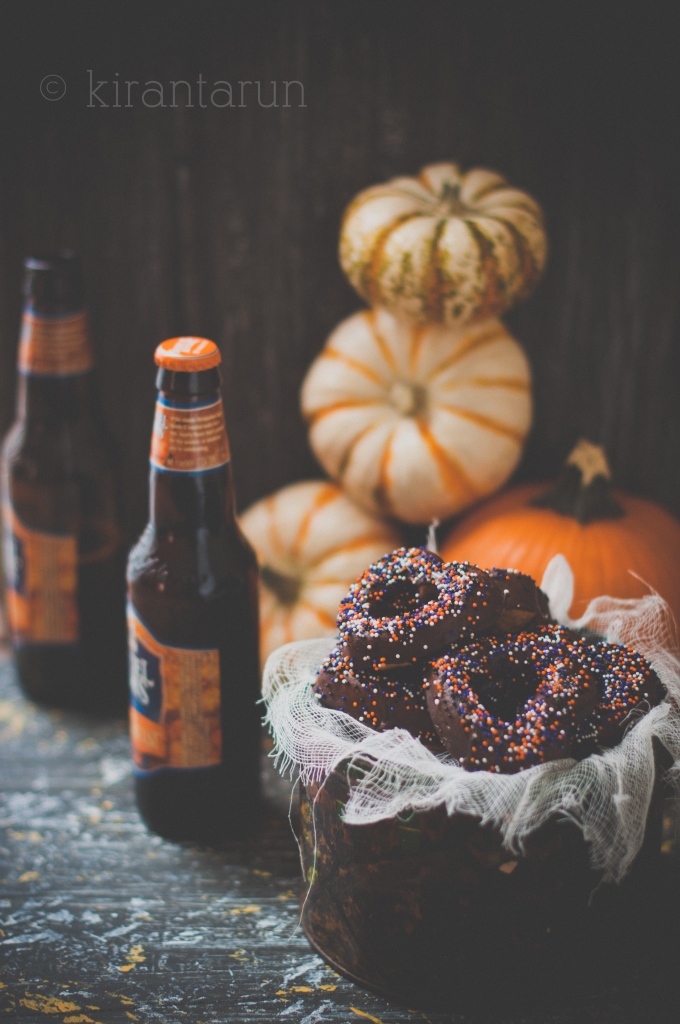 Baked pumpkin beer doughnuts with a generous dip of chocolate glaze and a good dash of sprinkles however, is definitely my forte. Heck, it should be everyone's 😀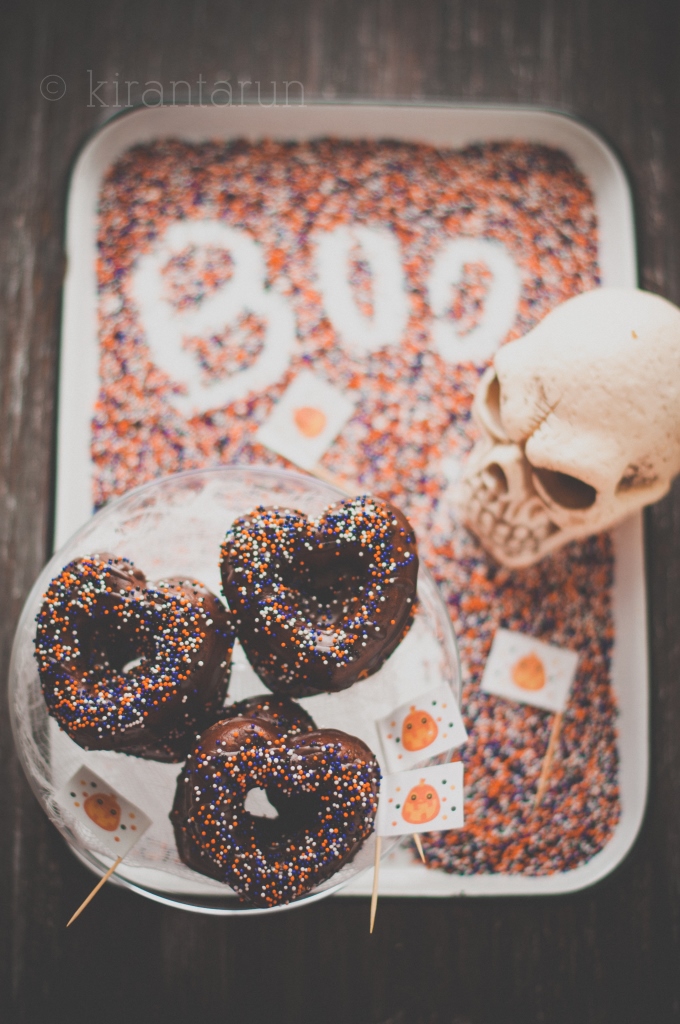 Print This Recipe
Makes 12 doughnuts
Dry Ingredients:
1 cup cake flour
1/3 cup whole wheat pastry flour
1 tsp baking powder
2 tsp ground cinnamon
1/4 tsp ground nutmeg
1/4 tsp ground cloves
1/2 tsp ground cardamon
1/2 tsp ground ginger
1/2 tsp salt
1/3 cup sugar (reserve 2 tbsp)
Wet Ingredients (at room temperature):
1 egg white, whisked to soft peaks
4 tbsp unsalted butter
1 tsp active dry yeast
1/3 cup pumpkin beer
1/4 cup milk
3/4 cup pumpkin puree
Chocolate glaze:
4 oz bitter-sweet chocolate, chopped
1/8 cup pumpkin beer
1 tbsp unsalted butter
Sprinkles
Directions:
Preheat oven to 375F. Grease donut pan with some non-stick cooking spray. Set aside.
In a stand mixer fitted with a whisk, add egg white and beat on medium until foamy. Increase speed to high and continue whisking to form soft peaks. Set aside.
In a microwave safe bowl, add butter, 1/3 cup pumpkin beer and milk. Microwave until butter melts. Add 2 tbsp sugar and yeast. Stir to combine and set aside for at least 5 minutes to allow yeast to bubble.
Meantime, sift all dry ingredients into a medium bowl.
Once yeast has bubbled, add pumpkin puree and stir. Combine wet ingredients into dry ingredients. Gently stir just until combined. Do not over-mix.
With a spatula, fold in whipped egg white into batter. Avoid over-mixing at this point.
Evenly fill batter into donut pan and bake doughnuts in the oven for 12 minutes.
Remove doughnuts from the oven and allow it to cool in the pan for at least 30 minutes, before removing it completely to cool on a cooling rack.
Meanwhile, prepare chocolate glaze by using the double-boiler (bain marie) technique. Stir chopped chocolate and pumpkin beer over a pot of hot water until concoction slightly thickens. Add butter and stir until fully melts and glistens. Glaze is ready once it coats the back of a wooden spoon. Remove from heat.
Once doughnuts are completely cooled, dip it into warm chocolate glaze and generously add some sprinkles. Place doughnuts on a baking sheet lined with parchment paper to allow glaze to set.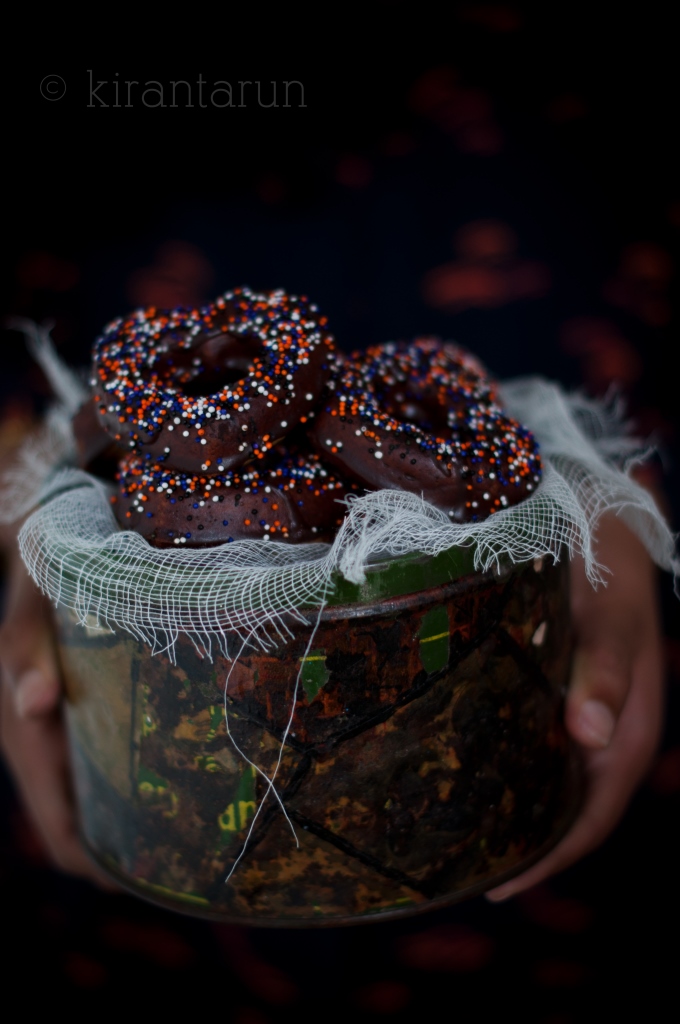 Hope you have a spooky-suspense-horror free Halloween with delicious spreads to celebrate!!
Are you easily spooked out or startled, especially this time of the year? Don't tell me you are one of those who LOVES Horror flicks? Yikes!