T
he credit for this recipe goes to my mom-in-law. Never have I heard nor sampled
poha
before this. Ever. Another great advantage of an inter-faith marriage. Sharing, tasting and adapting to new recipes, flavors and cooking style – a story that I might divulge in the future 😉 With simple ingredients on hand,
Poha
is a nutritious and filing snack that hits different taste-buds.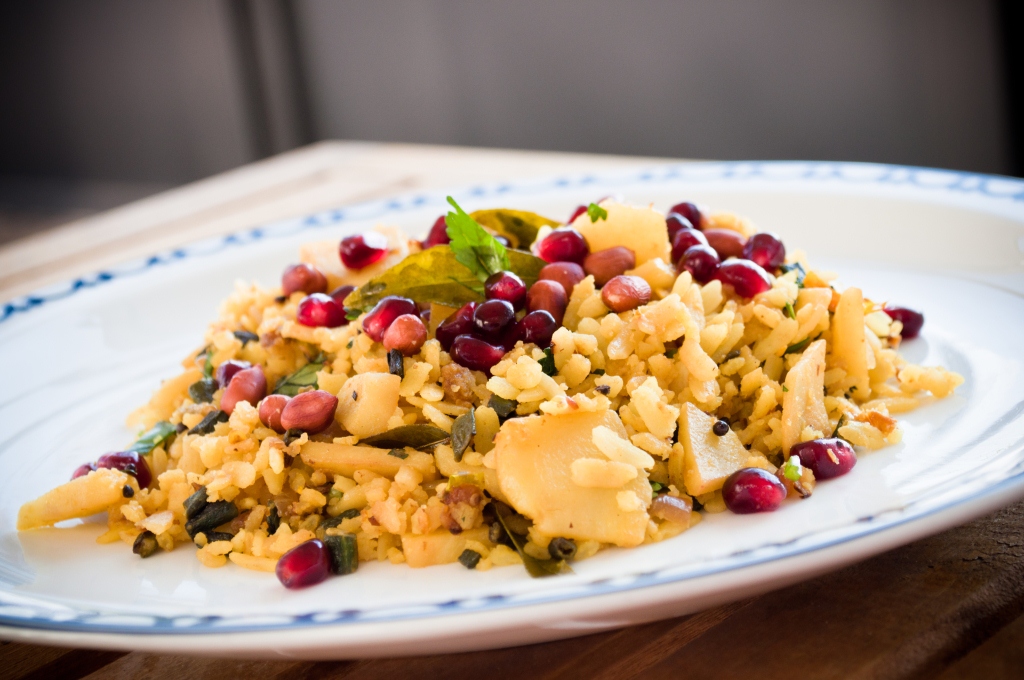 Allow me to introduce you to Poha – a quirky name for a delicious Indian breakfast or snack. Poha actually refers to flattened rice. This is when I referred to Wikipedia for proper lay-man definition.
Flattened rice (also called beaten rice) is a dehusked rice which is flattened into flat light dry flakes. These flakes of rice swell when added to liquid, whether hot or cold, as they absorb water, milk or any other liquids.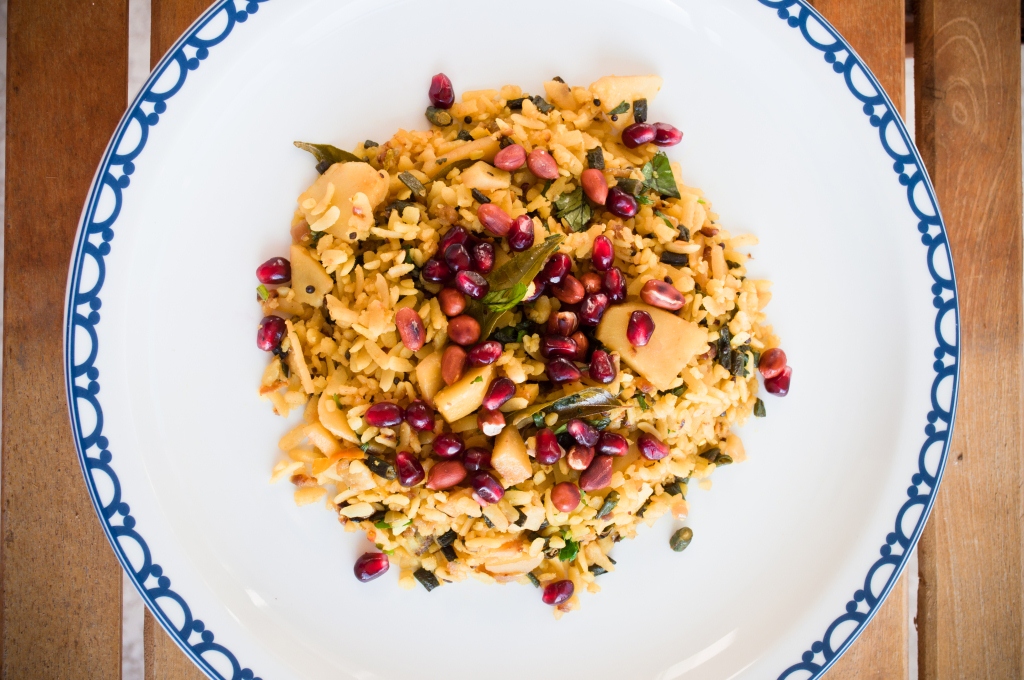 A sweet, tangy, spicy, savory dish. You can easily alter the flavor profile according to your liking. Picture this – a cold, rainy morning with a plate of hot poha and a steaming cup of tea. Of course, it's been days since Florida saw any rain. Nonetheless, weather should be your last excuse for not making this snack.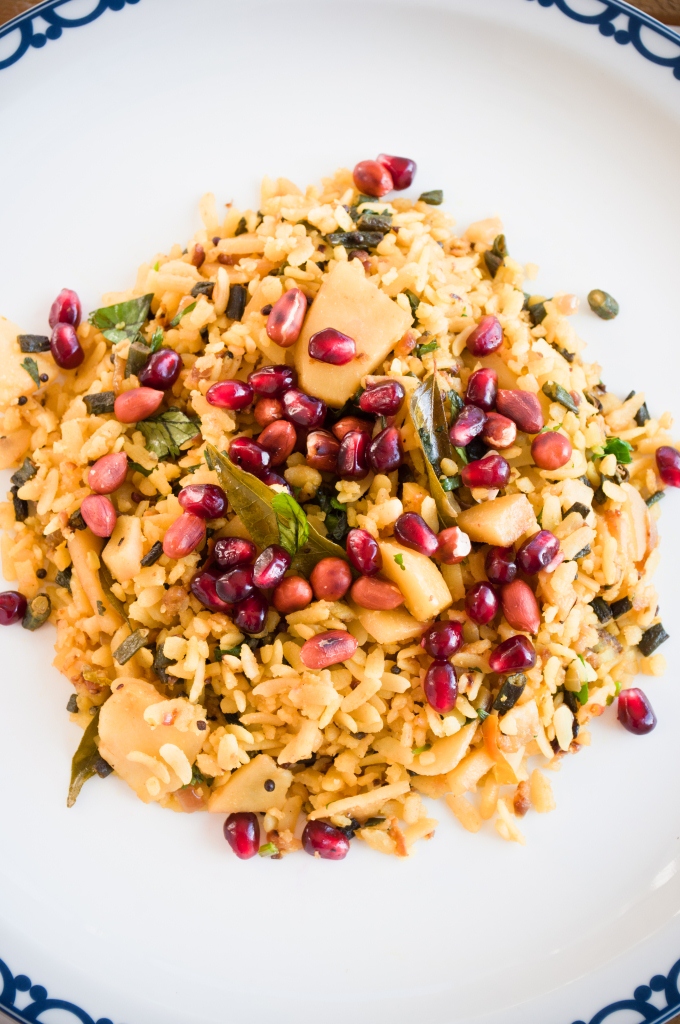 Vegetables used in this recipe are usually finely chopped. Another great reason to sneak in wholesome vegetables in your kids diet. I am not suggesting they wouldn't nit-pick, just do what any parents should – finely chop the vegetables. Minutely.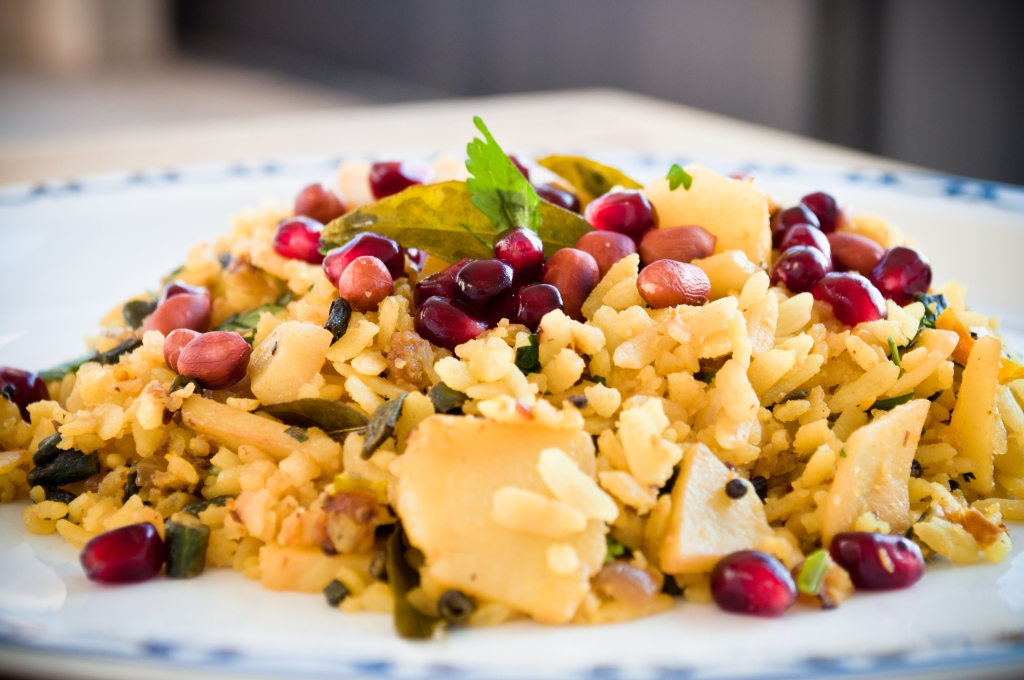 Give samosas a break and try poha today. What's your favorite delicacy for breakfast, snack or brunch? Any new favorite recipes after marriage?

Ingredients:
1 .5 cups of thick poha (flattened rice)
2 tbsp cooking oil
1 tsp mustard seeds
7-8 curry leaves
2 small green chillies, chopped or slitted lengthwise
1 medium red onion, finely chopped
1 tsp ginger paste
2 medium potatoes, sliced thin
3/4 cup cauliflower florets, finely chopped
3/4 cup green beans, finely chopped
5-6 tbsp warm water
1 tsp turmeric powder
Salt to taste
Juice of 1/2 a lemon
Garnish: peanuts, pomegranate arils & chopped fresh coriander leaves.
Directions:
Put thick poha in a sieve and wash under running water for 1-2 minutes. It is important to use thick instead of thin poha to avoid a mushy consistency. Keep aside to drain.
Heat cooking oil in a pan on a medium flame. Once oil is heated, add the mustard seeds, curry leaves and green chillies. Fry till mustard seeds stop spluttering.
Add onions, fry till soft and translucent. Throw in ginger paste. Fry till fragrant.
Add vegetables in 3 minute intervals beginning potatoes, cauliflower and finally green beans. Shredded carrots are a great option too.
Sprinkle in some turmeric powder, salt to taste and water. Cover too cook for 15 minutes.
Once vegetables are cooked and soften, add poha and fry for a few more minutes till combined.
Just before serving, add lemon juice and garnish.
Serve hot for breakfast or evening snack with some Chai 😉

Print This Recipe