H
owdy!
I just wanted to say "Thank You" for your encouragements on my previous rant about public speaking. It went….. how should I put it? Slightly well than what I was expecting.
There were loads of shakiness, sweats and palpitations. Almost felt like a nervous breakdown. The whole event and experience definitely deserves a whole post on its own. Hoping to get the recap up tomorrow.
But for now, I want to divert your attention to pistachios. And pastas. And Basil.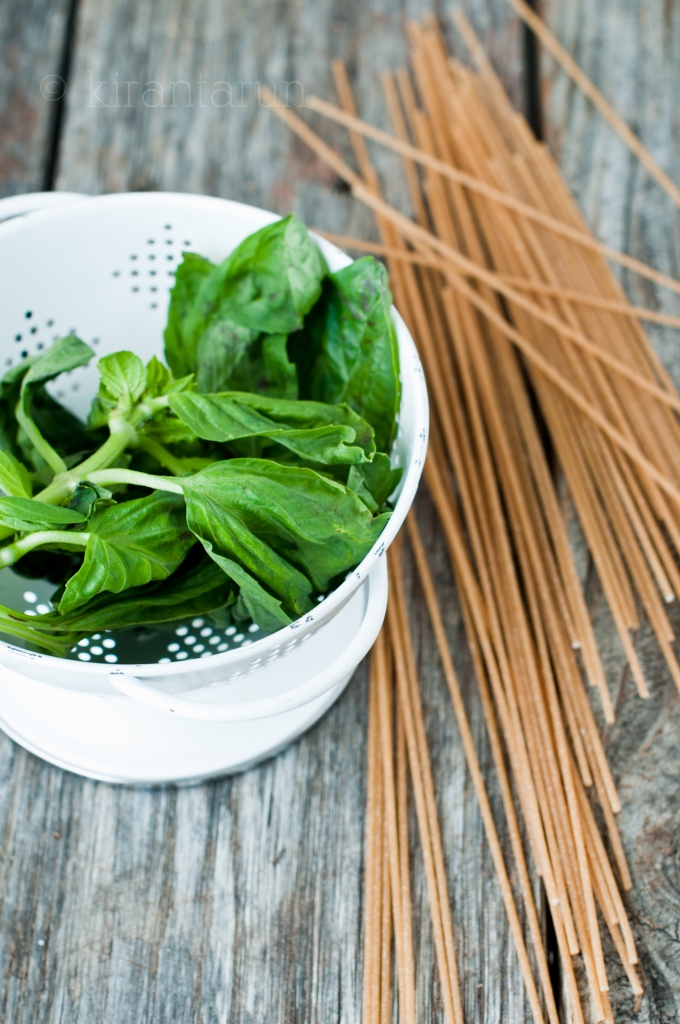 Do you recall my husband's aversions towards pastas that I highlighted in my pomegranate infused spaghetti with garlic sage butter recipe not too long ago?
I think I've found a secret to make him eat spaghetti, happily. No complaints whatsoever.
With a flavored broth of sorts and his favorite nuts: pistachios! Can't go wrong with his idea of how pasta should be flavored. Inside and out. The Husband definitely has a sense of humor that never fails to amaze me.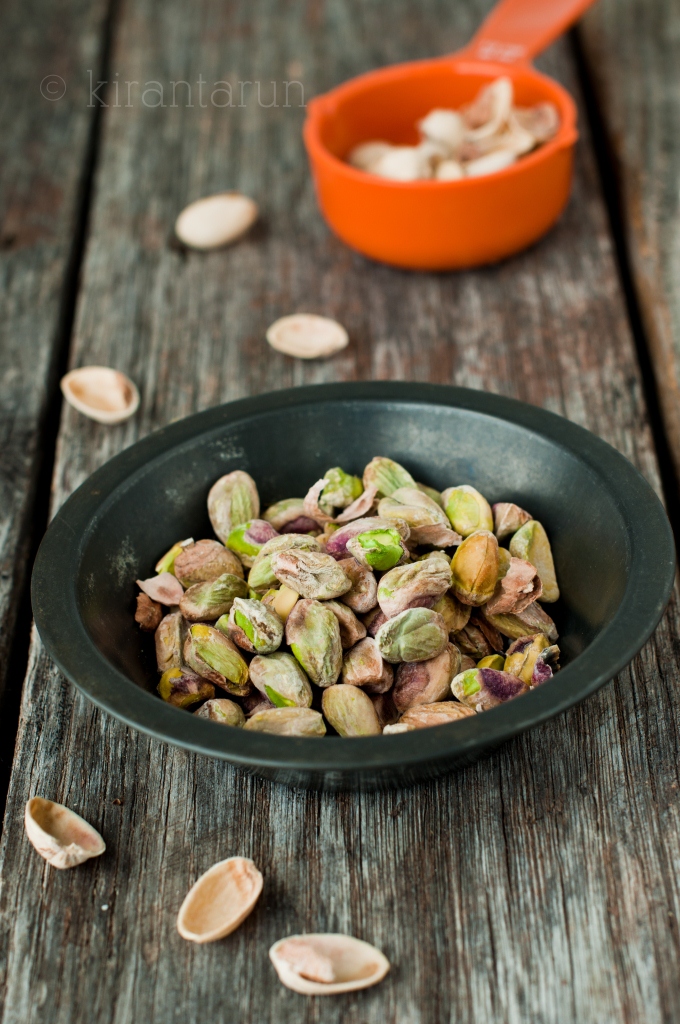 The key here is to cook spaghetti in a flavored broth — I used Pacific's organic low sodium vegetable broth (12 oz). Now that the possibilities are endless, I can see myself using different ingredients to add flavors into a usually boring and dull pot of hot water and salt.
Red wine is on my list of things to try in the future 😉 But for now, vegetable broth would suffice.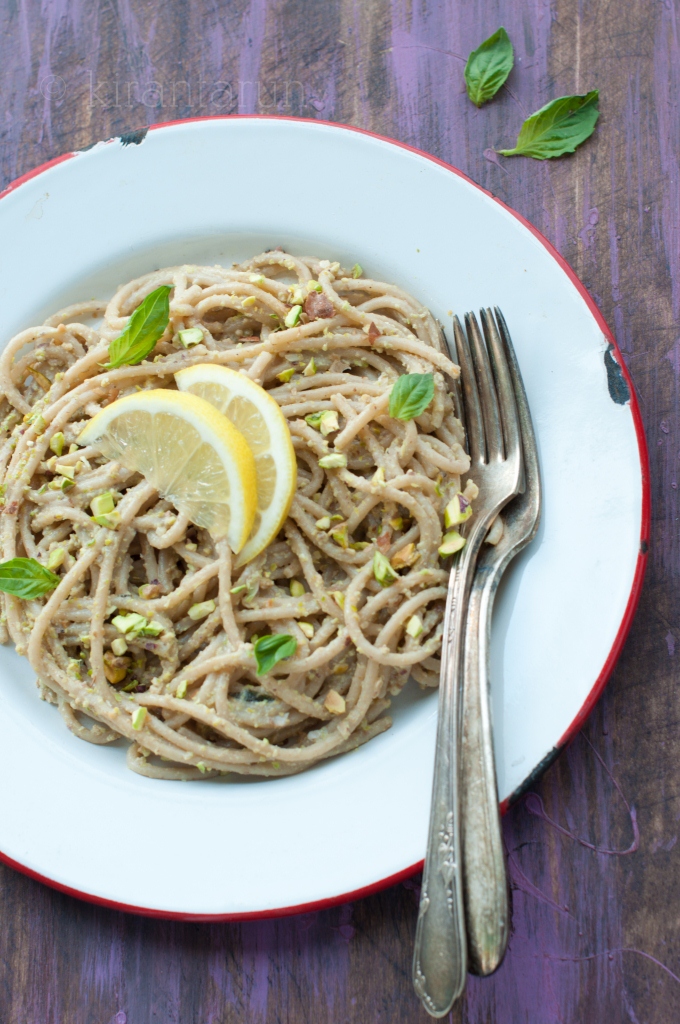 Print This Recipe
Ingredients:
6 oz whole wheat spaghetti
12 oz Pacific's organic low-sodium vegetable broth
1/3 cup shelled raw pistachios
1 cup hot water
2 tbsp extra virgin olive oil
1 tsp garlic, minced
1/2 lemon, juiced
salt and black pepper to taste
2 sprigs of fresh basil leaves
Garnish: chopped raw pistachios and fresh basil leaves
Directions:
Soak raw pistachios in hot water for a minimum of an hour.
Cook spaghetti in heated low-sodium vegetable broth as per manufacturer's instructions.
Add soaked raw pistachios in a blender with some of it's liquid. Blend into a smooth paste.
Heat a medium non-stick skillet on low. Once the pan is heated, add extra virgin olive oil.
Sprinkle in minced garlic and red pepper flakes. Fry on very low heat until perfumed, about 2 minutes.
Add pistachio paste and stir to combine.
Throw in spaghetti and lemon juice. Stir it all up.
Increase heat to medium and use leftover vegetable-pasta broth if more liquid is needed. Check for seasonings — adjust for salt & black pepper to taste.
Cook for 2 minutes and sprinkle some fresh basil leaves just before plating.
Remove from heat and serve immediately garnished with lemon wedges, chopped raw pistachios and more fresh basil leaves.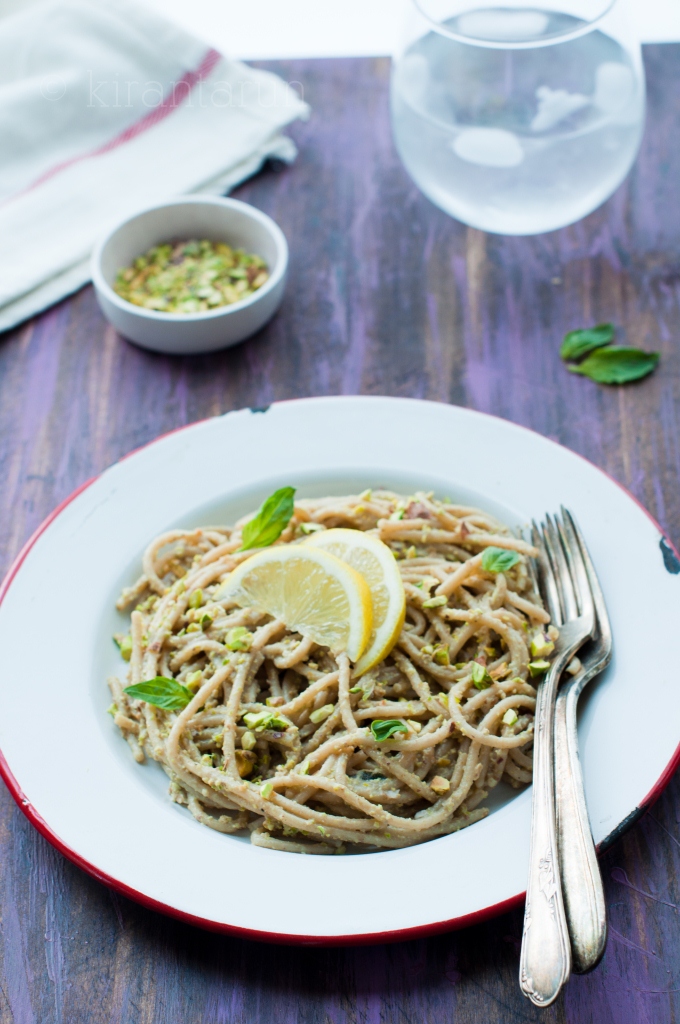 The verdict? Pasta has wonderful flavors soaked up from the vegetable broth. Happy husband = less headache for me.
Phew!
How would you add more flavors to the pasta itself? I love the idea of adding dried mushrooms in pot with cold water, bring it to boil and adding spaghetti to cook to perfection!