L
ast Sunday was the Husband's BIRTHDAY!! So I baked him a cake, at the very last minute.
Allow me to back up for a second.
I have never been a full-fledged baker before. The baking pans in my pantry are pretty scarce and I've never thought of baking a two-tier cake before. I've always tried to minimize the size of cake I choose to bake when its feeding only the two of us, so a tiered cake was always out of the picture.
Or perhaps the idea of "frosting" intimidates the heck out of me?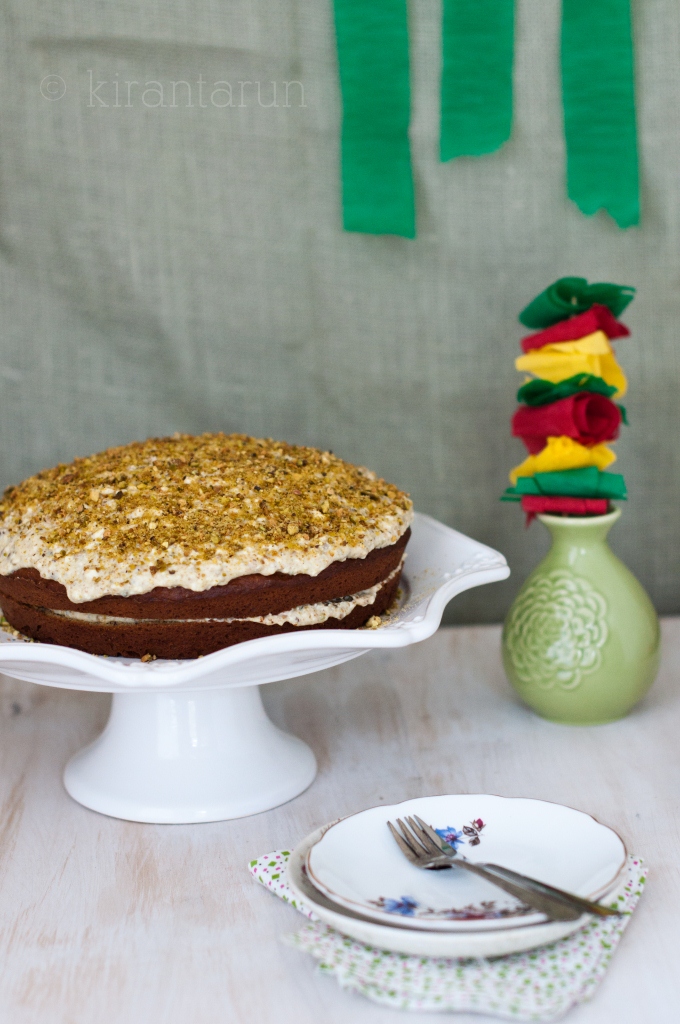 So I drove to the store to pick out another cake pan, assuming the one I had at home was a 9inch pan.
Wrong.
I had a 10 inch pan waiting for me as soon as I rushed home to bake the birthday boy a cake. Never assume my friends, never.
And never ever procrastinate.
Did I just use another huge word?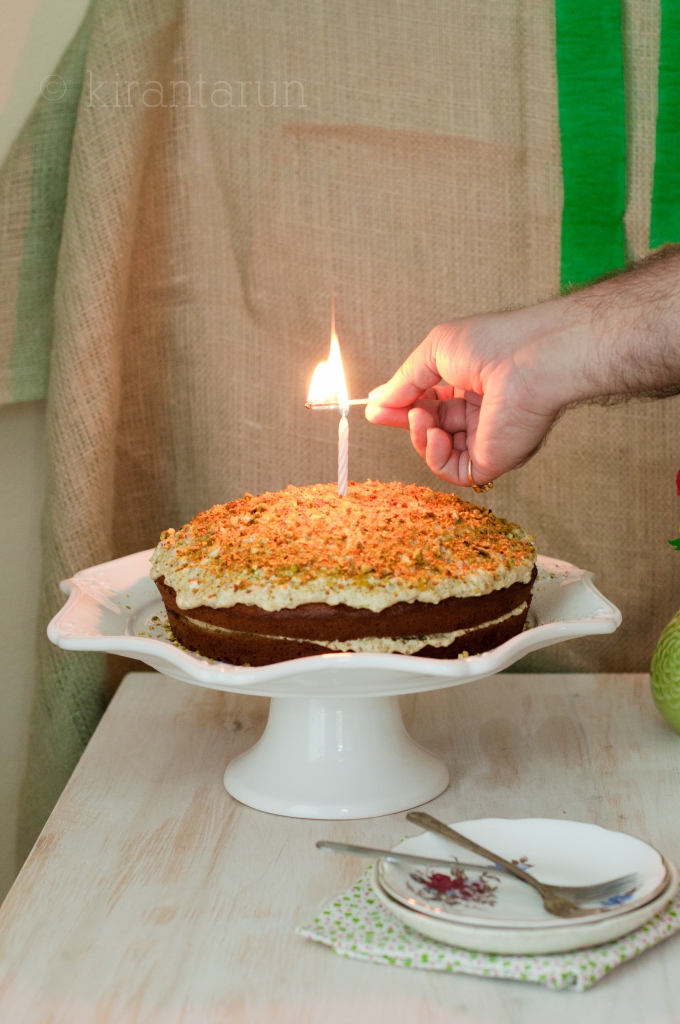 Anyhoo, crisis was averted by making one whole cake using the 9 inch pan, and halving cake was the best option at that time.
Or at least I thought it was.
After completely slathering the cake with frosting, I took a step back and realized something was off-putting. The top tier was not leveled. It was slightly puffed and definitely needed a slice to level.
Argh!!!
The Husband definitely heard some swearing in between and knew I had my stress levels through the roof!!!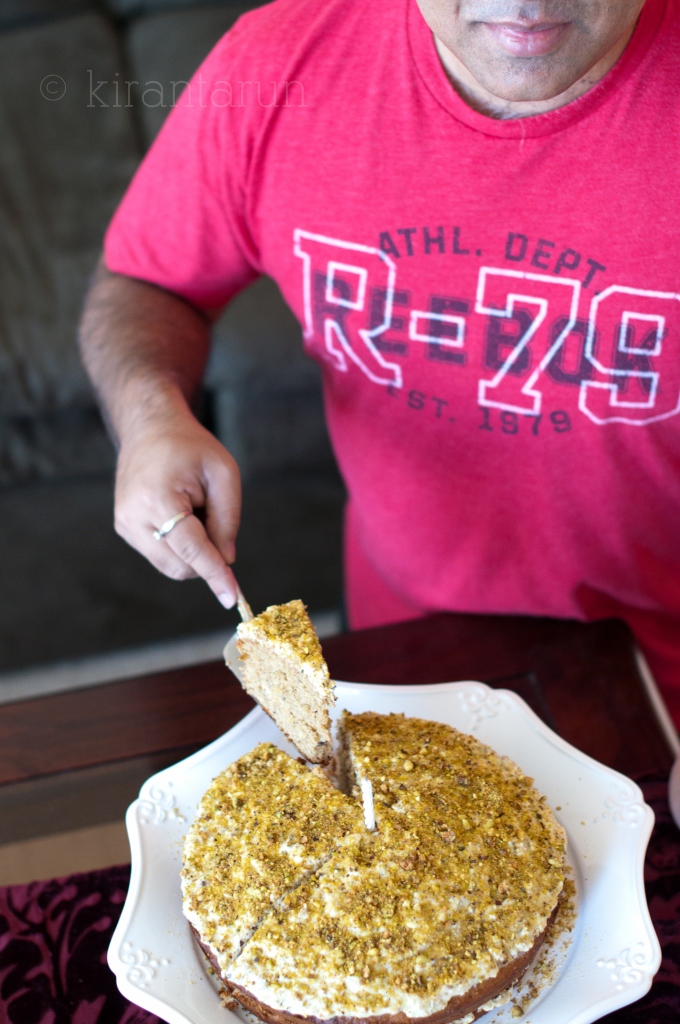 He came to the rescue, took one look at the cake and smiled. That smile definitely got me thinking about imperfection. There's nothing wrong with a lop-sided cake. The flavors were spot on and I wish I had it leveled but that day was not about how perfect the cake needs to be.
That day was about the Husband & celebrating his life. Our life 🙂
I love you so much.
Marriage is the alliance of two people, one of whom never remembers birthdays and the other never forgets them — Ogden Nash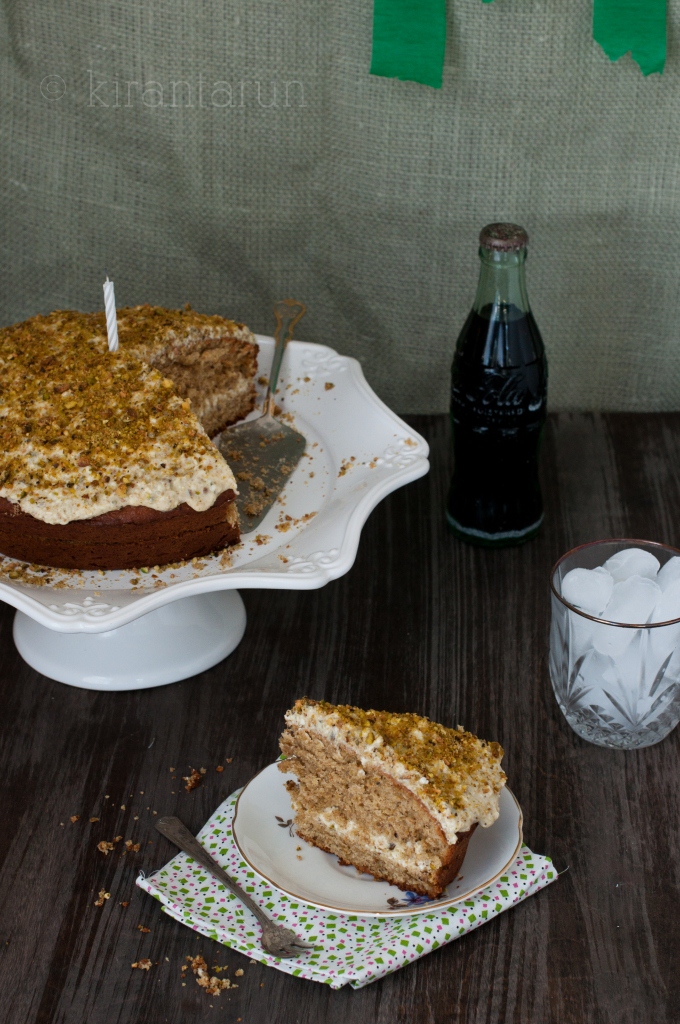 Lesson # 127 & note to myself: Get 6 inch cake pans that would feed our dietary needs (2 servings). Nothing more nothing less.
Happy Birthday to the love of my life 🙂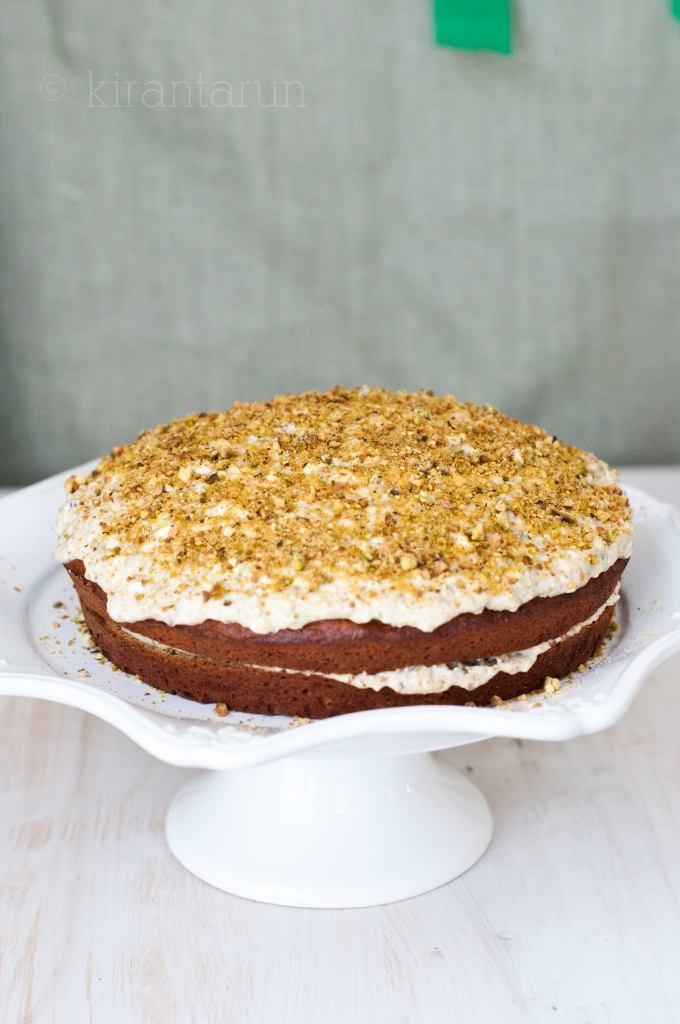 Print This Recipe
Dry Ingredients:
1 cup ground raw pistachios
1 cup whole wheat flour
1 cup all purpose flour
2 tsp baking powder
1/2 tsp baking soda
1/2 tsp salt
Wet Ingredients:
1 stick butter, soften at room temperature
3/4 cup light brown sugar
4 eggs, beaten
6 oz non-fat greek yogurt
1/2 tsp lemon zest
4 tbsp lemon juice
2 tsp almond extract
1/2 cup heavy cream
1 package (8 oz) cream cheese, softened
1/2 cup powdered sugar
1/2 tsp almond extract
1 tbsp lemon juice
1/2 cup pistachios, crushed
Directions:
Preheat oven to 350F. Grease cake pans, set aside.
Sift and combine all dry ingredients in a medium bowl.
With mixer on low, add butter and light brown sugar. Beat until completely incorporated.
Raise the speed to medium and beat until mixture appears pale.
Lower the mixer speed to add beaten eggs one at a time, scraping down the sides of bowl well and only mixing long enough until incorporated.
Add non fat greek yogurt, lemon zest, lemon juice and almond extract. Mix gently just enough to incorporate all ingredients.
With the mixer on low, add dry ingredients in 2 to 3 increments and mixing long enough to blend after each addition.
Divide batter among 2 prepared 9 inch pans.
Bake for 30 to 40 minutes, or until a wooden toothpick inserted in the center comes out clean.
Allow layers to cool in the pans for 30 minutes. Turn out onto wire racks and let cool completely.
While cake cools, prepare frosting. Add heavy cream in the mixer and whip on high until almost stiff.
Add softened cream cheese, powdered sugar, almond extract and lemon juice. Beat until cream holds peak.
Once cake layers are completely cooled, frost in between layers and on the top tier. Sprinkle crushed pistachios generously on each layer.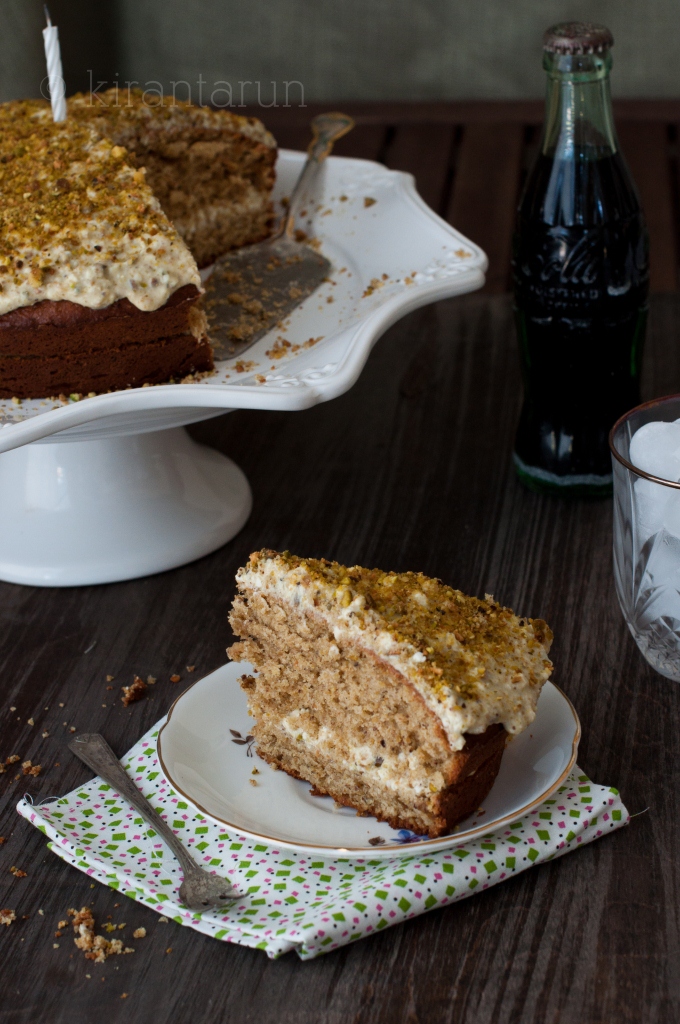 Giveaway winners!!
Thank you to each and every one of you who entered this giveaway!
Congratulations to the winner's of Joy The Baker's cookbook:
Jen  |  Suchi  |  Lubna
Kindly email your mailing address at kiran [at] kirantarun dot com and I would send the cookbook over to you soon 🙂
Question of the day: Any baking mishaps lately? I foresee more in my future.