W
hen I wrote a post on
taste-testing balsamic vinegar
, I dug through for some archived
lost
recipes that needed some TLC. While my scattered-brain finally recalled I had made this delicious pasta a few weeks ago, I can't seem to find any excuse as to why I did not blog about it, sooner.
Well, better late than sorry.
I present to you, my first taste of pesto – resulting the besto!
What is Pesto?
Pesto is a sauce originating in Genoa in the Liguria region of northern Italy (pesto alla genovese), and traditionally consists of crushed garlic, basil and nuts blended with olive oil and cheese. Pesto is traditionally prepared in a marble mortar with a wooden pestle. First garlic and pine nuts are placed in the mortar and reduced to a cream, then the washed and dried basil leaves are added with coarse salt and ground to a creamy consistency. Only then is a mix of Parmigiano-Reggiano e Pecorino added. To help to incorporate the cheese a little extra-virgin olive oil is added. In a tight jar (or simply in an air-tight plastic container), covered by a layer of extra-virgin olive oil, pesto can last in the refrigerator up to a week, and can also be frozen for later use – Source.
How can I use Pesto?
Some of my favorite recipes incorporating pesto's, made with variety of innovative ingredients can be found at some of my favorite food-blogs: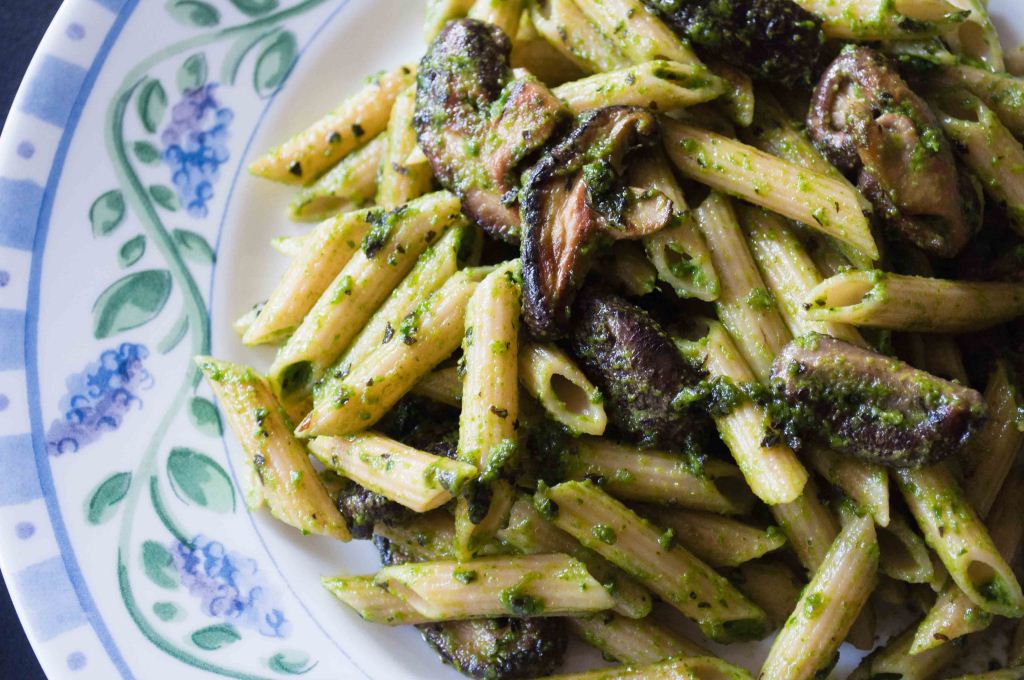 Basically, basic pesto consists of a handful ingredients such as: garlic, basil, nuts, olive oil and cheese.
I might not be able to top oil-free pesto, so I am sharing my version of pesto. Minus (some may say – delicious) a couple of main ingredients. Forgive me, for I have sinned:
I didn't have fresh basil on hand for this recipe. But substituted it with fresh spinach and some dried basil.
I detest parmesan or for that matter, any strong cheeses. But you are free to use any cheese. I won't judge you, so long, you do the same for me 😉
I did use some roasted garlic. And it was good.
Scratch that. IT WAS EPIC.

Print This Recipe
Ingredients:
1/2 pound whole wheat or whole grain penne pasta
2 ounce baby portabella mushrooms, sliced
1 tsp dried basil
cooking spray
*Pesto:
3 cups baby spinach leaves
4 roasted garlic cloves
1/2 cup pine nuts/pignolias
2/3 cup extra virgin olive oil – divided*
1 tbsp lemon juice
salt & pepper to taste
Directions:
Bring a large pot of salted water to a boil. Throw in penne pasta to cook until al-dente (tender but still firm to bite) between 10-12 minutes. Stir occasionally.
Drain pasta using a colander once done.
While pasta is cooking, prepare pesto. Add all pesto ingredients (reserving half of olive oil) in a food processor and pulse till smooth. To store the remaining pesto, top it with olive oil.*
Heat a skillet on medium-high heat. Spray some cooking oil and saute mushrooms till fragrant and tender.
Throw in 3 tbsp of prepared pesto. Remove from heat, sprinkle dried basil and add cooked pasta. Stir to combine.
Serve immediately.
*

pesto recipe would yield more than 1 serving. Store in the refrigerator for up to a week. Edit to add: Dried basil – forgot about it 😀

First taste of pesto, and I am hooked. This might just be my favorite pasta sauce. Ever.
Sorry, tomato sauce.
Have you tried pesto? If not, what are you waiting for?