H
i friends,
Amidst of having writer's block and almost zero motivation in blogging, there's glimpses of hope and celebrations. Four reasons for this positive outlook:
Reason #1: You. My wonderful friends and readers who constantly motivate me with your thoughtful comments and emails. While we are on this subject, allow me to clear one very important misconception — I'm not quitting blogging. Not just yet 😉
Reason #2: Yesterday marks India's Independence Day!!! Woohoo!!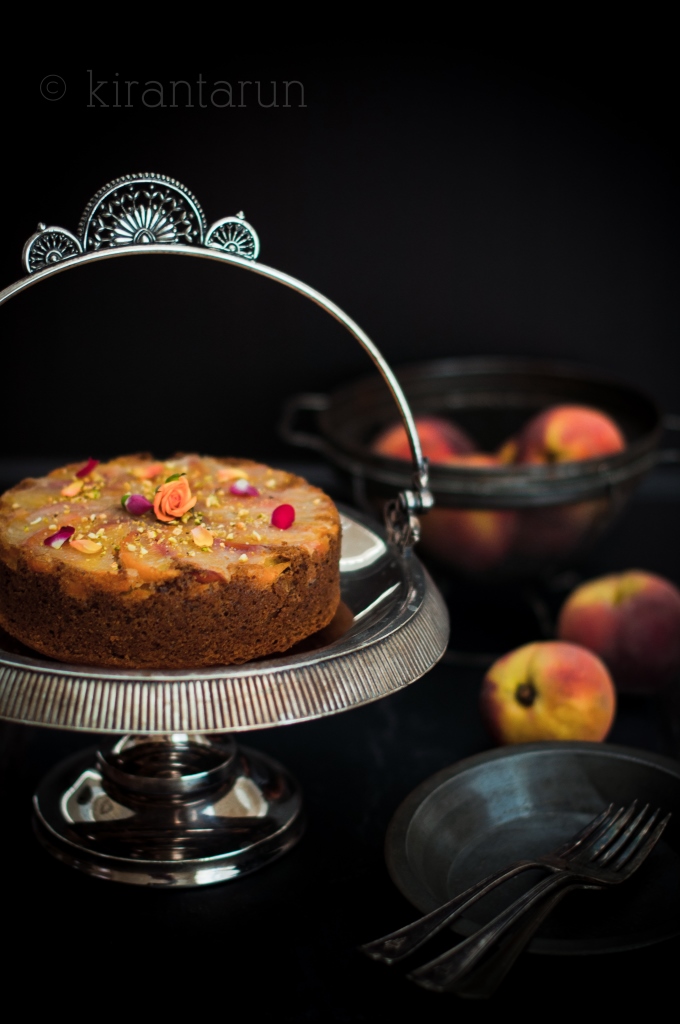 Reason #3: Have you ever woken up to a buzzing sound on your phone? I'm not talking about alarm. But sounds of endless tweets and facebook alerts. Let me back up a little. I had a very hard time sleeping the night before. So when I finally dozed off, it was very late. And that meant, I would awake pretty late the next day.
Lo and behold, I rose to endless tweets and facebook notifications buzzing on my phone!
I was recently nominated at Indiblogger in "best food blog" category and won! Thank you so much for the honor and well-wishes. I can never forget the day I woke from a much needed sleep through social media alert notifications on my phone.
Wow. What happened to regular alarm? 😀 Forget about it. Let's just celebrate!!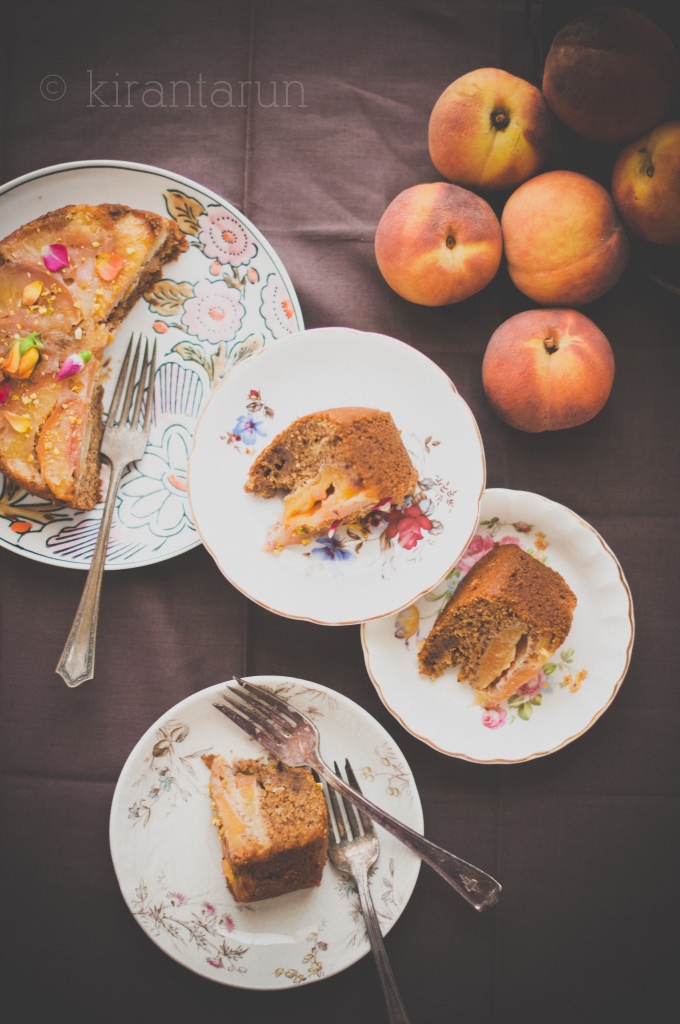 Print This Recipe
Makes a 6 inch cake
Ingredients:
2 peaches, sliced
1 tbsp brown sugar
2 tbsp cornstarch
4 tbsp butter (for brown butter)
1 egg
1/2 tsp vanilla extract
1/3 cup light brown sugar
1/2 cup almond flour
1/2 cup whole wheat pastry flour
1 tsp baking soda
pinch of salt
Directions:
In a bowl, add sliced peaches, 1 tbsp brown sugar and cornstarch. Stir and allow to maserate for at least 15 minutes.
Make brown butter by heating a non-stick skillet on medium. Once skillet is hot, add 4 tbsp of butter and stir until butter melts and begins to simmer. Cook until butter emits a nutty fragrance and browns. It took me about 2 minutes.
Remove brown butter liquid from heat to cool at room temperature.
Preheat oven to 350F and lightly butter a 6 inch cake pan. Arrange and layer sliced maserated peaches to fit in the bottom of buttered cake pan.
In a bowl, sift all dry ingredients (almond flour, whole wheat pastry flour, baking soda and salt).
Combine cooled brown butter with the rest of wet ingredients (light brown sugar, egg and vanilla extract).
Gently add sift ingredients into wet ingredients and fold to combine. Do not over mix.
Pour batter over arranged sliced peaches and smooth the top with a spatula.
Bake cake for 30 minutes.
Remove to cool for 1 hour. Run a knife on the sides before gently flipping the cake onto a cake stand/platter.
Optional garnish: edible flowers and chopped pistachios.
Reason #4 is simple yet satisfying: Peaches. Devour as much as you can, while it lasts. Have a great weekend, friends 🙂
Have you celebrated recently? What and how did you celebrate?