I
'm a "
toss-in-this-and-that
" kinda girl.
The idea of following a recipe to a tee is mind boggling and boring. That is why I have so little patience in baking. Since it requires precise measurements to work, this is one area I usually find myself snoozing due to boredom.
Yeah.
I am that kinda girl that snoozes with the thought of measurements. And yup, I am a food blogger. Go figure.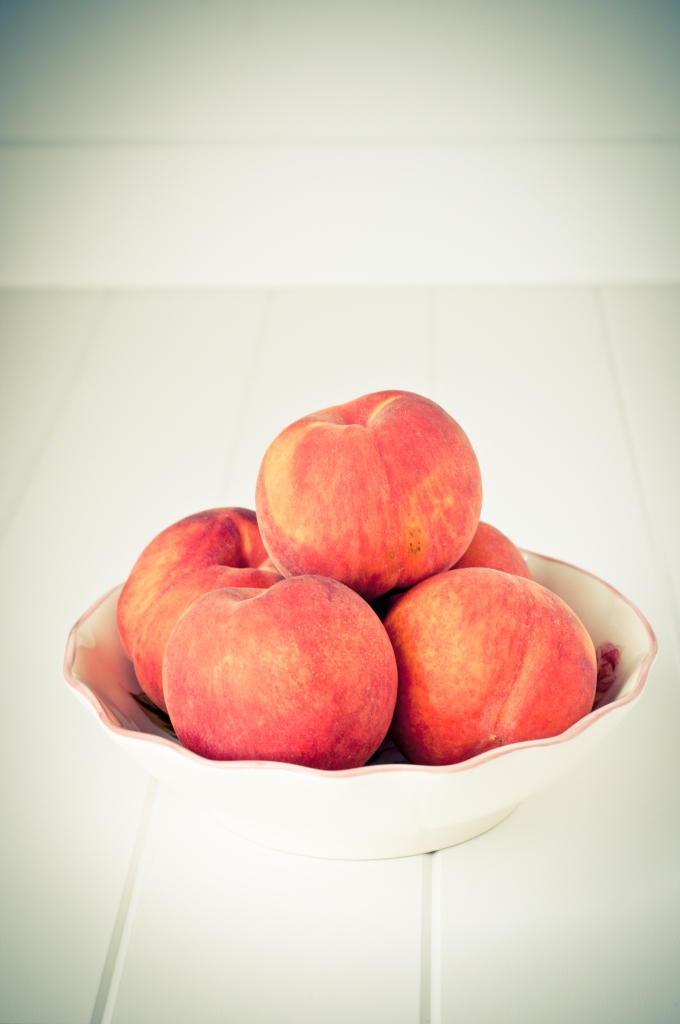 Making tart on the other hand is surprisingly easy and requires a few steps that would definitely cut down the boredom effects. For instance, in order to get a flaky crust, there's a few key steps in getting the texture right the very first time.
This doesn't sound boredom to me. It's more time consuming.
Ok, so now I loathe measurements and I lack patience. Yikes.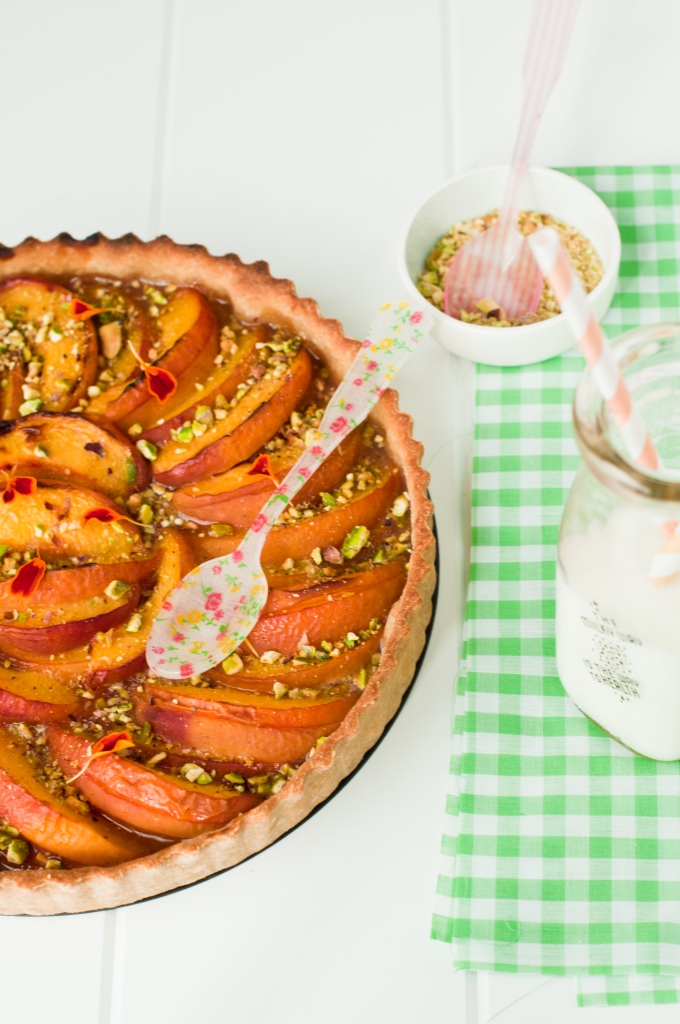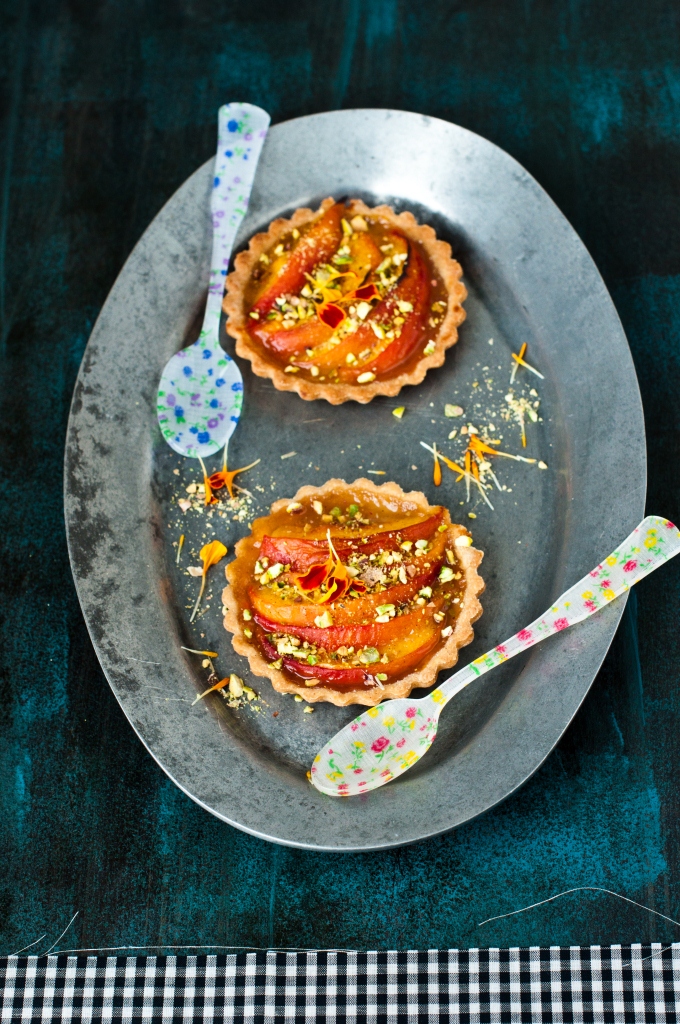 So, unlike me, if you love baking and have a ton of patience, try this recipe and let me know how it tastes. Don't wait till it's officially fall to crank up the oven. Do it now while peaches are ripe and sweet.
Or before its gone, paving the path to pomegranates and pumpkins. Sadly, that's the truth.

Print This Recipe
Ingredients:
For crust — adapted from this recipe
About 2 cups whole wheat pastry flour
a pinch of salt
2 tbsp sugar
1/3 cup almond oil
1/4 cup icy cold water
For filling
3 to 4 peaches, thinly sliced
2 tsp corn starch
2 tsp honey
2 tsp lemon juice
2 tsp vanilla extract
Directions:
Combine flour, salt and sugar in a medium non reactive bowl.
Add oil and blend it into flour using a fork.
Gradually add icy cold water and blend it into flour with a fork until fully absorbed.
Knead the dough very lightly until it comes together into a ball.
Allow dough to rest for 15 minutes.
Turn dough onto a lightly floured work surface. Sprinkle a little flour on the dough and rolling pin.
Roll the dough out to fit your tart pan (9″ and 4 mini tart pans). Do this quick to avoid overworking the dough.
Using the rolling pin, pick up the rolled dough and gently lay it onto the tart pan.
Trim excess dough, prick small holes with a fork and place tart pan in the fridge to rest for 30 minutes.
Preheat oven to 350F.
Cover crust with a parchment paper and add dry beans to blind bake the crust for 10 minutes. Remove from the oven to cool.
Crank up the oven to 375F.
In a bowl, use your fingers to gently toss all filling ingredients. Place peach slices decoratively and bake for 30-35 minutes or until crust is golden and filling sets.
Remove from oven and let cool completely before garnishing with some chopped pistachios, edible flowers and slicing to serve.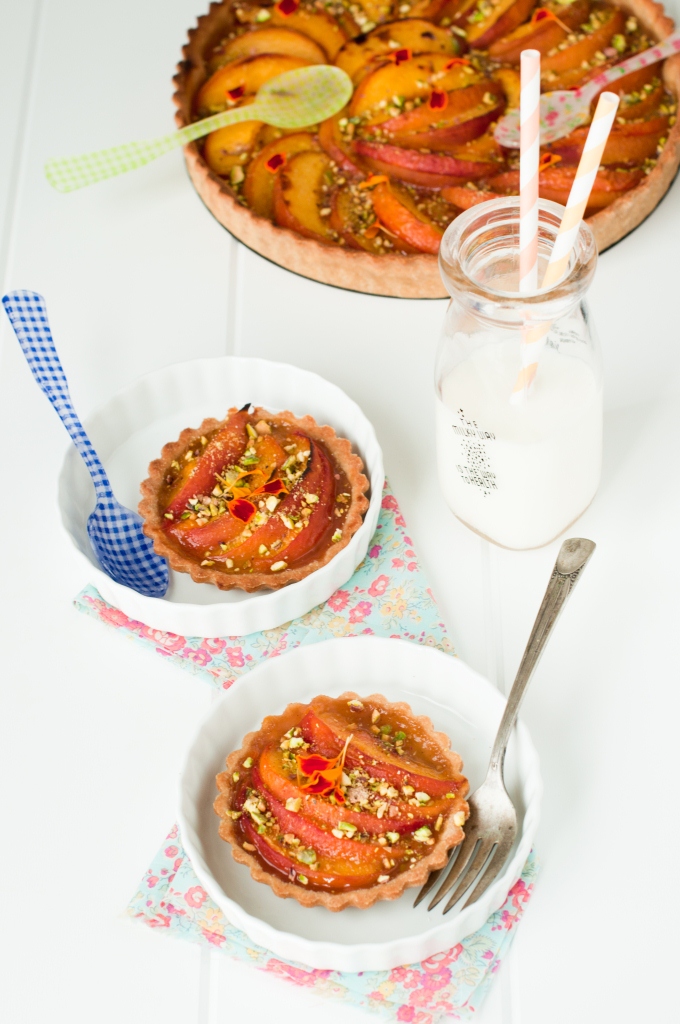 On another note — we would be road-trippin' to New York City in a few days. If you are local and want to meet up for a cup of coffee etc, send me an email. I also welcome any dining suggestions you may have 🙂
What do you love the most — cooking or baking?