H
ey friends!
Hope you had a great Labor Day weekend. We are currently traveling for work to Arkansas and taking the opportunity to explore some places. When I said "we", I meant the Husband is doing all the work while I'm just lounging around doing nothing.
Blissful!
Since arriving here last Friday, we've visited quite a few places, namely the Hoover Dam, Eureka Springs, a drive to Kansas City etc. Also, nothing makes traveling more exciting than mandatory visits to local antique stores.
Oh fun.
Talking about fun, here's a fun fact about Kansas City. Did you know there's Kansas City in Kansas and there's Kansas City in Missouri? Both are neighboring states, so that is definitely confusing 😀
Well, at least to me!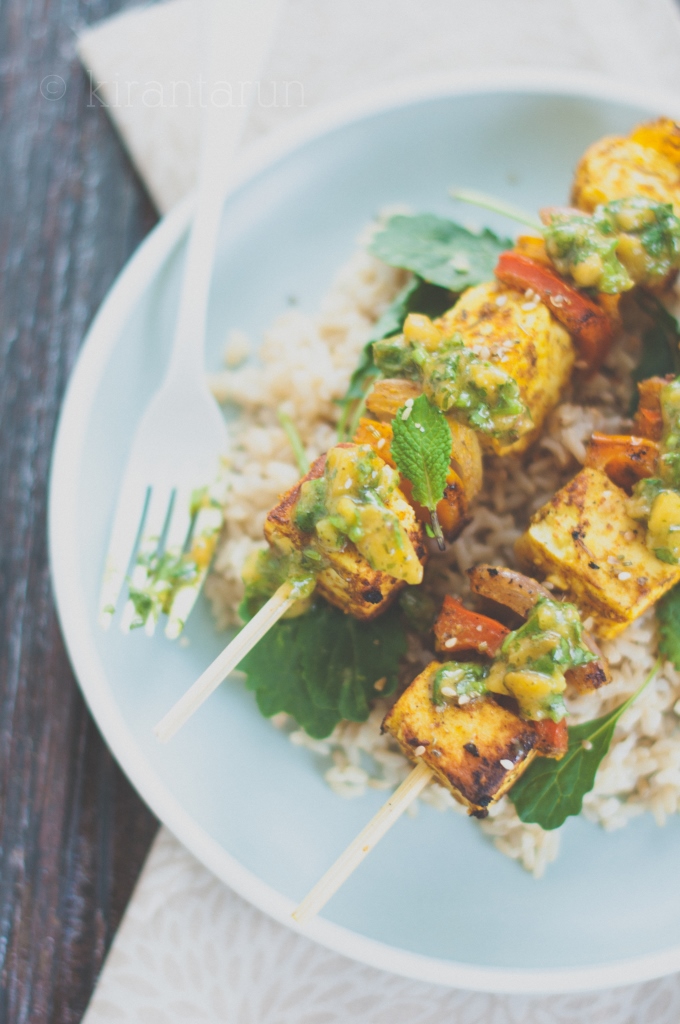 We are currently at a cozy city, Bentonville in Arkansas — a city made famous by Sam Walton, founder of Walmart. Living out of suitcase in hotel is not very convenient, but having a tiny kitchenette does make it simpler. We've made a very long trip to the nearest Trader Joes (3 hours drive, one way!) and stocked on some essential food items.
Eating out for every meal is not an option — we loathe it. So having the kitchenette is definitely a blessing in disguise. Like making oatmeals for breakfast, salads for lunches, tons of healthy snacking options etc. Dinners would be dining out. Many take pride in fishing over here. So there's a few restaurants that also takes pride in dishing out quality and delicious recipes, centered around freshly caught fishes.
Bentonville definitely takes fishing very seriously! And I take my paneer tikka and fresh peach chutney very seriously. Savoring every last drop of summer is very crucial, people. Do it.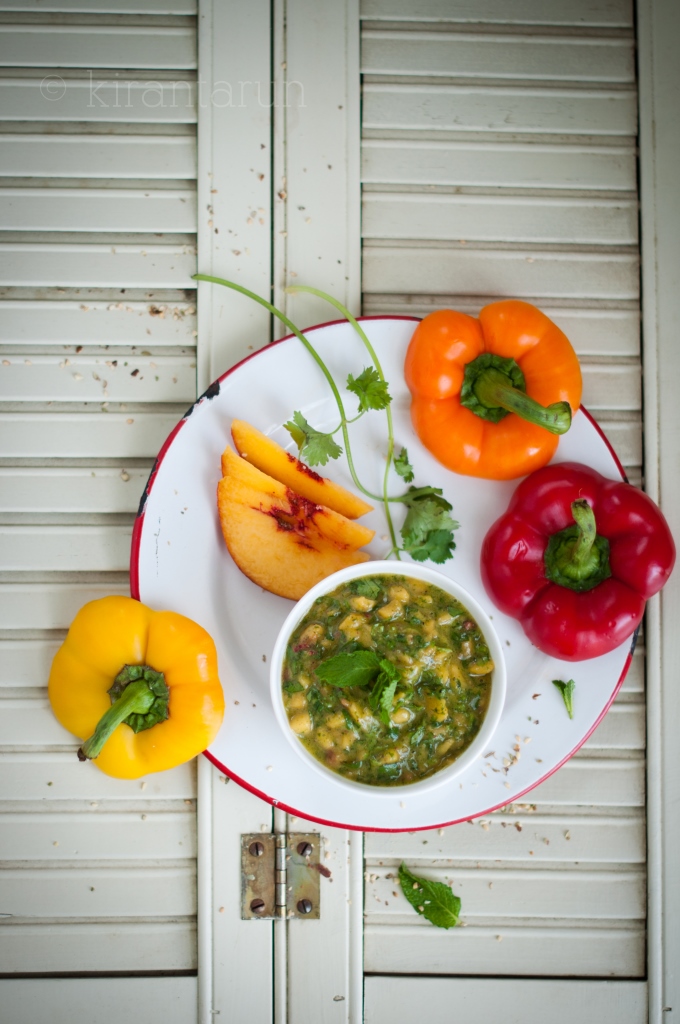 Print This Recipe
Ingredients:
some wooden skewers, soaked for an hour in some water
14 oz (400g) fresh paneer, cubed
2 medium bell peppers, chopped
1 medium red onion, chopped
For marinade:
2 tbsp low-fat yogurt
1 tsp ginger paste
1 tsp garlic paste
1 tsp dried kasoori methi, crushed
1 tsp cumin powder
1 tsp coriander powder
1 tsp red chili powder
1 tsp salt
1/2 tsp black pepper
1/2 tsp turmeric powder
1/2 tsp garam masala
1 tbsp extra virgin olive oil
For chutney:
a handful of mint leaves
1/2 fresh ripe peach, skin removed and sliced
a handful of cilantro leaves
2 tbsp extra virgin olive oil
1/2 tsp salt
1/4 tsp black pepper
1 tbsp fresh lemon juice
Directions:
In a large bowl, add cubed fresh paneer, bell peppers and chopped onion. Combine all marinade ingredients in the same bowl and toss everything until evenly coated. Refrigerate to marinate for at least 30 minutes.
Meantime, make chutney by combining all ingredients in a small food processor. Pulse until peaches are fine coarse. Remove in bowl and refrigerate to chill.
Once paneer tikka has marinated, begin threading the skewers alternating between paneer cubes, chopped bell peppers and onions.
Lightly grease and preheat a large seasoned skillet or grill. Place a few paneer tikka skewers to cook on medium high heat for a few minutes or until lightly charred. Rotate skewers every now and then to cook evenly.
Serve warm tikka with a side of cool peach cilantro chutney as an appetizer or main course over a bed of brown rice and a salad.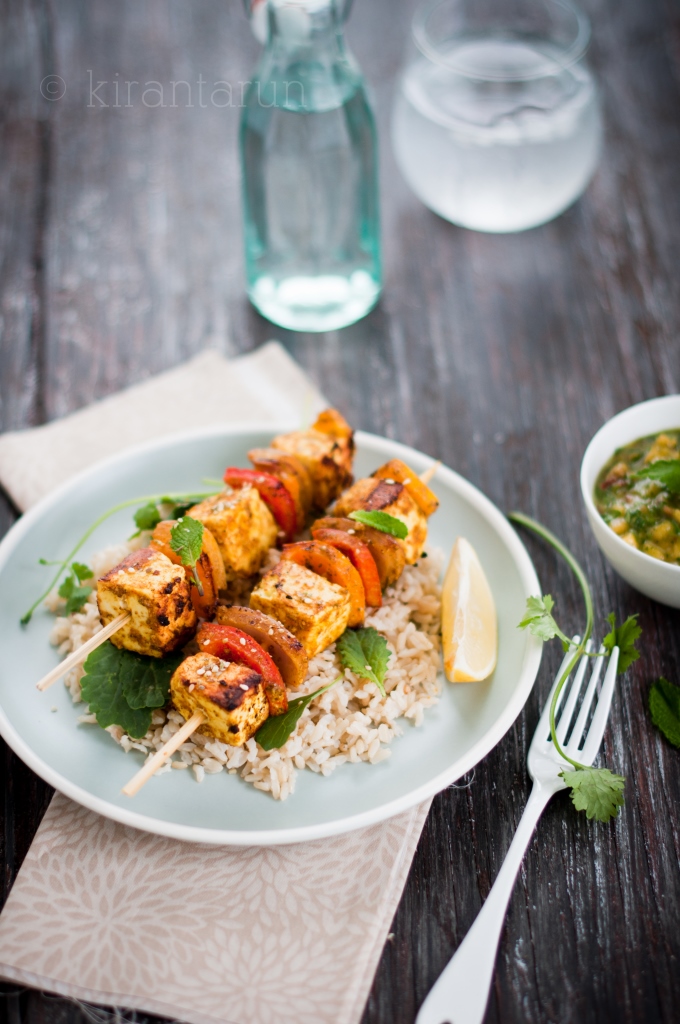 Off to continue lounging away while the Husband deals with corporate America.
Do you meal-plan while on a road trip or traveling?