H
appy Tuesday!
I am known to spend my time in the kitchen if I have trouble sleeping. Last night was one of those days. As I am writing this post, my mind is racing to understand why am I still so energetic? There weren't any sugar rush last evening. Definitely no coffee or tea to encourage my insomniac behavior.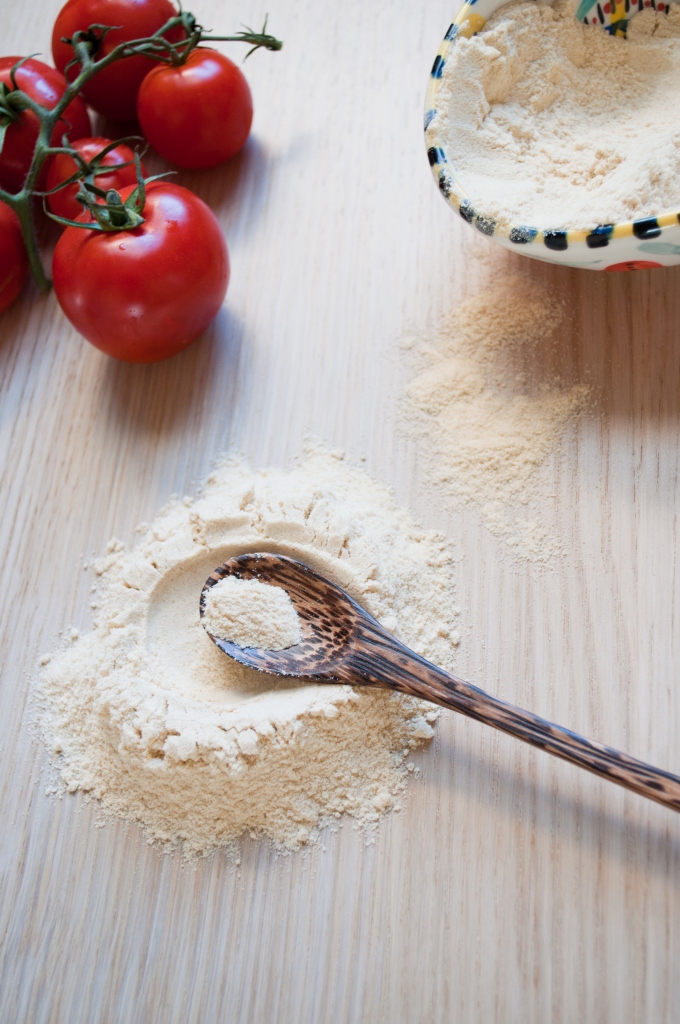 Anyways, have I proclaimed my utter love for pizzas? The Husband, not so much. But he does love anything and everything, made with paneer. A great combo of our favorites. After a light-bulb moment at 5:00am this morning, when I refused to sleep, I couldn't figure out any excuse to not prepare a pizza dough. Well, the whole process takes time, so why not utilize all the time I had in my hands. Granted, I should have tried my level best to sleep. But once an idea swirls in my head, sleep is the last thing on my mind. Well, almost non-existent.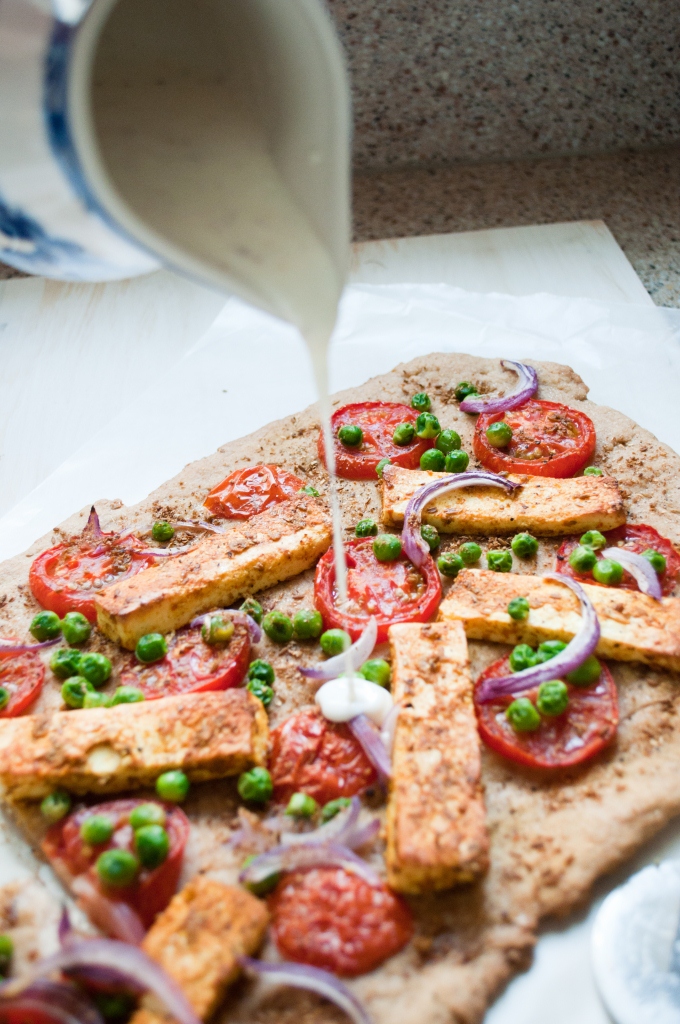 I prepped the pizza dough & paneer tikka that required raising and marination all while watching reruns of FRIENDS. It never gets old, I tell ya. Nothing like a good Chandler Bing's jokes & Joey Tribiani's silliness at 5:30am to get me pumping in my kitchen.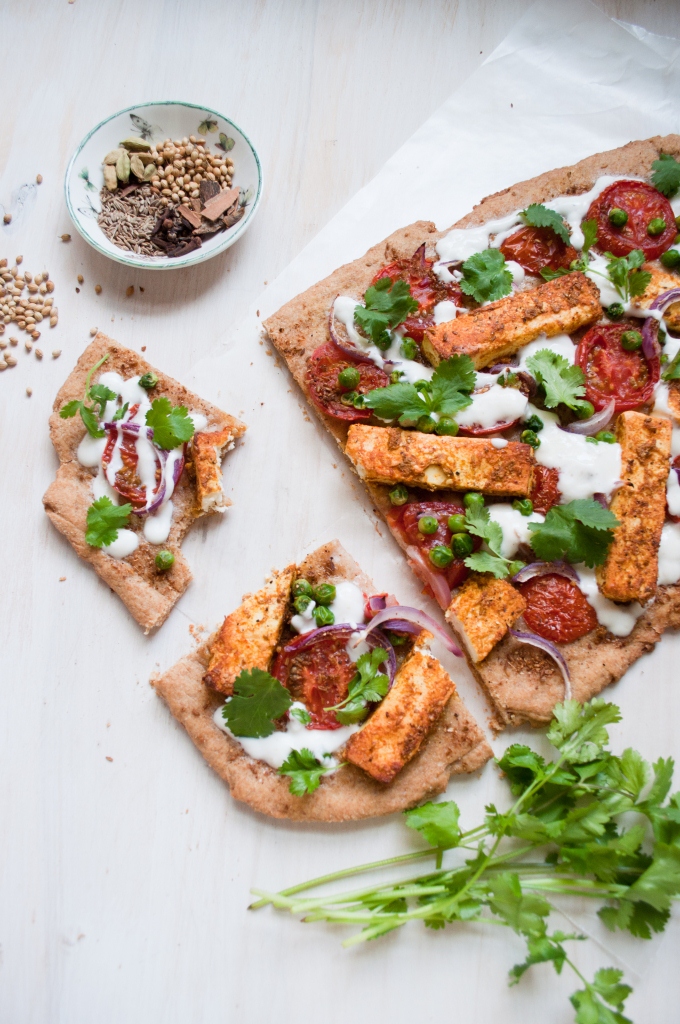 Well, I lied.
FRIENDS soon became unbearable at one point. Twilight was on and I couldn't resist. Who else is anxiously waiting for the 4th installment?! Can you tell I am freaking excited?!? The adrenaline rush of sleeplessness combined with watching wolves and vampire actions, completely waded off my desire to sleep.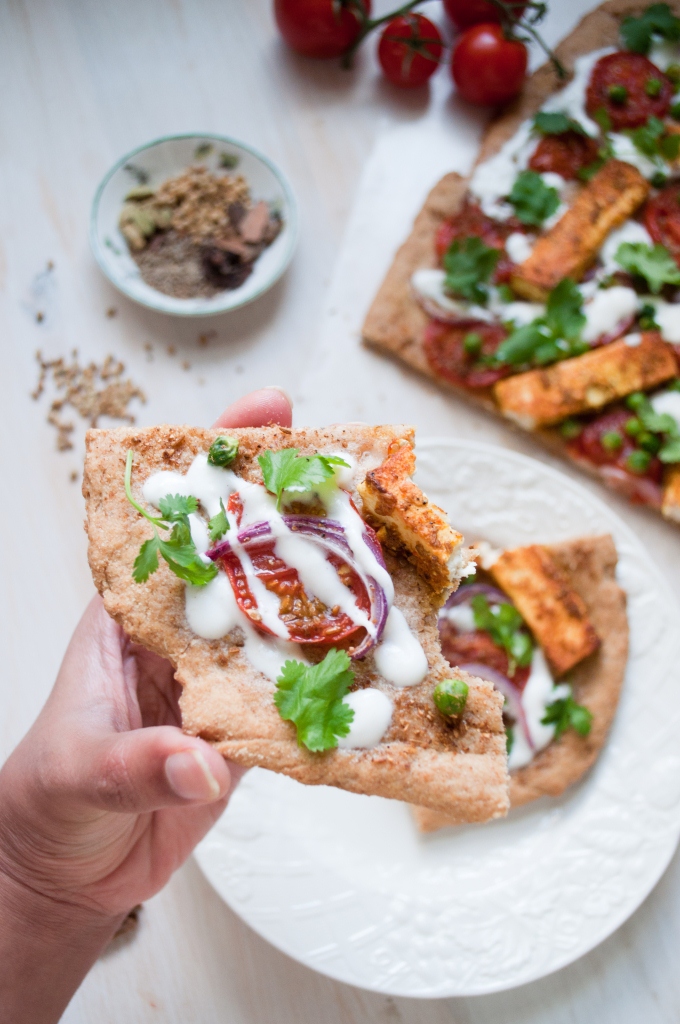 Back to the pizza's. Let's face it, as much as I love pizzas, I somehow dislike slathering boatload of cheeses and sauce as the base on crust. My twist on a healthier version of sauce: spiced yogurt sauce. Holy yum! It truly intensifies the overall flavors of pizza ingredients. Mmm.. Love corner crusts. So chewy, crunchy and carb loaded.

Print This Recipe
Ingredients:
Pizza crust
1 packet (or 2 tbsp) of active yeast
4 tbsp lukewarm water
1 tsp sugar
1 cup of whole wheat flour
1/2 cup all purpose flour
1/2 cup + 2 tbsp milk
2 tbsp butter at room temperature
1/4 cup extra virgin olive oil
Paneer Tikka (marinate)
1 cup of fresh paneer, sliced or cubed
2 tbsp yogurt
1.5 tbsp of spice mix (ground cumin, coriander, cardamom, cinnamon & cloves)
1/2 tsp red chili powder
1/2 tsp turmeric powder
salt & pepper to taste

note: make extra spice mix to sprinkle on pizza crust before baking.
Toppings
2 medium tomatoes
1/4 cup peas
1/4 cup of red onions, sliced
fresh coriander leaves
Yogurt sauce
1/4 cup of fresh yogurt
4 tbsp of milk
a pinch of spice mix, salt & pepper
Directions:
Combine active yeast, lukewarm water and sugar. Set aside for a few minutes.
Prepare pizza crust in a separate bowl by combining whole wheat, all purpose flour, yeast mixture, butter and extra virgin olive oil.
Gradually add milk until dough comes together. It shouldn't be too wet or too dry. Add more milk if necessary.
Knead dough for a few minutes. Cover bowl with a wet paper towel and allow dough to double in size (rise) for at least an hour or more.
Prepare paneer tikka by combining all ingredients in a bowl and allow to marinate for at least an hour or so.
While dough is rising and paneer is marinating, prepare toppings and yogurt sauce.
Combine all ingredients for yogurt sauce and refrigerate until needed.
Prep toppings for pizza.
Place a skillet on medium heat, add a little olive oil and pan fry paneer tikka's for 2 minutes each side or till slightly browned.
Once pizza dough is doubled in size, preheat oven to 400 degrees & sprinkle some flour on a baking sheet.
Flour the board, rolling pin, and roll out the dough to desired thickness.
Place pizza dough on baking sheet and brush on some olive oil. Sprinkle a yummy dose of spice mix, salt & pepper.
Best part is when you go crazy with toppings. Top pizza with paneer tikkas, tomatoes, onions and sweet peas.
Bake pizza for 15-20 minutes, depending on the thickness of dough.
Once baked, allow pizza to completely cool. Sprinkle some fresh coriander leaves and a drizzle of yogurt sauce. Serve immediately.
What is your remedy for temporary insomnia? Do you spend your time baking, in hopes of getting some sleep, eventually?