Serves 3
Ingredients:
7 oz / 200 g soft paneer, crumbled
2 tbsp cooking oil
1/2 tsp cumin seeds
1 medium onion, finely chopped
2 cloves garlic, minced
1/2 inch ginger, minced
2 green chilies, chopped
1/4 tsp turmeric powder
1/2 tsp red chili powder
2 medium tomatoes, skinned & finely chopped
1/2 tsp garam masala
1/2 tsp salt
some water
garnish: sliced limes and fresh cilantro
Directions:
Make sure the paneer used here is soft. If not, soak paneer in some hot water. Once paneer has softened, drain the excess water, lightly crumble and set aside.
Heat a non-stick skillet on medium. Once pan is hot, add oil. Wait for the oil to heat, sprinkle in cumin seeds and wait for the seeds to sputter before adding onions. Cook onions for a few minutes until soften and translucent before adding minced ginger, garlic, turmeric, chili powder and green chilies.
Once onion is lightly browned, add chopped tomatoes. Stir to coat everything and allow the tomatoes to cook down in 5 to 7 minutes before adding garam masala and salt.
Stir in crumbled soft cheese and a tiny bit of water, bring everything to a gently simmer, cover and cook for another 3 to 5 minutes. Remove cover and stir every now and then.
Garnish paneer bhurji with fresh cilantro and a squirt of lime juice before serving it hot with rice, chapatis or rotis!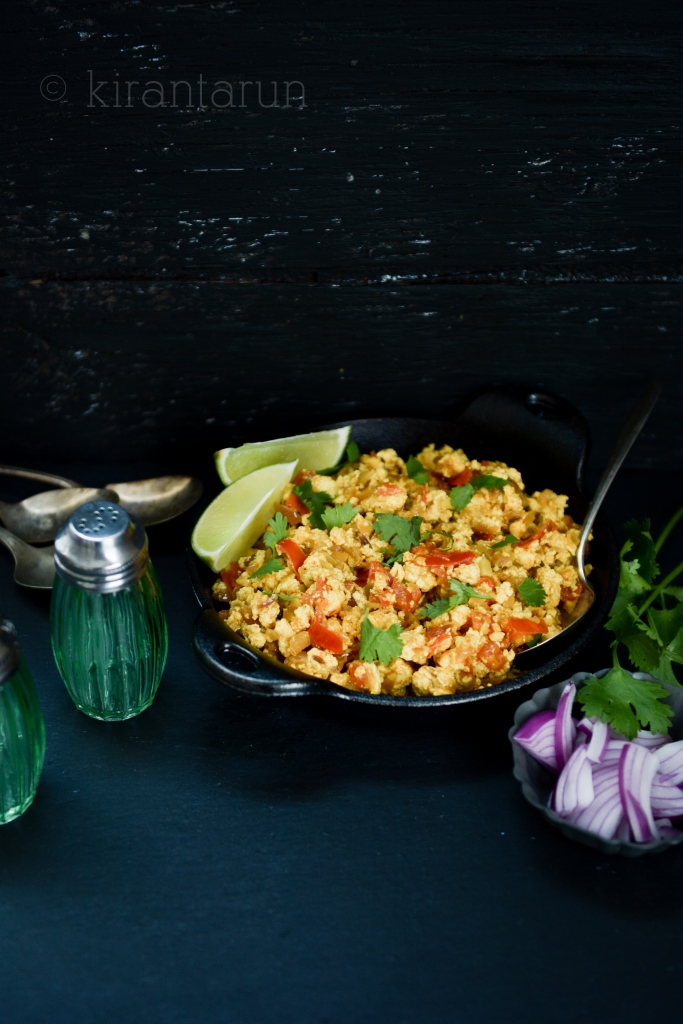 If you have access to frozen paneer, fully defrost and soak it in some hot water before use to yield a softer texture. Have a wonderfully delicious weekend, friends 🙂
Ever tried paneer bhurji before?