H
ello friends 🙂
Did you know I'm a Malaysian by birth and yet you'd hardly find me blogging about Malaysian food here? Sad fact, I know. The only reason I have for misbehaving is a genuine one — there simply isn't enough access to many required and exotic ingredients to replicate Malaysian recipes here in Orlando.
I've scoured many local ethnic and Asian food stores but almost always left with disappointing outcome. But it's all about to change for a very yummy reason 🙂
If you want to know more about Malaysia, I've written a blog post on this beautiful tropical rain forest, multicultural heritage and everything in between. Just writing about it makes me so home-sick.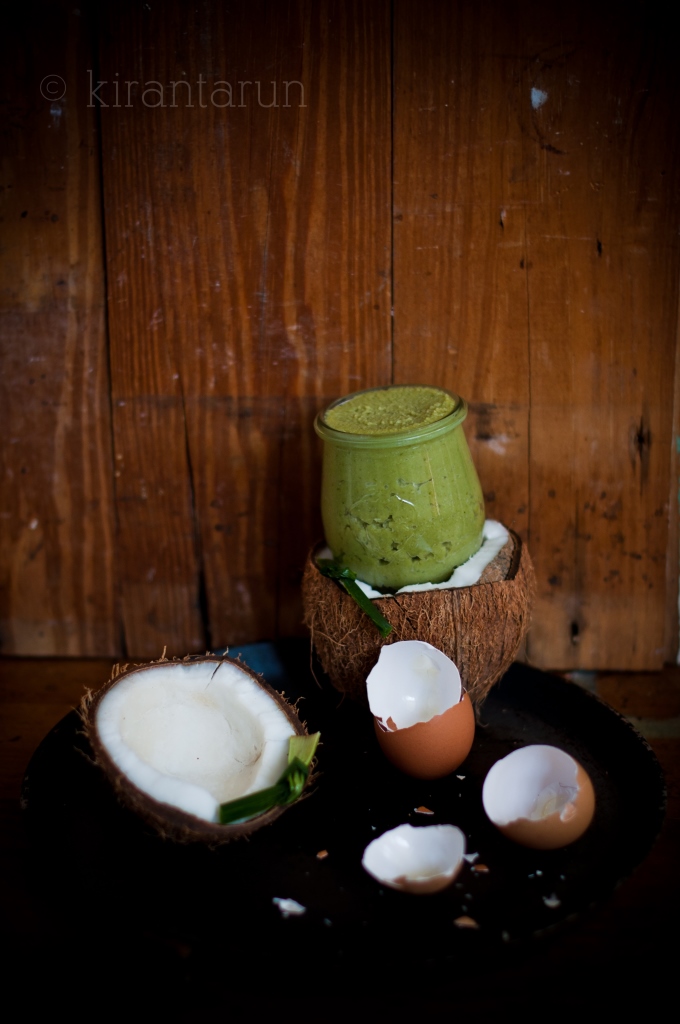 Screwpine (Pandan) leaves are so indigenous in Southeast Asian cooking. The sweet fragrance and color, grace many desserts and savory recipes back home. Fresh pandan leaves are torn into strips or tied in knots to infuse a distinct floral aroma and flavor. Not only used in cooking, pandan leaves can be woven, used in religious worship and beauty adornments.
Dare I say, it's essentially the "vanilla of Southeast"? There, I said it!
It took me so many years in the US to finally get my hands on some leaves, in the frozen aisle. Yup, the frozen aisle has been my savior ever since. I've even discovered frozen galangal and durian but that's a story for another day 🙂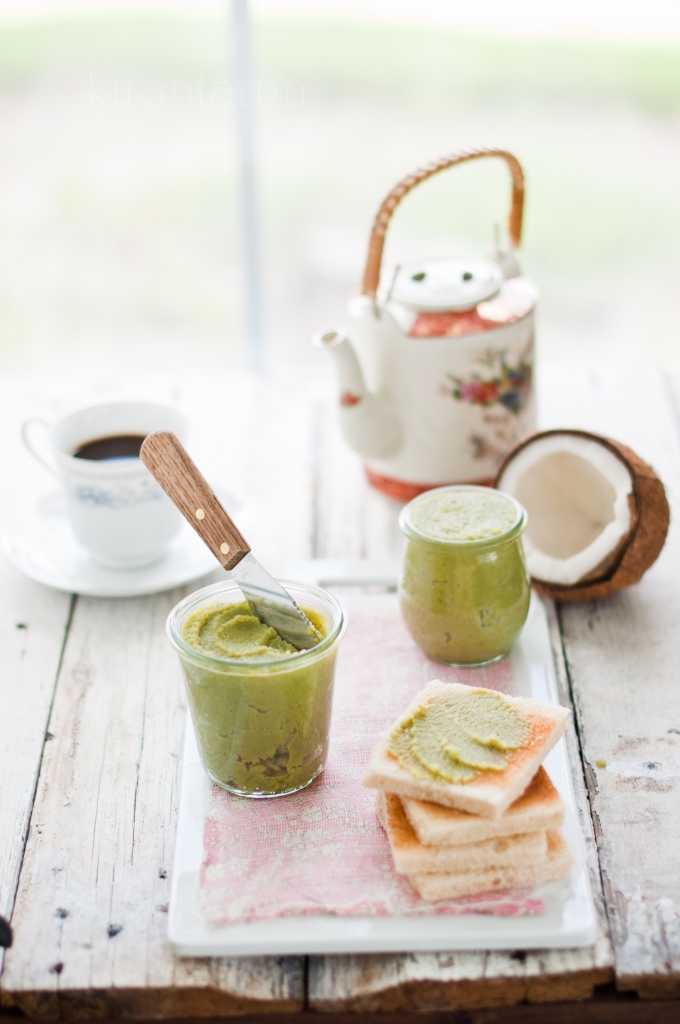 Pandan "Kaya" coconut jam is aptly named for its sweet aromatic taste and richness. Kaya simply means "rich" and pandan leaves –which is the essential ingredient — flavors this coconut jam which is made with coconut milk, eggs and sweetened with sugar. The original color is golden brown which is achieved by the use of egg yolks and the extent of caramelization of the sugars during the entire cooking process.
For this recipe, I'll be concentrating the green color and flavors of pandan leaves and the end result would be a deep green, sweet and aromatic coconut jam.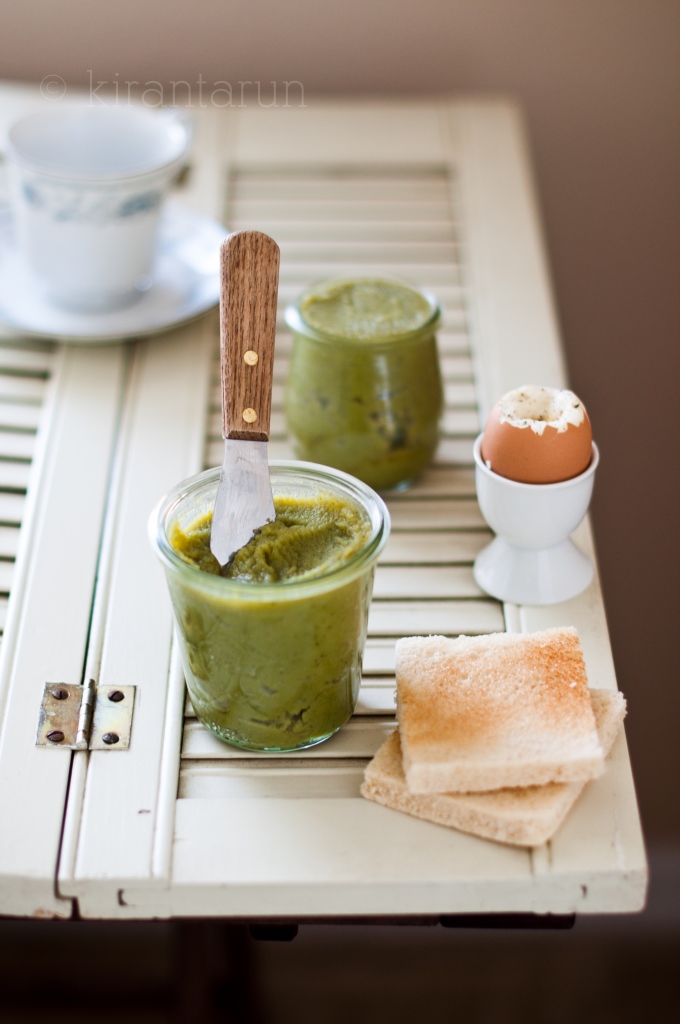 My memory of making pandan jam is a nostalgic one. Watching my mom, slaving over hot stove and stirring for hours to make the most delicious pandan jam I've ever eaten.
It's best eaten with lightly burnt and buttered white toasts, with a side of soft-boiled eggs and a strong Malaysian coffee (espresso!). That's one of many delicious staple breakfast in Malaysia. You'd find almost every restaurant serving "kaya toasts" on their menu.
Now that you are backed with boat-load knowledge on pandan leaves, kaya and everything in between, go and make it. Worry about thanking me later 😀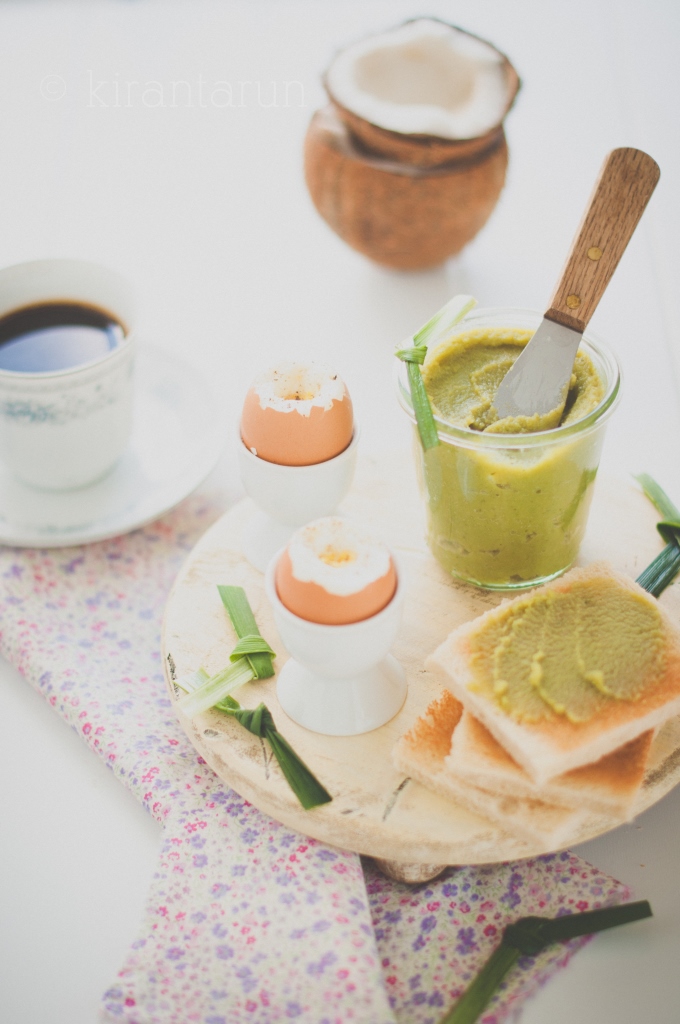 Print This Recipe
Ingredients:
Makes 2 medium jars.
12 small frozen pandan (screwpine) leaves (3 to 4 if using fresh leaves), chopped to bite size
3 whole eggs
3/4 cup sugar
pinch of salt
Two (14 oz /400ml) cans of full fat coconut milk — (if possible, use freshly squeezed thick coconut milk).
Directions:
Fill a huge saucepan with enough water to act as a double boiler. Heat on medium high until water begins to simmer.
Blend coconut milk with chopped pandan leaves until leaves are finely crushed or disperses desired green color. Strain through a fine sieve and keep aside.
Stir eggs, sugar and pinch of salt in a bowl large enough to aid cooking over double-boiler.
Add in pandan and coconut mixture into the eggs and stir it all to combine.
Place the bowl over double boiler, ensuring the bottom of the bowl isn't placed directly over simmering hot water. Stir mixture every now and then. Check for water level in the double boiler. Add in more hot water if needed.
Cook custard until desired jam consistency & color are achieved. It took me almost 1.5 hours and good amount of stirring to achieve a thick and rich pandan jam.
Bring jam to room temperature before canning and storing in refrigerator. Jam lasts for a month if stored correctly. Or consumed wisely 😉
Off to enjoy my morning toasts with pandan kaya jam spread all over it. And maybe a strong espresso on the side just to emulate the overall experience of having a Malaysian breakfast in the US.
This is one recipe that I'm holding onto. Forever. Until it's time to visit "home" 🙂
Have you tried any Malaysian recipe before? Or pandan flavored desserts?