P
hew! I feel much better now. Thanks for all the comments my dear friend. You rock! <3
The only matter I am still struggling close to a month right now is cough. I've tried anything and everything but it just doesn't go away. The house gets very quiet since the Husband works remote and the only thing that actually irritates him during most of his conference calls are usually my coughs — it's relentless!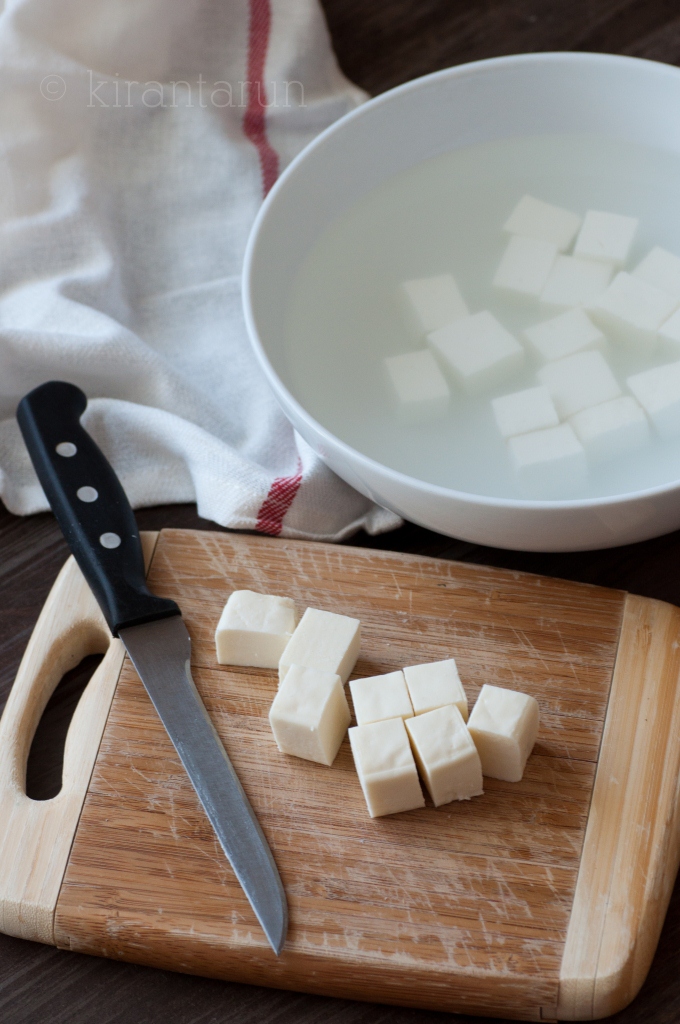 Since there's no way of curing this stubborn cough, I try to make up for it by treating the Husband to a delicious and belly-warming meal. After all, "a way to a man's heart is through his stomach" – it's a simple formula right?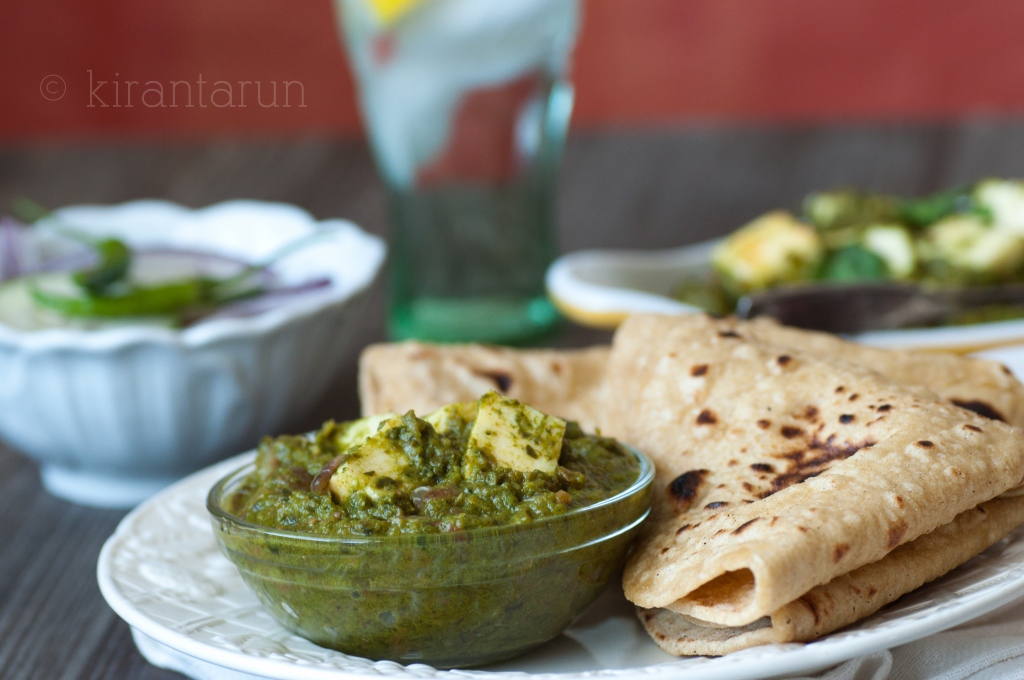 Palak translates to spinach whereas paneer is indian farmers cheese. Store-bought paneer's are readily available from local indian/ethnic grocery stores. It definitely can't beat a freshly homemade paneer.
To prepare paneer, food acid (usually lemon juice, vinegar, citric acid or yogurt) is added to hot milk to separate the curds from the whey. The curds are drained in muslin or cheesecloth and the excess water is pressed out. The resulting paneer is dipped in chilled water for 2–3 hours to give it a good texture and appearance – Wikipedia.
Homemade paneer recipe is coming up in the future. I made do with store-bought paneer. You do what you have to when there's limited supply of whole milk in the refrigerator. Or when it's freezing cold in Florida, and you just don't want to abandon the cozy blanket. Or just sheer laziness. Your call 😉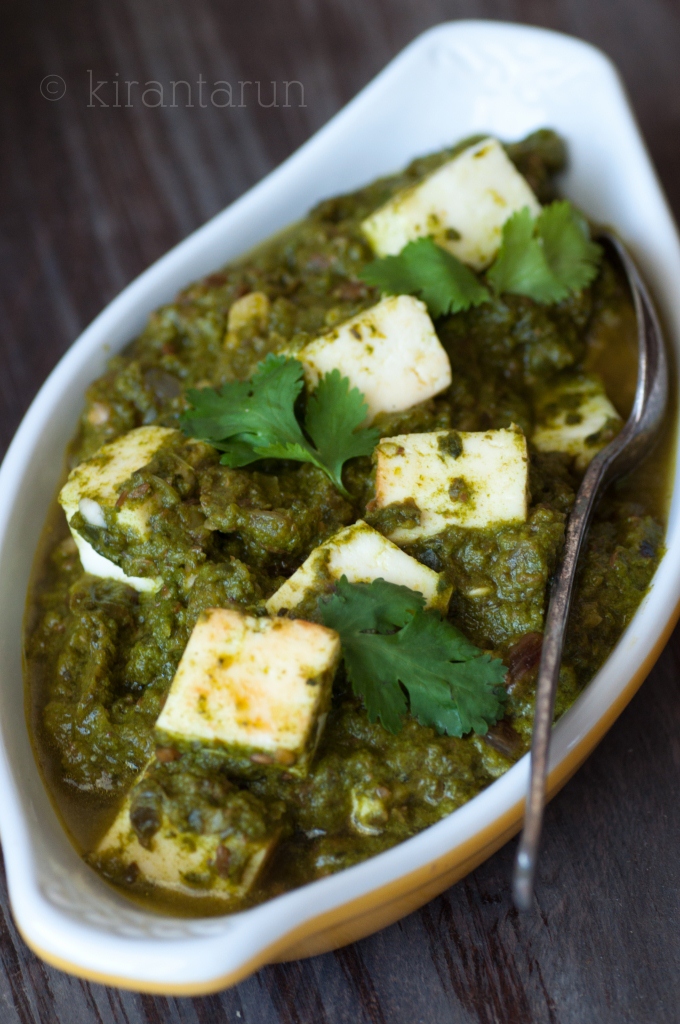 Print This Recipe
Ingredients:
6 oz paneer, cubed
1 tbsp cooking oil
3 cups of hot water
1 heaping tbsp ghee/clarified butter
1 tsp fenugreek seeds
1/2 red onion, chopped
1 tbsp fresh garlic, grated
1/2 tbsp fresh ginger, grated
2 green chilies, minced (reduce to decrease spiciness)
1 tomato, chopped
1/2 tbsp ground cumin
1/2 tbsp ground coriander
3 handfuls of fresh spinach
1 green bell pepper/capsicum, sliced
1/2 cup of yogurt
1/2 cup fresh coriander leaves
less than 1/3 cup of water
1 tsp garam masala
salt to taste
Directions:
Soak paneer cubes in hot water while prepping rest of ingredients.
Heat a non-stick skillet on medium. Once skillet gets a little hot, add ghee.
Sprinkle in fenugreek seeds and chopped onions. Fry till fragrant!
Meanwhile, add spinach, bell pepper, fresh coriander and yogurt in a food processor or blender. Pulse until smooth. Add water gradually if need be, to help the blending process.
Once onions are translucent and fragrant, add grated garlic+ginger, minced chilies and chopped tomatoes. Fry until fragrant & oil slightly separates.
Sprinkle in ground cumin & coriander. Mix to combine.
Add pulsed green sauce + salt. Simmer for 15 minutes or until sauce has slightly thicken & excess liquid evaporates.
Meanwhile, drain paneer and pat-dry to remove any excess moisture.
In a separate non-stick skillet, heat 1 tablespoon of cooking oil on low to medium. Fry paneer's until slightly browned on all angles.
Add pan-fried paneer's into spinach sauce with garam masala. Mix to combine and simmer for 2 minutes.
Serve hot with chappati's (rotis)/naans/rice and a side salad of choice.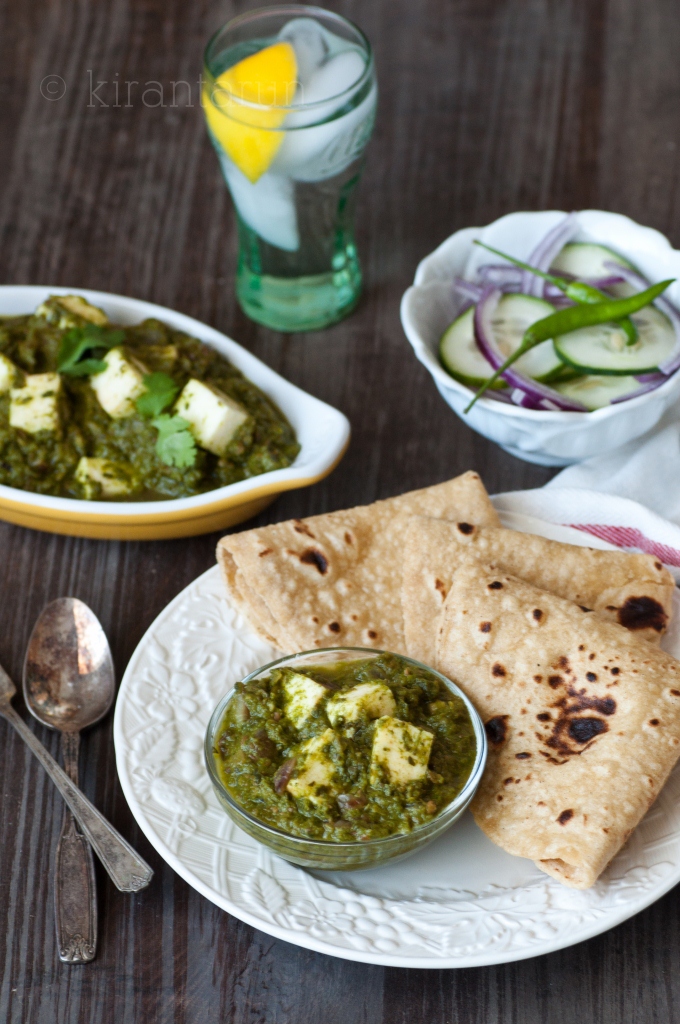 Happy weekend y'all. I am off to menu-plan for next week and future recipes, accompanied with irritating cough. Classy, eh? 😉
What are your plans for this weekend?