Y
ou know what's amazing after slipping in the shower and hurting your shoulders? A no-bake, orange shrikhand tart that's sitting in the fridge, awaiting to be devoured.
A surprising and well deserving dessert after a slip.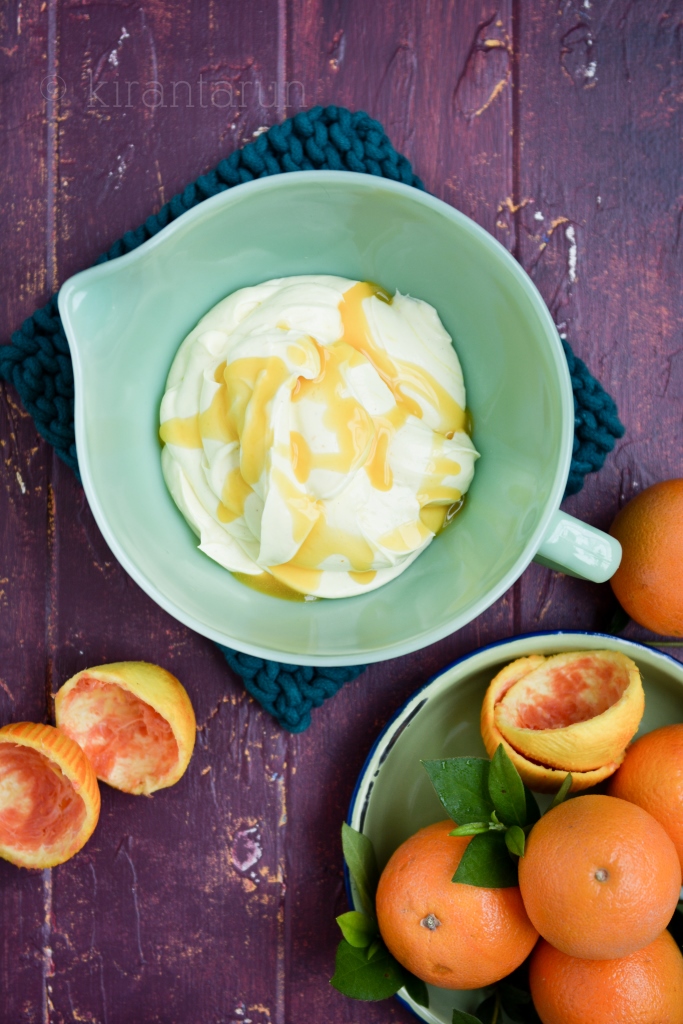 Shrikhand is actually a delicious thickened or hung yogurt, flavored with spices. I had cara-cara oranges sitting on the counter-top, day after day, awaiting to be devoured in a way better than just slicing or juicing.
And a huge tub of shrikhand. So I dreamed about cheesecake, but wasn't in the mood to make the dash to the store just for cream cheese.
I have to make this happen with everything I already had in the kitchen. Something simple and I wish to believe, a healthier version of a cheesecake 😉

When I say "healthier", its only because I can then justify or convince myself to devour more than one slice in a sitting. No shame whatsoever.
Shame aside, what's best about this dessert is zero baking. It's finally sunny enough out there so I am in no mood to crank up the oven for now.
And you shouldn't too. Just make some shrikhand ahead of time, and voila! Dessert will be awaiting for you in the fridge whenever you need a slice to soothe whatever you have going on in your life. I certainly needed to soothe my bruised ego.
Or shoulders, in this instance.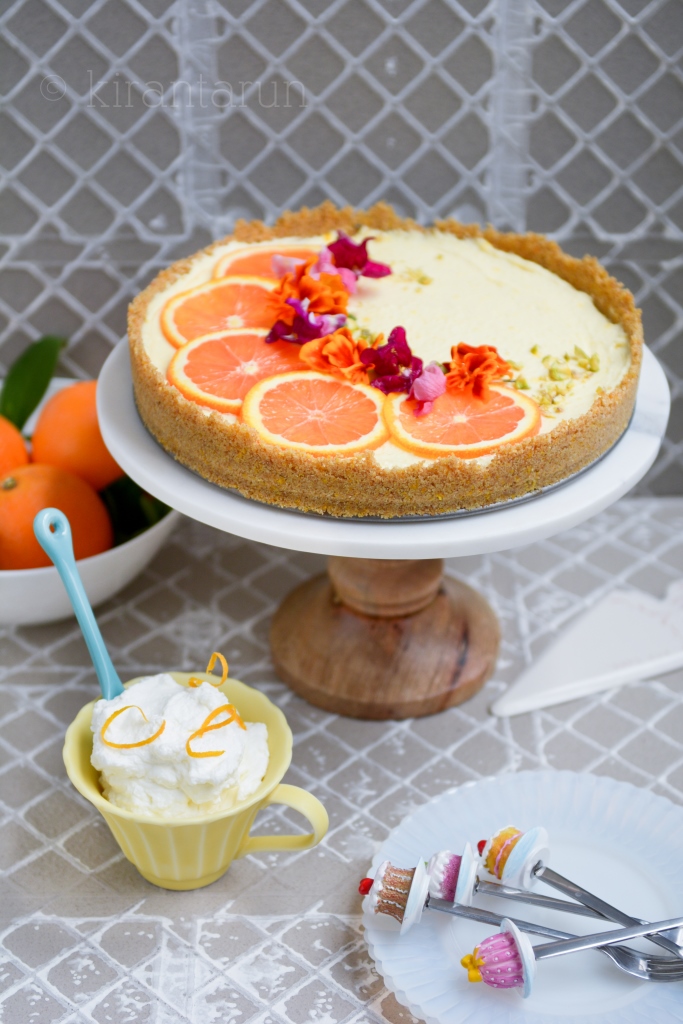 Print This Recipe
Makes a 9 inch tart
Ingredients:
3 heaping pounds of shrikhand (thickened yogurt), made with fresh low-fat yogurt
1/2 cup powdered sugar
1/2 tsp cardamom powder
pinch of saffron threads, crushed
10 digestive biscuits (I used Brittania sugar free digestives for this recipe)
3 tbsp melted butter
zest from 1 orange
1/2 cup orange juice (yield from 2 oranges)
2 tsp orange blossom water
1 pkt (about 8 gm) powdered gelatin, unflavored
Garnish:
chopped pistachios
sliced oranges
edible flowers (optional)
whipped cream
Directions:
See here for easy steps on how to make shrikhand the night before.
Spoon out shrikhand into a clean bowl. Sift in powdered sugar and cardamom powder. Add crushed saffron threads and whisk everything until combined. Cling wrap and return flavored shrikhand into the fridge while prepping the rest of ingredients.
To prepare the tart shell, add digestive biscuits into a food processor. Pulse until fine before adding melted butter and orange zest. Pulse just until everything combines.
Dump crumbs into a 9 inch springform pan. Using a flat-bottomed glass, press crumbs until the sides, evenly, to form a tart shell. Refrigerate for at least 2 hours to set the crust.
Once tart shell and shrikhand has enough time to set in the fridge, time to finish making the filing.
Add orange juice into a bowl. Sprinkle in powdered gelatin and microwave for 30 seconds on high. Remove and whisk to combine. Allow to cool slightly before adding orange blossom water. Stir and bring to room temperature. Make sure to whisk in between to melt gelatin completely. Make sure liquid is still in "pourable" state for the next step. If gelatin begins to thicken too much, just stick it back in the microwave for a few seconds.
Remove tart shell and shrikhand from the refrigerator. Using a strainer, sieve through cooled liquid orange gelatin into shrikhand. With a spatula, gently fold everything to combine.
Immediately spoon in shrikhand into prepared tart shell. Spread evenly and refrigerate for at least 6 hours.
Garnish just before serving, and don't forget to serve it with some freshly whipped cream. Best served cold.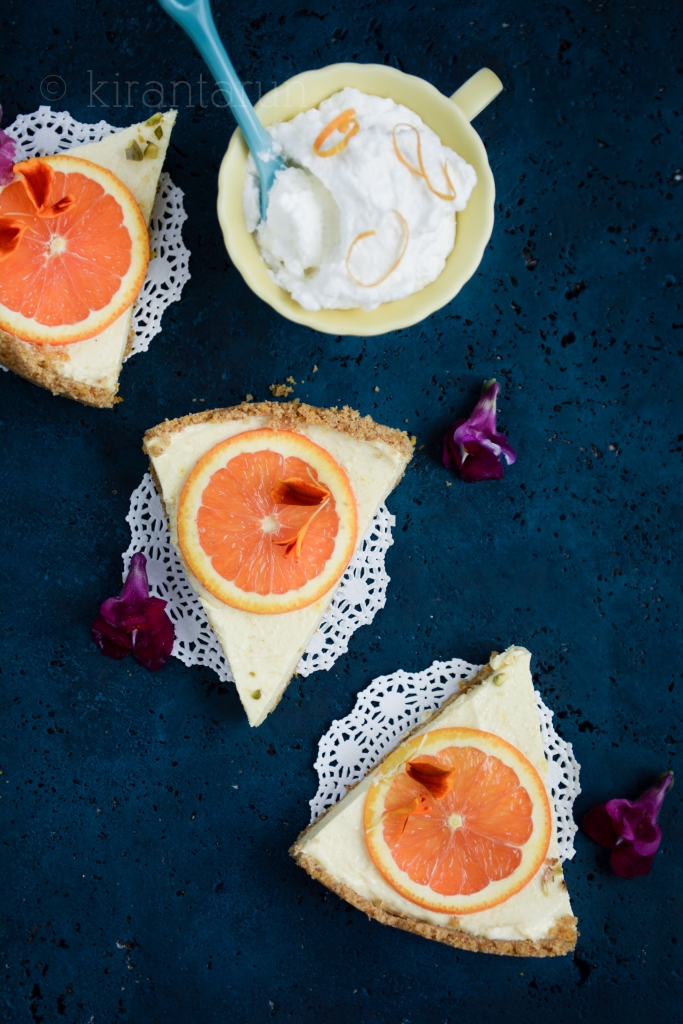 Enough typing, I need to ice this freaking shoulder. Maybe have a slice of tart in the process? They call me a multi-tasker for a reason 😉
What are your go-to foods to soothe a bruised ego?