I
t was never my intention to use this beautiful, antique kitchen scale in back-to-back recipe styling. This recipe was shot a while back, so that's my excuse.
Or plain simple, I just wanted to use this kitchen scale again 😉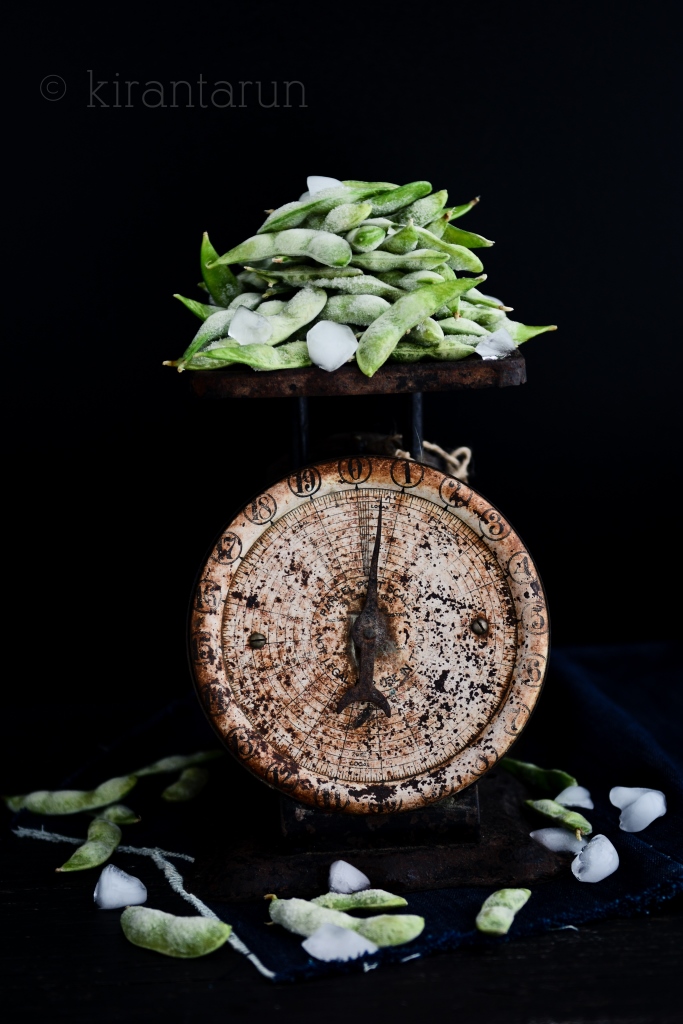 Antique kitchenwares' carries tales from many years ago. Each rust, crack, peel and discoloration tells a story.
Take this kitchen scale for example.
Look at the rust and peeling! It makes me wonder who would've used it and what recipes were measured with it? And where? By whom? 😀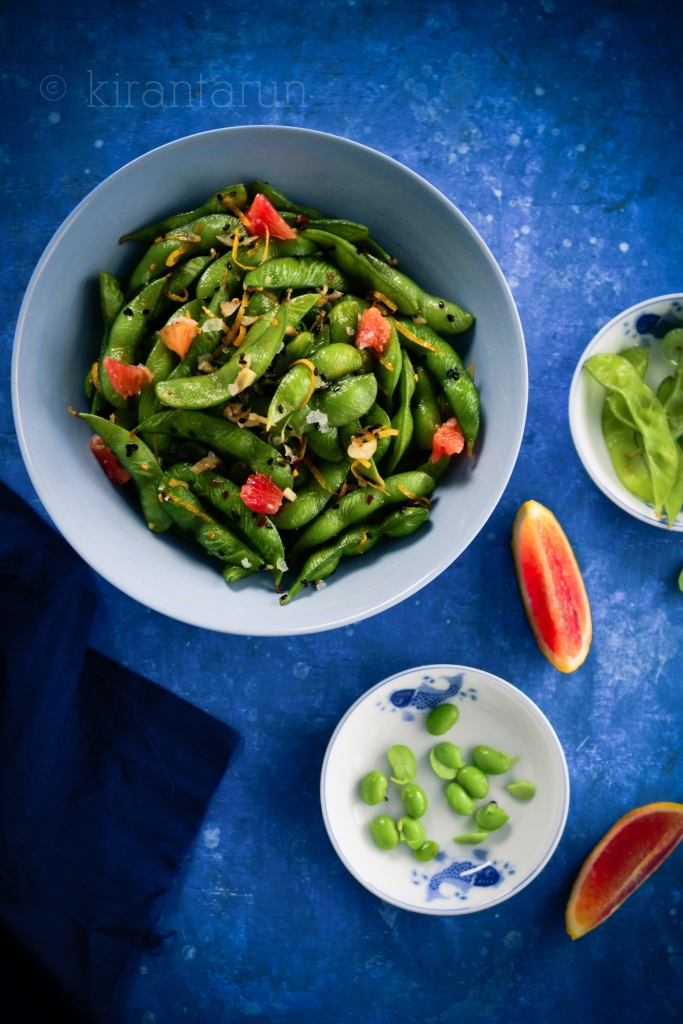 Stories known or otherwise, this kitchen scale will be used so often for weighing or as a photo prop. Something new just isn't the same. Except for food. Food has come a long way. Its evolution is definitely a motivation that I need to keep creating wonderful recipes.
It's a delicious challenge that I think everyone should embrace. Take edamame for instance. Its usually served steamed with salt and pepper.
BORING. Let's squirt on some sunshine 🙂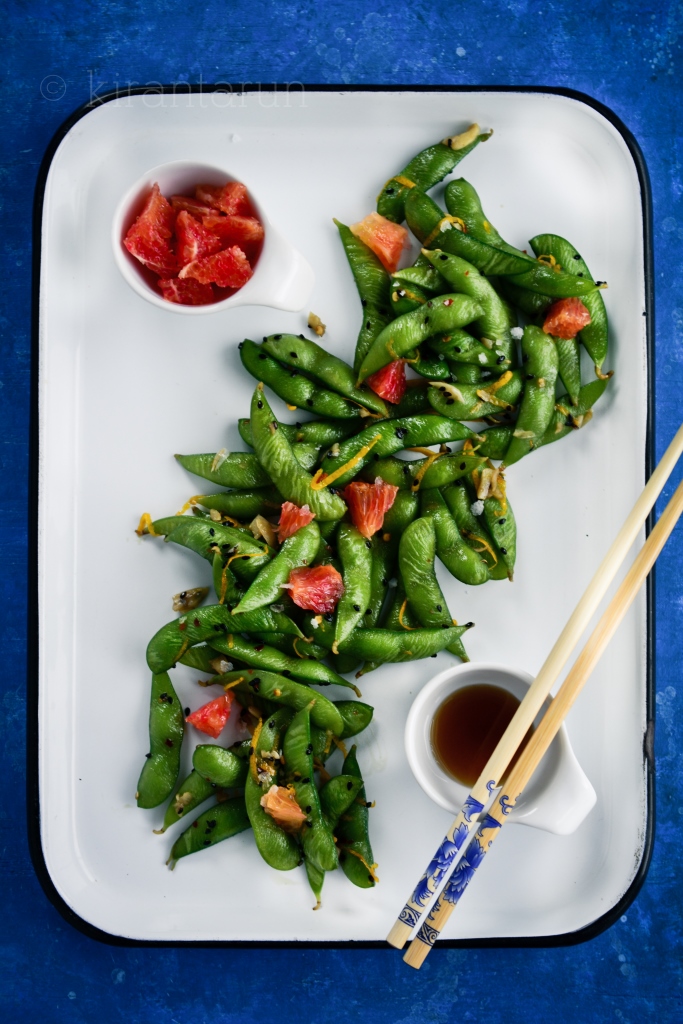 Print This Recipe
Serves 4
Ingredients:
1 lbs frozen edamame in pods
4 cups of water
1/2 tsp salt
some icy cold water
2 tbsp toasted sesame oil
2 tsp garlic, minced
1/4 tsp black pepper
1/4 tsp red chili flakes
1 whole orange, zest only
1/2 tsp fleur de sel or any course salt
optional toppings: 1 tsp toasted black sesame seeds, orange segments
Directions:
If you are using frozen edamame, bring a pot of water to boil. Season water with salt and add edamame to simmer for 2 minutes only.  With a mesh strainer, remove hot edamame and shock it into an icy cold water bath to retain color and stop the cooking. Drain and set aside.
Heat a wok on high. Once heated, reduce heat to medium. Swirl in toasted sesame oil. Add garlic, edamame, black pepper and red chili flakes. Stir-fry for a minute before adding orange zest and course salt. Remove from heat immediately to serve, topped with toasted black sesame seeds, orange segments & more coarse salt if needed.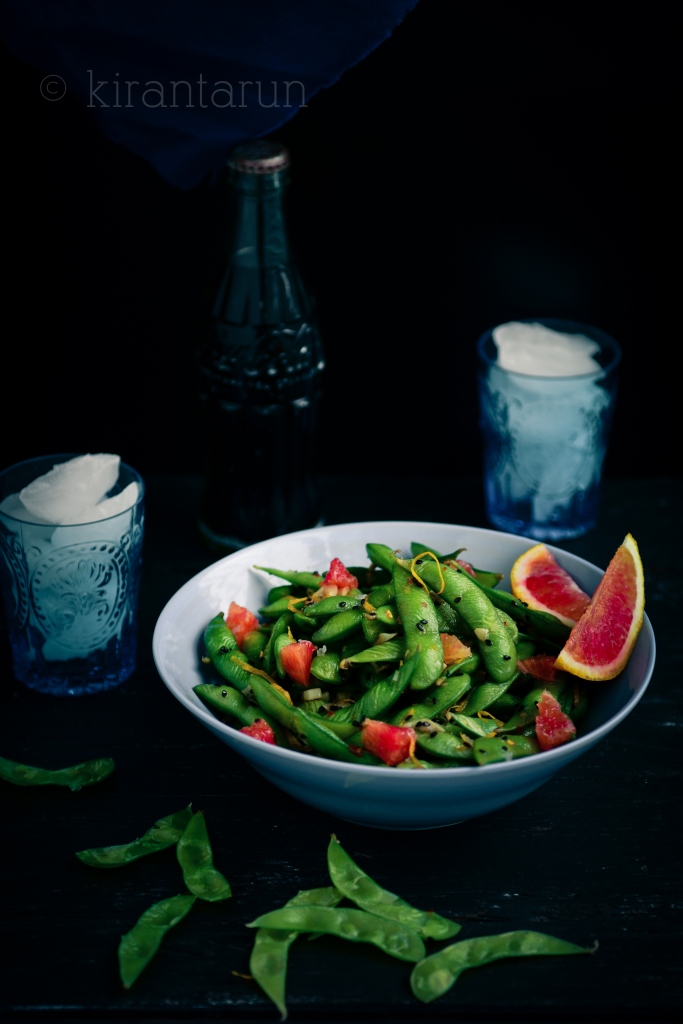 Off to rummage the refrigerator for lunch. Let's hope we all find a squirt of sunshine in the midst of this chilly snow storms. Be safe!
Are you into antiquing? Do you own any antique kitchenware?