H
appy Tuesday!!!
There's so many reason why I choose to post on Tuesdays and Fridays.
I am often grumpy on Mondays.

My weekends are reserved for household chores. At any given time, and if you are lucky, you might find me on my hands and knees scrubbing the floors.
So, by the time Monday comes knocking the door, I am all but excited.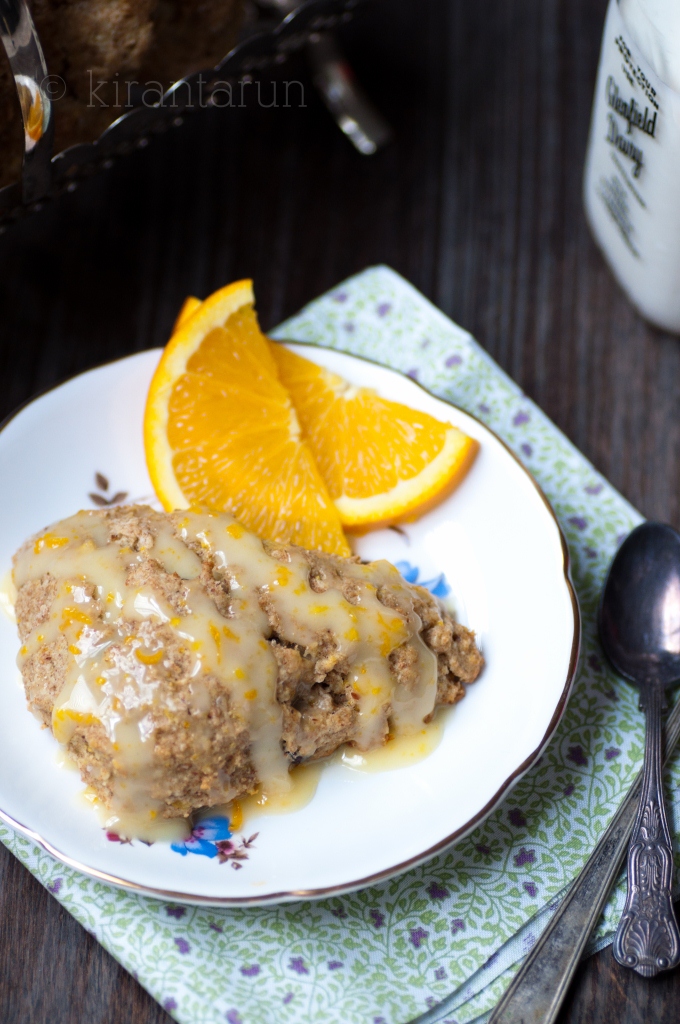 Some events occurred yesterday that ticked me off, big time.
Don't ask me why..
Ok, if you truly need to know 😉
We recently had an issue with our lawn over the weekend. And we usually have someone to come and take a look at it on Mondays. Not only he came, inspected and handed us 3 different sky-rocketing price quotations for the fix — he was selling his services too. Lawn maintenance services with a contract.
Are you kidding me? The reason he was called out in the first place was to look at the existing problem, quote the price and that's it.
Phew!
You'd think that was the only reason for my temper. But no.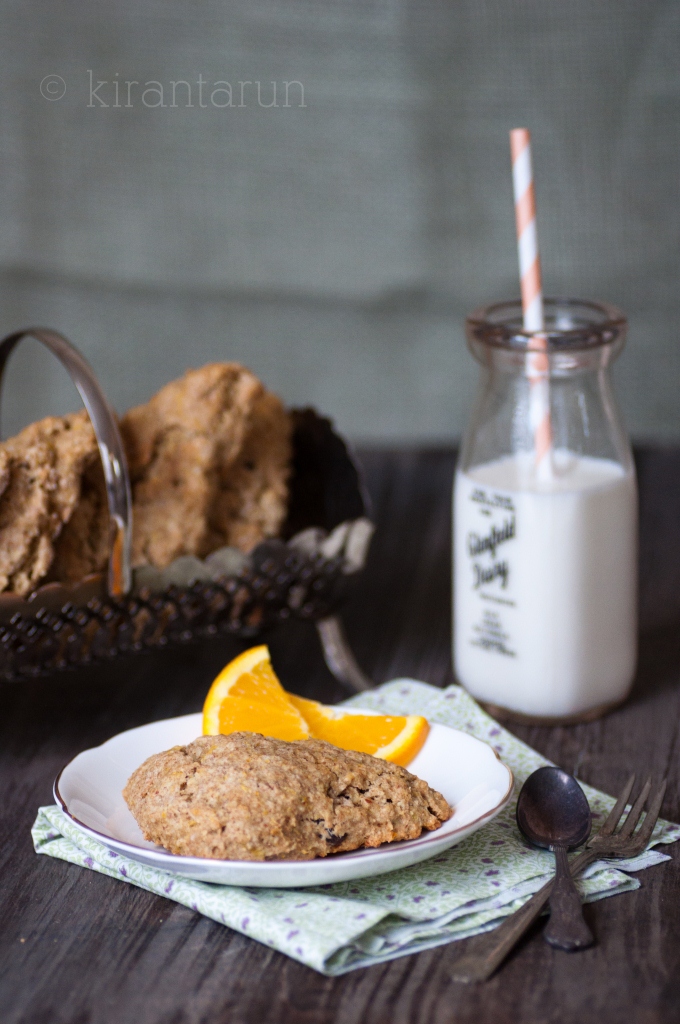 I feel off the staircase. While going up. Duh?!
I am fine, but my feet and sides are a little bruised up.
Le sigh. First, the exhaustion from weekend chores. Then, the irritation from lawn guy and now, pain?
Guess, I've added insult to my injuries on a Monday, huh?!
In order to vent off my frustrations and aches, I baked on a Monday. Yeah, that's what baking does to me. Its a calming effect. All aches and frustrations seems to melt away.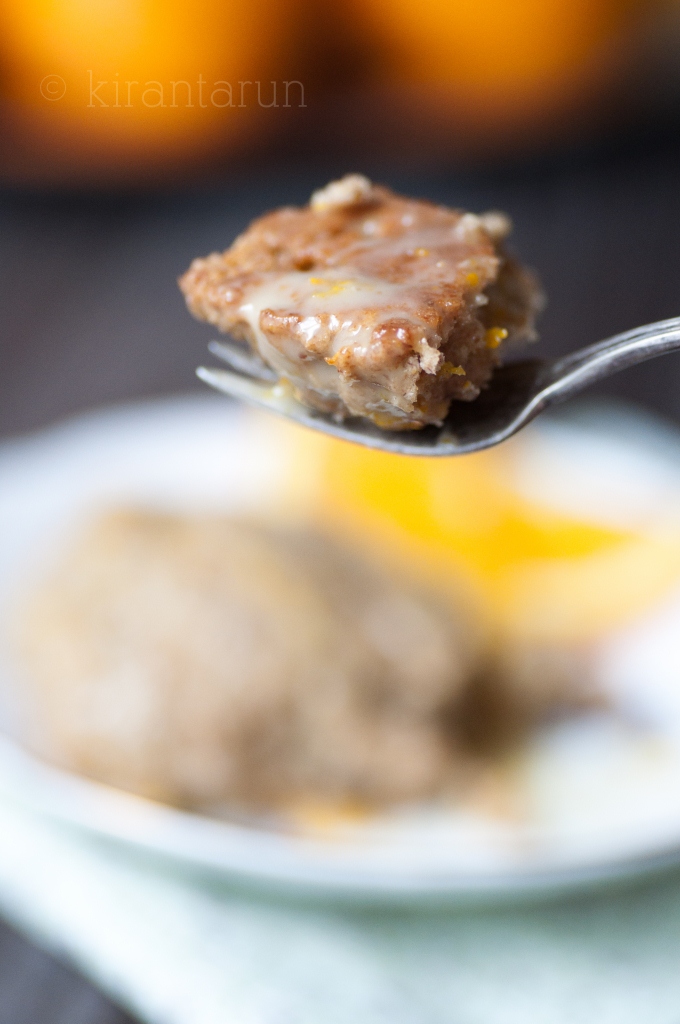 I'd happily go into a sugar coma just so I could forget about Monday blues 😉 And, you should too!
I sorta feel proud of myself for not allowing a bruised feet and ego to mess with my baking mojo. I'd love to believe a delicious glaze has something to do with it.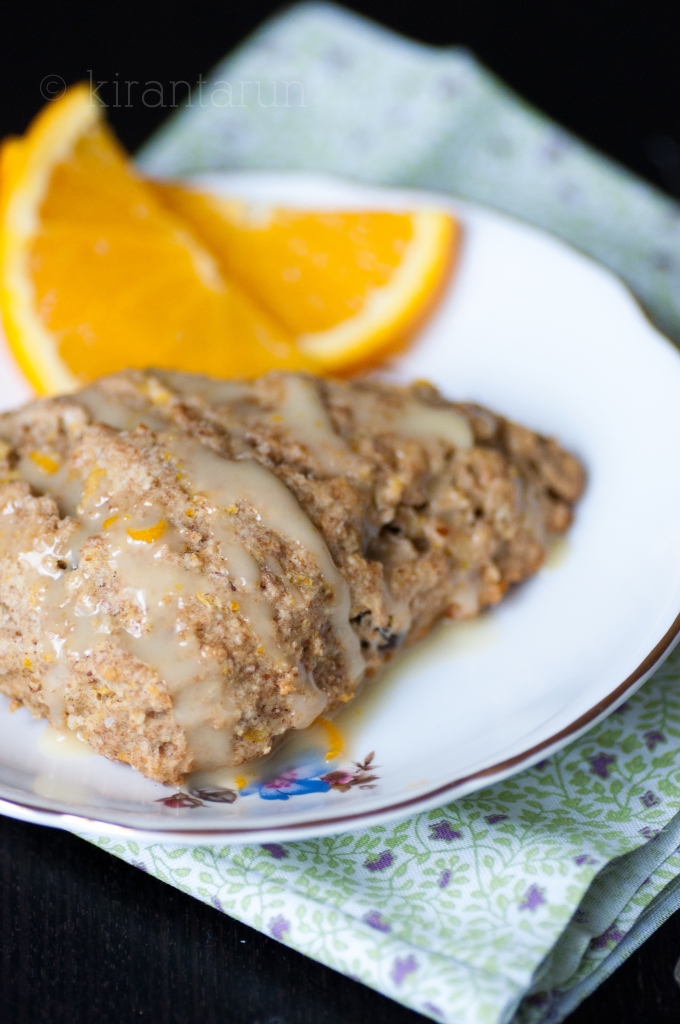 Print This Recipe
Makes 8 delicious scones.
Dry Ingredients:
1 cup whole wheat flour
1 cup almond flour
1/2 cup oat flour
1/4 cup white unbleached flour
1/3 cup raisins
1/2 tsp baking soda
1 tsp baking powder
1/3 cup sugar
1/2 tsp salt
3 tbsp butter
1/2 whole milk at room temperature (or buttermilk)
1 whole orange, zested + juiced
1/2 tsp vanilla extract
Orange speckled glaze
1/2 cup of powdered sugar
3 tbsp orange juice
zest of 1/2 an orange
Directions:
Preheat oven to 350F. Line baking sheet with a silicon mat or wax paper.
In a small bowl, add whole milk + orange zest and juice. Stir and leave it for a few minutes to resemble buttermilk.
In a medium bowl, sift whole wheat, almond, oat and white flour with baking soda + powder & salt. Add sugar and combine.
Using a pairing knife, cut butter into small chunks. Add it in the dry ingredients and crumble (with fingers or pastry blender) until the mixture resembles crumbs. Set aside.
Once milk mixture slightly resembles buttermilk, add vanilla extract.
Combine wet ingredients into dry ingredients. Do not over mix.
Flour your hands & baking surface liberally. Scoop up the dough onto the baking surface, forming it into a 3/4 thick circled disk.
With a sharp knife, divide scones into 8 wedges. Line scones on baking sheet and bake for 15 minutes.
Prepare glaze by adding all of the ingredients in a bowl and stir to combine!
Allow scones to cool completely before drizzling some orange speckled glaze. Or a lot. I won't blame you, it's addictive 😉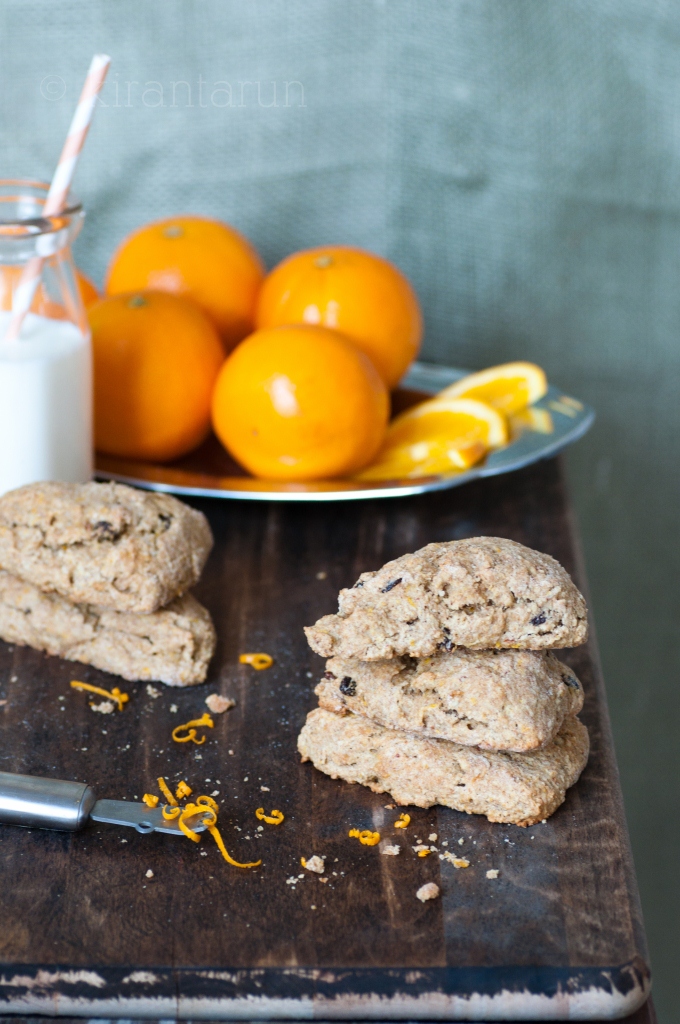 Similar to treating yourself to delicious desserts after a visit from the doctors — you either make up an excuse to stuff yourself silly with desserts, of just go with the flow.
I hope your Monday was pain-free in comparison. If not, share some of your kitchen or household mishaps. Pinky promise not to laugh about it.
If you promise not to laugh at mine, as well 😉