Makes about 30 cookies
Ingredients:
1 cup chickpea flour/besan
1/2 cup of fine semolina/sooji
1/4 cup all purpose flour
1 cup confectioners sugar
1/4 tsp baking soda
1/2 tsp cardamom powder
1/4 tsp salt
3/4 cup ghee (thick, not melted)
1/4 tsp vanilla extract
chopped almonds and pistachios for garnish
Directions:
Sift in chickpea flour, fine semolina, all purpose flour, confectioners sugar, baking soda, cardamom powder and salt into a stand mixer bowl fitted with a paddle.
Add thick ghee and vanilla extract. Cream everything until completely combined. Cookie dough would be slightly sticky or tacky. Wrap dough into a cling wrap, place it into a bowl and set in the refrigerator to cool for 30 minutes.
Preheat oven to 300F. Line two baking sheets with parchment paper. Set aside.
Remove cookie dough from refrigerator and knead it with clean hands, for at least 30 seconds. Scoop cookie dough with a small ice cream scoop, roll it between your palms to form a smooth ball and very lightly flatten onto baking sheets, leaving enough room between scoops.
Lightly press some chopped almonds and pistachios onto flatten surface of cookie dough.
Bake cookies between 18 to 20 minutes, or until cookies begin to lightly color at the bottom. Remove cookie sheets from oven and allow cookies to cool on baking sheet for 30 minutes before cooling it off completely on cooling racks lined with fresh parchment paper.
Slide cookies gently off the cookie sheets using a spatula. Do not lift with your fingers. Cookies needs to be allowed to dry on cooling racks for at least 2 hours before consumption.
Enjoy melt-in-your-mouth nankhatai with chai, coffee or cold milk!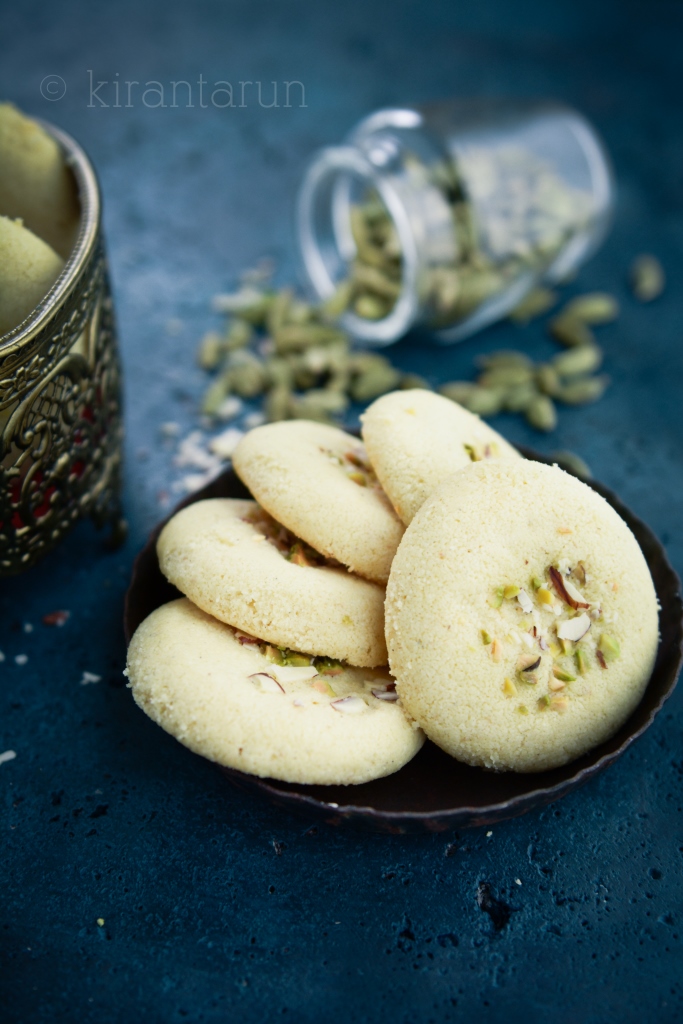 Can't wait to be back home again, baking these nankhatai's and sipping masala chai. Till then, off to enjoy South Beach, Miami and crossing my fingers I don't leave anything behind before we make our trek back home 😉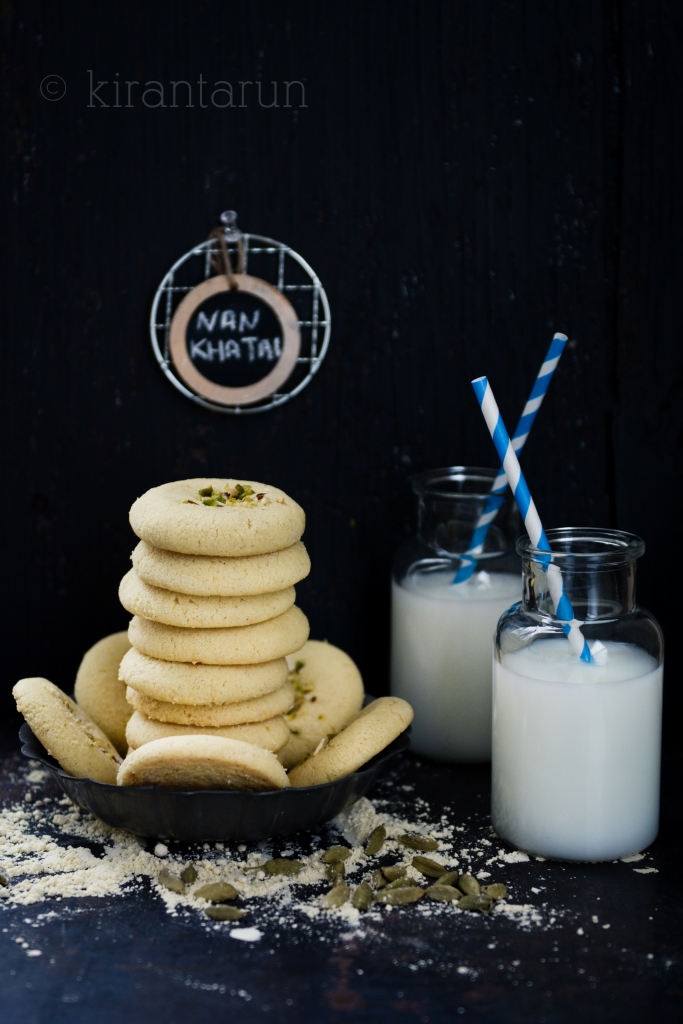 Have a great week, my friends. Are you easily "scattered-brained" as me? If not, I'm so jealous!