S
PRING is HERE!
But where are the fresh ramps or fava beans that I've been wanting to devour? Where's the sunshine and blooming flowers? All we are getting is a very wet, gloomy and chilly days.
Everyday weather is taken with a grain of salt . We should be thankful, at the very least that it's not snowing over here. Well, not quite. But who knows about the future.
It can and might snow one of these days and I wouldn't be just as shock.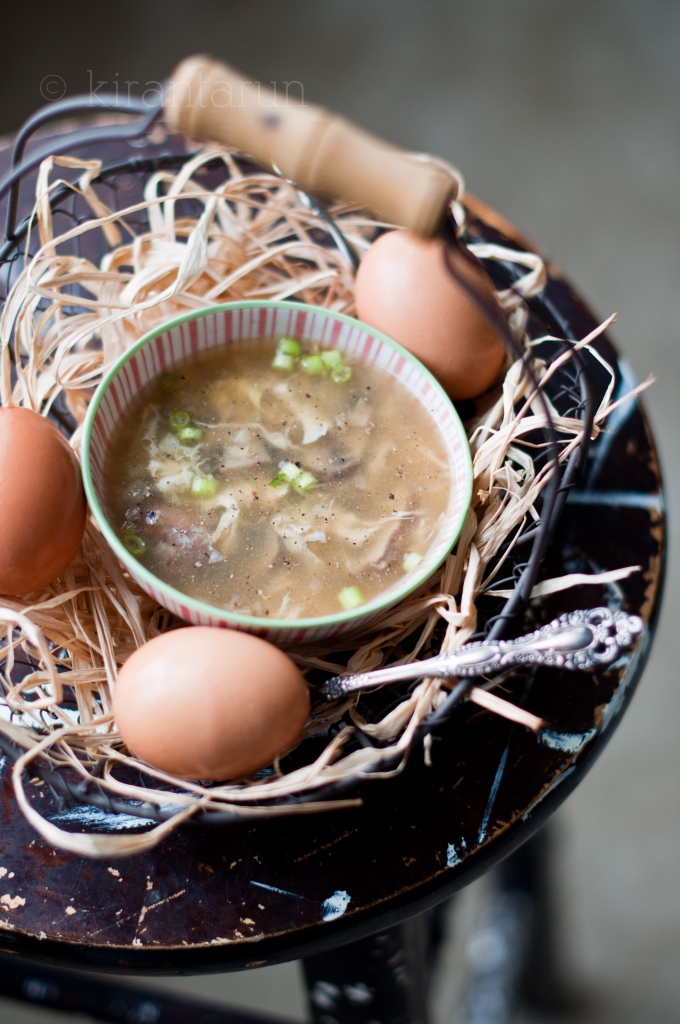 Yet another weather related breaking news: It's been raining so much this last two days and all we wanted was to slurp down bowls of comforting clear soups.
Something light in tummy and pockets. I'll explain.
You see…
I'm still dreaming about successfully baking macarons someday, but for now the idea is left in the back-burner. More humidity is not going to help and we can't afford to waste anymore money on almond flour and eggs.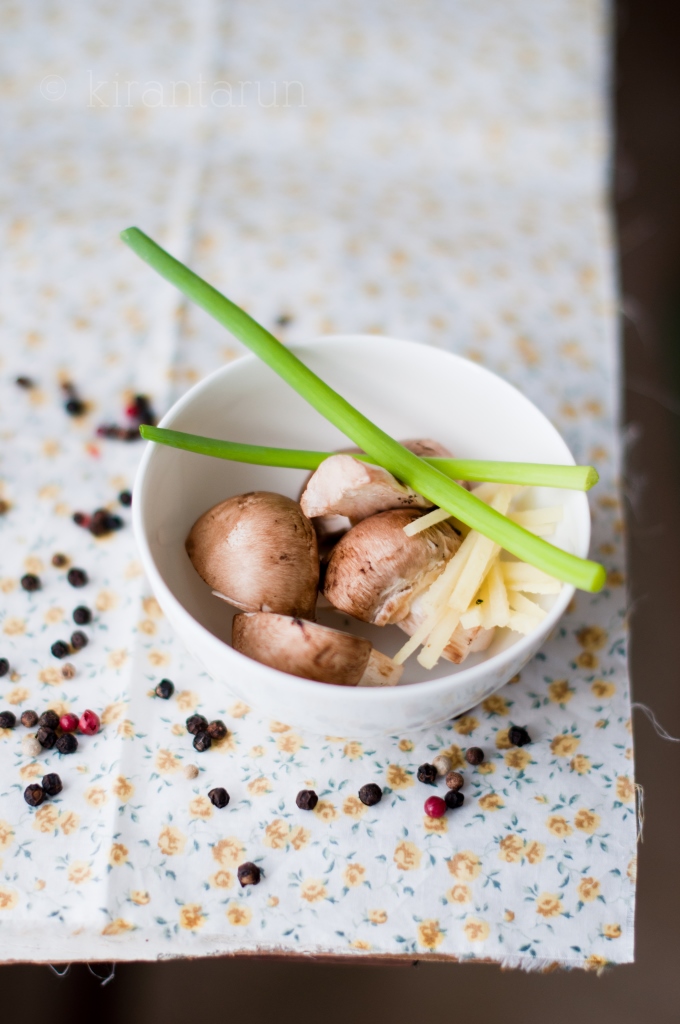 On the other hand, I don't seem to have problems in making mushroom and egg drop soup. It's so economical, easy and tasty. And it's a healthier take on traditional egg drop soup — there's not a trace of starch in here 🙂
And did I tell you about how my livelihood depends on clear soups? Well, now you know.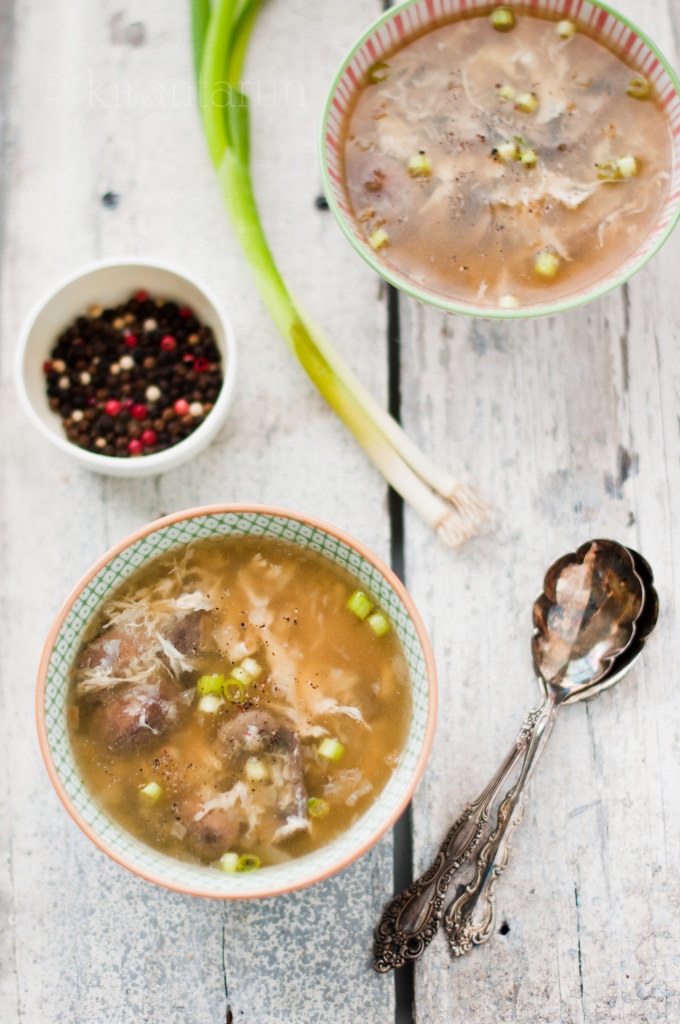 Print This Recipe
Ingredients:
2 tbsp extra virgin olive oil
1 small shallot, minced
1 tbsp ginger, sliced into matchsticks
1 small star anise
8 oz baby bella mushrooms, sliced
1 qt organic low-sodium vegetable broth
1/2 tsp five spice powder
1 tsp salt
1/2 tsp black pepper
2 tbsp lemon juice
2 large organic eggs
2 stalks of scallions, sliced
Directions:
Heat a large saucepan on medium. Wait for the pan to heat before adding olive oil.
Throw in minced shallot, sliced ginger and star anise. Fry until shallots are translucent, about 1 minute.
Add sliced mushrooms and cook for 2 more minutes.
Drizzle in vegetable broth, sprinkle some five spice powder, salt, black pepper and lemon juice. Stir to combine and simmer for at least 5 more minutes.
In the meantime, crack 2 eggs in a small bowl and beat to combine.
Once the broth begins to simmer, make swirls with a laddle and carefully drizzle in beaten eggs. Work fast but safely.
Remove broth from heat but keep stirring. Sprinkle on some scallions and laddle soups into bowls to enjoy!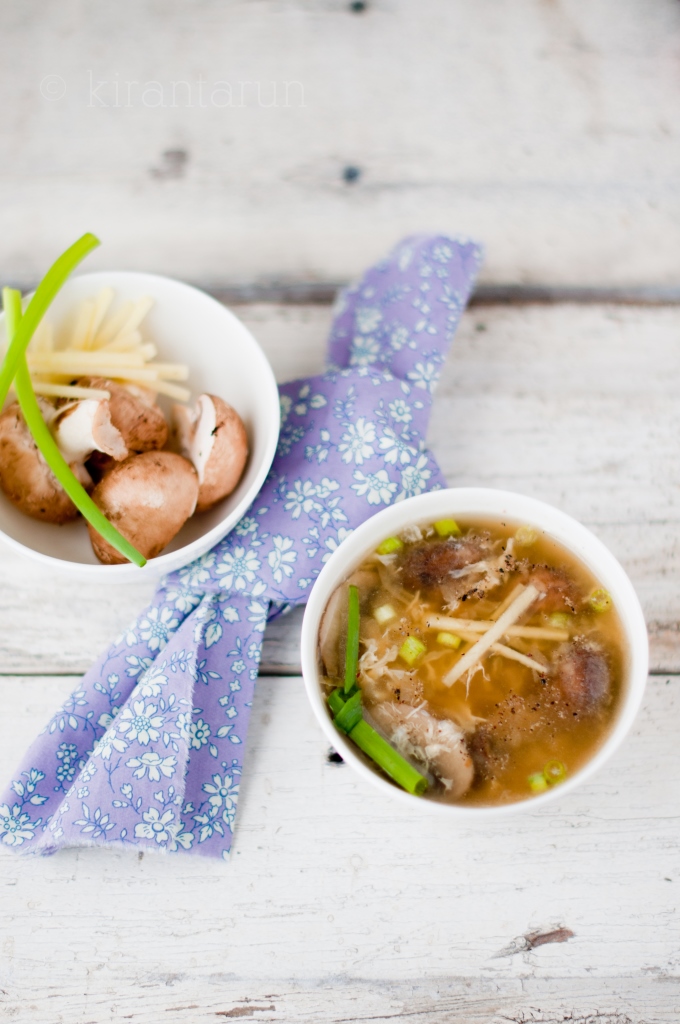 Here's wishing for better baking days ahead in my near future. And if you are baking today, don't tell me about it. Unless you are willing to ship your baked goods to us.
Consider this as a warning 😉
What is your favorite soup on a dreary day?