L
addoo's are literally bejeweled Indian sweet. Marking it's presence with sweetness and auspicious color, it's served during festivals and marriages.
Heck, I could have laddoo's any day. No need for any celebratory excuse.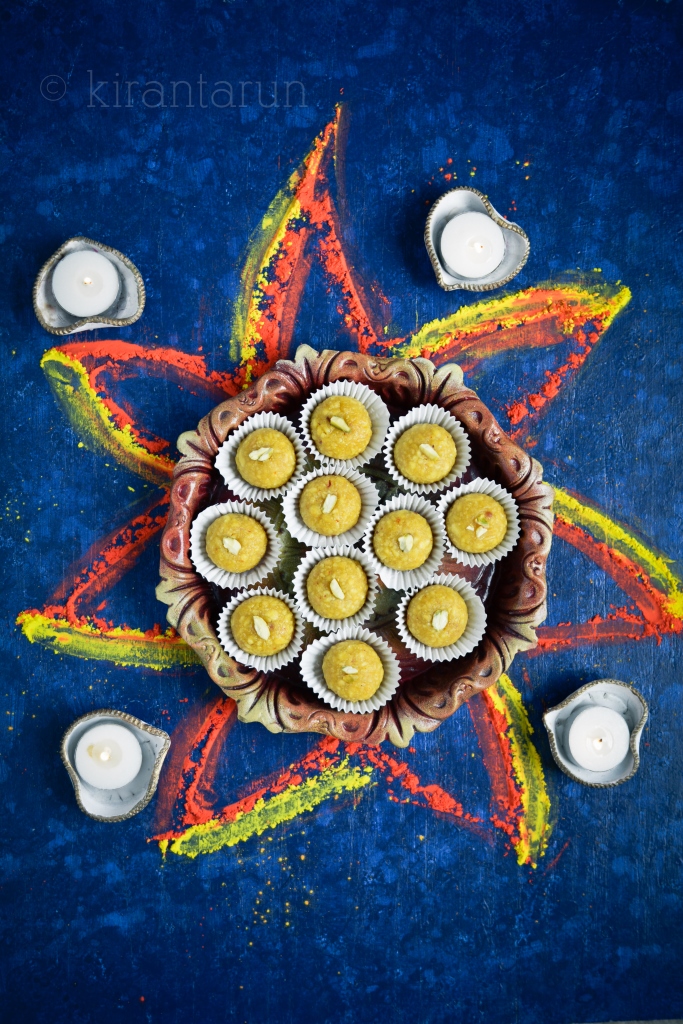 All said aside, I cannot believe we made homemade laddoo's for Diwali this year. Being a Malaysian, laddoo's are something that doesn't come to mind during Diwali. And if it does, off we go to the bakery instead of making it from scratch at home.
It's also very common to serve non-vegetarian dishes during Diwali those days. Until we were married. Only then I discovered that the actual celebrations are done in the most vegetarian way possible. Also, with a lot of ethnic Indian sweets 🙂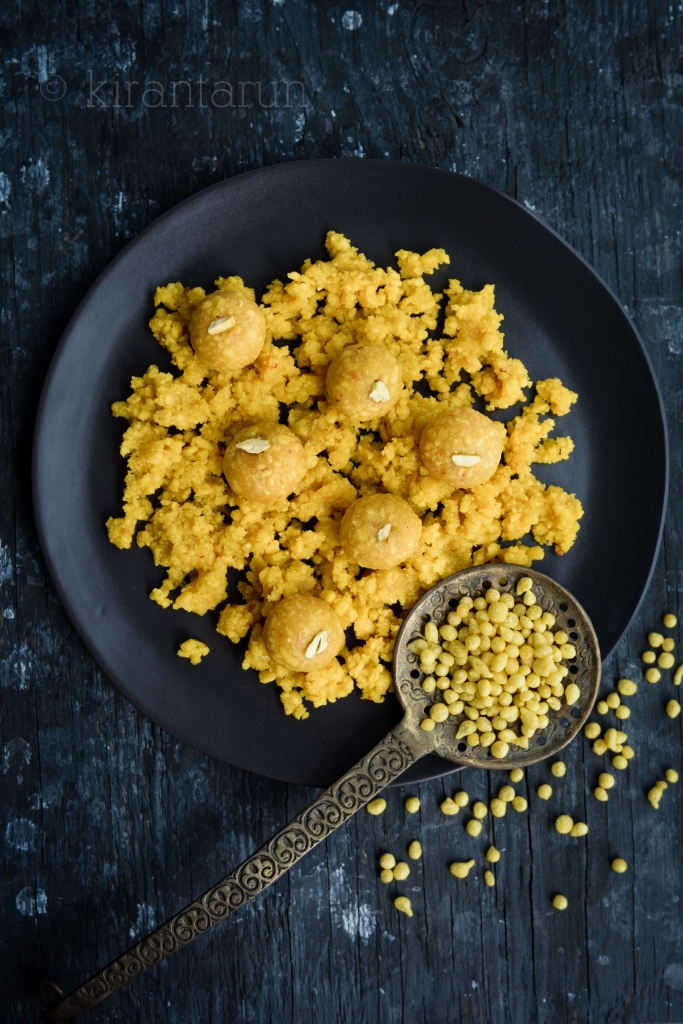 Being in the US, indian sweets are scarce and often tastes disappointing. I've embraced this fact long enough and quickly realized that some dishes has to be made from scratch if I want to celebrate Diwali, the way it's meant to be celebrated.
So off to the kitchen I went and slaved for only an hour to make these delectable laddoo's. It was easy and just as decadent, as what I can recall from my childhood 🙂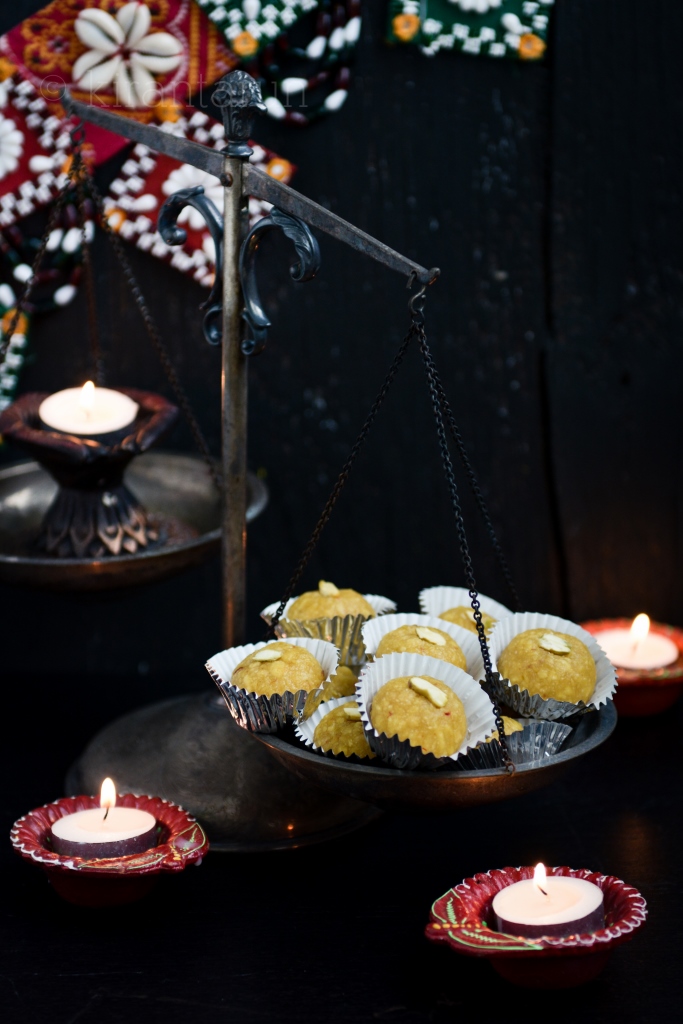 Apart from laddoo's, there's nan khatai, kesar peda, creamy coconut kheer, and strawberry gulab jamun for Diwali this year. It's definitely a very sweet affair 🙂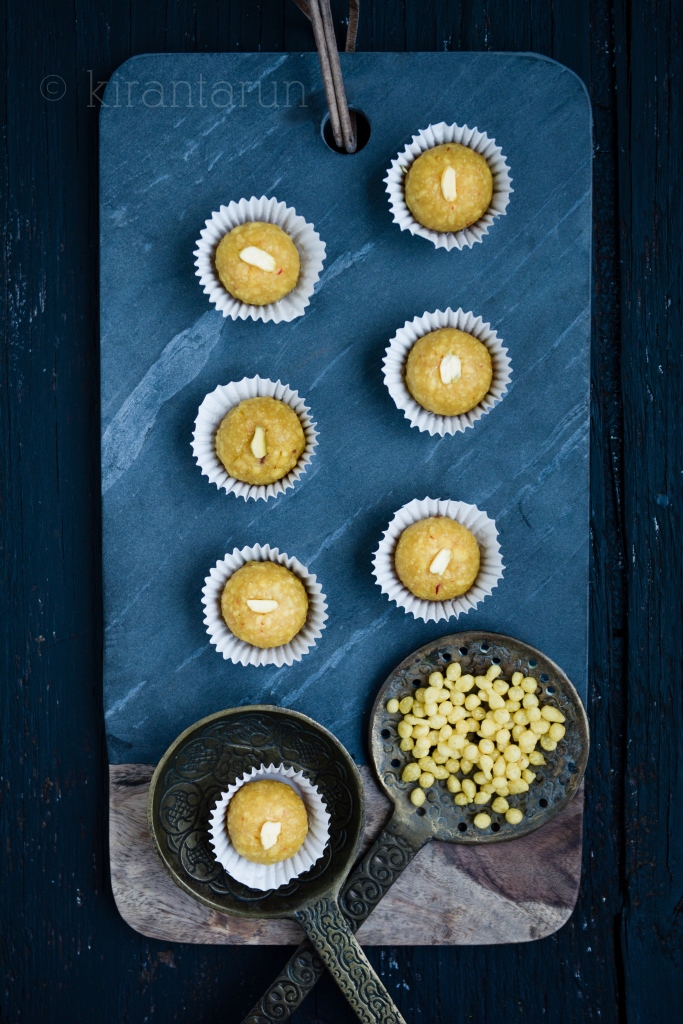 Print This Recipe
Makes around 15 ladoos
Ingredients:
1 cup chickpea flour (besan)
2 tbsp sooji (semolina flour)
1/4 tsp baking soda
generous pinch of saffron threads, powdered
1/2 cup luke-warm water
oil & ghee for deep frying
some ghee
chopped nuts for garnish
Simple syrup —
1/2 cup sugar
1/2 cup water
generous pinch of powdered saffron
3 green cardamom pods, cracked
1 tsp rose water
Directions:
To make simple syrup, add sugar and water into a saucepan. Sprinkle in powdered saffron and cracked cardamom pods. Heat this saucepan to medium and bring it to a gentle simmer. Stir until sugar dissolves. Stream in rose water and gently simmer the simple syrup for a few minutes or until it begins to form a sticky thread. Bring the heat to the lowest temperature to keep the syrup from getting cold.
Heat a medium saucepan (karahi) on medium-high. Add enough half oil and half ghee to deep fry boondis.
To prepare boondi (tiny chickpea flour balls) batter, sift chickpea flour (besan), sooji, baking soda and powdered saffron into a deep medium bowl. Drizzle in 1/2 cup of luke warm water and whisk the batter until completely smooth.
Reduce the temperature for deep frying to medium-low.
Using a perforated flat ladle, position it above the hot oil. Using a small ladle, careful pour boondi batter onto the perforated flat ladle. Apply some gently pressure in the circular motion over the batter to release small boondis into hot oil.
Fry boondis for a minute. Do not over fry. Remove fried boondis with a slotted spoon and drain the excess oil over some paper towels. Transfer drained fried boondis to soak into the hot simple syrup. Continue frying the rest of batter. Continue soaking drained fried boondis into hot simple syrup.
Once all boondi's are fried and done soaking, add soaked boondi's and remaining hot simple syrup into a blender or food processor. Pulse until desired boondi size is achieved. Do not over-pulse or else it would be impossible to shape them into ladoos. If needed, add 2 tbsp of hot water to help with the blending.
To shape laddoo's, apply some melted ghee onto your palms. Gather about 2 tbsp of motichoor boondis that we just pulsed, and shape it with your palms.
Garnish laddoo's with chopped nuts. Leave at room temperature to dry. Ladoos are best consumed within 2 days. It refrigerates well too, up to one week.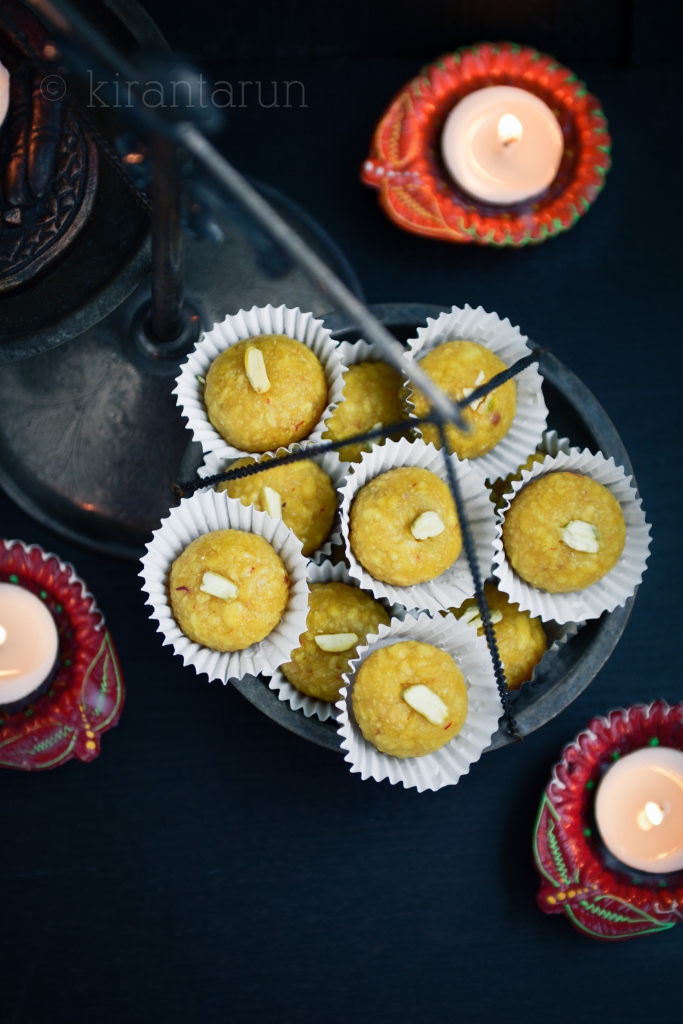 Off to gobble up some of these freshly made, warm laddoo's. Here's wishing you and your loved ones a very Happy Diwali. May the divine light of Diwali illuminates peace, happiness, great health and prosperity into your lives 🙂
What's on the menu for Diwali this year? Have you tried any Diwali sweets before?