M
y go-to meals usually comprised of three very crucial elements:
1) A simple put together meal in no time.
2) Fresh ingredients that involves very little or no cooking.
3) Nutritious yet satisfyingly delicious 🙂
Growing up, I used to despise salads so much. I'd made countless excuses such as, "it's too bland, boring and total BLAH!". Don't all children cook up some excuse every now and then to not eat vegetables? Or am I an outcast? 😉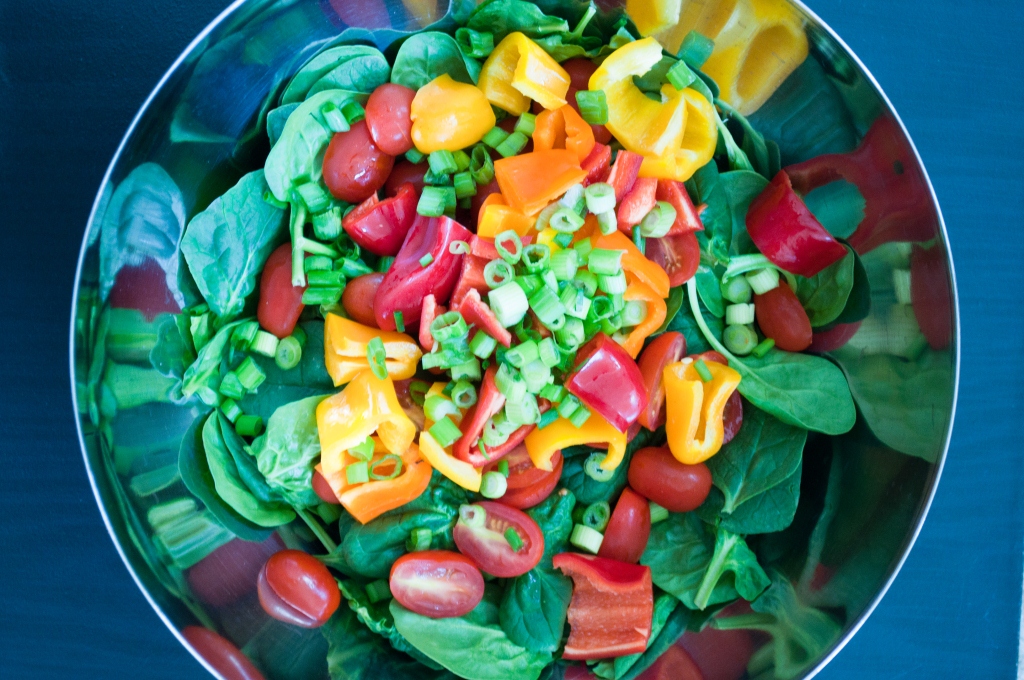 The thing I love about summer is its vegetables. Abundance of seasonal produce coupled with an unforgiving weather. There are some days when I wish I could just survive on smoothies, juices or ice creams. Yeah, its sort of that type of weather going on in Florida. And that's when I concocted this salad recipe in my head. This simply means I threw in the towel and admittedly couldn't bring myself to switch the stove ON for cooking and adding to what seems like a torturous weather.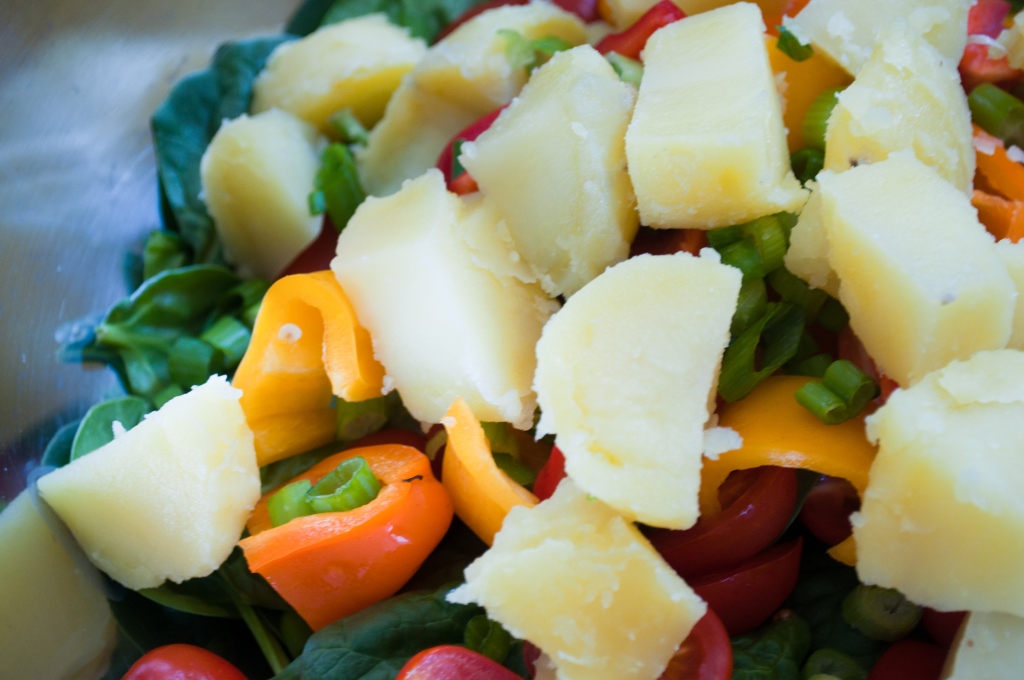 This is the time that a microwave oven can be best used for potatoes. Can you vision the whole theme of cooking here?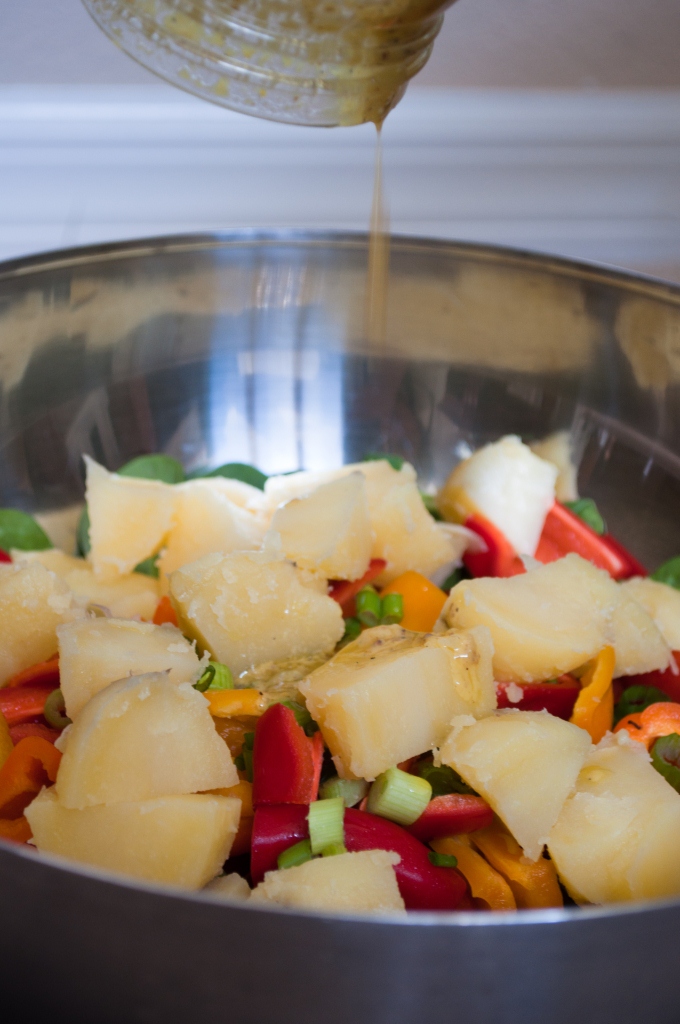 I did, however, prepared some dressing in a mason jar basically by dumping everything in tablespoons and pinches, closed the lid and shake away till everything emulsifies. Though I couldn't escape chopping vegetables.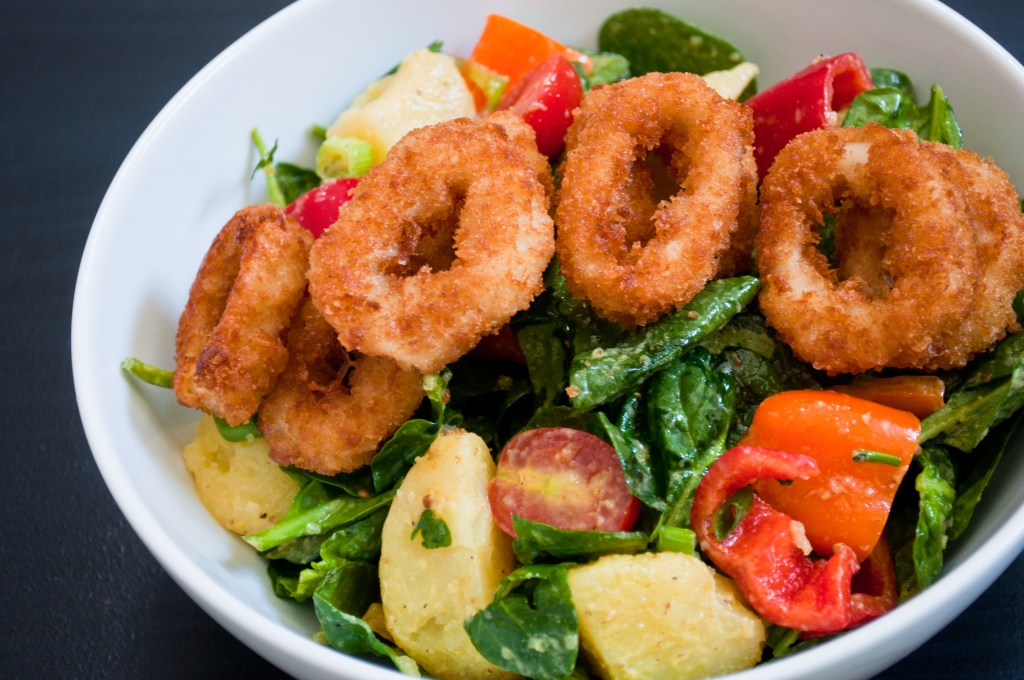 Dump the vegetables in a huge salad bowl, splash in some dressing, toss and sit down with a fork to indulge. Now, this is my kind of cooking. Take that, hot and humid weather 😀
What's your favorite go-to meals? Suggestions are blessings in disguise!

Print This Recipe
Ingredients:
For Salad –
1/3 bag of frozen calamaris
2 medium potatoes, whole
3 handfuls of spinach
1/2 pint grape tomatoes, halved
3 small tri-color bell peppers, chopped
2 scallions, finely chopped
For Dressing –
6 tbsp extra virgin olive oil
2 tbsp grain or Dijon mustard
1 tsp lemon juice
salt & pepper to taste
Directions:
Based on the brand and packaging instructions, preheat oven to 425 degrees F. Line a baking tray with parchment and spread frozen calamaris. Bake for 10-12 minutes. Allow to cool for 10 minutes before serving.
Prick 2 whole potatoes with a fork, wrap with a wet kitchen towel and microwave on high for 3-4minutes until fork tender. Allow the potatoes to cool before peeling and chopping to bite size.
Prepare dressing by combining evoo, mustard, lemon juice, salt and pepper.
In a huge salad bowl, throw in spinach, grape tomatoes, bell peppers and scallions.
Add potatoes, dressing and toss everything to coat.
Just before serving, top salad with some crispy calamari.