M
ore soups?! You bet!!
There's a limitation to what the Husband can eat when he's not well. Me? It's just another excuse to warm up in between chilly weather.
I just hope we get to experience Spring before Summer takes over. Till then, the conversations over here is limited to weather. Because I'm highly to complain all the time about it.
Hhmmm…
Apart from the sucky weather, I have a good news. I'll be returning to my home this Wednesday!!!
Woohoo!!
I bet it won't make sense to many of you of my happiness to leave LA and return to Orlando. But after living a few months out of the suitcase, I'm ready to get back home and stay put for some time.
Fingers crossed. I've known to be a huge jinxer and that definitely applies to myself.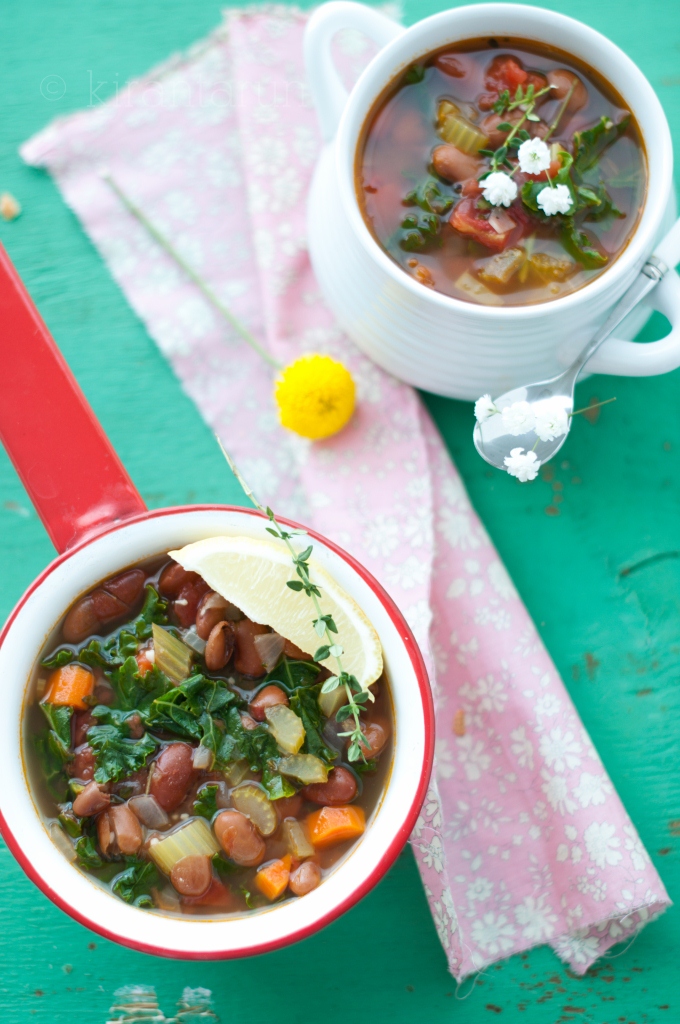 I can't wait to get back to normalcy. Though I must admit how I'll miss the housekeeping services while living in a hotel. There's nothing like cooking, eating and kicking back to relax while someone else does the bed, dishes, vaccuming etc.
Housekeeping asides, I'm preparing myself to go through a huge stack of mails. Man, that can be a huge pain. More than 80% of the mail are usually junk.
Wish me luck and slurp this soup!

Print This Recipe
Makes 4 servings
Ingredients:
1 tbsp extra virgin olive oil
1/2 medium onion, diced
3 celery sticks, diced
2 small carrots, diced
1/2 tsp minced ginger
1 tsp minced garlic
2 large sprigs of fresh thyme
1.5 cup  organic diced tomatoes, juices and all
4 cups vegetable broth
1 cup cooked pinto beans
1 cup cooked red kidney beans
2 handfuls of fresh kale
salt and pepper to taste
Garnish: lemon wedges + chopped fresh italian parsley
Directions:
Heat a huge saucepan on medium.

Add olive oil once pan is heated. Throw in diced onions, celery and carrots. Saute until onions are translucent and veggies softens.
Scoop in ginger and garlic paste. Saute for 2 minutes.
Pour in organic diced tomatoes and sprigs of fresh thyme. Stir to combine.
Add vegetable broth, beans and give it a good stir. Taste for seasonings and cover to simmer for 10 minutes.
Discard sprigs of thyme from hot soup and add handfuls of fresh kale.
Serve soup with lemon wedges, a sprinkling of chopped fresh italian parsley and some crusty bread on the side.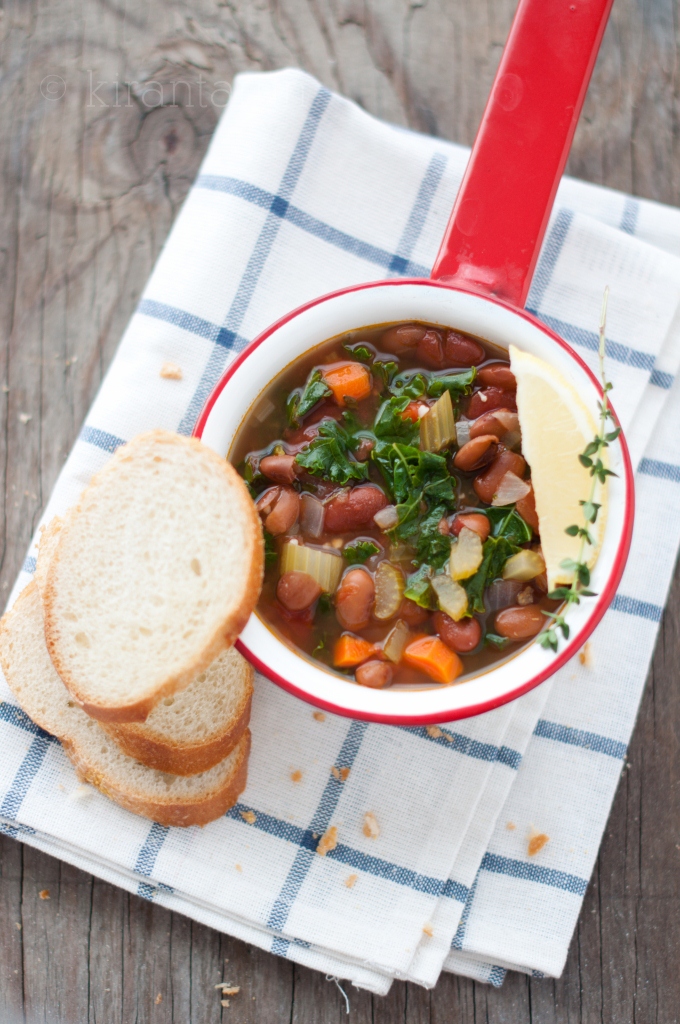 See you from the other side, very soon. And hopefully with some baked goods in the workings 😉
Have a great week my friends! What would you prefer — being a jet-setter or a baker?
Please don't pressure me to answer.