H
appy Valentines Day, friends 🙂
I made meringues!! Successfully, despite many failed attempts, no thanks to the horrendous humidity levels and a very hot oven. This is one dessert that requires a heck of patience and zero humidity if possible.
Well, if you are above and beyond humidity, all the power to you. Can you sense a "jealousy" tone yet?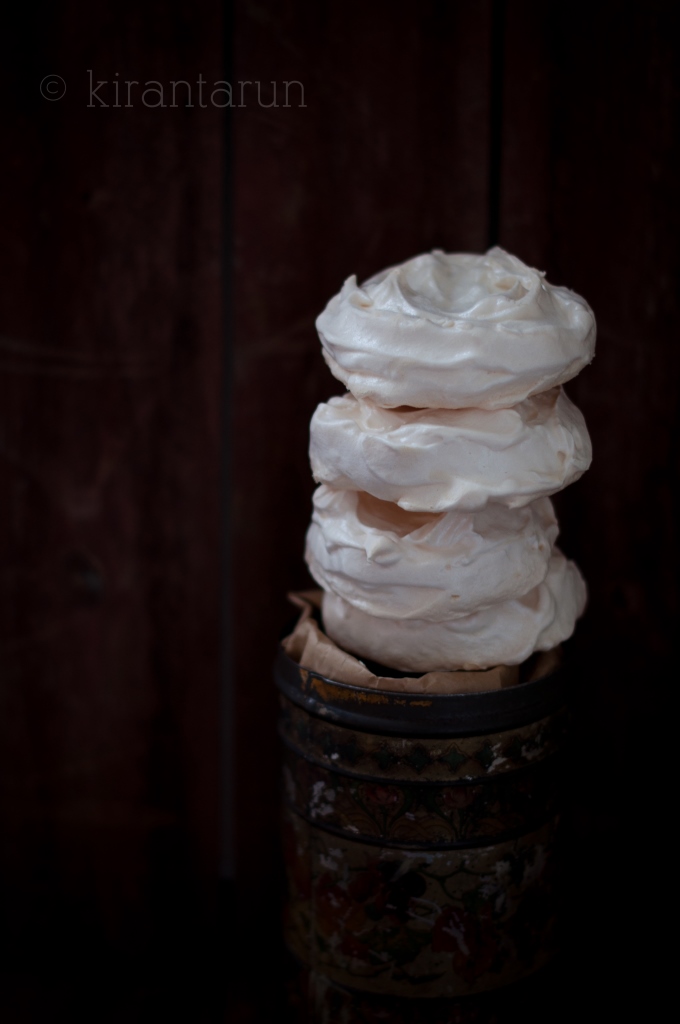 At every attempt, I tried so many things to curb the humidity levels. Switching on the AC, even on days when its bone chilling out there. The one trick that actually worked for me and my oven was to allow the meringues to sit and air-dry in the oven on the lowest temperature for 2 hours.
Phew! That worked like magic!
With all the fumes and sweating just to get the recipe right, I might have contributed as one of the culprits to cause so much humidity.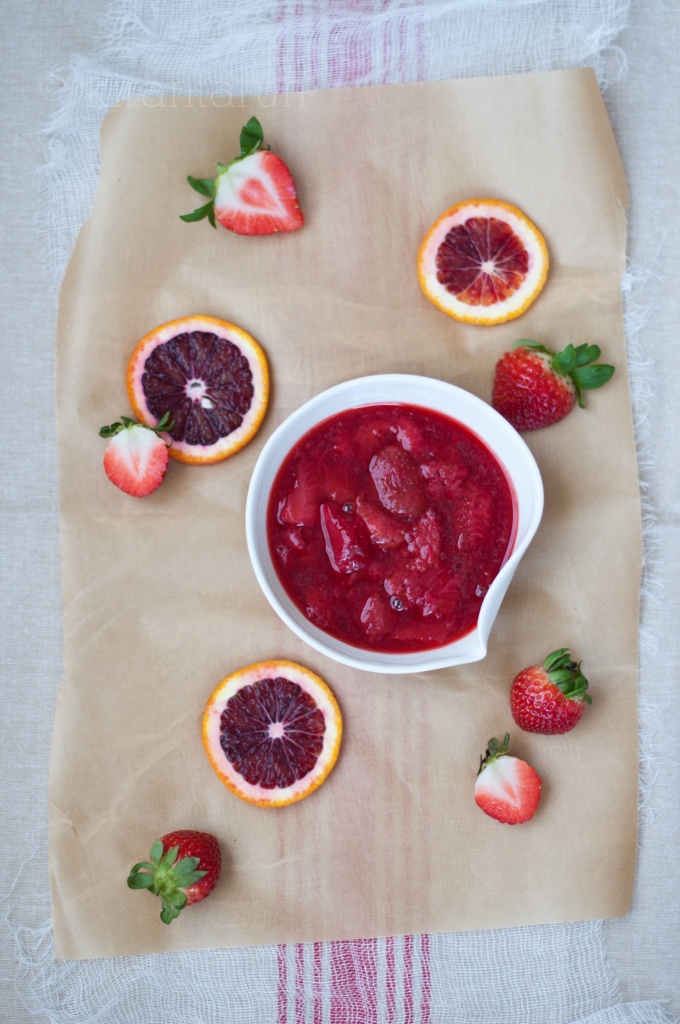 All the meringue-baking-disaster asides, this has to be one of our favorite desserts! Sounds exotic and yet such a rustic elegance to pavlovas. The best part is digging into the meringue and scooping up decadent creams and mashed berries macerated with blood orange juice.
Mmmm…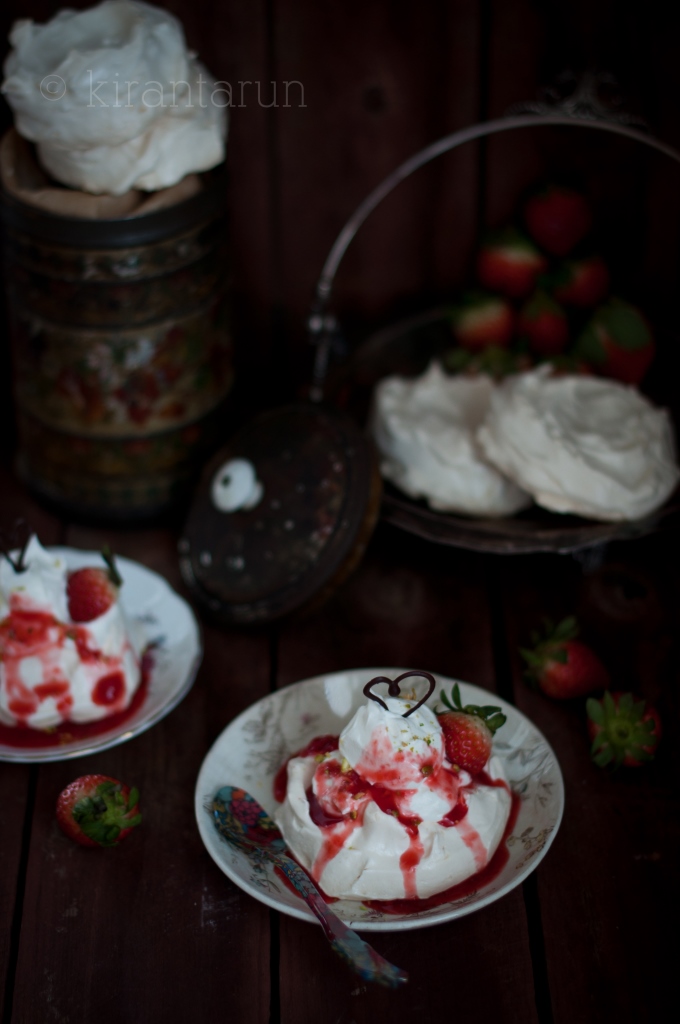 No matter how much effort you put into Valentines' Day, cherish every memory of togetherness, every single day. Even on days where baking was a total disaster. Turn it around and have fun with your loved ones. Laugh it off and move on.
Or continue testing the recipe again and again until you get it right. What matters is not sweating at small failures, but treasuring the journey 🙂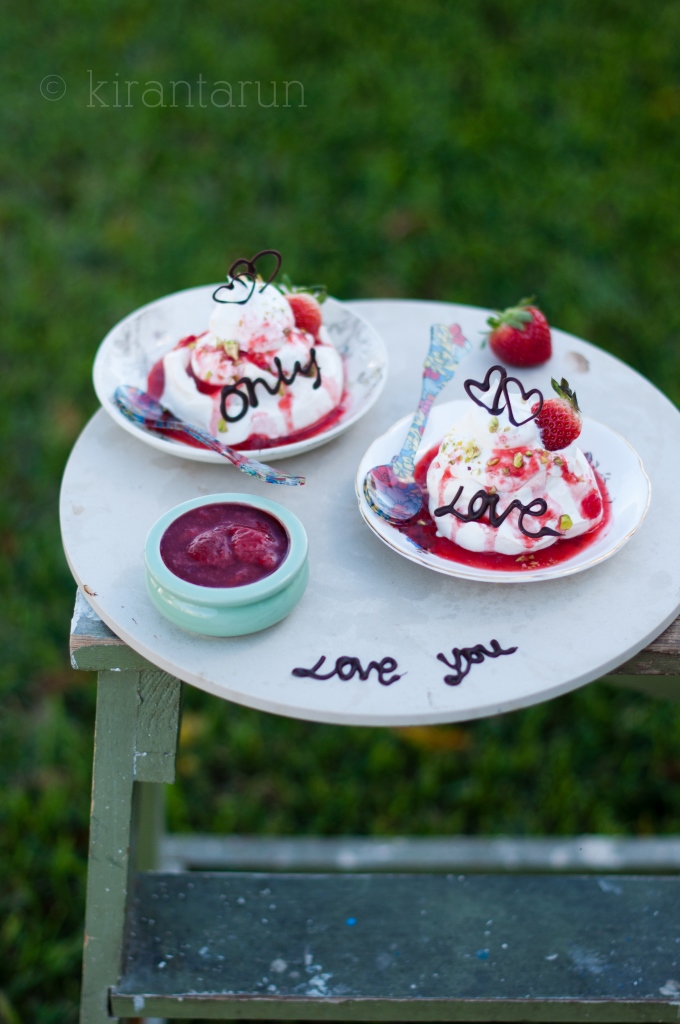 Print This Recipe
Makes 6 mini servings
Ingredients:
2 large egg whites, at room temperature
1/2 cup superfine sugar
1/2 tsp orange blossom water
1/2 tsp lemon juice/white vinegar
2 tsp cornstarch, sifted
Toppings —
scant 1/2 pint of fresh strawberries, hulled and halved
1 blood orange, juiced
2 tbsp sugar
vanilla ice cream/cool whip/whipped cream
pistachios, chopped
chocolate hearts
Directions:
Preheat oven to 225F. Line a large baking sheet with parchment. Set aside.
In a stand mixer bowl, add egg whites. On medium speed, beat egg whites until soft peaks.
Switch the speed up to high and add superfine sugar, 1 tablespoon at a time. Beat until sugars completely dissolve and meringue is stiff and glossy. Feel meringue between your fingers to make sure there's no traces of sugar.
Add orange blossom water and beat only until incorporated.
Remove stand mixer bowl. With a spatula, fold in lemon juice with sifted cornstarch.
Spoon meringue on parchment. Smooth the sides, make cloudy swirls and with the back of spoon, create a small "well" in the center for toppings.
Bake meringues for 1 hour and 15 minutes.

Lower the oven temperature to the lowest setting and leave meringues to dry for 1.5 to 2 hours (if you have humidity issues)

.

Else, switch the oven off and leave the oven ajar to allow meringues to dry until completely cooled.

In the meantime, make strawberry and blood orange sauce. In a saucepan, combine halved strawberries with sugar and blood orange juice. Heat on medium and stir with a wooden spoon. Cook until the sauce thickens and strawberries soften.This should take about 5 to 7 minutes. Remove from heat and allow to cool. Refrigerate before serving.
Serve meringue topped with cream, a generous drizzle of strawberry sauce, chopped pistachios and chocolate.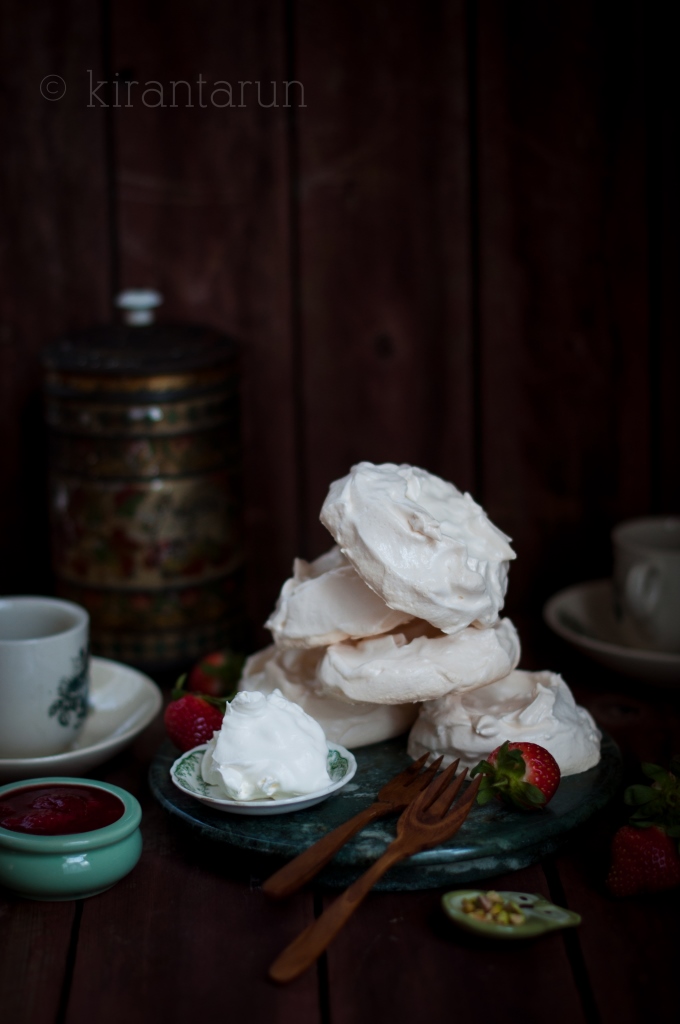 "Wherever and whenever possible, give your love to everyone and every being and see every day as the Day of Valentine, the Day of Love for all beings!" ― Mehmet Murat ildan.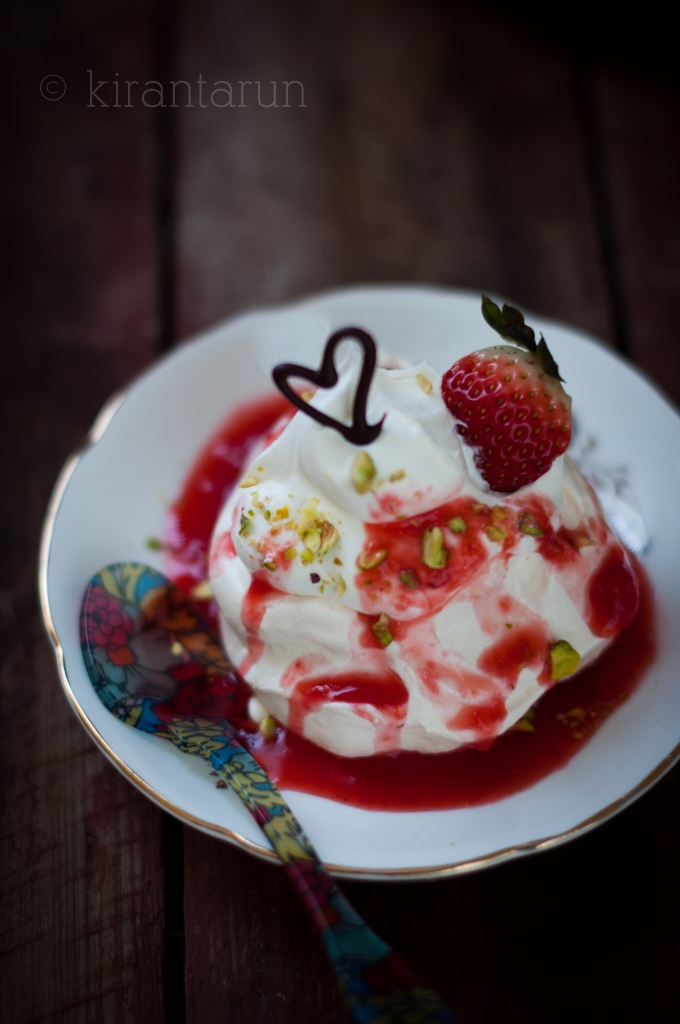 Have a sweet day and don't forget to keep it sweet with so much love, every single day 🙂
Tried pavlovas? What's on your dessert menu today?