H
i friends!
If you are following us on Twitter, Facebook or Instagram, you'll find me and the rest of Food Blog Forum attendees posting our nails off at this year's Food Blog Forum event all weekend long, from Walt Disney World!
To give you an idea about this awesome food blogging conference, here's a recap from last year's shenanigans.
I can't wait to meet my blogging friends (blends!) and make new friends as well. There's nothing like putting names to faces, especially with friends that I've bonded for so long via social media.
Squeal!!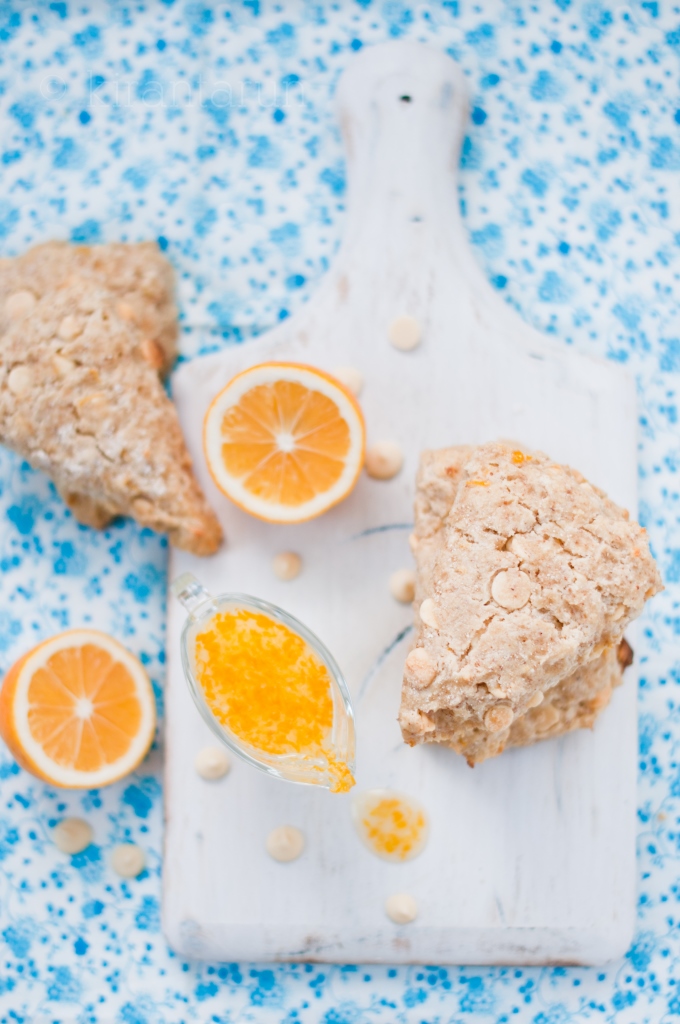 I'll return with a recap of the event next week, but for now, let us all focus on scones for a second.
OK, make that a few minutes.
In an unrealistic setting, I'd imagine myself sipping afternoon tea with scones. Everyday, without fail. There's just something about sinking my teeth into a freshly baked, crumbly and cakey goodness of scones that transports me into a food-coma realm.
An unrealistic one for sure.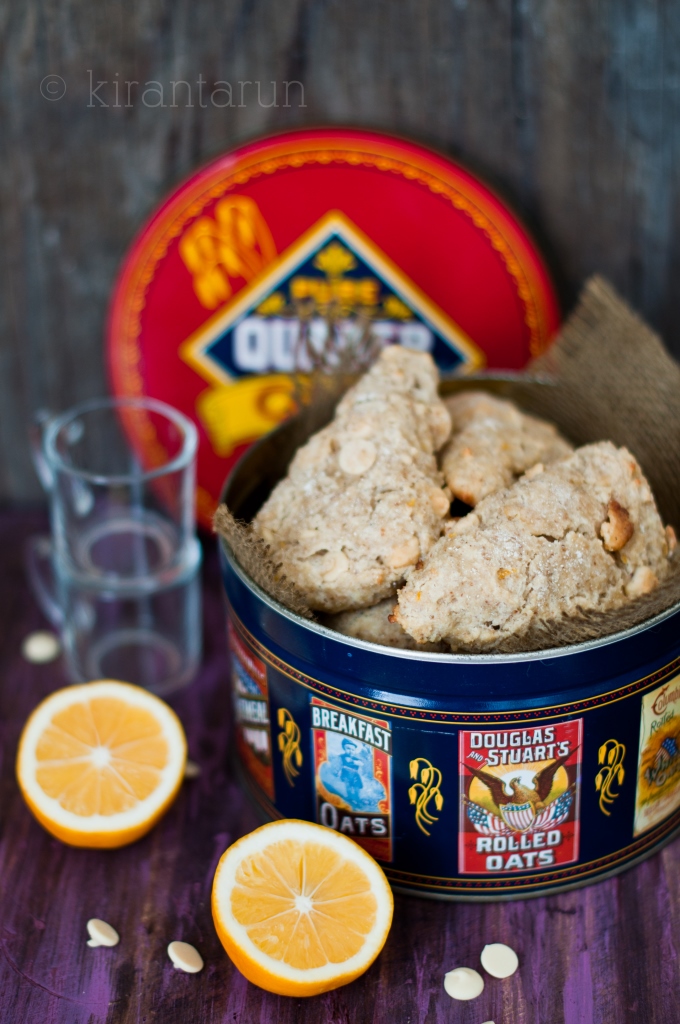 The reality is ever since crossing 30, I've had this epiphany that gobbling pretty much everything in sight isn't normal anymore. Apparently turning 30 also teaches you that foods can be enjoyed in moderation, balanced and nutritiously.
And frankly speaking, it's a toughie for me when it comes to baked goods. I'm a tea and coffee fiend, so the thought of occasional scones, crosses my mind oh so frequently.
Darn you, 30s. Well, it still wouldn't stop me from baking these scones.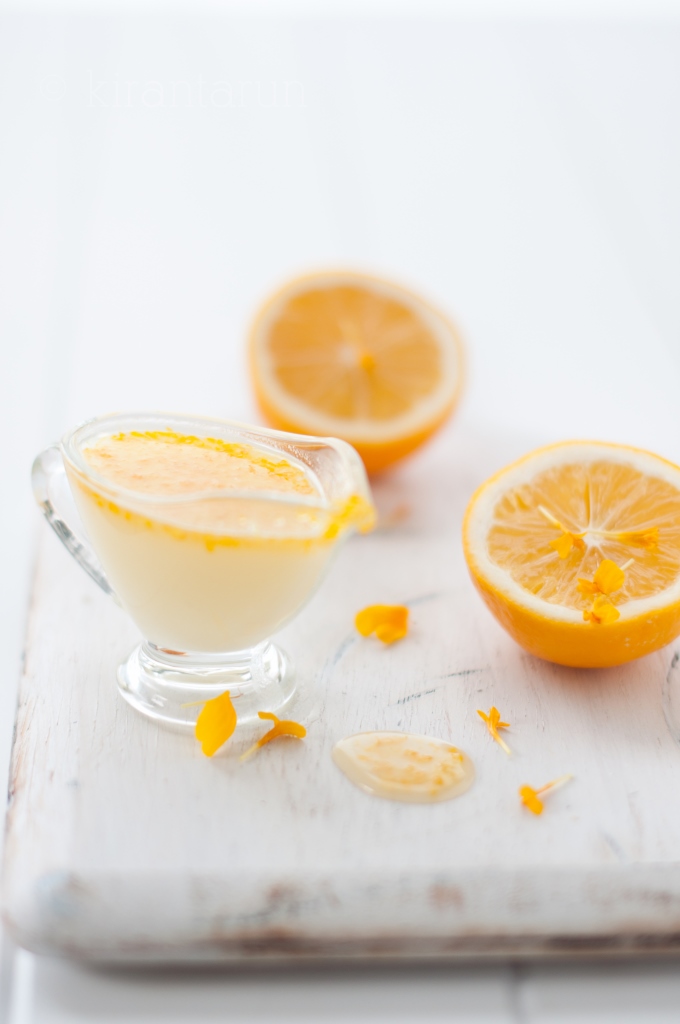 Print This Recipe
Makes 8 large scones
Dry Ingredients:
1 cup whole wheat pastry flour
1 cup almond flour
1/2 cup all purpose flour
2 tsp baking powder
1/2 tsp salt
2 tsp sugar
5 tbsp cold butter, cubed
Wet Ingredients
1/3 cup of low-fat milk
1 whole meyer lemon, zest + juiced
1/2 tsp vanilla extract
1 egg white
2 tbsp agave nectar/honey
1/2 cup white chocolate chips
Meyer lemon speckled glaze
1/2 cup powdered sugar

zest of half meyer lemon
3 tbsp meyer lemon juice
Directions:
Preheat oven to 350F. Line baking sheet with a parchment paper.

In a large measuring cup, add all wet ingredients. Stir and set aside.
Sift dry ingredients into a large bowl. Add cubed cold butter. Using a pastry cutter, combine everything until it resembles coarse crumbs.
Transfer dry ingredients into a stand mixer fitted with a paddle. On a low speed, gradually add wet ingredients to incorporate. Do not overmix.
Once dough is formed, throw in white chocolate chips and stir just until combined.
Flour hands and baking surface liberally. Scoop up the slightly wet dough onto baking surface, forming it into a 3/4 thick circled disk.
With a sharp knife, divide scones into 8 wedges. Line scones on baking sheet and bake for 15 minutes on 350F.
Prepare glaze by adding all of the ingredients into a bowl and stir to combine.
Allow scones to completely cool before drizzling some meyer lemon speckled glaze.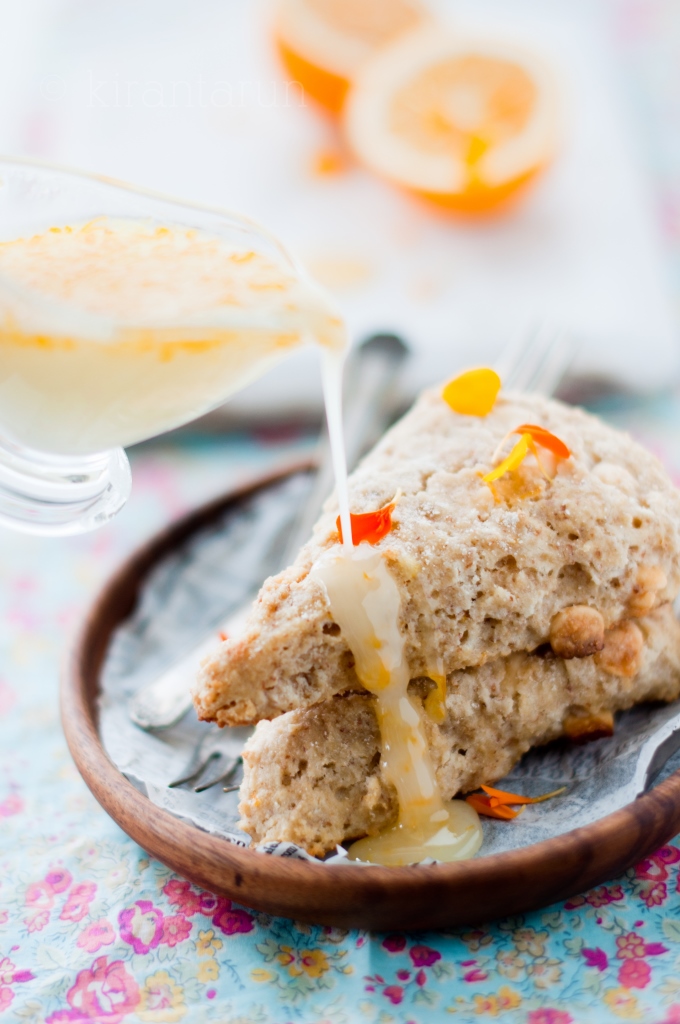 Signing off to get packing and ready for Food Blog Forum. It's going to be a fun-filled weekend for sure! You have a great one too!!
Have you been to a fun foodie event or conference? Which is your favorite?