I
t took me a long time to ponder about doing a blog post today. I asked myself questions like, "
should I potentially risk offending anyone who was directly impacted by the devastation in Oklahoma?"
…
"Should I hit the 'publish' button?"
It's hard to imagine how a tornado can cause massive devastation. All livelihood and belongings, banished instantaneously.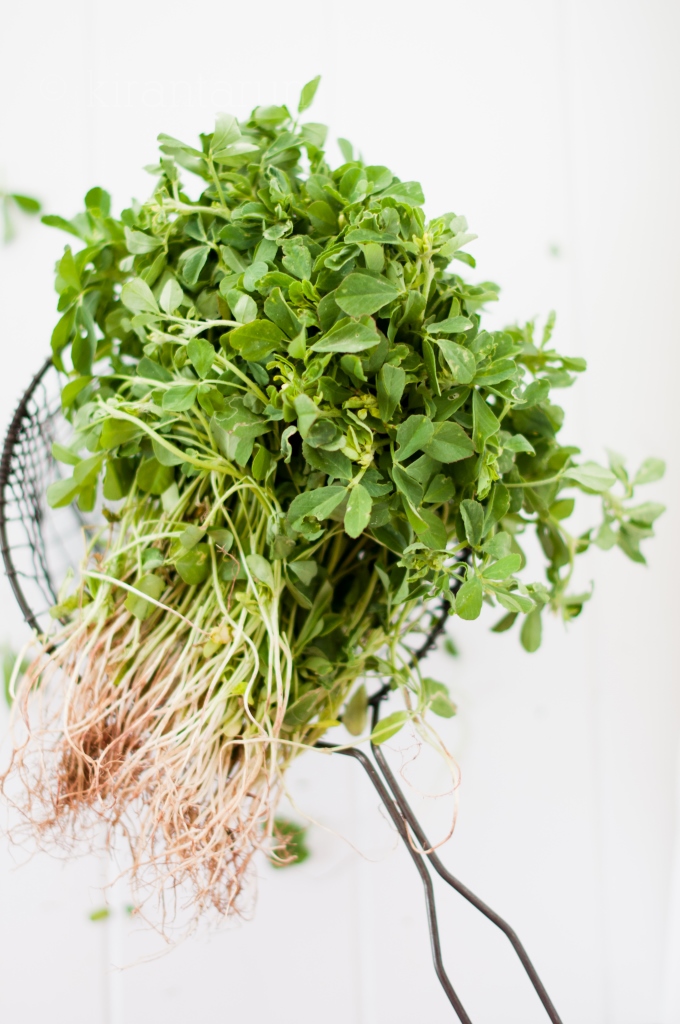 Hug your loved ones tighter, tell them how much you love them, have a sit down meal together.
Everyday.
When you rise in the morning, give thanks for the light, for your life, for your strength. Give thanks for your food and for the joy of living. If you see no reason to give thanks, the fault lies in yourself. — Tecumseh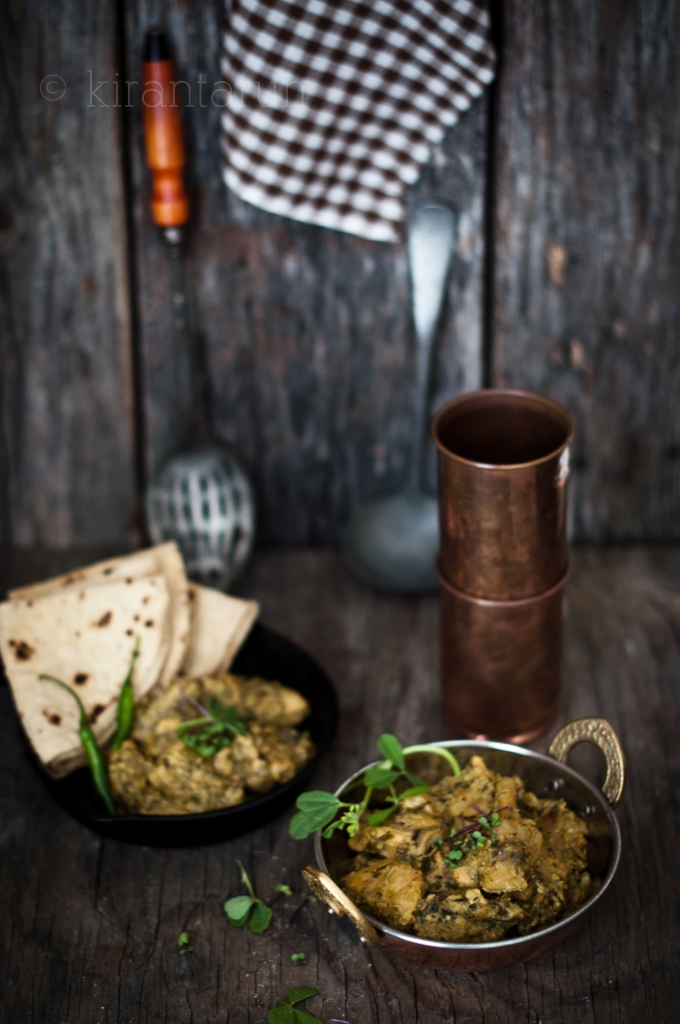 This post is dedicated to everyone in Oklahoma. I'm not sure how to process what has happened. But one thing is for sure: food nourishes and heals.
Let food be thy medicine and medicine be thy food. — Hippocrates, father of medicine, 431 B.C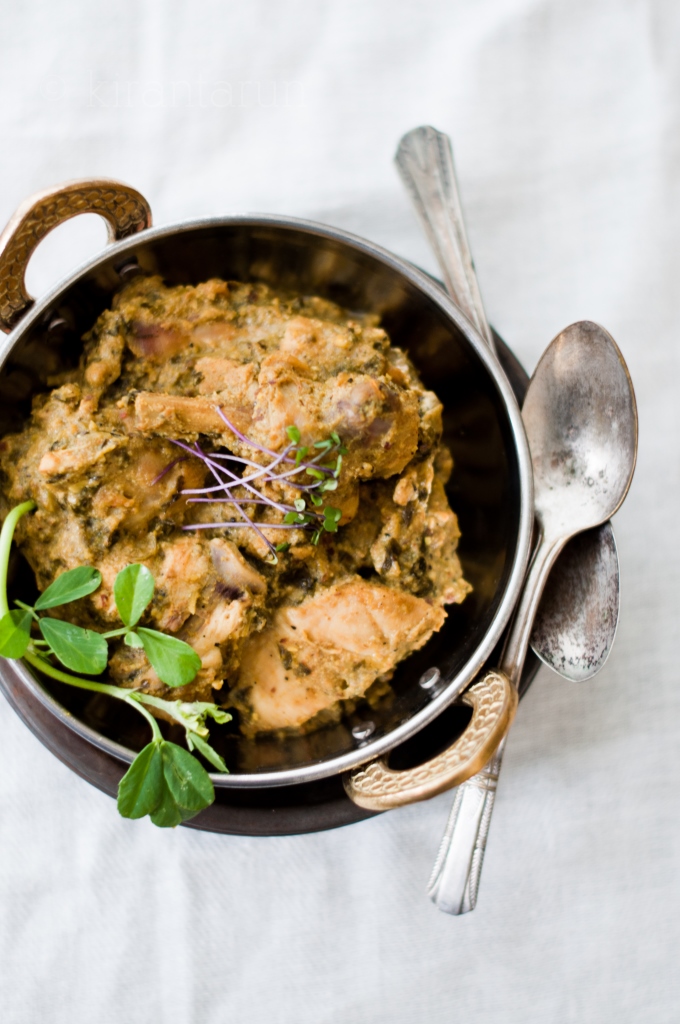 Print This Recipe
Ingredients:
1/3 cup sliced almonds, soaked in some hot water for an hour
1 cup red onion, sliced
2 heaping tbsp mustard oil
3 green chilies, slited
1/2 tsp black cardamom powder
1/4 tsp salt
1/2 tsp black pepper
2/3 cup hot water
3 handfuls of freshly picked methi (fenugreek) leaves, chopped*
To marinate–
1.5 lbs skinless, bone-in chicken
1 tsp salt
1 tsp fenugreek seeds
1/2 tsp turmeric powder
1/2 tsp red chili powder
1 tbsp ginger paste
1/2 tbsp garlic paste
1 tbsp coriander powder
1.5 tbsp cumin powder
1/3 cup low-fat yogurt
Directions:
In a large non-reactive bowl, add all ingredients to marinate. Mix well to coat chicken with marinate. Refrigerate to marinate for a minimum of 1 hour.

Meanwhile, heat a large pan on medium. Add mustard oil and sliced onions. Cook onions until browned, between 3 to 5 minutes.
Reserve oil by carefully draining browned onions into a small bowl. Cool onions before adding it into a blender with soaked almonds.
Blend onions and almonds with a little water into a smooth paste.
Remove marinated chicken from refrigerator.
Heat the same pan on medium with the remaining mustard oil. Once oil is heated, add whole slited green chilies and black cardamon powder. Cook for 1 minute.
Once chilies are blistered, add marinated chicken into the pan. Bring it to simmer and stir consistently. Cook for a few minutes before adding onion+almond paste, salt and black pepper.
Stir to combine. Add hot water and bring chicken to a simmer. Cover and cook between 20 to 25 minutes or until chicken is completely done.
Stir in handfuls of freshly picked and chopped methi (fenugreek) leaves. Stir to combine and cook for another 2 minutes.
Serve hot with homemade soft chapatis!
*Note: It's very easy to source this delicious greens from a local Indian grocery store. If you can't get your hands on fenugreek leaves, use spinach instead.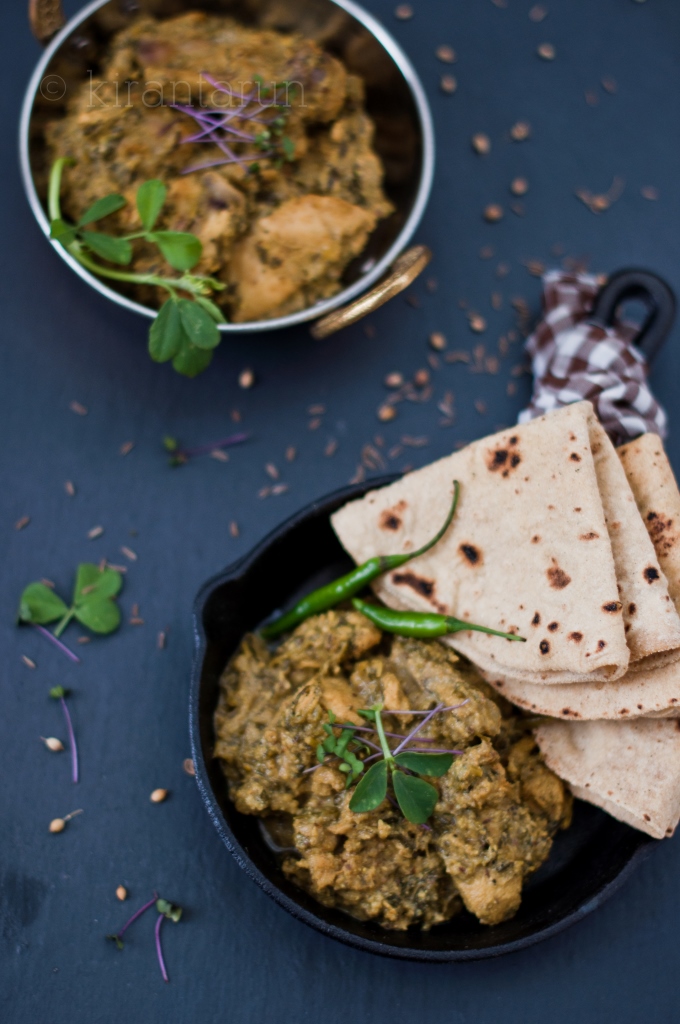 Our thoughts and prayers goes out to everyone in Oklahoma that is devastated by this tragedy.
God bless.