Serves 2, generously
Ingredients:
2 tbsp coconut oil / any cooking oil
1/2 tsp mustard seeds
1/4 tsp cumin seeds
a pinch of hing/asafoetida
1/4 cup onions, finely chopped
1 medium potato, peeled and diced
1 chili, chopped
1 tsp ginger, grated
1 sprig of curry leaf
1/8 tsp turmeric powder
1/2 tomato, finely chopped
1 cup of sweet peas (fresh/frozen)
3/4 tsp salt
1/8 tsp black pepper
1/4 tsp garam masala
2 tbsp finely grated coconut
garnish:
2 tbsp finely chopped fresh coriander leaves
lime wedges
optional:
2 eggs or 4 oz of crumbled paneer
Directions:
Heat a non-stick skillet on medium. Once pan is hot, add oil. Wait for the oil to heat before sprinkling in mustard and cumin seeds. Wait for the seeds to sputter before adding chopped onions and a pinch of hing.
Cook onions for a fews minutes or until soften and translucent before adding diced potatoes, chili, grated ginger, some curry leaves and turmeric powder. Give it all a nice mix.
Put a lid on and cook until potatoes begins to soften. This should take about 5 to 7 minutes. Stir in between.
Once potatoes are lightly browned, add chopped tomatoes. Stir to coat everything and allow the tomatoes to cook down for a few minutes, before adding peas.
Dump in the peas and dust with salt, pepper and garam masala. Stir fry for 2 minutes before adding finely grated coconut.
Optional: the dish is ready, as is. But if you want to add eggs or paneer, you can do that now. Adjust seasonings accordingly.
Just before serving, garnish with fresh coriander leaves and lime wedge.
Serving options: savory indian crepes (chila) as pictured 🙂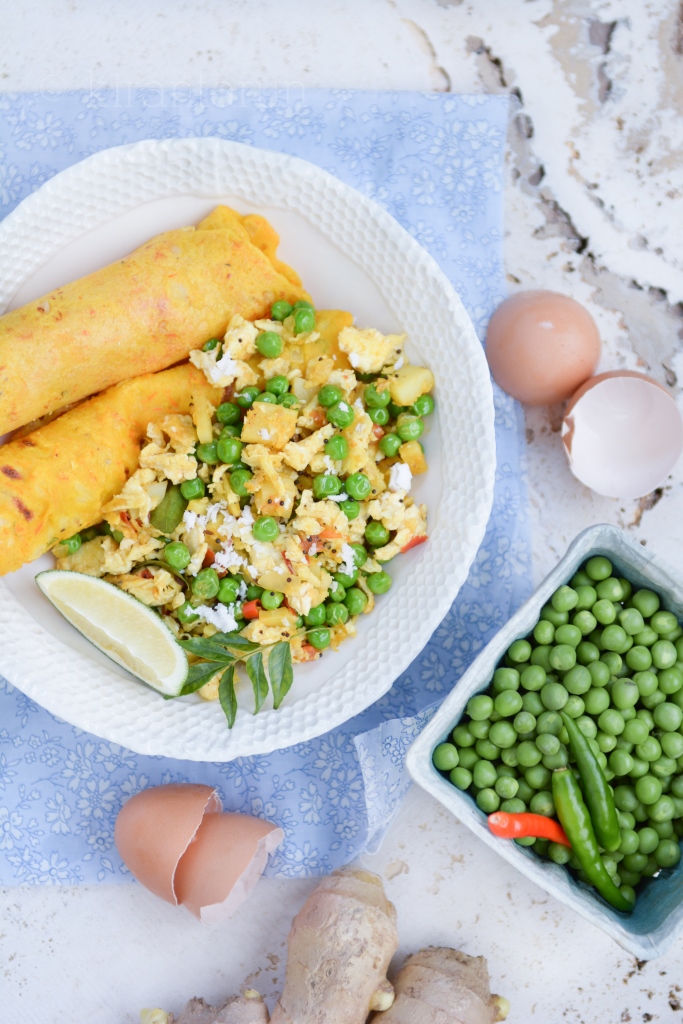 Off to grab what is left of spring. Going out to literally smell the roses and you should too! In fact, stock up on those sweet peas, while you are at it 🙂
What's your favorite scramble?