Ingredients:
1.5 cups rolled oats
1.5 cups raw buckwheat
1 cup of chopped raw almonds and hazelnuts (or any mixed nuts of your choice)
1/2 tsp salt
1/3 cup coconut oil
1 tbsp organic matcha powder
1/3 cup raw honey/maple syrup
1/3 cup goji berries
Optional add-ons: chia seeds, flax seeds, sesame seeds, coconut flakes, cacao nibs
Directions:
Preheat oven to 300F. Line 2 large baking sheets with parchment paper.
In a large bowl, add all granola ingredients up to honey. Stir to combine. Evenly distribute granola onto 2 prepared baking sheets.
Bake for 15 to 20 minutes. Rotate sheet pans in half-time and give granola a toss every now and then for even baking.
Remove baking sheets out of oven to allow granola to completely cool.
Toss granola with goji berries and optional add-ons. Store in an air-tight container. Refrigerate to retain freshness.
Serve granola topped with chilled milk, yogurt and/or fresh fruits.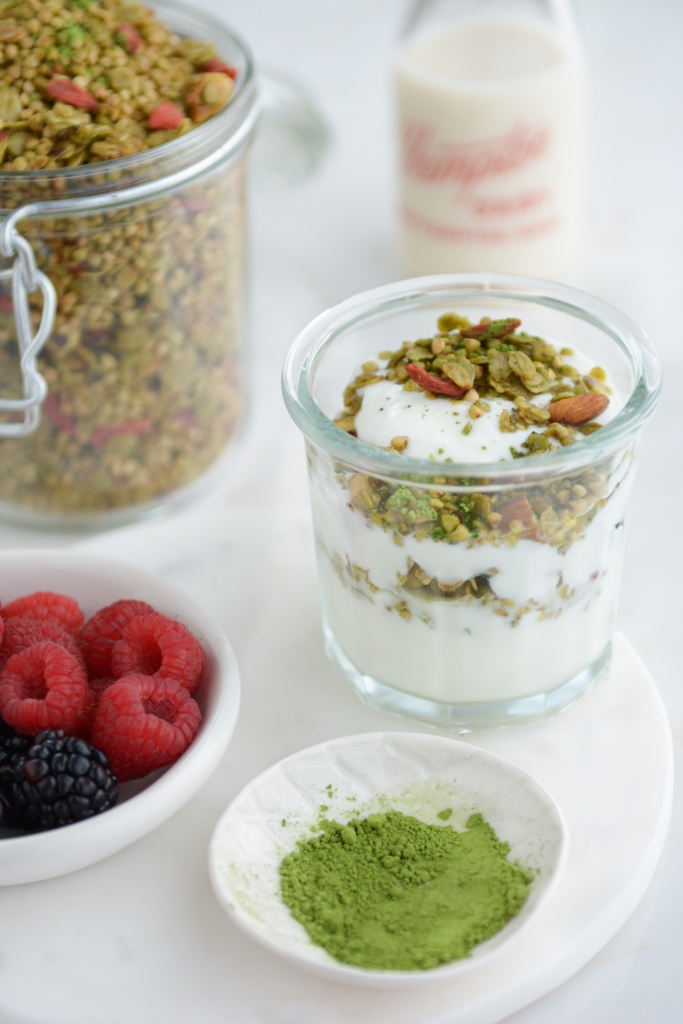 Off to meal plan for the whole week! For two people! It's tough, you guys 😀
What are your favorite summer cold breakfasts?