H
ellloooo…
After a month of fun with family, taking time off from blogging and technology — it's nice to be back to norm. A break is often refreshing. With a bowl of steamy fried rice.
Have you ever been thrown in a situation where there's too much leftover and it'll probably go to waste if you don't do anything about it?
Well, I'm one of those "people" who could just make too much rice on any given day.
It's not a bad idea, given the fact that I might have done it on purpose in many occasion if I had fried rice in mind 😉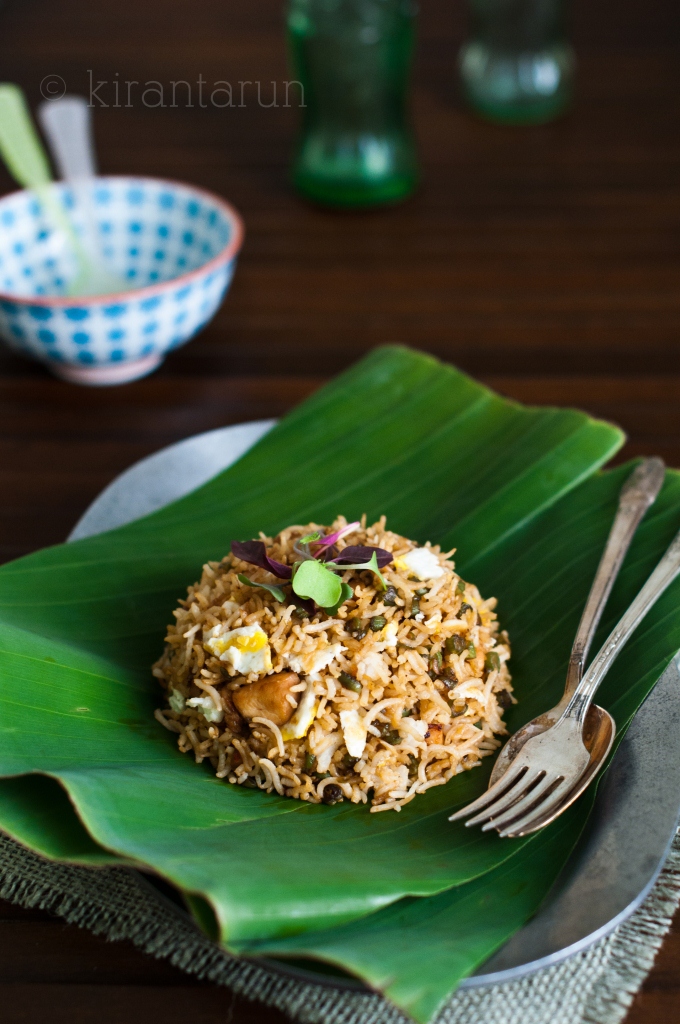 The key to a good bread crumb is day old bread. The same science applies to fried rice. Freshly steamed rice just won't do any justice. Can you imagine eating globs of sticky rice instead of fluffy fried rice?
I don't think so.
Unless you are attracted to globbyness.. Who am I to judge you?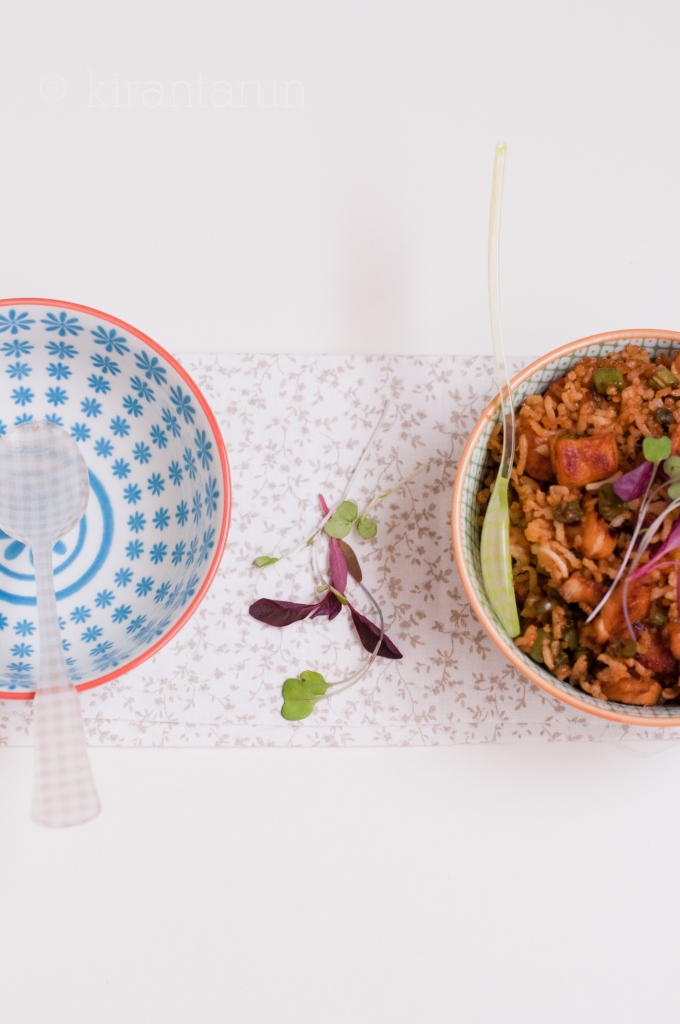 The key to achieve fluffiest fried rice is using a very good hot wok. I can faintly recall the first wok I've ever owned. In fact, I grew up watching my mom and aunt (the masters of wok), creating delicious meals using hot and fiery wok.
And I'm glad to follow in their footsteps. It's nothing like getting an upper body workout by constantly stirring wok ingredients.
I don't own a cast iron skillet (geez!), but I cannot recommend enough how everyone should own a wok in their kitchen. From steaming to stir-frying, the versatility is mind-boggling.
Ok, enough of wok admiration. Let's get to cooking.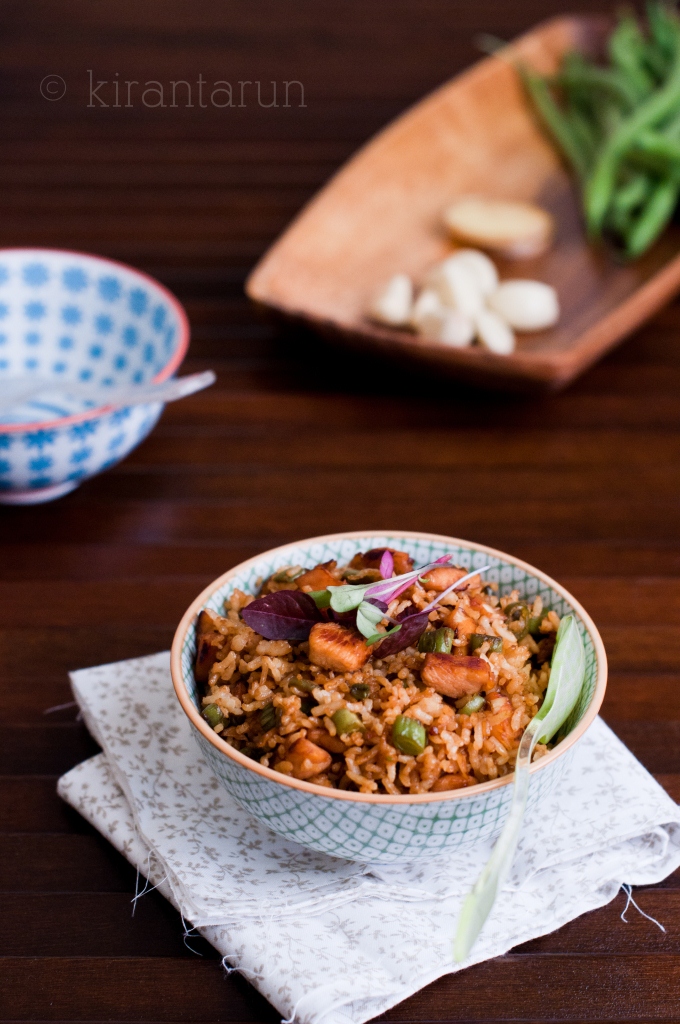 Print This Recipe
Ingredients:
1.5 cup of steamed day old rice
1/2 cup chicken breast, chopped bite size
1.5 tbsp teriyaki sauce
1 tbsp soy sauce
3 tbsp vegetable oil
1 cup green beans, chopped finely
1/2 tbsp minced garlic
1/2 tbsp minced ginger
1 tbsp soy sauce
1/2 tsp red pepper flakes
1/2 tsp black pepper
Directions:
Marinate chicken breast with teriyaki and soy sauce for a minimum of 30 minutes.
Heat a wok on medium high. Once the wok is hot, add vegetable oil and marinated chicken. Cook each sides until browned. Remove on paper towel to rest.
In the same wok with remaining oil, add finely chopped green beans. Stir fry for a few minutes.
Spoon in minced ginger, garlic and red pepper flakes. Stir everything to combine.
Once the green beans are slightly soften, return chicken into wok with steamed day old rice. Drizzle 1 tbsp soy sauce & freshly ground black pepper. Stir fry everything for a minute.
Remove from heat and serve immediately.
Optional garnish: Green onions, micro greens, fried egg.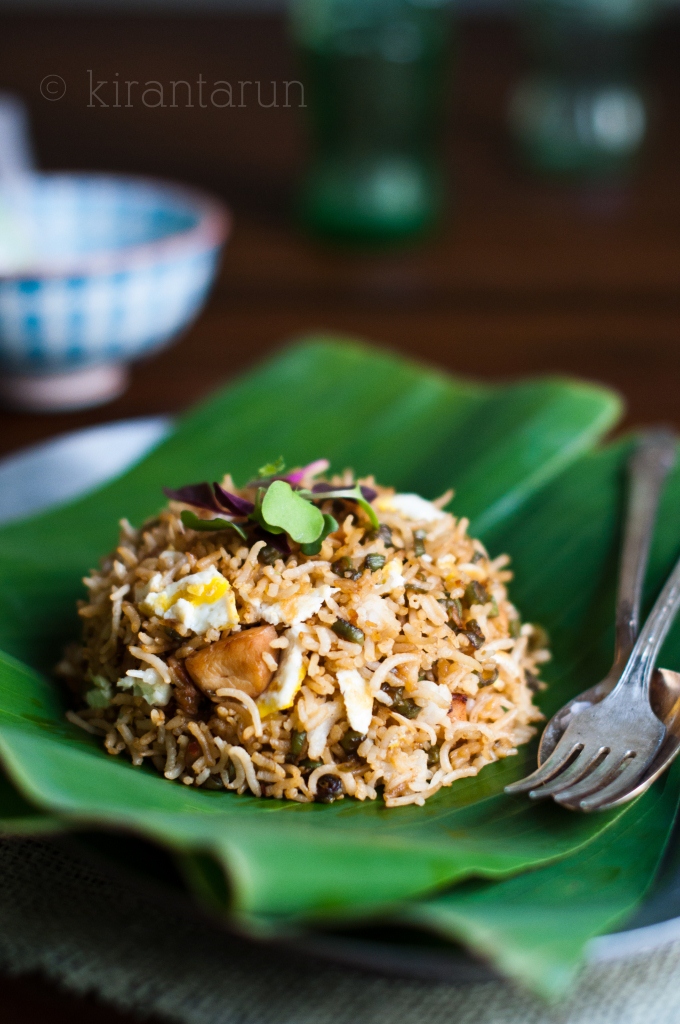 I'm still catching up on mounts of paperwork, emails etc. If you are yet to receive a reply from me, please know that I'm slowly transitioning into a routine after spending a month away.
It's hard to return to normalcy. But I'm getting there 🙂
What is your favorite way of using up leftovers, i.e rice?