Breaking news.
W
e bought a new TV!! After months of deprivation and what seems like forever, we are now spending most of our time catching up on the DVR! There's so much to watch and now I can't stop ;D
Try prying the remotes away from me.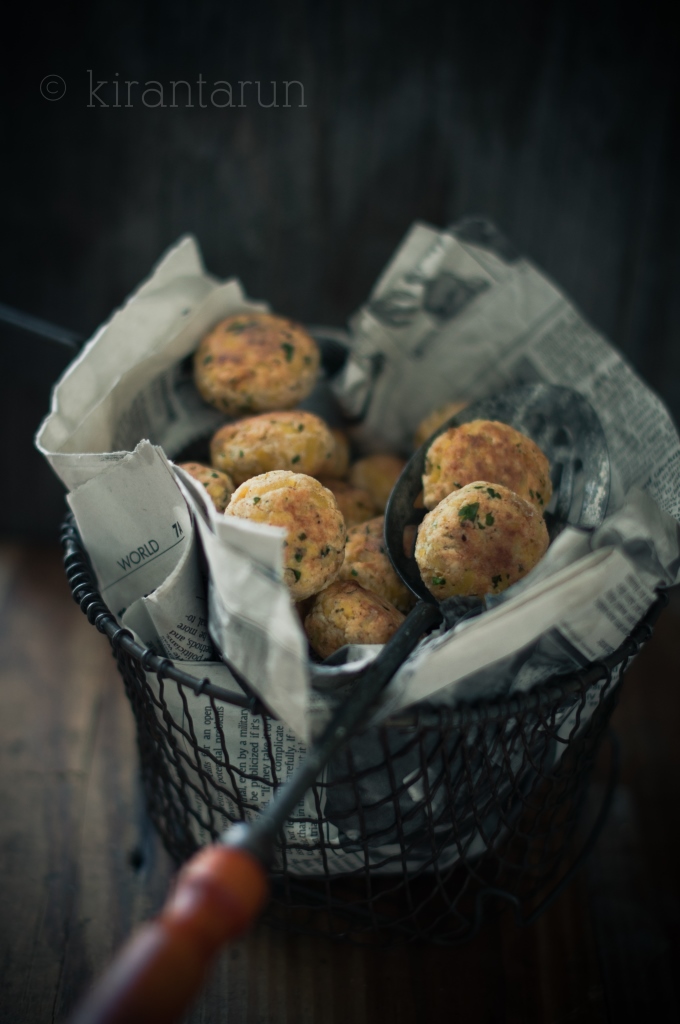 Jokes apart, I'm truly used to not having a TV. I get a ton of things done not having the TV as a distraction. And now, I'm so into it like there's no tomorrow!
Don't believe me? This post is published so late today and the TV is to be blamed here 😉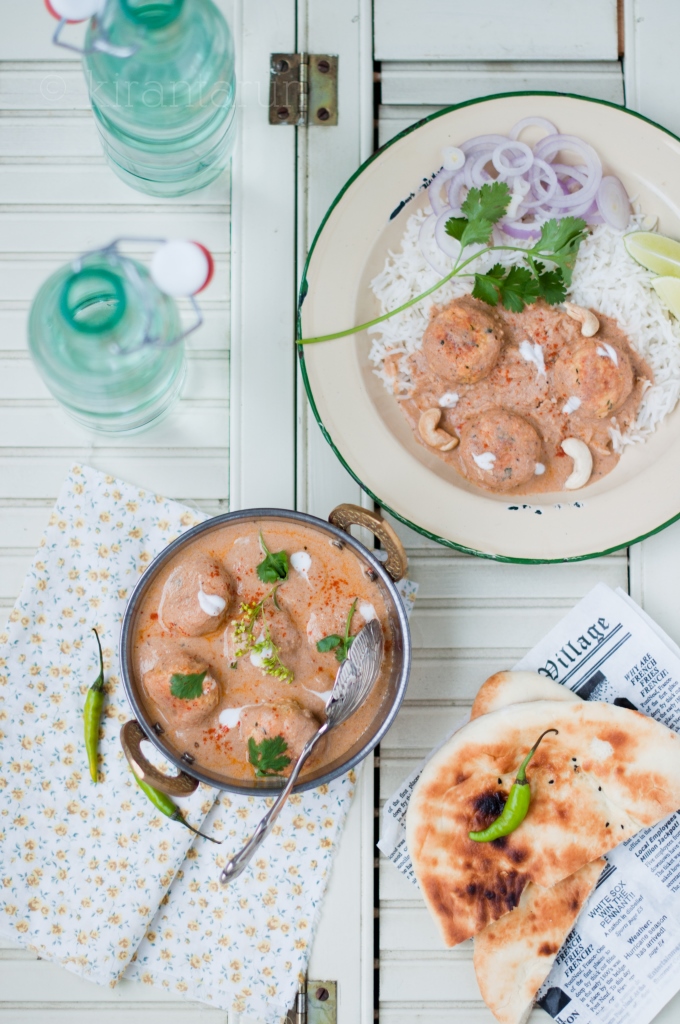 I know many of you have a very strong will-power when it comes to NOT owning a TV at all. Hats off to you, because I'm a total wuss when it comes to TV.
Though the decision was not mine, I didn't say NO to the purchase. Sigh, guess I succumbed to a box that's taking so much of my time.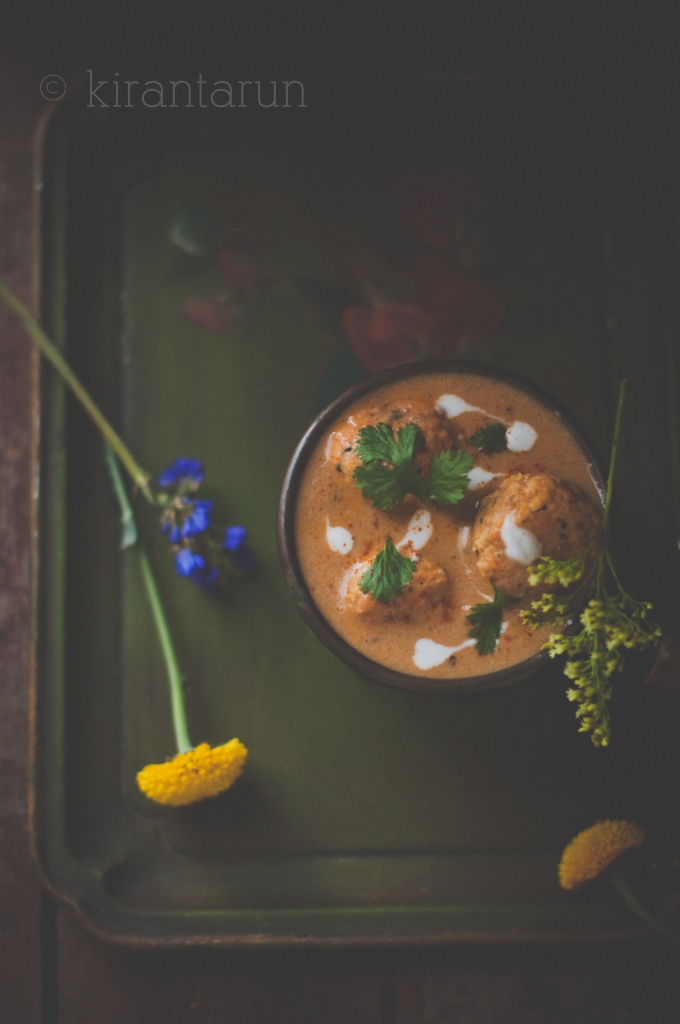 Including recipe development — sorta loss the "mojo" of creating recipes and again, the blame goes to TV 😉 Don't get my wrong, I love creating and sharing new recipes.
But the DVR seems to be calling my name, all the time. Gah.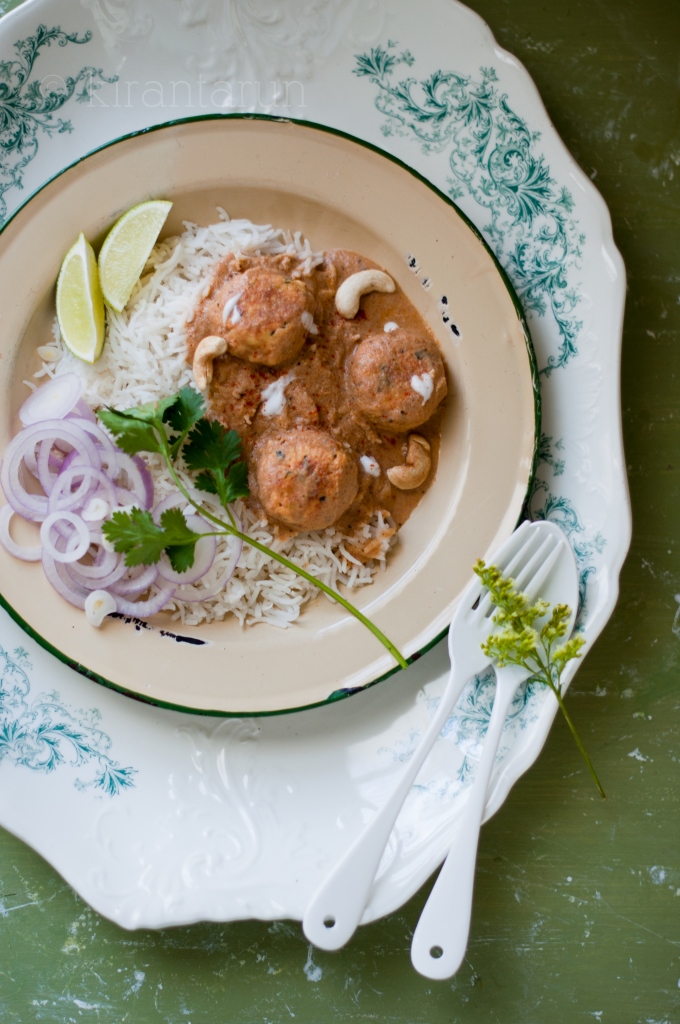 Print This Recipe
Ingredients:
For koftas–
1 heaping cup of paneer, grated
1 cup potatoes, boiled & grated
2 tbsp almond flour
1/2 tsp salt
1 tbsp golden raisins, chopped
2 tsp coriander leaves, chopped
1/2 tsp red chili powder
1/4 tsp cardamom powder
a little corn starch for binding
oil for frying
For gravy–
1 onion, chopped
1 large tomato, chopped
1 tsp ginger
1 tsp garlic paste
3 tbsp olive oil
3 whole green cardamom
2 whole black cardamom
1 inch cinnamon stick
2 bay leaves
4 whole cloves
1/4 cup coconut cream or cashew paste
2 tsp kasuri methi
1 tsp salt
1/2 tsp red chili powder
1/2 tsp garam masala
2 cups of hot water
Directions:
Heat a large deep saucepan on medium-high. Add vegetable oil to heat for deep frying.
In a large bowl, add ingredients for koftas (sans oil) and mix to combine into a soft dough.
Divide koftas into equal portions. Rolls between palms and apply gentle pressure till the kofta balls are smoothly rounded. Make as many to keep ready for frying.
Once oil is hot, fry koftas until lightly browned on all sides. Drain koftas over paper towels.
In a small blender, add chopped onion, tomato, ginger and garlic paste. Blend into a paste. Add very little water (if needed) to aid in blending.
Heat a deep vessel on medium-high. Add 3 tbsp olive oil and wait until it heats before adding all of the whole spices (cardamoms, cinnamon stick, bay leaves and cloves). Stir and cook for 1 minute or until fragrant.
Add blended onion-tomato paste and cook for 5 to 7 minutes, stirring occasionally. Cook until paste is lightly colored, fragrant, thickens and oil separates on the sides.
Drizzle in coconut cream and sprinkle on kasuri methi, salt and red chili powder. Bring it to a gentle simmer before adding 2 cups of hot water.
Bring gravy to a simmer, add koftas, lower the heat to medium-low and put a lid on. Cook gravy for 10 to 15 minutes or 

until oil separates on the sides.

Once gravy thickens and oil separates on the sides, sprinkle on some garam masala. Cook for another minute.
Garnish malai koftas with a drizzle of cream and a sprinkling of fresh coriander.
Serve hot with rice, naans and a fresh salad.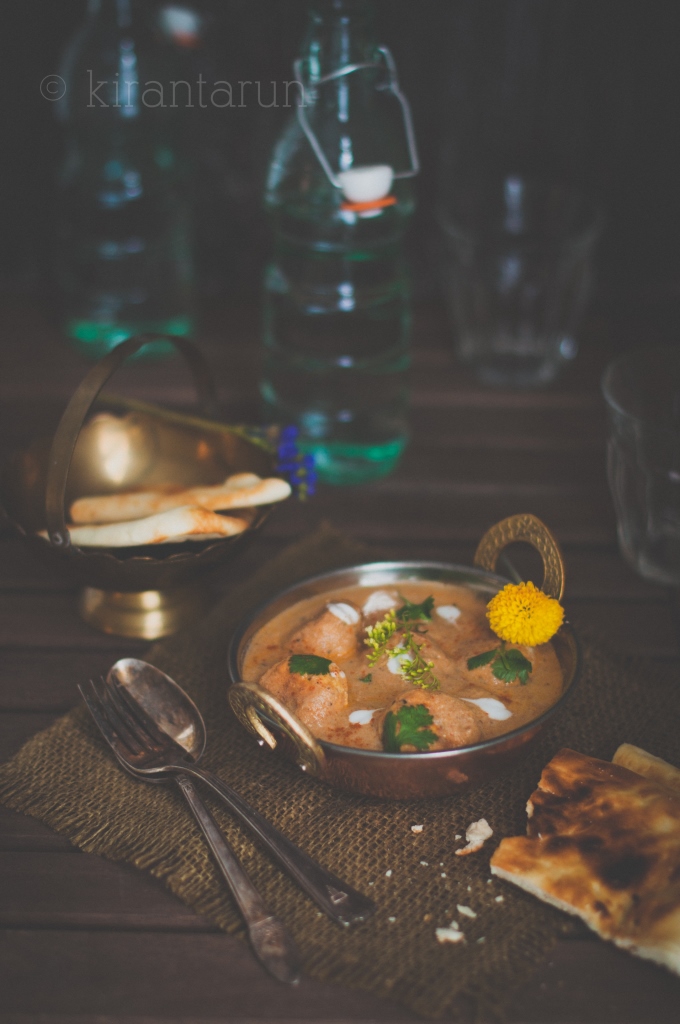 Hope you are having a great week, my friends! I know I am, with the remote in my hand and dinners right in front of TV! Totally obsessed 😉
How do you tame an obsession of a new toy?