H
ello and a very Happy Good Friday to you!
Since Easter is just around a tight corner, I'd figure an egg curry is much more appropriate this time of the year. Scented with lemongrass, spices and coconut milk — gently simmering on your stove-top while the egg hunting continues.
Make sure someone is at the kitchen to watch over the stove. You wouldn't want to ruin a perfectly good curry on a chilly night after a long day of egg-hunting, will you? 😉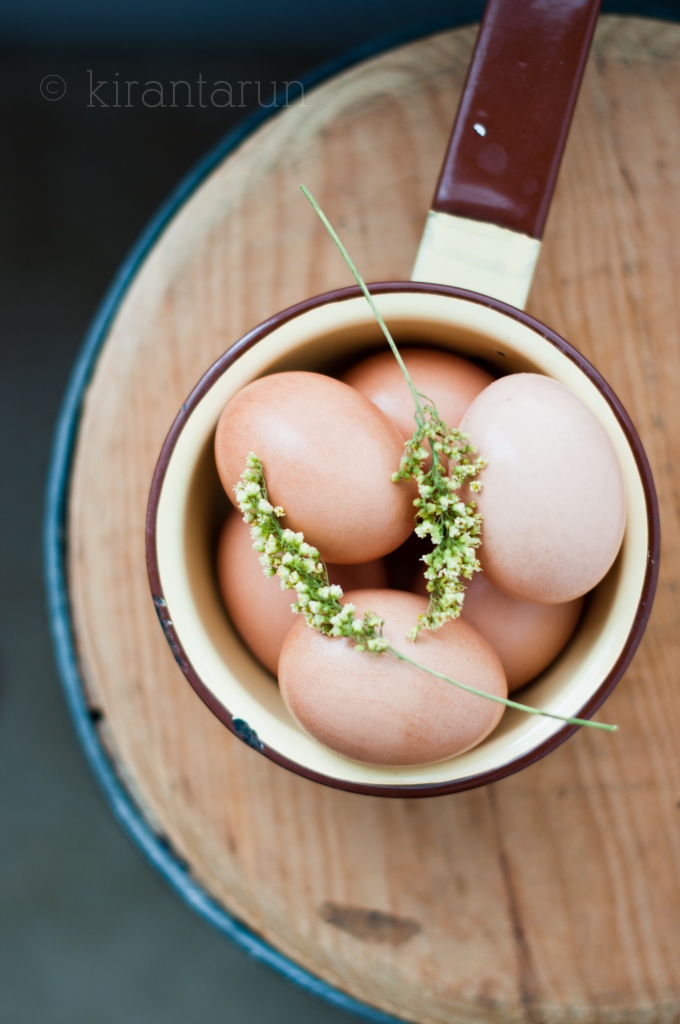 After living in the States for a few years now, we've learn to appreciate and celebrate different holidays, the seasons and ways of life. Of course Christmas, Good Friday, Easter etc is also celebrated in Malaysia and India — albeit not on a large scale nor fairly emphasized.
Nothing is better than the other, it's just how it's celebrated over different time-zones that makes the overall experiences much more enjoyable.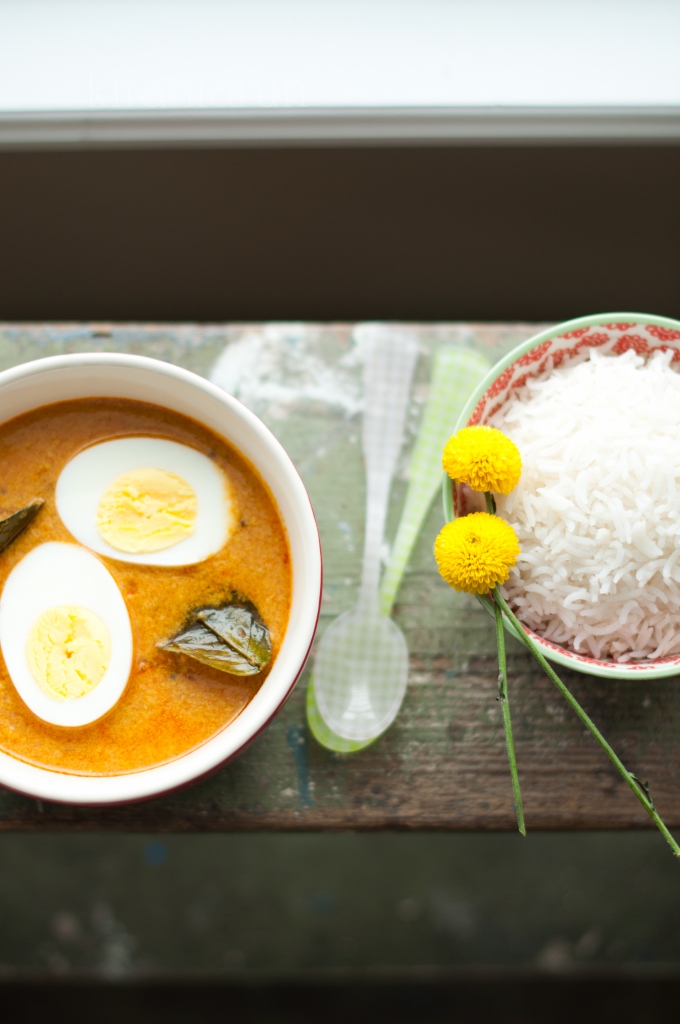 We visit our friends, have a good laugh, share stories, gobble our way to a full tummy and that's it. That's how the definition of festivities and celebrations are in Malaysia.
It's usually centered around food! No surprises there 😉
This lemongrass curry is definitely created to celebrate different festivities on our palate. We come from different backgrounds, time-zones, seasonal food habits etc and combining both differences into one meal definitely nudges us to try more cuisine.
Our love for Thai cuisine has no boundaries and so I married it with Indian flavors, resulting a beautiful aroma of delicious fusion.
And speaking of fusion, it's lunch time now and I'm all too hungry to type anymore. Must get food into my belly!!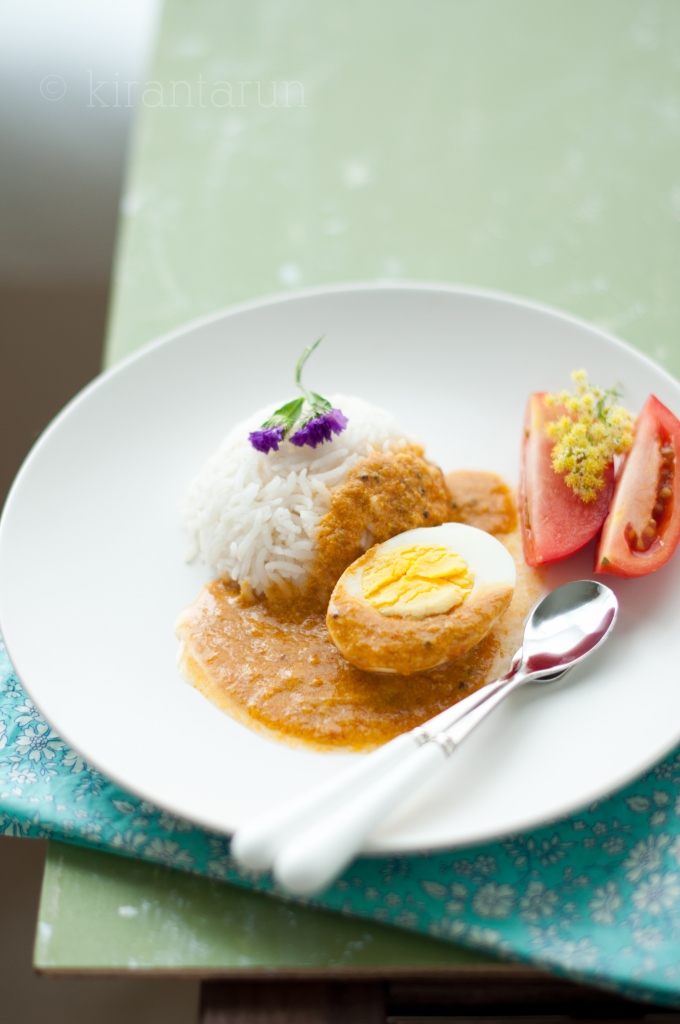 Print This Recipe
Ingredients:
4 organic large eggs
2 tbsp coconut oil
1/2 tsp mustard seeds
Half a medium red onion, chopped
2 garlic cloves, halved
1/8 cup water
1 tsp sweet spanish paprika powder
1/2 tsp turmeric powder
1 tsp cumin powder
1 tsp coriander powder
1/2 tsp red chili powder
2 heaping tbsp lemongrass puree
2 to 3 kaffir lime leaves or 8 to 10 curry leaves
1 tomato, chopped
2 tsp tomato puree
1 cup full fat or thick coconut milk
1 cup hot water
Directions:
In a medium saucepan, add 4 eggs. Put in enough cold water to completely submerge eggs. Heat saucepan on medium-high and cook eggs for 8 minutes. Remove saucepan from heat, cover for another 10 minutes. Prepare an ice bath. Add eggs into ice bath to cool before peeling. Perfect hard-boiled eggs all the time 😉
In a blender, add chopped red onions, garlic cloves and water. Blend into a smooth paste.
Heat a cooking vessel on medium high. As soon as it's hot, add coconut oil and mustard seeds. Wait for seeds to begin sputtering before adding blended onion paste.
Once onion paste is added, fry until paste thickens and oil separates — about 3 to 4 minutes. Stir in between to avoid burn.
Sprinkle in spanish paprika, turmeric, cumin, coriander and chili powder. Cook for a minute.
Add in lemongrass puree, kaffir lime leaves, chopped tomatoes, tomato puree and salt. Stir to cook for 3 minutes or until fragrant.
Add coconut milk and water. Stir to combine, cover and simmer curry on medium for 15 minutes or until oil begin separating on the sides and curry gradually thickens.
Add halved hard-boiled eggs and simmer for another 5 minutes.
Serve it hot with some jasmine rice and a side salad 🙂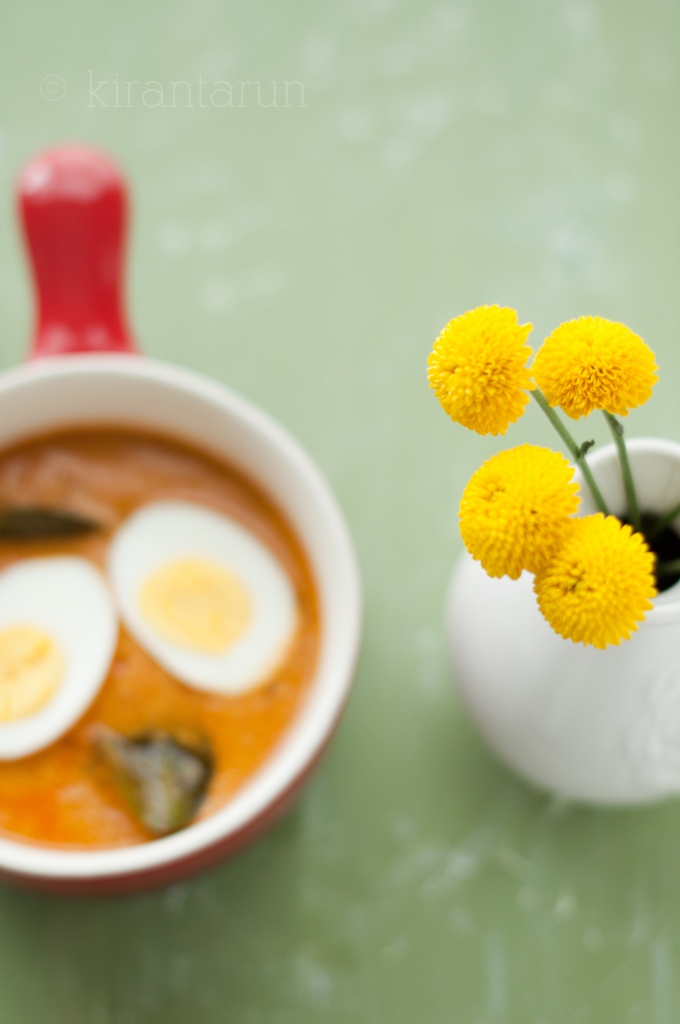 Happy Holi (Festival of Colors) and Easter to everyone. Have fun and don't forget to add more "fusion of flavors" onto your palate. It might result  into something magical.
Or let's face it — we need more fusion curry in our lives especially when it's supposedly Spring and I'm still in my socks all day long.
Brrrr…. Curry is definitely on the menu today.
How did you celebrate Holi and how would you celebrate Easter? What would be your fusion meal?