Makes 6 tartlets
Ingredients:
For crust:
1 cup whole wheat pastry flour
1/2 cup almond meal
1/2 tsp salt
2 tbsp sugar
6 tbsp cold butter, diced
1/4 cup (+ 2 tbsp) icy cold water
optional garnish: berries, powdered sugar, edible flowers
Directions:
Sift whole wheat pastry flour, almond meal, salt and sugar into a food processor.
Gradually add diced cold butter and gently pulse until flour resembles course crumbs. Do not over-pulse.
Gradually add icy cold water and pulse until dough comes together into a ball.
Lightly knead dough to form a rectangular disk, cover with a cling-wrap and chill dough to rest for 30 minutes.
Preheat oven to 350F. I used small tart shells with removable bottoms. Lightly grease tart shells. Set aside.
Turn dough between two large cling-wraps. Roll the dough out to fit tart shells. Do this quick to avoid melting butter and overworking the dough.
Remove the top cling-wrap. Lightly flour rolling pin to pick up the rolled dough and gently lay it into a tart shell.
Gently mold the dough to the shape of  the tart pan and trim any excess dough.
Prick small holes onto tart shell with a fork. Cover/line dough with parchment paper and add dried beans to blind-bake tart shell for 15 minutes.
Remove tart shell from the oven. Discard parchment with dried beans and return tart shell to bake for another 10 minutes, or until lightly browned.
Tart shell must be completely cooled before adding the lemon curd filling.
Fill cooled tart shell with chilled lemon curd and top it with berries, a generous dusting of powdered sugar and/or edible flowers.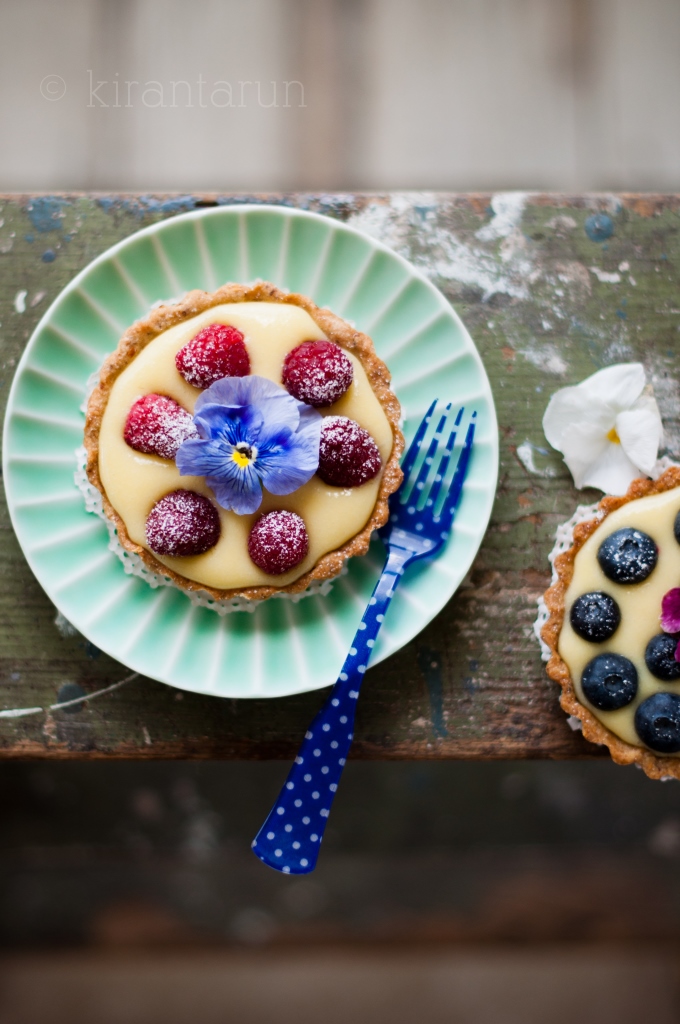 Have a great weekend and don't forget to stop and smell some roses. Or lemons.
When life hands you lemons, what would you make apart from the obvious lemonade? 😉