Serves 4
Ingredients:
a little over 1 lbs chicken breasts, boneless and skinless
1/4 cup thick / hung yogurt
1/4 cup pistachios, shelled and skinned
1/4 cup almonds, skinned
a bowl of hot water
4 tbsp warm water
2 heaping tbsp ghee
1 cinnamon stick
8 cloves
1 large onion, diced finely
1 tbsp ginger paste
1 tbsp garlic paste
1.5 tsp coriander powder
1.5 tsp cumin powder
1/2 tsp green cardamom powder
1/2 tsp black pepper
3/4 tsp salt
1/4 tsp saffron threads, crushed
garnish:
2 tsp of finely chopped coriander leaves
2 tsp of finely chopped fresh mint
pistachio and almonds
tiny pinch of crushed saffron
Directions:
Slice chicken breasts into desired size, add into a bowl. Coat meat with thick yogurt. Set aside.
Add pistachios and almonds into a bowl with hot water. Set aside for 15 minutes to soften.
Meantime, heat a large non-stick saucepan (kadhai) on medium. Add ghee and wait to heat before adding cinnamon stick and cloves.
After 15 seconds, add in diced onions and cook until onions begins to soften and browned ever so slightly. This should take anywhere from 5 to 8 minutes. Do not burn or over-brown the onions.
Throw in ginger-garlic paste and cook for another minute or until fragrant.
Lower heat to medium-low, and toss in all the spice powders (coriander, cumin, green cardamom). Cook gently and stir for 2 to 3 minutes to avoid burning the spices.
Dump in marinated chicken breasts. Evenly coat chicken pieces with spices. Cook on gentle heat for a few minutes to avoid yogurt from splitting. Sprinkle in salt, black pepper and crushed saffron threads. Cook for 5 minutes or until oil begins to separates on the sides.
Drain soften pistachios and almonds. Add into a small food processor with 4 tbsp of warm water. Pulse until a thick and grainy paste forms.
Increase heat to medium-high and add in nut paste a little at a time. Keep stirring in between until sauce begins to thicken.
Lower heat to medium, put on a lid and cook chicken for 15 minutes. Stir in between.
Once chicken is cooked and sauce is thicken to desired liking, remove from heat and sprinkle in finely chopped coriander leaves and mint.
Garnish to your hearts desire and serve kashmiri chicken with basmati rice and garlic naan. Do it!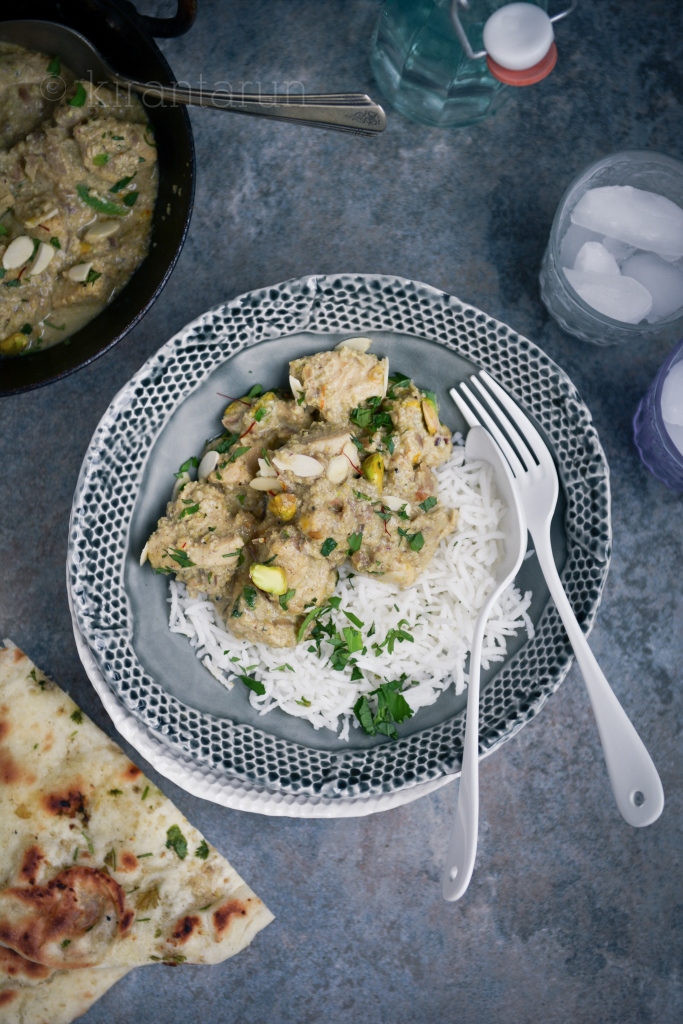 Now it's the family's turn to drool like crazy 😀 Off to rustle up these leftovers with more naan. Garlic to be exact and it's already a good start to a weekend.
What is your favorite family meals or recipes?