G
ood news, my friends!
My mom didn't need much convincing in handing over most of her cookbooks & recipe collection she has in her possession.
I'm sensing the jealously from my siblings 😉
I was about to "cook" some stories to convince her in handing over the books.
Looks like mom was well-prepared, whereas I was left spell-bounded over the collection of authentic Malaysian recipes — from newspaper clippings to old cookbooks — all collected over so many years.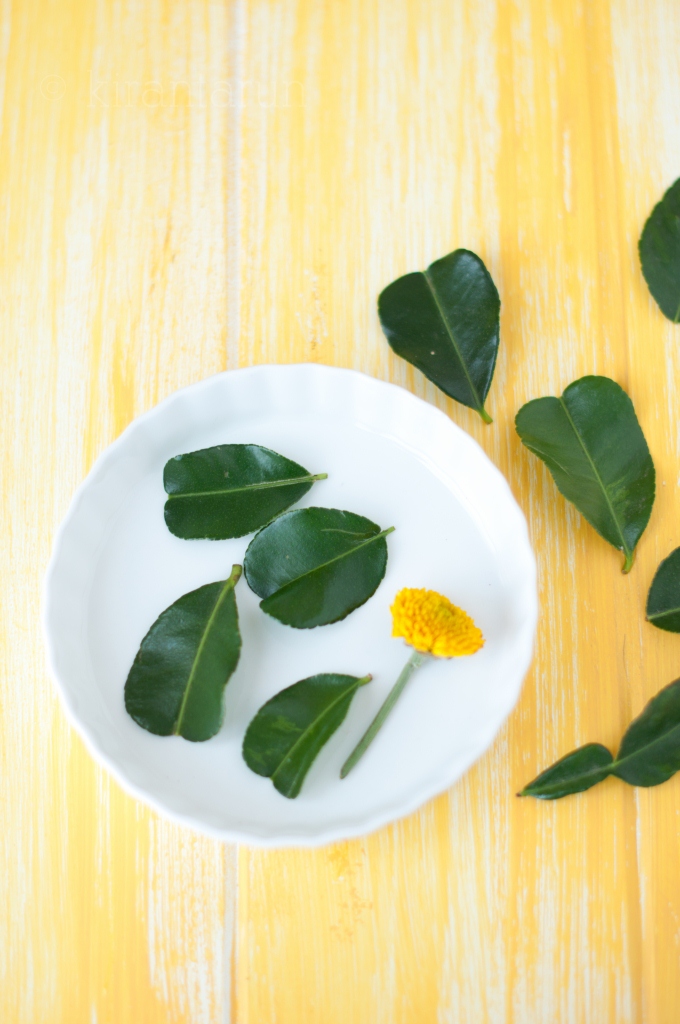 The scent of old-paper lingers in the air as I make my way over pages of delectable recipes — some of which I'm literally "dying" to eat. While others' awaits to be tested in my kitchen.
Since landing in Malaysia last Friday night, profound emotions took over me. There's no way anything can be better than returning to the soil where "home" and family awaits for us to visit.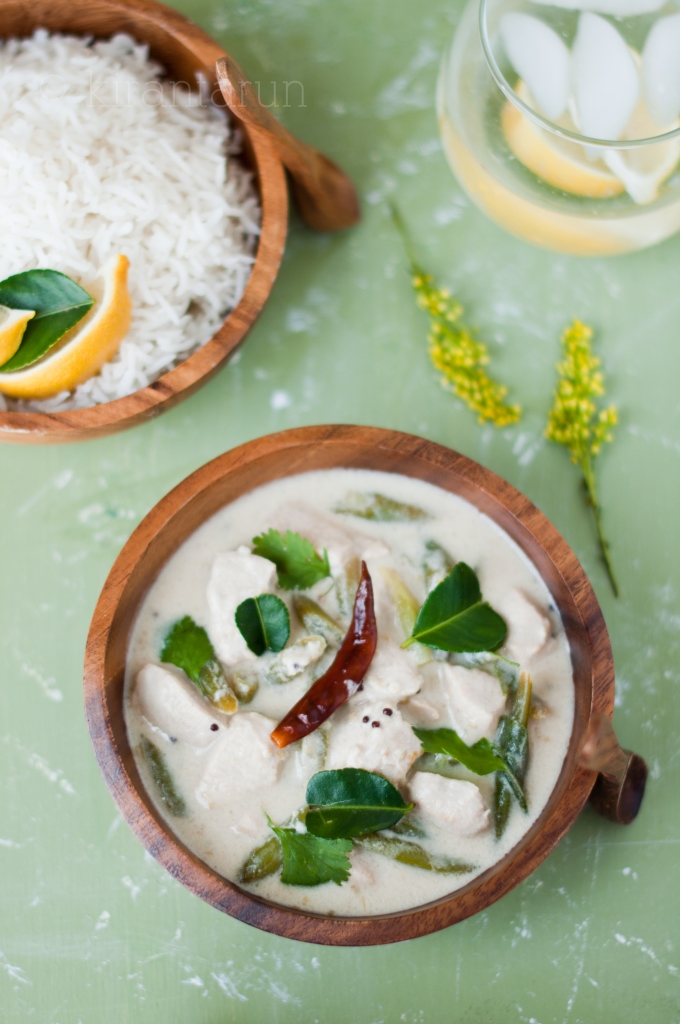 While we are spending much needed time with the family, join us on your family table by making this simple curry.
Filled with aromatic flavors of Malaysia– this recipe translates simplicity to a whole new level. There's slight sweetness from coconut milk which is complemented with aromatics from lemongrass and kaffir lime leaves.
I'm off to catch up on gossips, sip on local drinks and gobble my heart out with the most delicious street foods I've been eyeing for a while now. Follow us on Twitter & Instagram to catch us in action. Proceed with caution — it's deliciousness from here on 😉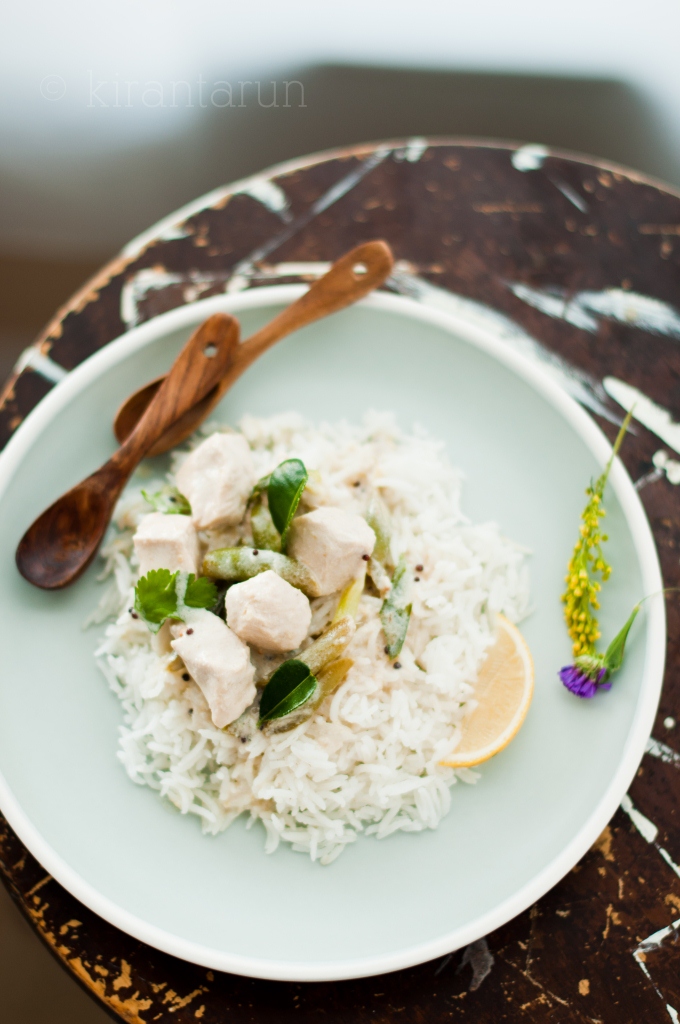 Print This Recipe
Ingredients:
2 pieces of boneless, skinless chicken breasts (chopped bite size)
3/4 cup fresh green beans, trimmed and sliced
1 tsp coconut oil
2 to 3 dried red chilies, bruised
1/2 tsp black mustard seeds
2 tbsp lemongrass paste (or 2 stalks of fresh lemongrass, bruised)
1 tsp ginger paste
1/2 tsp garlic paste
4 small kaffir lime leaves
1 can (1.5 cup) coconut milk
1 tbsp fish sauce
1/4 tsp salt
2 to 3 tbsp fresh lime juice
Garnish: Fresh coriander leaves
Directions:
Heat a non-stick large saucepan on medium. Add coconut oil and wait until it heats.
Add red chilies and bruise for 30 seconds, before adding black mustard seeds. Wait for the seeds to sputter.
Once mustard seeds sputters, add lemongrass, ginger-garlic paste and kaffir lime leaves. Fry for 2 minutes or until fragrant.
Add chopped boneless skinless chicken breasts and fry for a minute. Drizzle in coconut milk.
Gently simmer gravy for a few minutes before adding green beans.
Cover and gently simmer for 12 minutes or until chicken is cooked through, beans are tender and gravy slightly thickens.
Add fish sauce, salt and fresh lime juice. Stir to combine.
Serve hot with steamed rice.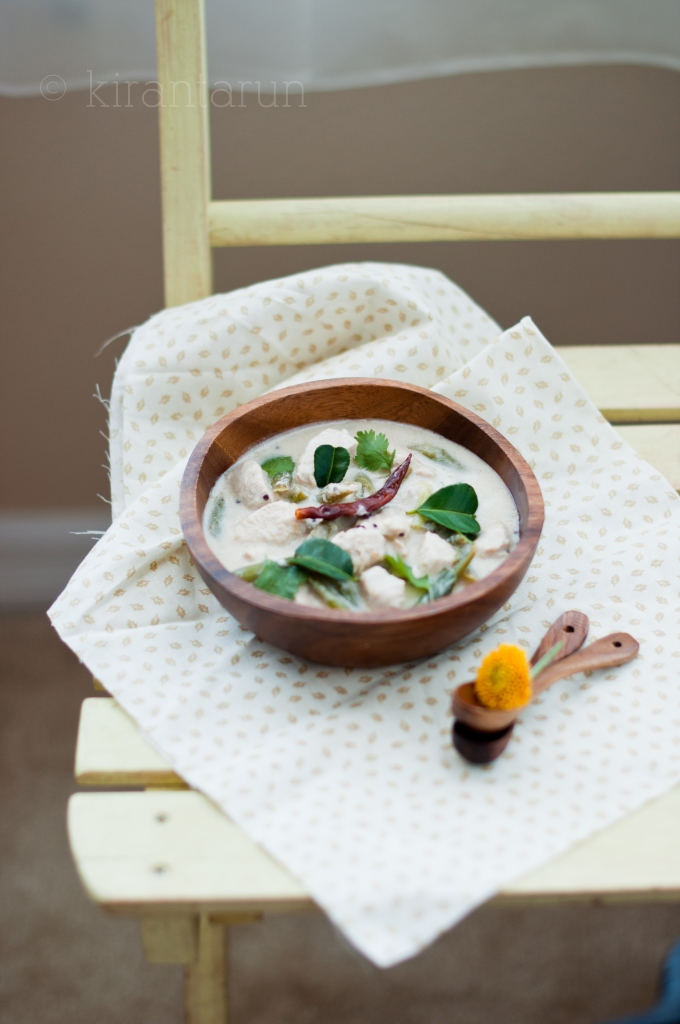 Have a great week, my friends. I'm aware I have a lot of catching up to do, but family is a priority at the moment. We truly appreciate your readership and joining us in our journey 🙂
Off to pack for Bangalore — see you from India, tomorrow 🙂
Have you inherited a collection of recipes/cookbooks from your family? Any favorite "hand-down" recipes?