Y
esterday was Holi, a festival that celebrates COLORS. How fun is that? I remembered my first Holi back in India a few years ago. It was a surreal experience since we don't celebrate it in Malaysia.
I don't know why we don't celebrate it in Malaysia, or any other parts of the world. Holi should be an international fete. It's simply amazing.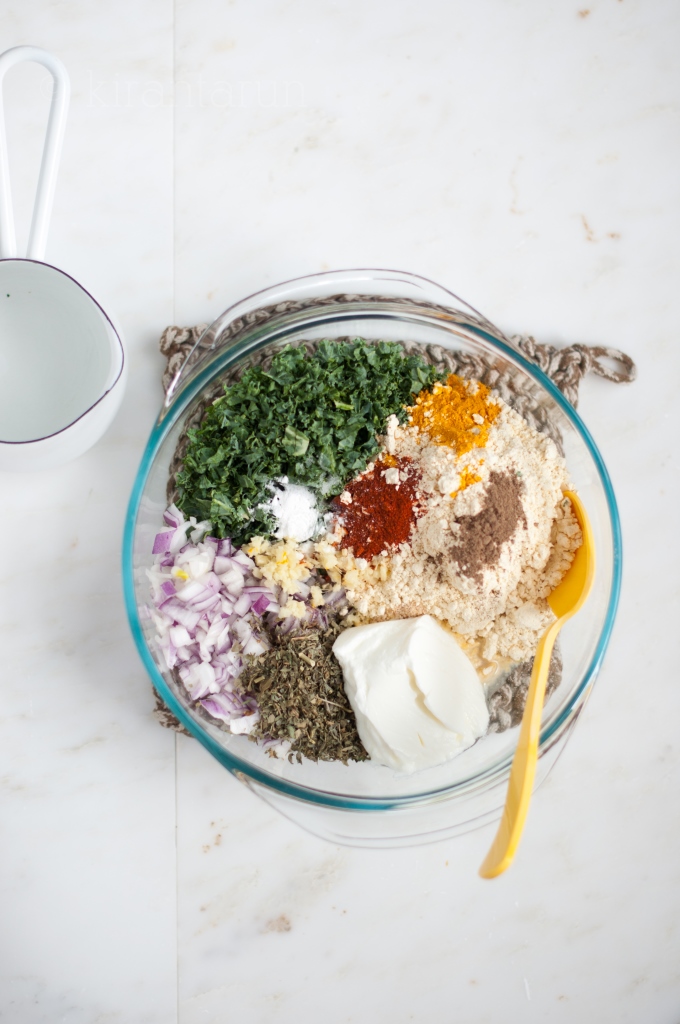 Its a bonus in inter-faith marriages — you are thrown into different facades of lifestyle and culture which you've never experienced before. And getting a first hand on Holi festivities for me, well, it was definitely a marital "bonus" 😀
I've yet to master the nuances of this celebration, since it would take a while for me NOT TO FORGET celebrating it.
I know, I'm a terrible wife! I totally forgot about it until last Sunday evening. Yikes 😀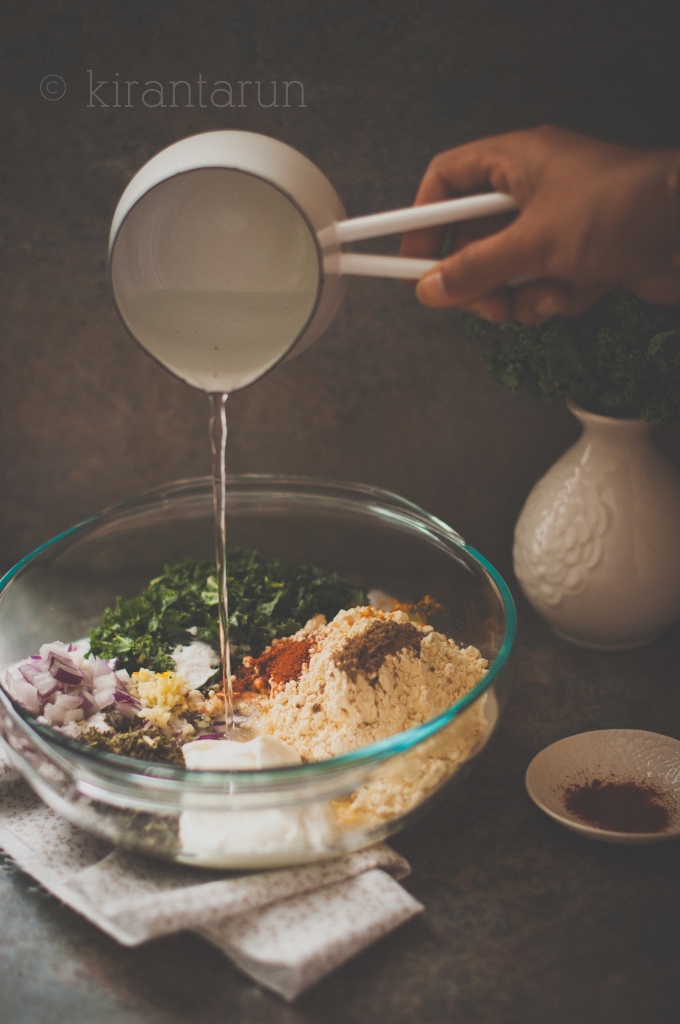 We eventually celebrated Holi our way, with my in-law's famous kadhi pakora. Because, adding spices is already a celebration of colors, right? 😀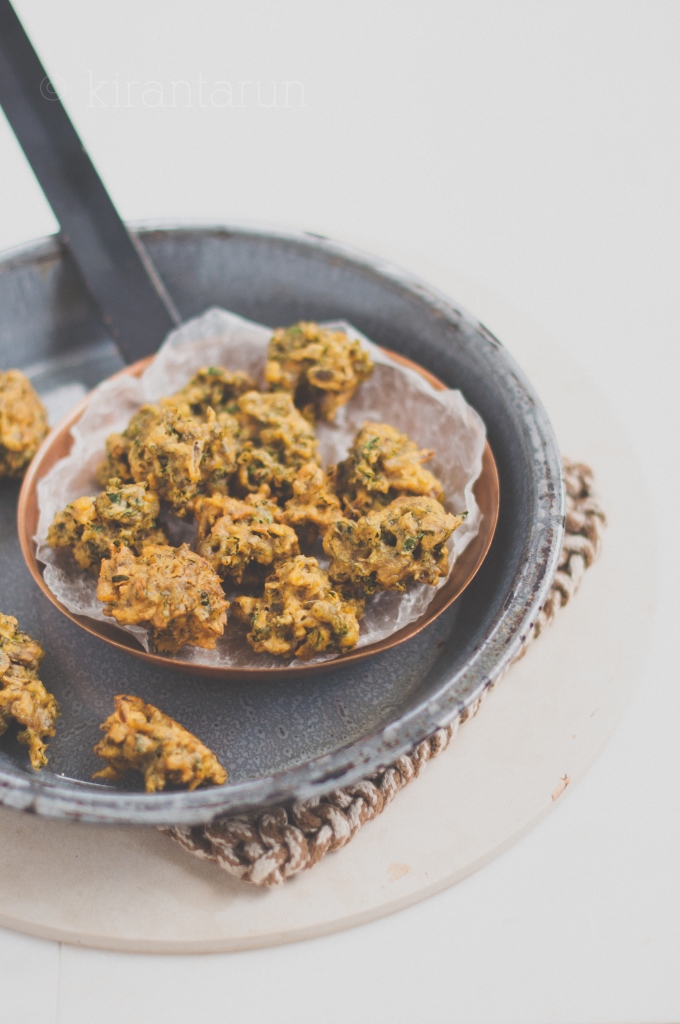 Print This Recipe
Ingredients:
For pakoras (fritters)
1 cup of kale leaves, finely chopped
3/4 cup of chickpea flour (besan)
1/2 cup onion, chopped
1/8 cup of dried fenugreek leaves (methi)
1 tsp grated ginger
1 tsp mango powder (amchur)
1/4 tsp turmeric powder
1/4 tsp asafoetida (hing)
1 tsp red chili powder
1/2 tsp baking powder
1/3 cup water
2 tbsp thick yogurt
1/2 tsp salt
oil for frying
For kadhi (spiced yogurt gravy)
1 cup of sour yogurt
4 tbsp chickpea flour (besan)
2.5 cups of water
2 tbsp mustard oil
1 tsp cumin seeds, crushed
1/2 tsp coriander seeds, crushed
1/2 tsp whole black peppercorns
2 dried red chilies, halved
1 sprig curry leaves
1/2 tsp turmeric powder
2 tsp fenugreek leaves (methi)
3 tbsp onion, chopped
1/2 tsp minced ginger
1/2 tsp red chili powder
1 tsp salt
1/2 tsp garam masala
Optional: fresh coriander leaves, cucumber and red onion slices.
Directions:
Heat a deep saucepan on medium-high. Add enough oil for deep frying.
In a huge bowl, add all ingredients for pakodas (except oil) and mix to incorporate. The batter should be thick for frying. Allow batter to rest for a few minutes while awaiting for oil to heat.
Once oil is hot, begin frying fritters by adding a few teaspoons in small batches. Fry until lightly browned and remove from oil to drain on paper towels. Continue frying up the rest of batter.
Meantime, whip sour yogurt and chickpea flour into another huge bowl, until smooth. Add water and whisk until smooth. Set aside.
Heat a large non-stick deep saucepan on medium-high. Add 2 tbsp mustard oil and wait until its hot before adding whole spices (cumin, coriander seeds, black peppercorns and red chilies). Cook until seeds pop, at least for a minute.
Turn down the heat to medium, add curry leaves, turmeric powder and fenugreek leaves. Cook for another minute before adding chopped onions and ginger.
Cook onions until translucent or fragrant before sprinkling in red chili powder and salt.
Add prepared whisked sour yogurt liquids and stir to combine. Cook until gravy thickens, stirring occasionally. Once gravy begins to simmer, add fried kale fritters, put on a lid and continue to simmer gently for another 15 minutes.
Sprinkle on some garam masala, turn off the heat and serve immediately garnished with fresh coriander leaves. Best eaten hot with freshly steamed basmati rice, cucumber and red onion slices.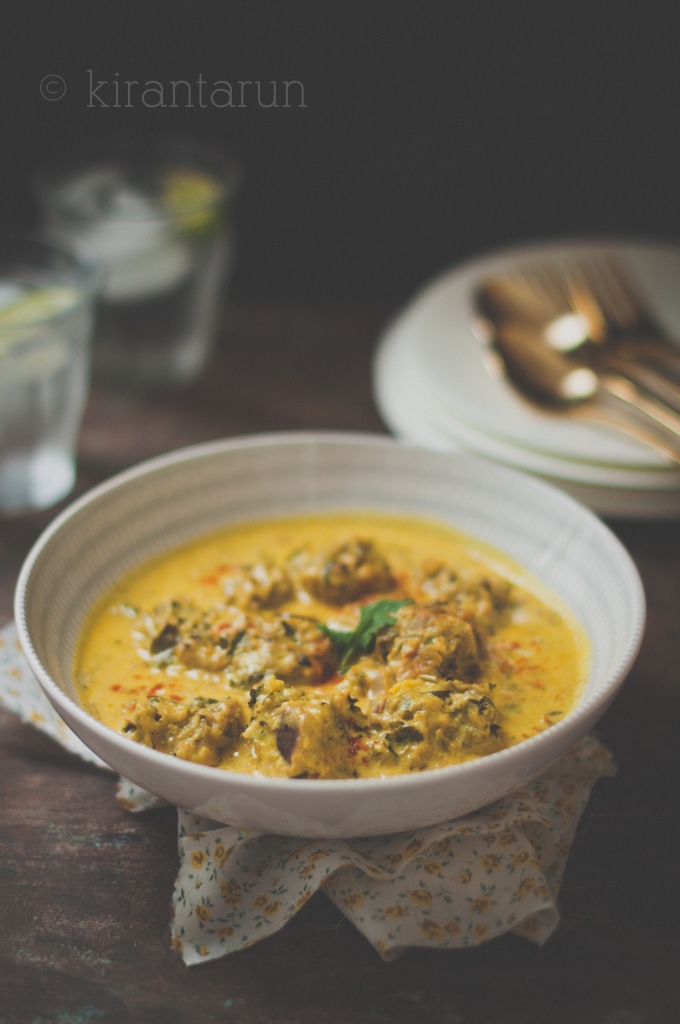 Wow! I'm on a roll this past few days in regards to how much beans I've spilled ranging from being a prop hoarder to totally forgetting important festivities.
Who said being ME is easy? Or inter-faith marriages, for that matter? 😉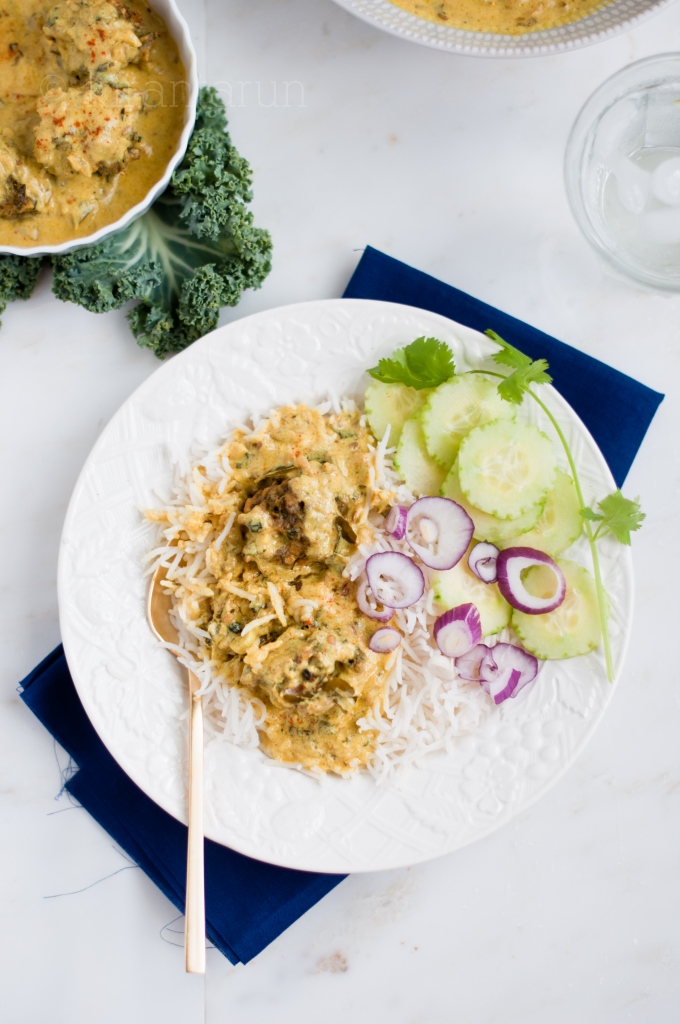 Spill your beans too so that I could learn something from it. How do you remember all the important dates or festivities in your life?!?
I'm a scattered-brained, that's for sure.