H
iyaaa!!
How are you guys doing? Bet much more better than me, trying to recuperate from a major jetlag from a total of almost 30 hours return flight to Orlando.
No joke.
2 months vacation has definitely taken a toll on my writing and blog posting. But it was all worth it and dare I say a well-deserving break from routined life?
But I'm back with a deliciously easy and healthy recipe that comprises all of my favorite ingredient in one bowl of:
OATMEAL!!! The perfect meal for any jet-laggers out there.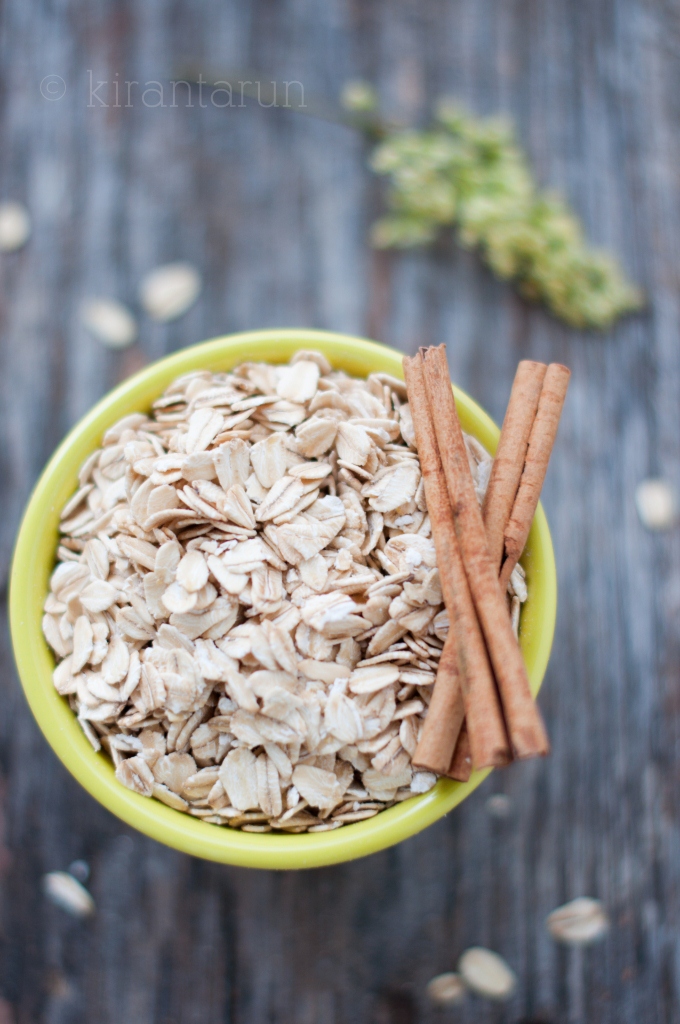 While getting back to routine seems impossible after such a long break, this breakfast definitely kickstarts my morning on a very sweet and hearty note.
Especially when it involves so much unpacking, laundry and endless long list of to-do's that includes replying to a ton of email.
Wowser.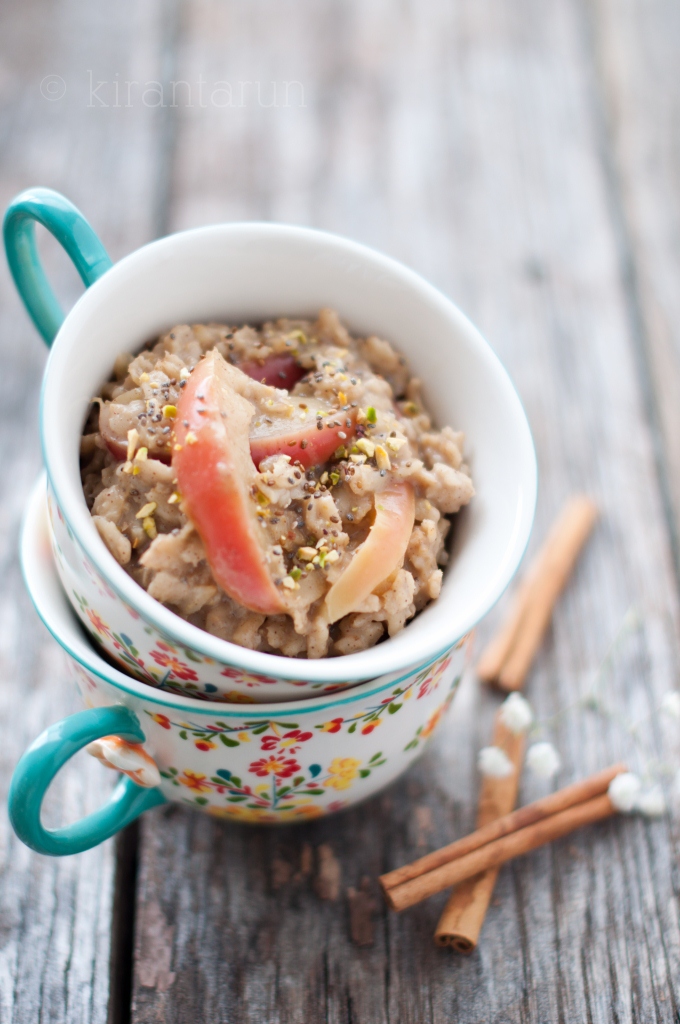 And to be frank, I've missed our daily dose of oatmeals for breakfast. In between stuffing our faces with famous or local Malaysian & Indian sumptuous delicacies, there were moments where oatmeal was also consumed.
Oatmeal will always have a special place in my heart 🙂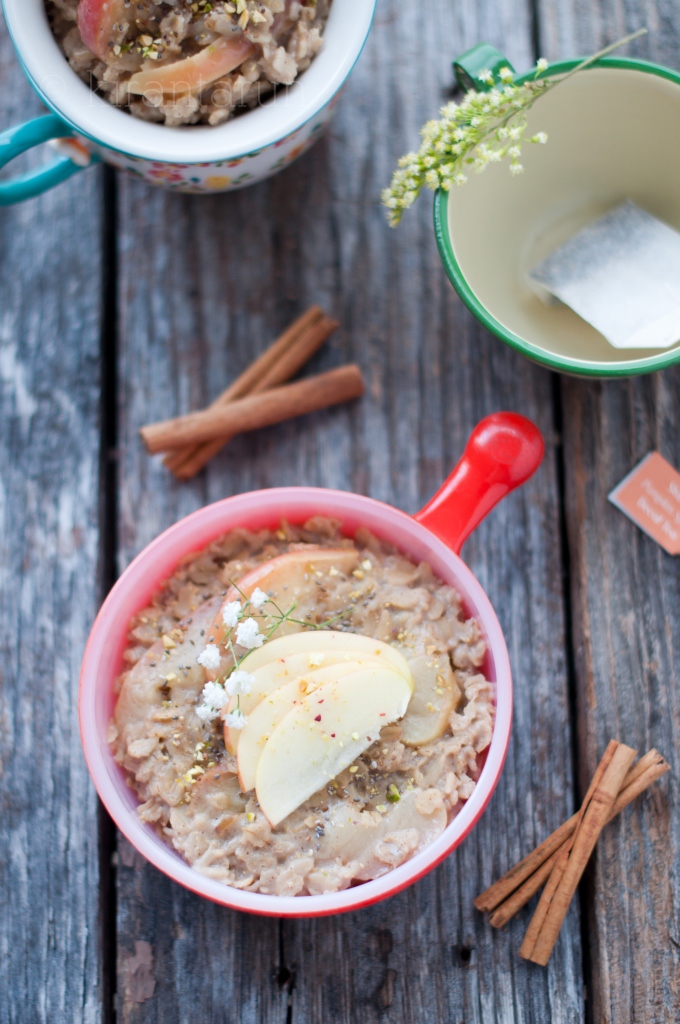 Print This Recipe
Ingredients:
1 cup toasted old fashioned oats
2 honey crisp apples, sliced
1 tbsp brown butter
1 cup apple juice
1 cup almond milk
1/4 tsp salt
1/2 tsp cinnamon powder
1/2 tsp vanilla extract
Directions:
Heat a nonstick saucepan on medium. Add brown butter and sliced honey crisp apples. Saute for a few minutes until apples softens.

Add toasted oats, apple juice and almond milk. Cover and simmer for 10 minutes. Stir every now and then.
Season with salt, cinnamon powder and vanilla extract.
Serve oatmeal topped with chia seeds, chopped pistachios, nut butter, berries… the possibilities are endless!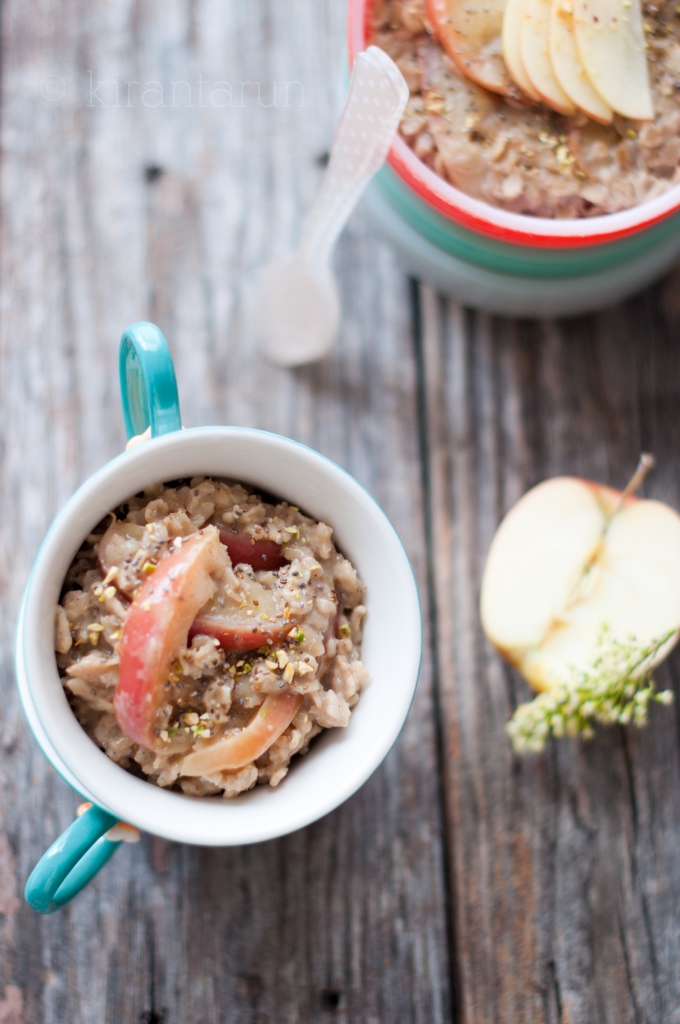 Off to enjoy oatmeal for breakfast, lunch and dinner. I've missed it that much. And frankly, I need to loose all the weight I've gained these 2 months. Definitely enjoyed every morsels 🙂
What is your favorite breakfast? What do you look forward to eating after returning from a vacation?