H
i Friends!!
How's your Friday? Mine started on a very quiet note until it begins shifting into the most annoying one.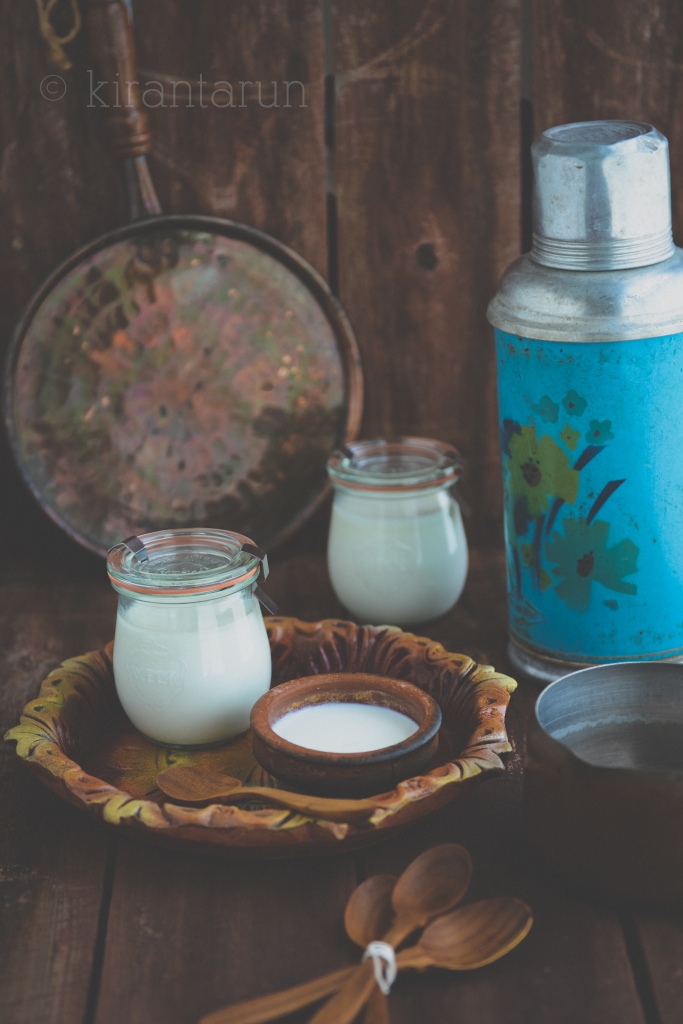 I broke my favorite teacup and it was not the only thing I broke today.
Apparently, the breaking "gods" has a long list of agenda planned for yours truly. All in one day. After sweeping up a huge mess created after breaking the teacup, I proceeded to nurse my bruised ego by preparing a luscious bowl of oatmeal for breakfast.
If only I used a plastic bowl for this. You've guessed it right! I broke another bowl. Thankfully, it was not a favorite one. Unfortunately, breakfast was also sacrificed in the process.
Sigh.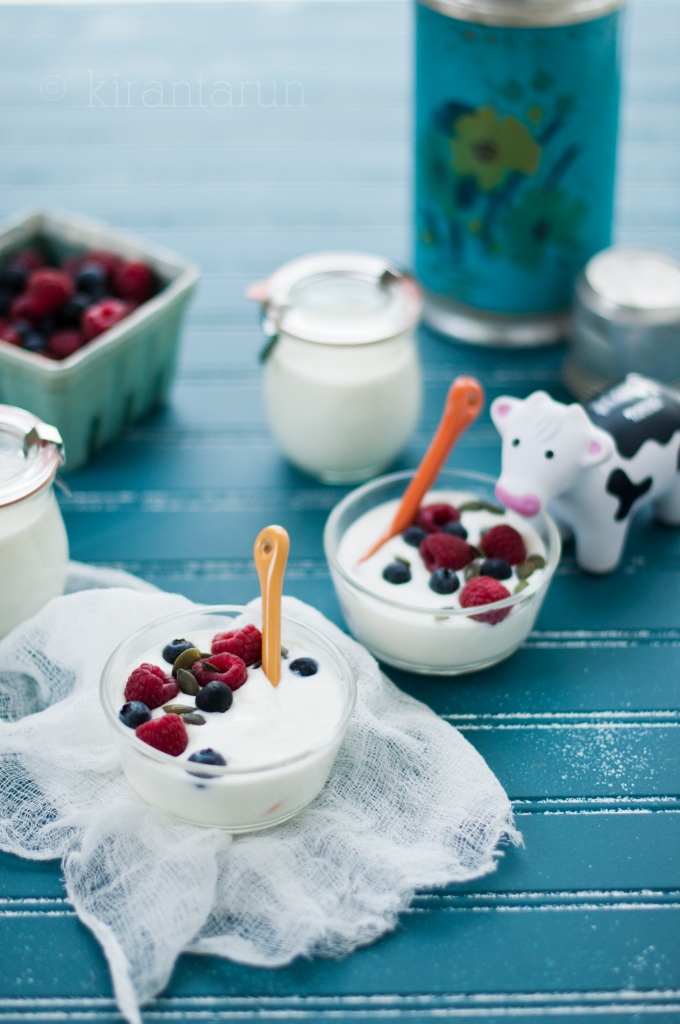 While my world was "breaking down" around me, thankfully the breaking omen didn't pay any attention whatsoever into the oven. I had a flask (thermos) and a few jars filled with some science experiment awaiting to produce results while incubating cozily.
And the final results revealed luscious homemade yogurt.
Oatmeal out, fresh yogurt with berries was served for breakfast. With caution and zero incident.
Well, for now.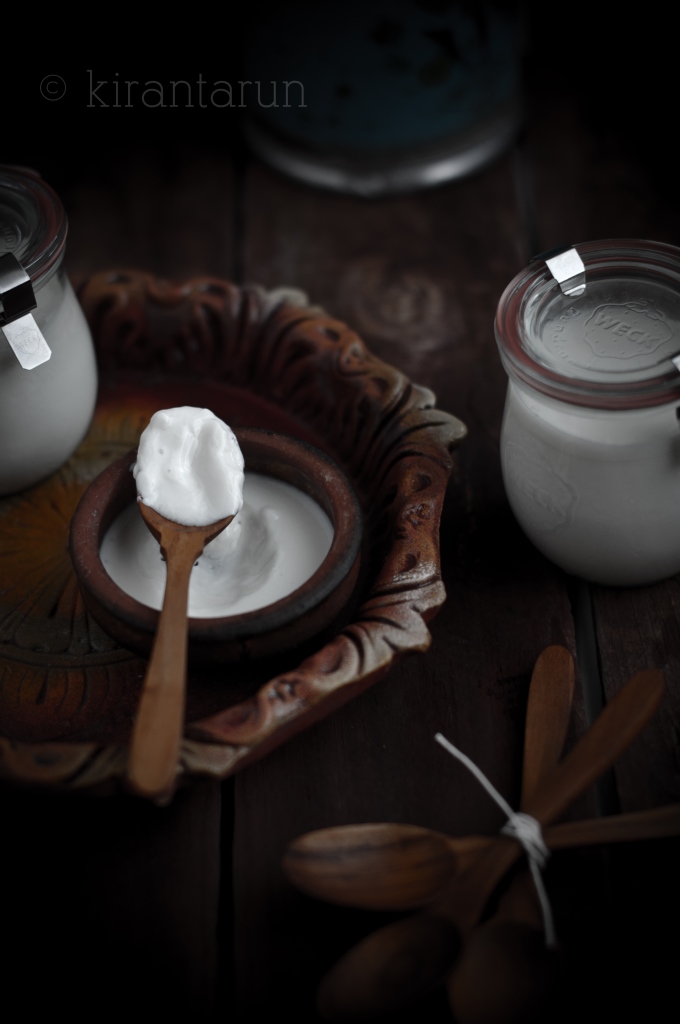 Recipe adapted from yogo

Print This Recipe
Ingredients:
1 qtr/1 litre of pasteurized, organic whole milk
1 packet (5 grams) of yogurt starter
sterilized thermos and/or jars with lids
clean kitchen towels
candy thermometer
Directions:
Switch the oven light on.
Add milk into a large saucepan. Heat milk on medium and with a clean wooden spoon, stir milk every now and then to avoid burn. Heat milk up to 180F (82C).
Once the milk heats to 180F, remove from heat and allow the milk to cool down to 115F (45C).
Meantime, add boiling hot water into clean thermos. This process is crucial to sterilize and prepare the thermos for incubation. Screw the lid on.
Dissolve one packet (5 grams) of yogurt starter with a small quantity of cool milk in a cup and mix well. Pour this mixture back into the saucepan with cool milk and mix well.
Discard hot water out of the thermos. Add the prepared milk and screw the lid on.
Wrap thermos with a few kitchen towels and incubate, undisturbed, in the oven (or any warm spot around your home) between 7 to 12 hours (preferably, overnight).
Refrigerate for a minimum of 3 hours once incubation is completed.
Important notes:
If you prefer using starter from your favorite yogurt, make sure to use fresh yogurt with "live cultures".
Raw milk is the best, but any pasteurized organic milk would work great. DO NOT USE ultra-pasturized milk.
It is very crucial to heat milk up to 180F to kill any bacteria that may compete with the live cultures to produce a great quality of yogurt.
All equipments or tools must be very clean and sterilized beforehand.
A warm environment is crucial during the incubation period.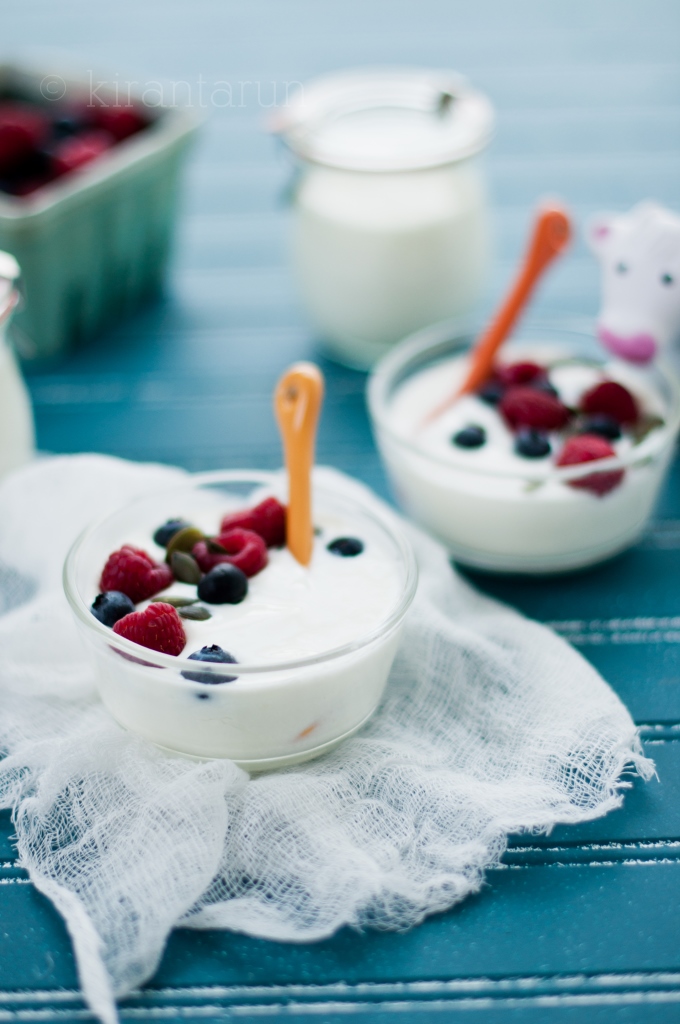 Have a great Memorial Day weekend, friends. Try not to break anything 🙂
Ever tried making homemade yogurt from scratch? Any valuable tips or tricks to share?