I've been keeping this secret for a while now — and it's bursting at its seams. I just have to tell it all before I lose my mind.
I
often mispronounce words.
Nope, I am not referring to common day-to-day communication. I am talking about the big words that fancy chef's, restauranteur or a foodie uses — whether they truly know what they are talking about or just plain arrogance.
I am neither. I often tense and break a sweat whenever I come across words such as worcestershire, bouillabaisse or pouilly-fuisse.
Heck, I don't even know what's pouilly-fuisse actually refers to.
Yup, that's my deep dark secret — anyone dare's judging me? Go ahead. At least I am a confessor (crossing my fingers I am using the right word here).
There's many misconceptions on how some words are being pronounced. Villagevoice compiled a long list of mispronounced food words — many of those words are guaranteed to shock you, like:
Sriracha (See-rah-cha)

Pho (fuh)

Paczki (POONCH-key)

Gyro (YEER-oh)

Boudin (the Cajun kind, "Boo-dan")
Why can't spelling and pronunciation go hand-in-hand? Why does life needs any more complications added to our day-to-day struggles?
For heaven's sake, I better brush up on my yeer-oh before my greek brother-in-law discovers this abnormality in me.
On the other hand, I do know how to pronounce "paneer". Not only it's easy to pronounce, but darn easier to make as well!
You'll need whole-lotta milk, some lemon juice, cheesecloth and patience. Easy-peasy.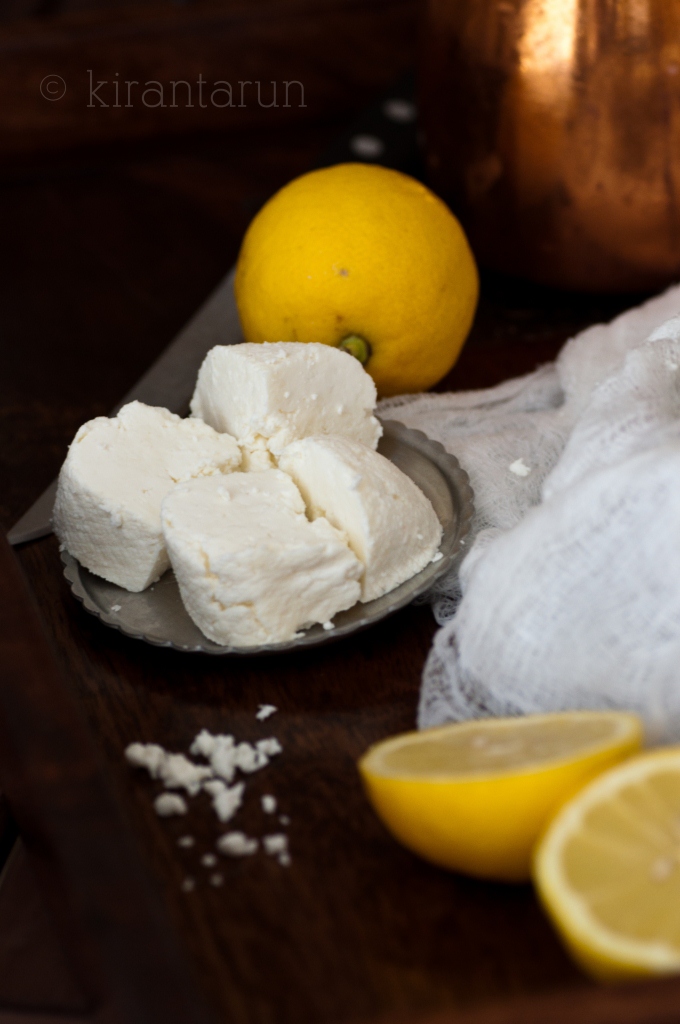 Print This Recipe
Ingredients:
1/2 gallon or 1.89 liter of whole organic milk
3-4 tbsp of lemon juice
Directions:
Add milk in a heavy bottomed pot. Gently heat it on medium low, stirring every now and then to avoid burn.
Heat milk only until it begins to simmer, gently.
Remove milk from heat. Adding 1 tbsp of lemon juice at a time, continue stirring while hot cream begin separating from whey.
Place a cheesecloth over a strainer. Drain cheese into cheesecloth.
Using cheesecloth, shape cheese into a block. Do not remove it just yet. Hang cheesecloth on a handle in the kitchen for 1 hour to continue draining excess moisture. Place a bowl underneath.
After an hour, place cheesecloth between two chopping boards. Add weight on the top. Press cheese for 2 more hours.
Slice cheese to serve on salads, appetizers or entrees. Enjoy!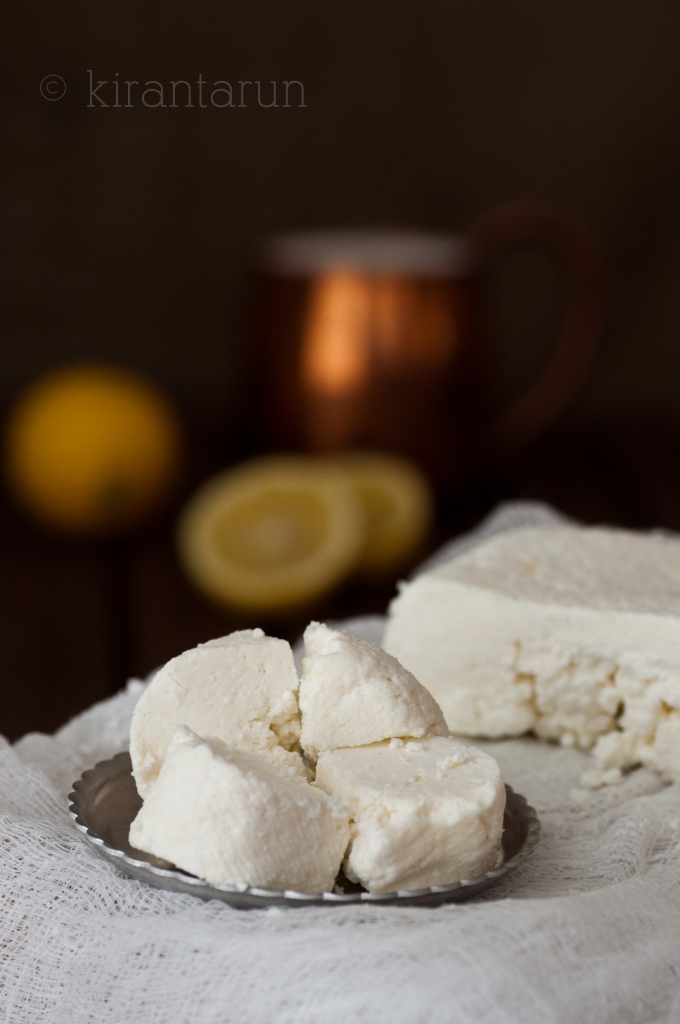 There's quite a few paneer recipes you can try. Look for it at "more good eat's" section below.
I am sure you are ready to make homemade Indian cheese. Now, go make me proud. And don't forget to study those mispronounced words 😉
What's your word of the day?