I
t's been raining cats and dogs these past few days. Everyday cloud threatens storm and days are often dull, dark and gloomy. Not a picturesque condition for any photographer out there. But a perfect day to bake.
A lot of granola.
And then cry over a huge batch that burnt in the process.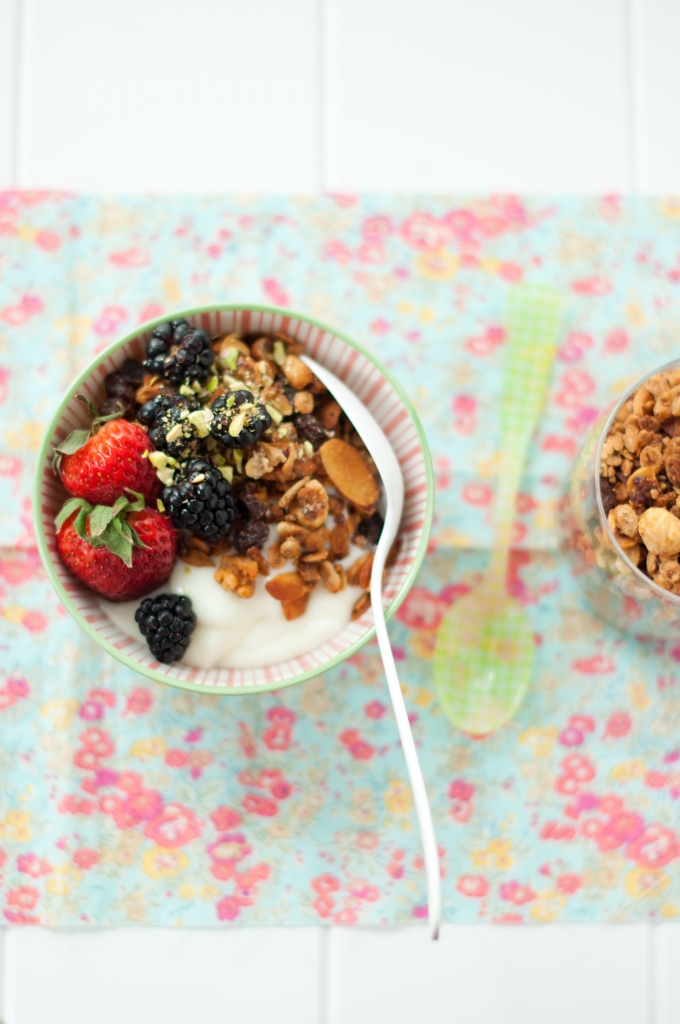 Sometimes things just don't work out as planned. Like overcooking eggs, burnt toasts, baking disasters etc. Juggling daily responsibilities definitely takes a lot of toll on the creativity too.
Which brings me to baffle about how others seem to have this preconceived notion about how some of us have this so-called "perfect life".
Just because I blog about food, talk about food, heck, live my life surrounded by food and consistently updating Facebook about our meals — doesn't sum up perfection. In fact, our life is a far cry from perfection.
And we are fine with that 🙂
Who needs a perfect life anyways. That would just spell BORING. Tell me I'm right about this 😀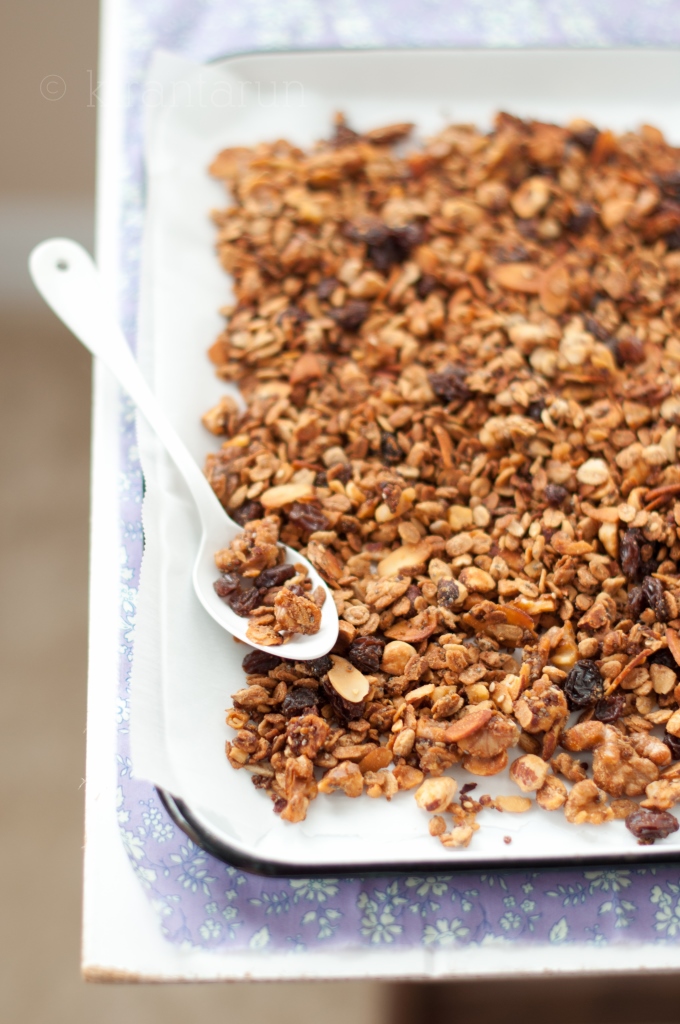 Like this platter of disastrous granola. I mean, how simple can baking a granola be that I ended up burning a large batch? I did warn you about my baking skills many times, so which part of this makes it looks like I have a "perfect life"?
OK, fine. I love food styling and I spend a huge chunk of my time, sweat (and money!) to perfect the look I want to achieve over a recipe. That's a lot of hard-work, my dear. Where does it spell "perfection"?
I'm flattered, thank you, but perfection doesn't work when I have a pile of dirty laundry and dishes, awaiting to be tackled. And how my to-do list just gets longer each passing day.
Just pointing out the reality and obvious, my friends 🙂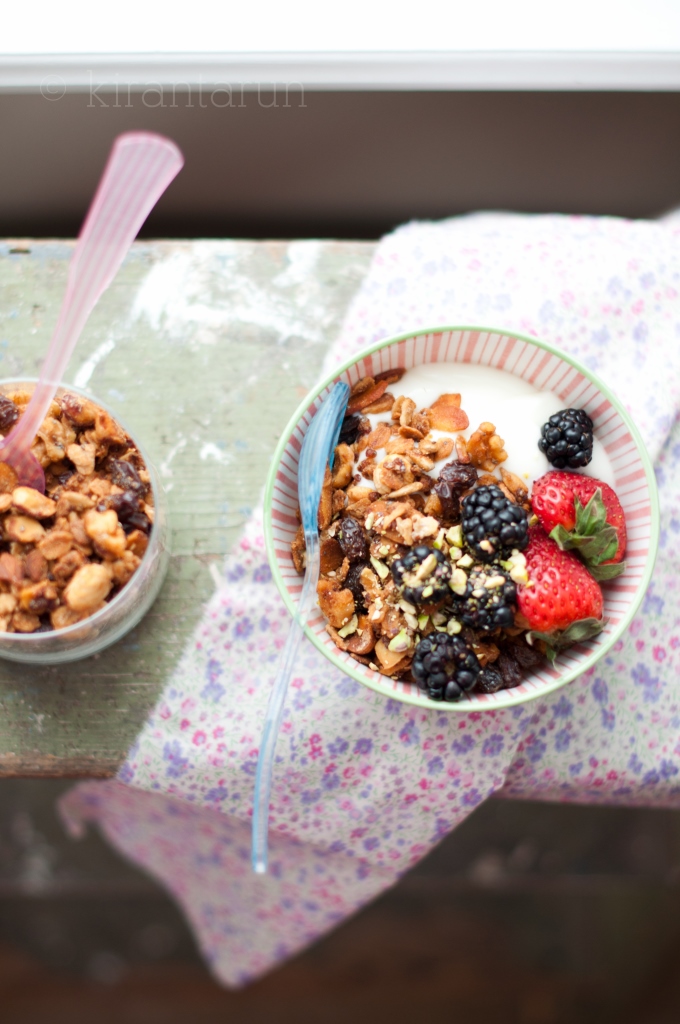 Print This Recipe
Ingredients:
2 cups of rolled oats
1 cup of cooked quinoa
1.5 cup of mix nuts and seeds (i used walnuts, hazelnuts, almonds, sunflower, poppy, chia and sesame seeds.)
1/2 cup maple syrup
1/4 cup honey
1/2 cup coconut butter
1/2 tsp salt
1 tsp vanilla extract
1/2 cup dried raisins
Directions:
Preheat oven to 315F. Prepare 3 baking sheets.

In an extra large bowl add oats, quinoa, mixed nuts + seeds. Stir everything to combine.
Add maple syrup, honey, coconut butter in a small saucepan. Heat it over medium-low. Stir to melt ingredients and combine. You want the mixture to liquify. Once it does liquifies, remove from heat. Add in salt and vanilla extract.
Pour liquid into huge bowl with dry ingredients. Stir everything to combine.
Proportionate the granola mix onto 3 baking trays. Spread evenly to allow even baking and browning.
Bake for 30 to 40 minutes. Rotate baking trays and toss granola every now and then in between baking time. Also, watch granola very closely to avoid burn.
Once granola has toasted and browned evenly, remove from oven and allow granola to cool completely before tossing in dried raisins and storing in an airtight container.
Serve it atop yogurt, oatmeal or fruit. Enjoy!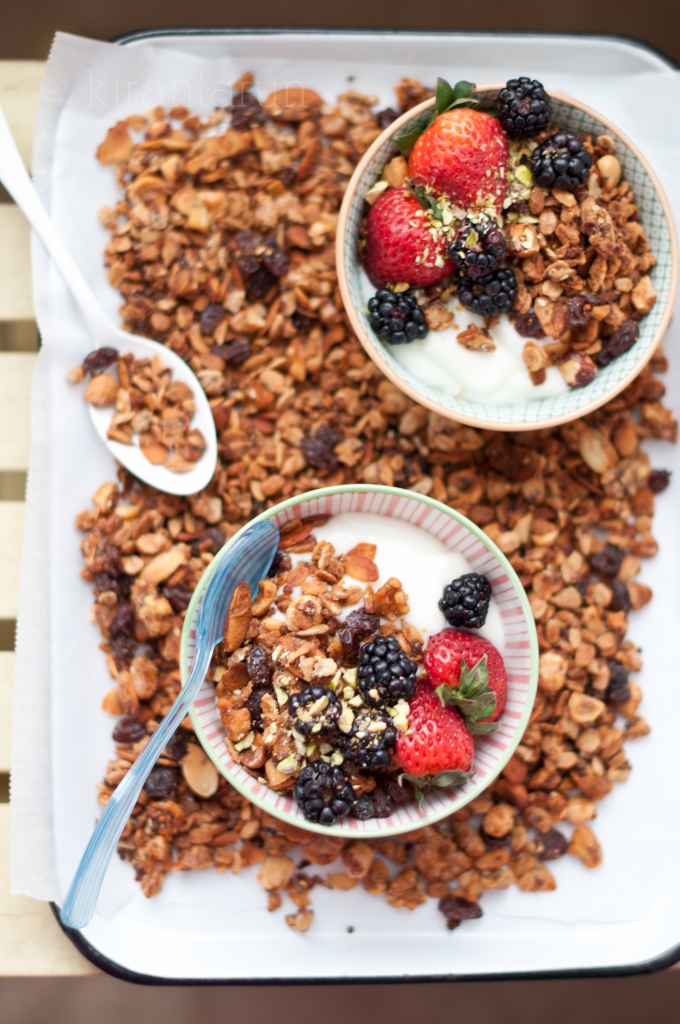 Now that I've complained about my ridic baking skills and how imperfect my life is — it's time for you to rant.
What is your list of imperfection? What are your tips when it comes to baking? Help me!
On that note, have a great weekend my friends 🙂