D
ear Ghosts and Goblins,
You are in for a shocking surprise. There ain't butter, eggs or cream cheese frosting in these cupcakes. You might think its disappointing, but please don't judge before inserting your fangs for a bite. It's a dense, moist and chocolaty cupcake that would satisfy any sweet bloody tooth.
Happy Halloween,
Sugared Soul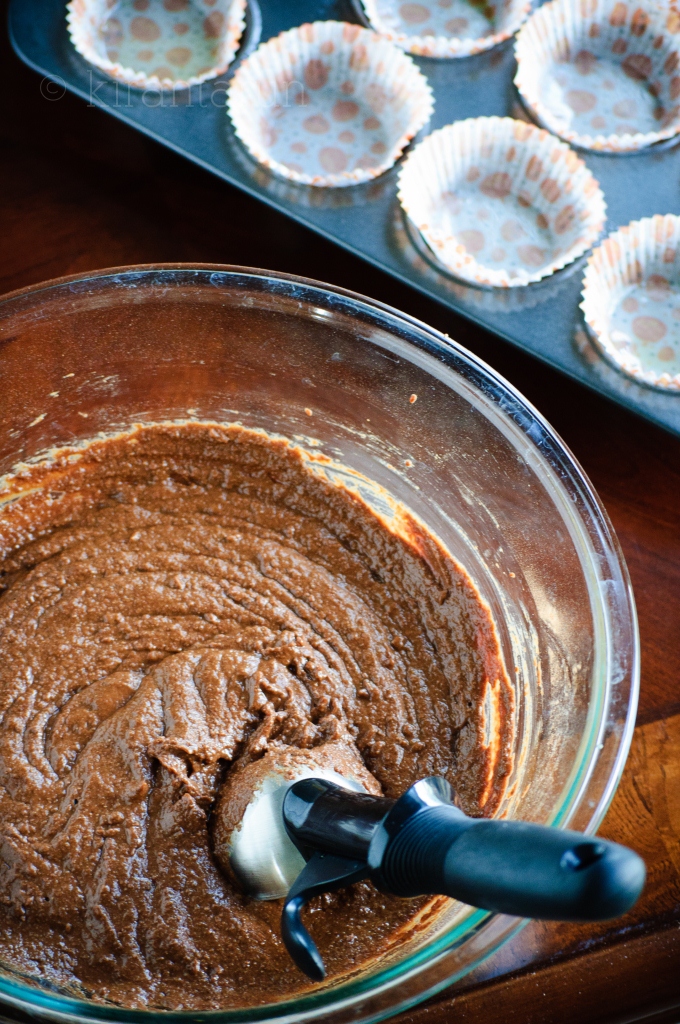 I would never have dream that any of my recipe's would be titled as "vegan" someday. But it's nice to have challenges while creating yummy and healthy desserts. More reason to stuff myself with sugary delights.
Yeah, I need that motivation.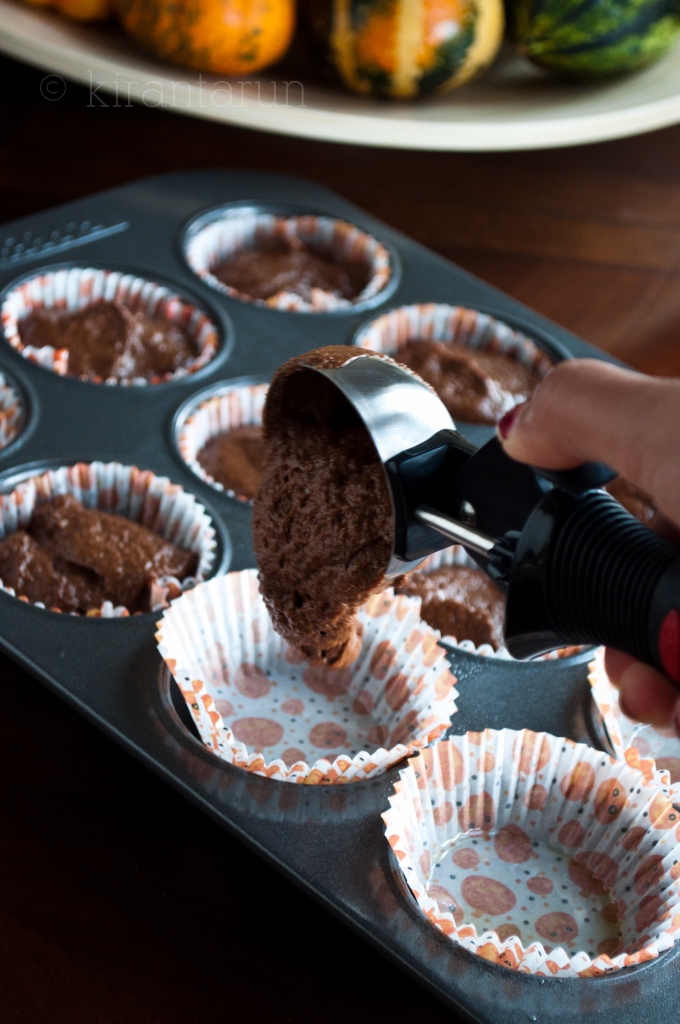 It's been a while since I've baked cupcakes. I've been trying to create healthy and delicious desserts. There's a couple of things I consider while creating healthy goodies:
incorporating more whole wheat flour
taking it easy on sugar, eggs and butter intake
looking to other substitutions for the moist factor – such as flax egg, yogurt, pumpkin puree, apple sauce, buttermilk etc.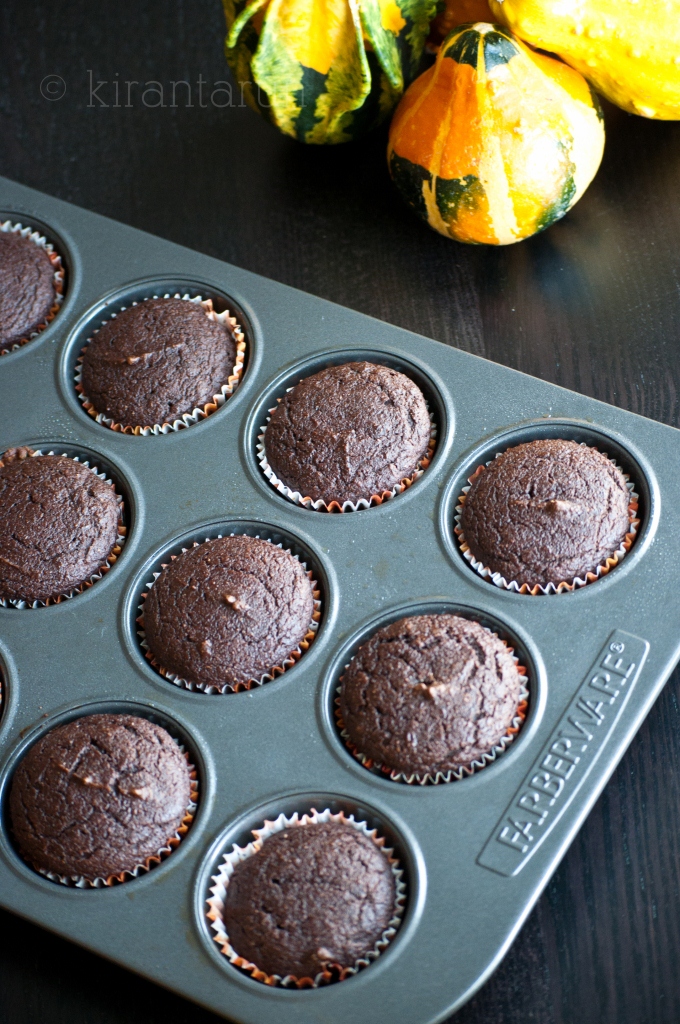 Let me reassure you, I am not a healthy freak by any means. Indulgence are kept as a suprise in ganache's and butter creams anyways. MMmmm..
Truthfully, the whole notion of keeping these cupcakes light and a little easy on sugar was just so I could reserve my sweet tooth to snack on gob-loads of candies. All day. Yummy peanut butter cup, Kit Kat's, Almond Joys and M&M's.
I sound like a 7 year old. I eat like one too.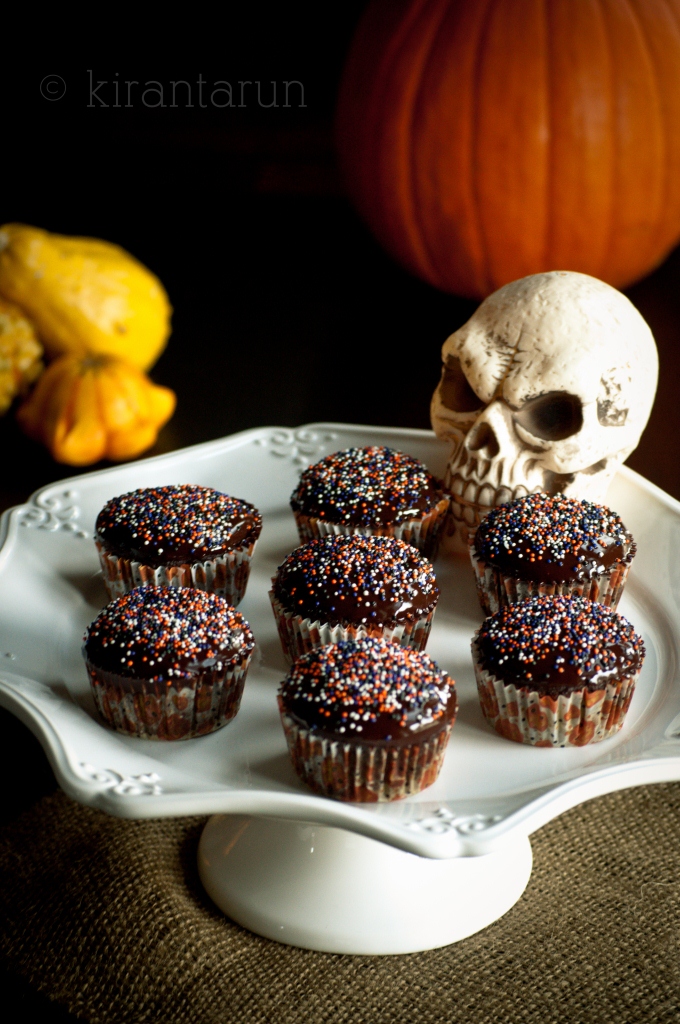 Each cupcakes were moist, tender, chocolaty and wholesome. I might share it with Tarun and friends. Might. I just can't decide if I can or should.
Clearly I have sharing problems, especially when it comes to desserts. You should too.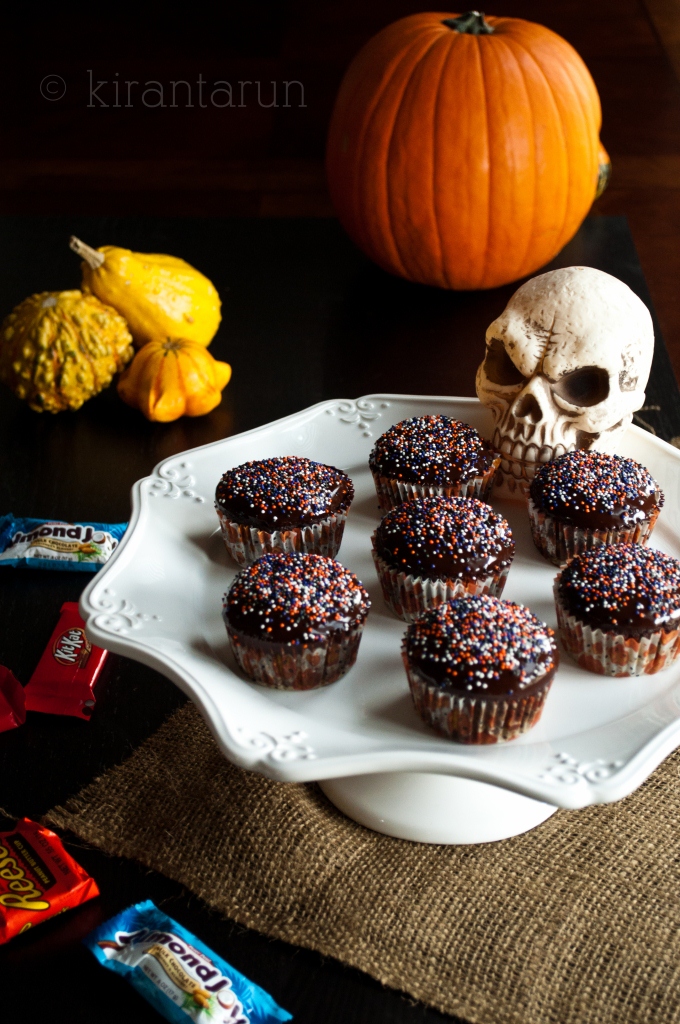 Off to look up video on how to carve a pumpkin – hopefully my fingers would remain intact. Are you celebrating Halloween? What's your favorite costume, ever?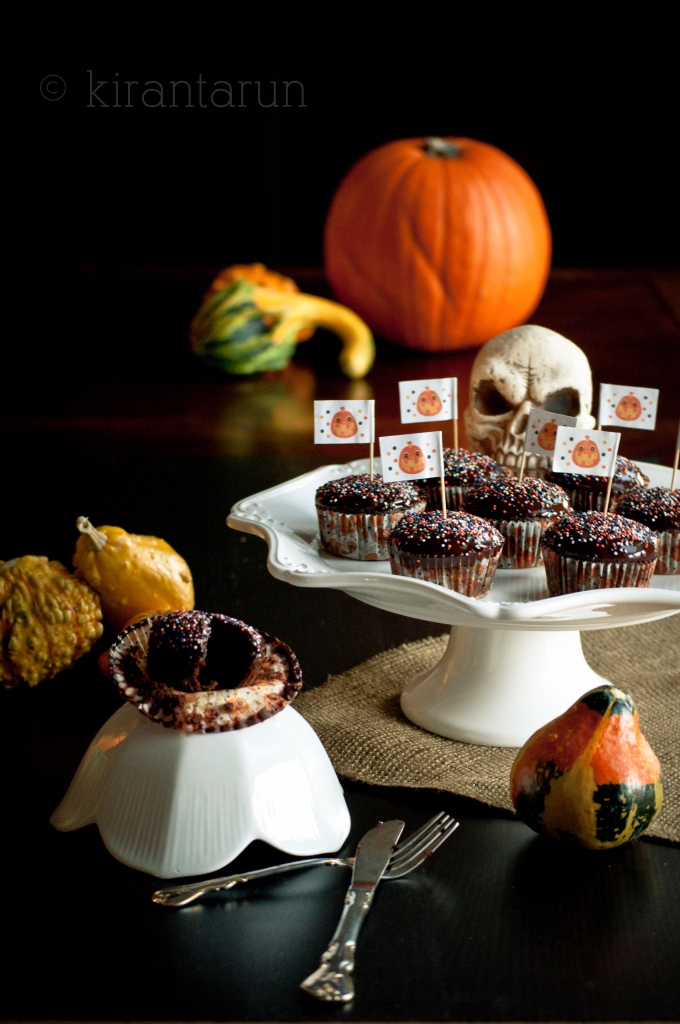 Print This Recipe
Makes 12 cupcakes
Wet ingredients (at room temperature) :
1 cup of almond milk or any non-dairy/dairy milk
1/2 cup pumpkin puree
3/4 cup packed light brown sugar
1 tsp vanilla extract
1 cup whole wheat flour
1/3 cup unsweetened cocoa powder
1/2 tsp baking powder
3/4 tsp baking soda
1/4 tsp salt
4 oz bitter/semi sweet chocolate squares, chopped
2 tbsp Earth Balance butter
Preheat oven to 350 degrees F. Line a 12 cup muffin tin with cupcake liners and spray a light coat of non-stick cooking spray.
In a small bowl, mix wet ingredients and set aside.
In a bigger bowl, sift all dry ingredients.
Gently pour wet ingredients into dry ingredients and mix to incorporate. Do not overmix.
Using a medium ice-cream scoop, divide batter evenly into lined muffin tin.
Bake for 18 –  20 minutes or until a toothpick inserted in center comes out clean.
Allow to cool on a wire rack for a few minutes before removing to cool completely.
Heat a saucepan with some water on medium high heat. Once water boils, turn down the heat to low. Place a bowl over the saucepan, add chocolate squares and butter. Stir to combine and allow chocolate to completely melt with the help of steam.
Once cupcakes are completely cool, dunk each with chocolate ganache and sprinkle on some of your favorite festive sprinkles.
Allow ganache to cool and harden completely before sinking in your fangs. Enjoy 😀