S
weets.
I can't and won't live without it. It's almost a necessity, especially this time of the year where the "Festival of Lights" is celebrated by lighting clay lamps to signify the triumphant of good against evil.
And the celebration doesn't stop there.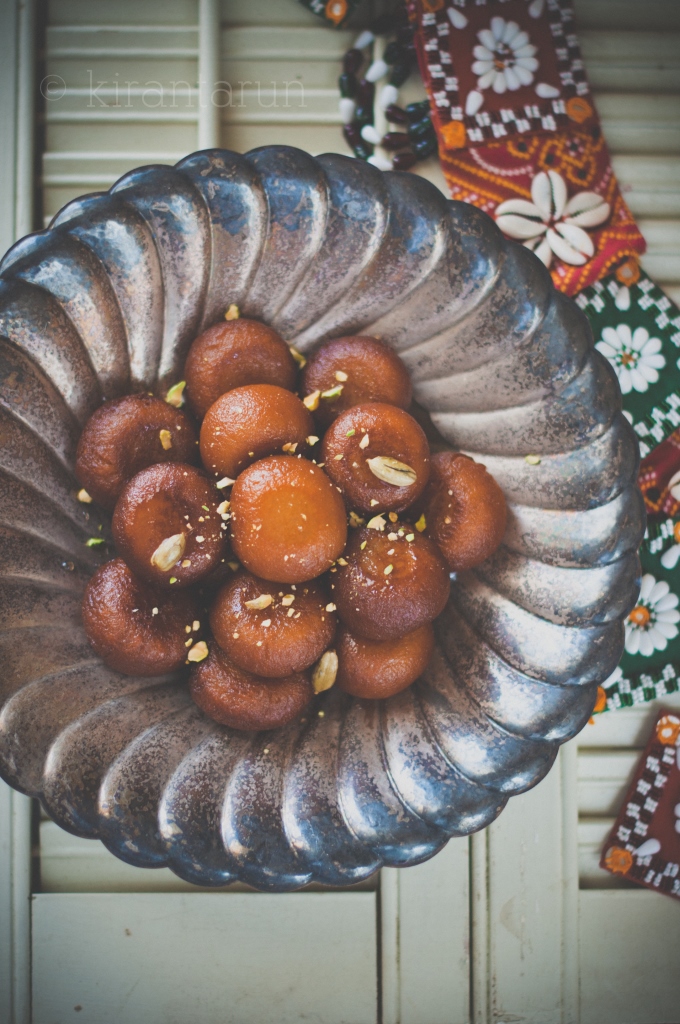 Many of my best memories are during my childhood. We grew up into a joint family. An uncle and his family, plus ours all lived under one roof. Every year, Diwali brings back great memories of days leading up to Diwali celebrations.
Each and every one of us had a bunch of responsibilities. From literally scrubbing the house from top to bottom, to baking up a storm and shopping for new fineries — every task is distributed evenly to each member of the household.
And that my friend, is a HUGE PLUS of living in a joint family 😉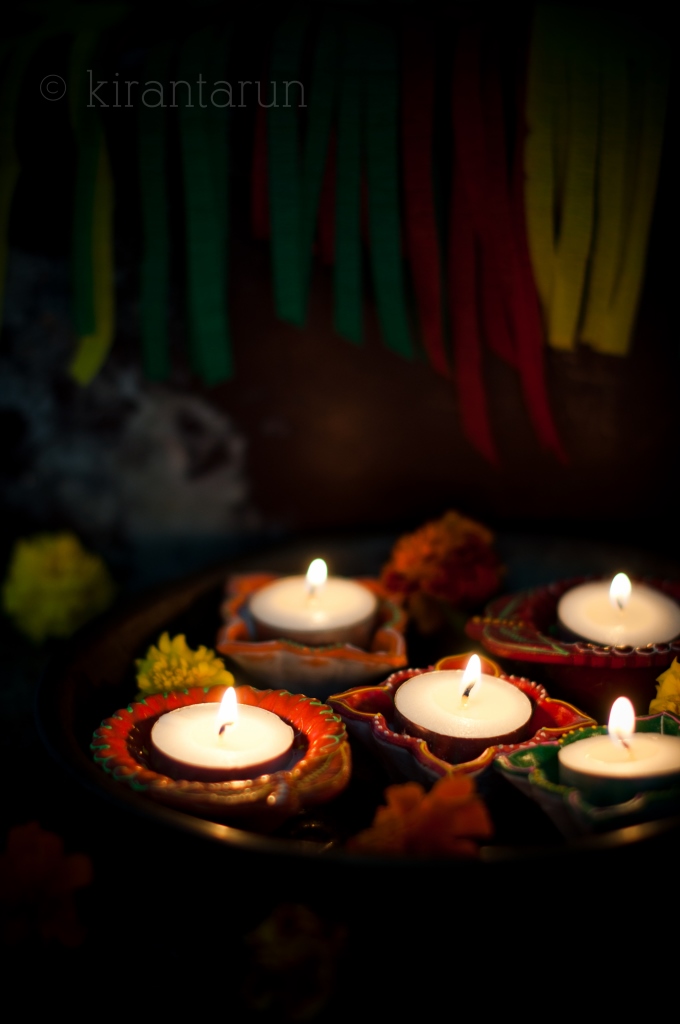 Mom and aunt would slave over hot kitchen stoves night after night baking delicious cookies and preparing a huge menu that leads up to the day of celebration. My sister being the eldest amongst all the children, evenly distribute tasks that needs to be completed before the big day.
From dusting, to cleaning and scrubbing every nook and crannie in the home — there were a ton to complete and we had more than enough hands to do it all.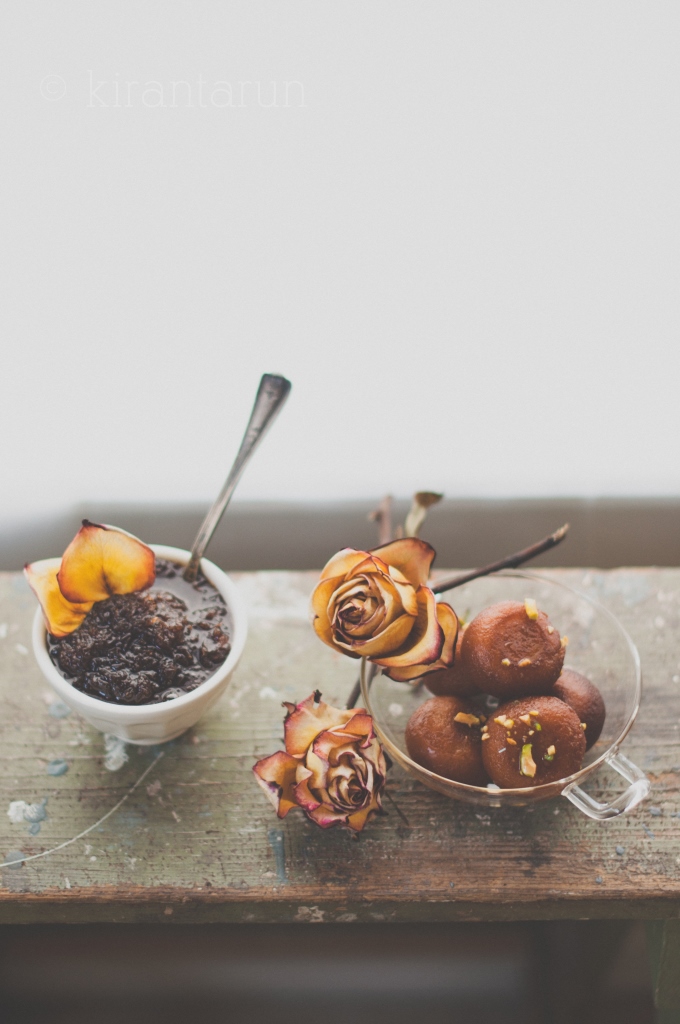 Preparations aside, the best of all leading up to the day has to be having our friends over for food and celebration all day long. And during the night, that's when we unwind from sore and tired muscles by lighting up a ton of oil lamps and firecrackers!
I seriously want to be a kid again just so I could rekindle all Diwali memories from my childhood 🙂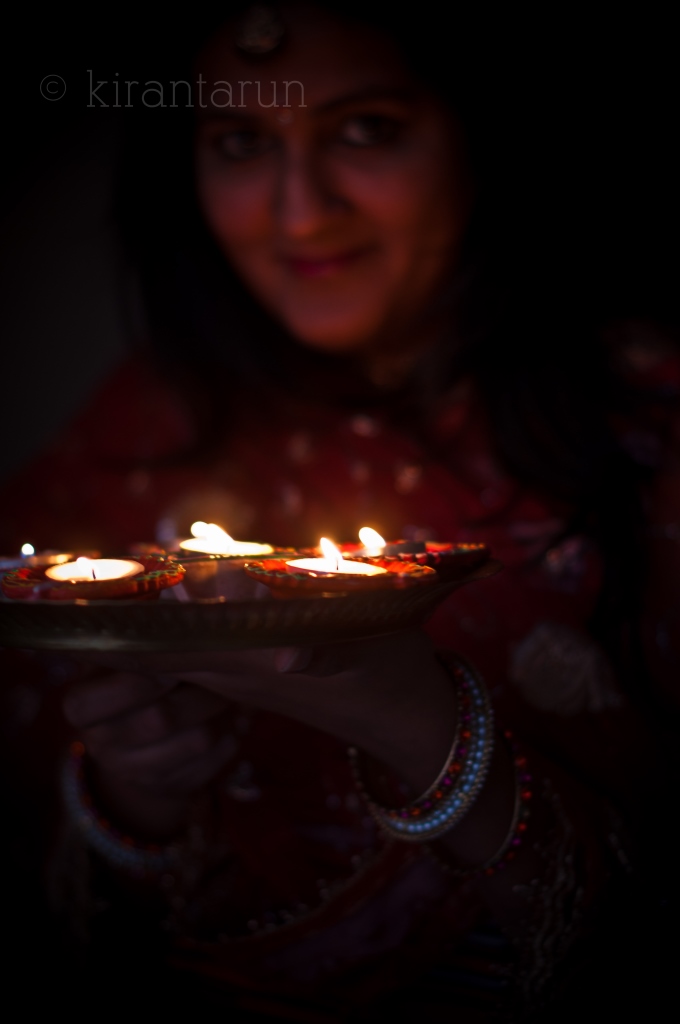 In the meantime, I'll happily lit our home with a ton of oil lamps. Safely, of course.
Tuhanu diwali diyan boht boht vadhaiyan ( ਤੁਹਾਨੂੰ ਦਿਵਾਲੀ ਦੀਆਂ ਬਹੁਤ ਬਹੁਤ ਵਧਾਈਆਂ ਹੋਣ ). This is how we greet someone "Happy Diwali" in my ethnic background as a Punjabi 🙂
From my family to yours, we wish you a very Happy Diwali 🙂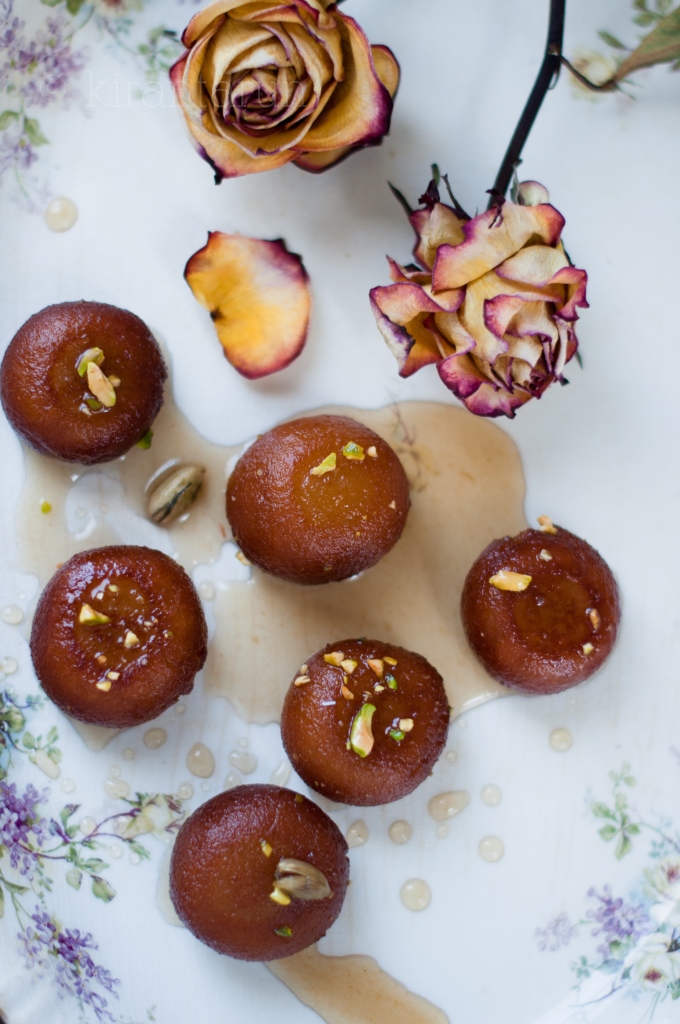 Print This Recipe
Ingredients:
Spiced simple syrup
1.5 cups sugar
1 + 1/4 cups water
4 cardamom pods, crushed
2 tsp rose water
a few strands of saffron
Jamuns
2 cups khowa/khoya/milk powder
1 cup whole wheat pastry flour
pinch of salt
1 cup thick coconut cream
50/50 ratio of vegetable oil and ghee for frying
Filing
1/3 cup gulkand (rose petal jam)
Directions:
In a saucepan, add water and sugar to make simple syrup. Heat the pan on medium. Stir until sugars completely dissolves and syrup gently simmers.
Cook it until syrup slightly begins to thicken. Keep syrup on the lowest heat setting on the stove so that it remains hot. Stir in cardamom pods, rose water and saffron threads.
In a medium bowl, sift milk powder, whole wheat pastry flour and pinch of salt. Add in thick coconut cream and mix everything until combined into a soft dough. You want a dough that is soft and moist. If it's too dry, add in more coconut cream, but a teaspoon at a time.
Meanwhile, heat a heavy bottomed nonstick saucepan on low. Add enough vegetable oil and ghee for deep frying jamuns.
Line a baking sheet with parchment paper. Using thin gloves, prepare gulkand by rolling the thick paste into small balls roughly the size of a pea. Make a whole bunch to chill and firm in the freezer.*
While oil heats, divide dough into equal portions, roughly the size of an average coin. It might be small, but while deep frying and soaking in simple syrup, the jamuns tend to expand.
Roll dough ball between palms. Apply a deep indentation with your thumb to add a frozen piece of gulkand. Gather the sides neatly and make sure to seal the dough so that the filling doesn't leak out. At this point, you have to work fast in order to avoid melting the gulkand. Apply gentle pressure till the small dough balls are smoothly rounded. Make as many to keep ready for deep frying.
Dough balls should appear smooth and without cracks. If it's too dry, add a little more coconut cream in the dough.
Make sure the oil is heating on low. Add a few dough balls at a time to avoid over-crowding.
Dough balls would be afloat after a few seconds of frying. Using a strainer, move around the dough balls to lightly brown and evenly cook on all sides.
If dough balls browned too quickly, the oil is too hot. Lower the heat and redo the rest of dough balls.
Remove jamuns to drain on paper towels for 5 minutes. Then transfer it into hot simple syrup to soak for an hour.
Continue frying all dough balls until done. Rotate soaked jamuns with jamuns that are awaiting to be soaked.
Serve jamuns with drizzles of simple syrup, garnish with chopped pistachios and edible flowers.
*Note: This step is important to easily stuff jamuns with sticky gooey gulkand by avoiding a huge mess.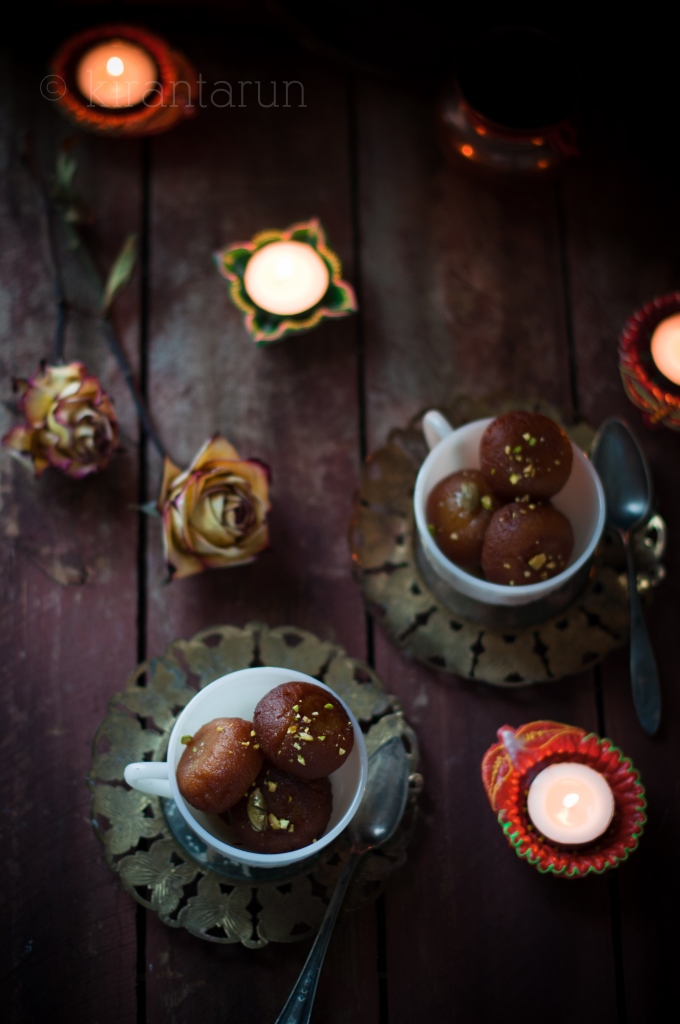 Jamuns has to be one of our favorite Indian sweets. I have a simple recipe that you can find here with a few step-by-step photos, only this year, I wanted a twist. I dreamt indulging into morsels of stuffed jamuns with rose petal jam.
And I did what the Husband says I'm known for — immediately marching into the kitchen and making it happen! Altough the jamuns would be ever so slightly flattened due to the stuffing, it'll still be melt-in-your-mouth decadence.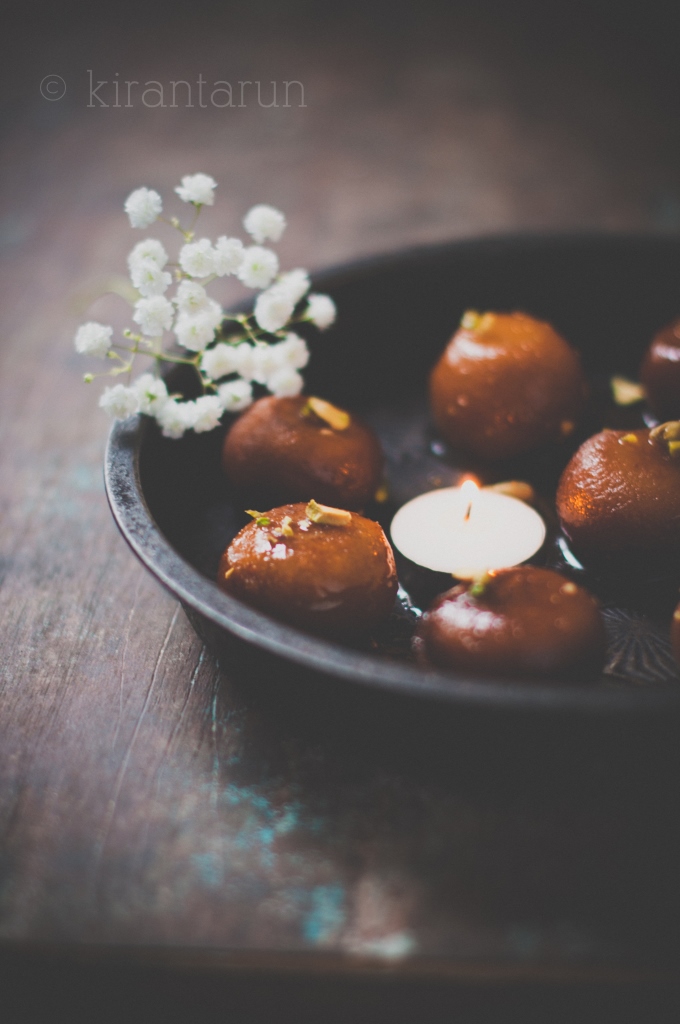 Have a safe and fun Diwali! Let's overcome evil with the righteousness of divinity, but only attempt it with a fire extinguisher at your disposal. Safety has to come first.
What's your memories of Diwali? Have you attended any Diwali celebration before?