G
rilling. Oh how we are going to miss grilling everything in sight. These days, grocery shopping is funner yet challenging than usual. The challenge is braving thunderstorms and winds so scary — I can't understand why the daily downpours isn't quitting at all.
The fun part is how each meal are planned around "grilling". Ingredients picked at the grocery store is done with careful consideration on the possibility of grilling.
I'm quite aware how boring this all might sound to you. But oh gosh, I'm trying to grill it all before autumn hits.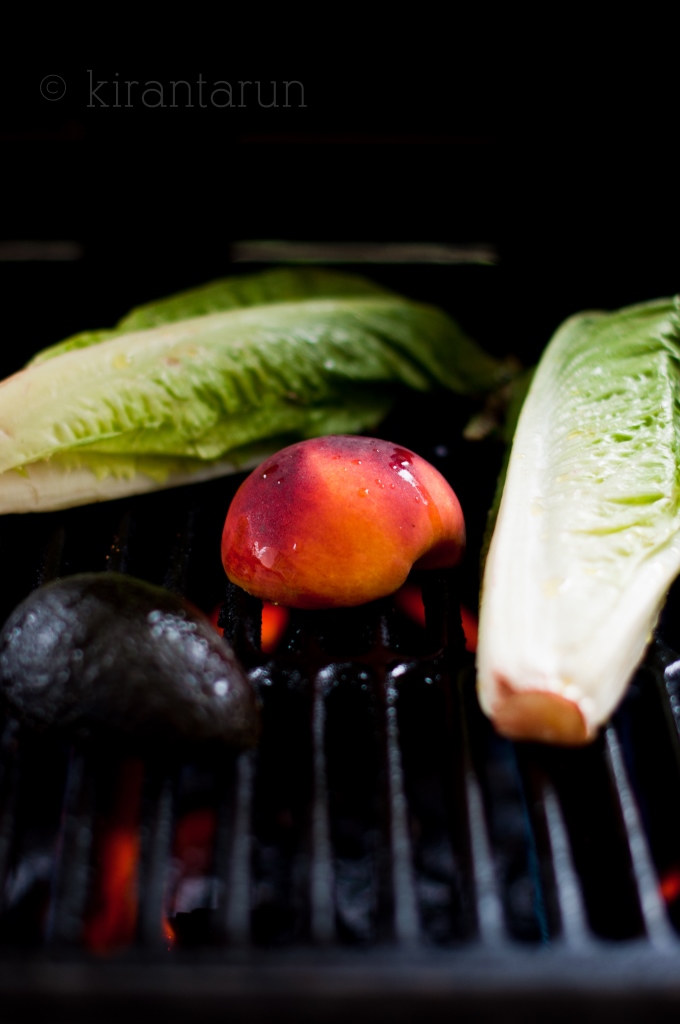 While we are on the grilling subject, its time for a confession. I was so bad at grilling. I'd often undercook or burn foods on the grill. Frustrated, I even gave up grilling for a span of time — two summers to be exact.
Yikes!
In Malaysia, grilling is very uncommon. Precious times are wasted in horrendous traffic, trying to get home as quick as one can get, to put food on the table and nurture the family. Grilling is considered as an expensive, time consuming and privileged lifestyle.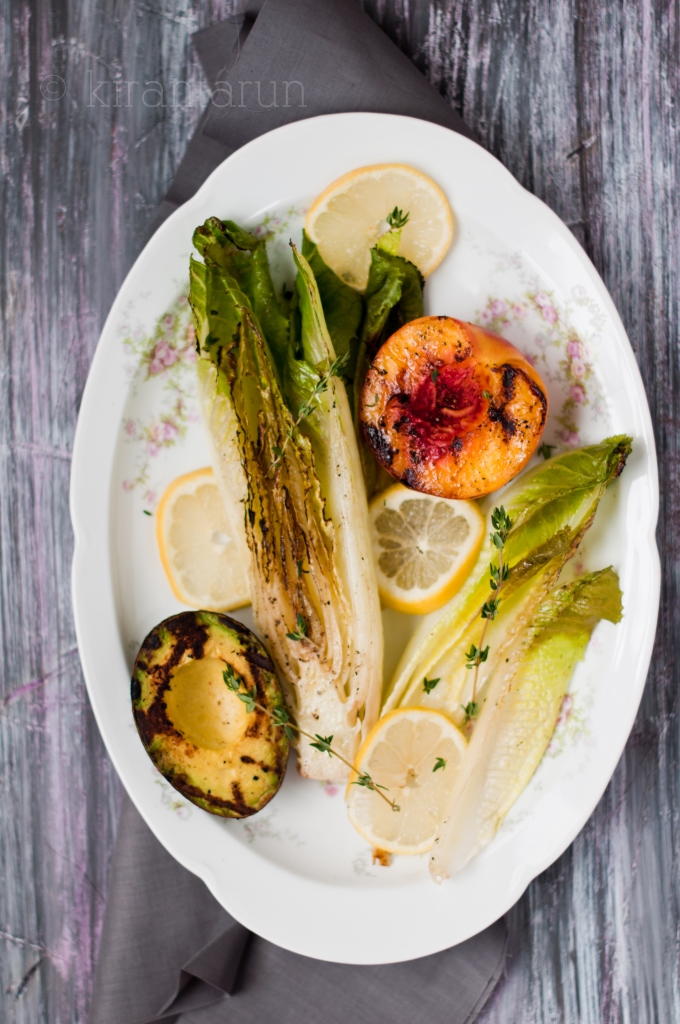 Slowly but surely we've crept back into grilling and so far, it has been fun. We are definitely not born with grilling skills and I think this is a skill that requires patience, investment of time and quite a handful of trial and errors.
That being said, in no way I'm endorsing that we are now pro grillers. As some of you are aware, there's still a lot of hardworking that needs to be done in the baking department. And if that wasn't enough, grilling is also thrown in. Le sigh. The trials and turbulences in a food-blogger's life.
Wow. So many confessions in one post? Let's refocus on this recipe, shall we? 😀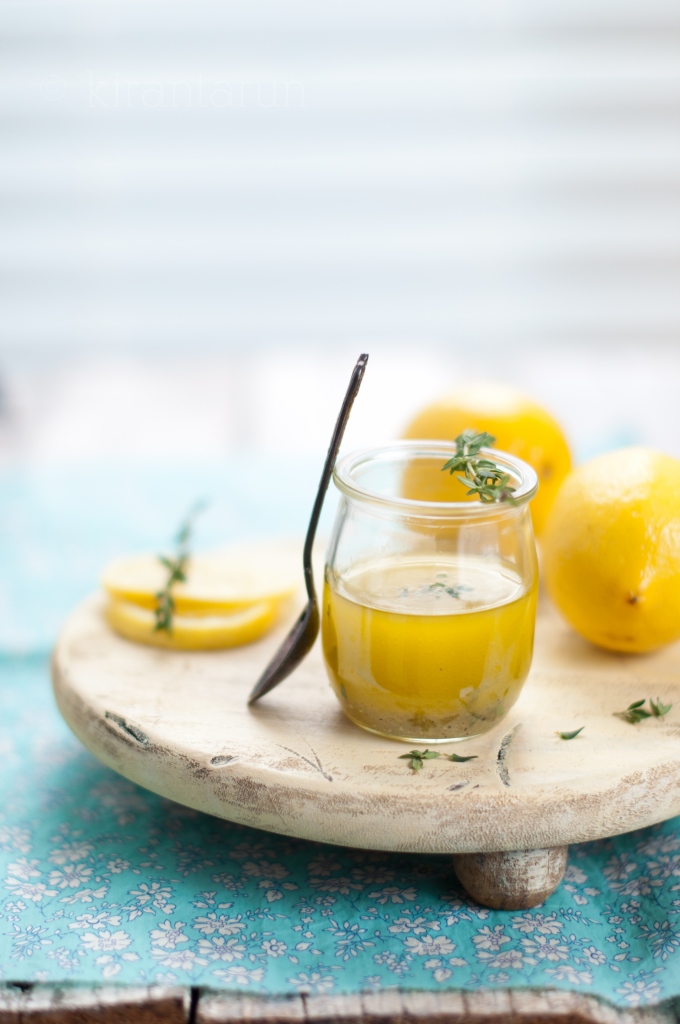 This is my take on a classic caesar salad, but grilled and done with a ton of modifications. No croutons, parmesan or creamy caesar dressing in sight. Let's just say this is an inspiration from caesar salad, but is done healthier and upped in the flavor department with all the grilling.
Oh how much I love you, summer 🙂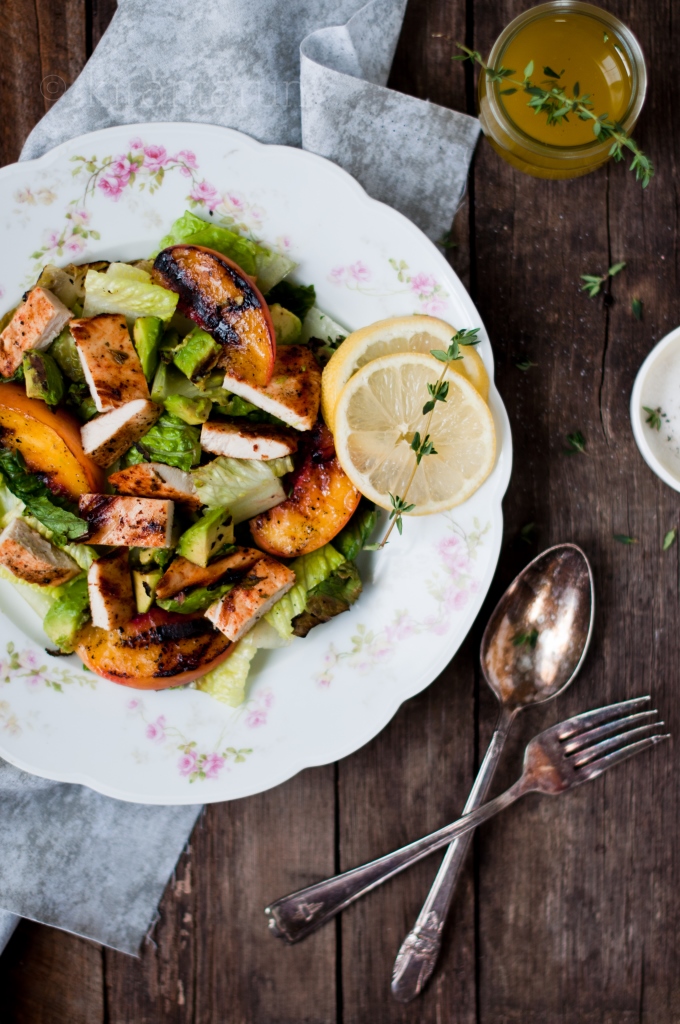 Print This Recipe
Ingredients:
1/2 lbs chicken breasts, thinly sliced
1/4 tsp salt
1/4 tsp spanish paprika
1/4 tsp black pepper
a sprig of fresh thyme
1 tbsp lemon juice
1 peach
2 bunch of romaine lettuce, halved lengthwise
1 avocado
Lemony Thyme Dressing:
1/4 tsp salt
1/4 tsp black pepper
1/2 lemon, juiced
1/4 cup extra virgin olive oil
1/2 tsp capers, chopped
1 spring of fresh thyme
Directions:
Marinate thinly sliced chicken breasts with salt, spanish paprika, black pepper, fresh thyme and lemon juice for a few minutes while prepping the rest of ingredients.
In a small mason jar, add all of the ingredients for dressing. Put the lid on and shake until dressing emulsifies.
Brush some cooking oil on the grill before preheating it on medium-high.
Halve a peach and avocado. Drizzle some cooking oil + a pinch of salt and black pepper on halved avocado, peach and romaine lettuce before throwing it on the hot grill.
Grill veggies for a minute.
Remove grilled veggies onto a huge platter and throw on marinated chicken breasts. Cook for 3 minutes on each side, depending on thickness of sliced meat or until meat is fully cooked. Remove meat on a foil and wrap to rest and keep it warm.
Slice and chop veggies + meat to desired size or shape for the salad. Dump it all into a huge bowl. Give the dressing a little shake before drizzling it over chopped salad.
Serve immediately or at room temperature.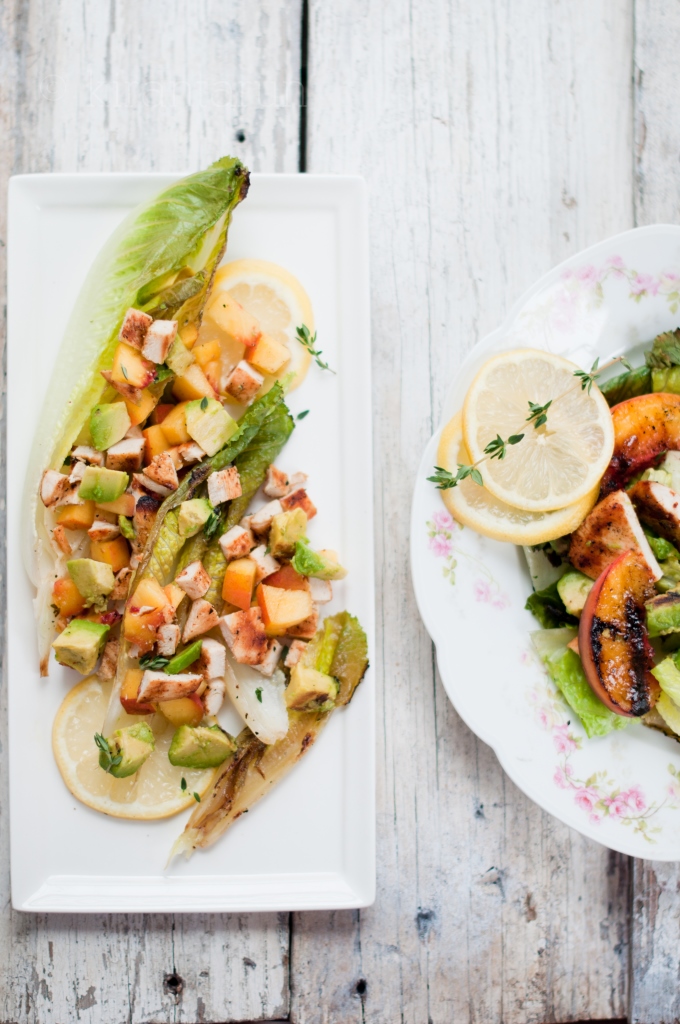 I experimented with different plating. The finely chopped presentation above goes well if you want to serve this as an appetizer or a side. But if this is the main course, roughly chop everything to bite size pieces.
And now, I'm off to have more grilled salad for lunch. Have a great week, friends 🙂
What are you very good at: grilling? baking? or both?