W
hat's this? Where's the pear? Or pumpkin? Why is there grilled tiny eggplants instead? Though I can't ignore the fact that summer is history (for now) and autumn is upon us, grilled veggie salads is what we are craving.
Big time.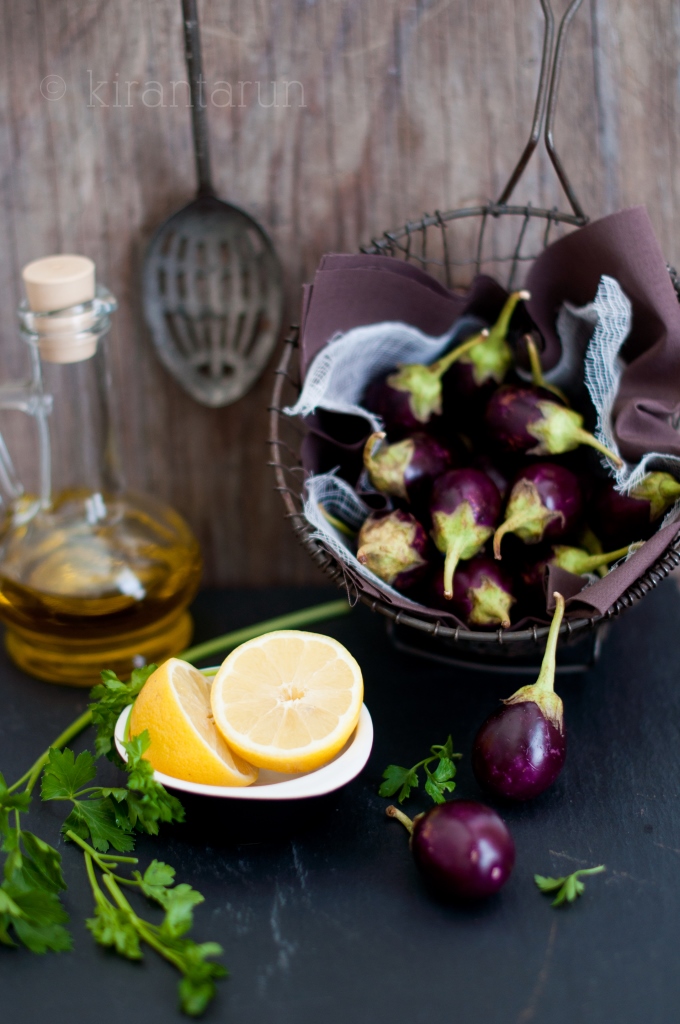 Grilled salads aside, I'll let you in on something that happened more than 30,000 feet above, between the clouds. I love journaling on flights. It's one of many ways that keeps me occupied in long flights. Though I travel with a laptop most of the time, there's nothing like jotting down thoughts with a pen on a notepad.
Well, not until yesterday.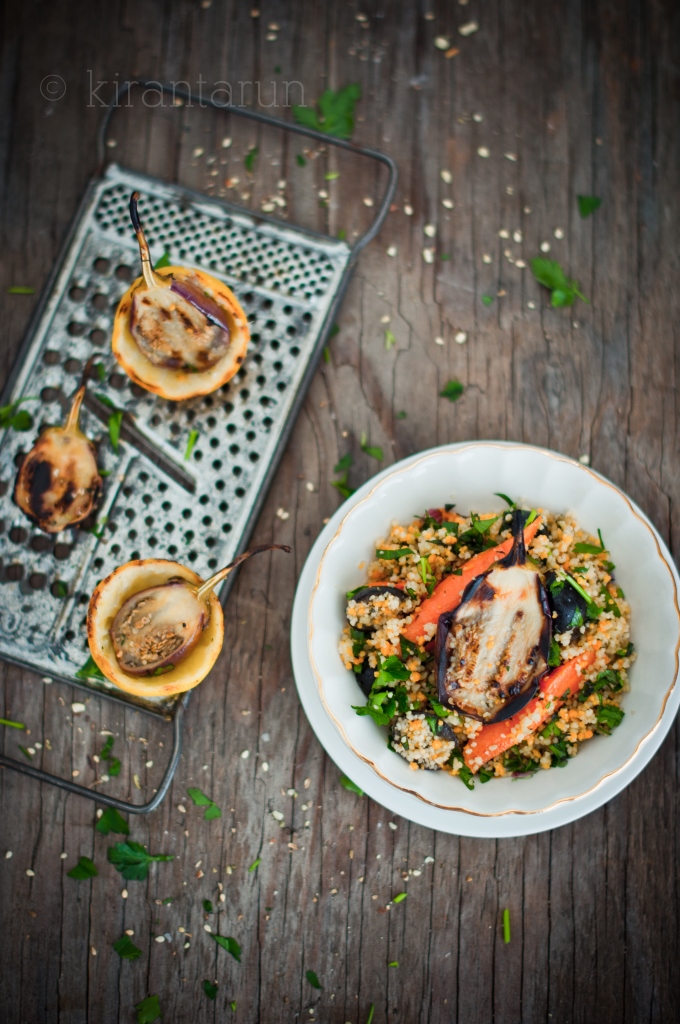 We went through a huge turbulence and the plane shook quite violently. This all happened in the midst of me pouring my heart out over the notepad and then with a huge shake, my pen flew in the air and landed on a person seated in the same row — that appears to have been in a beauty sleep.
The horrible turbulence did not do a thing to wake him up, but my pen did. And boy, was he mad 😀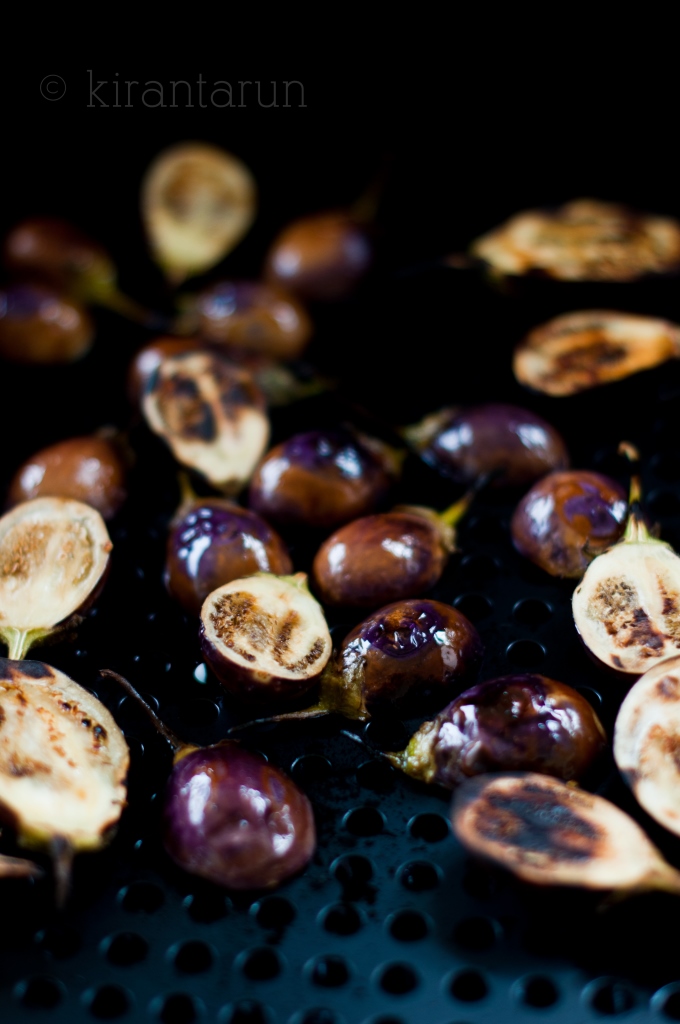 After promptly apologizing, I went back to my almost usual self. This time, turbulence was the last thing on my mind, after what had just occurred.
How embarassing! Time to face-plant into a huge grilled eggplant couscous salad.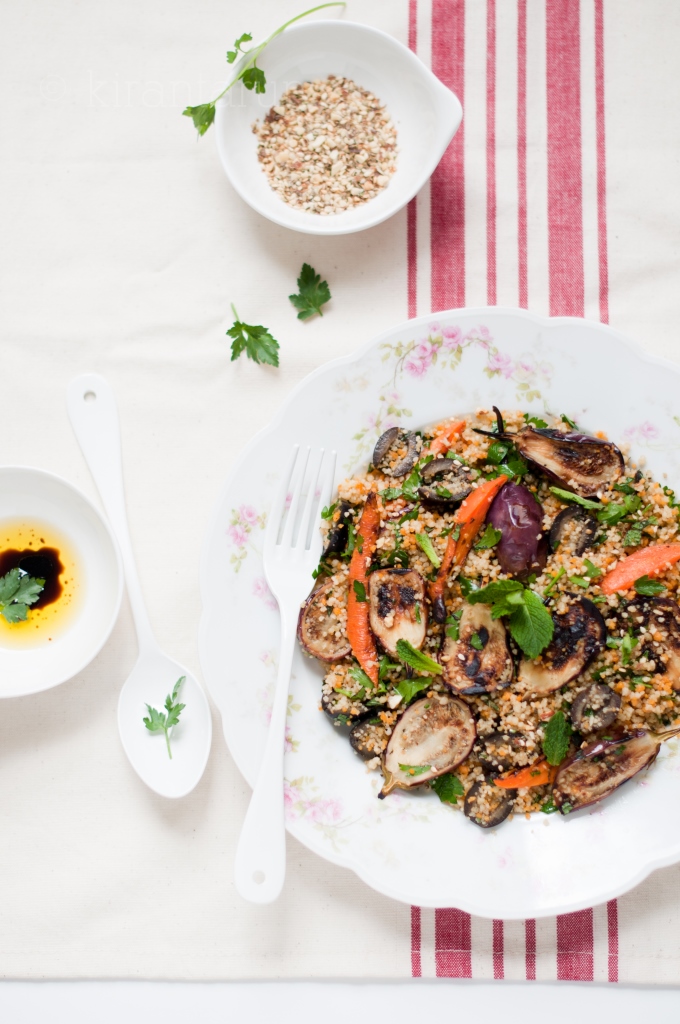 Print This Recipe
Ingredients:
16 tiny eggplants, halved
some oil for grilling
2 carrots, sliced
1 lemon, halved
2 cups cooked couscous
1/2 cup fresh parsley, coarsely chopped
1/4 cup fresh mint, finely chopped
1/2 cup olives, pitted and halved
Dressing:
1 whole grilled lemon, juiced
1 large garlic, finely minced
2 tsp aged balsamic vinegar
1/2 tsp salt
1/2 tsp black pepper
2 tsp honey
1/8 cup roasted walnut oil (or any oil of choice)
Garnish with 2 tbsp dukkah
Directions:
Brush grill with some oil and preheat it over medium-high.
In a bowl, add halved eggplants, sliced carrots and halved lemons. Sprinkle a pinch of salt, black pepper and 1 tbsp of oil. Stir to evenly coat.
Once grill is hot, add eggplants, carrots and lemons. Grilled on each sides for 2 minutes or until charred.
Remove grilled veggies into a huge salad bowl, fitch out grilled lemon halves and cover bowl with a foil.
Prepare the dressing by combining all ingredients into a jar. Put the lid on and shake to emulsify. Drizzle the dressing over grilled veggies. Cover bowl with a foil.
Add warm cooked couscous, chopped parsley, fresh mint and olives into the salad bowl. Stir everything to combine. Add a sprinkling of dukkah just before serving!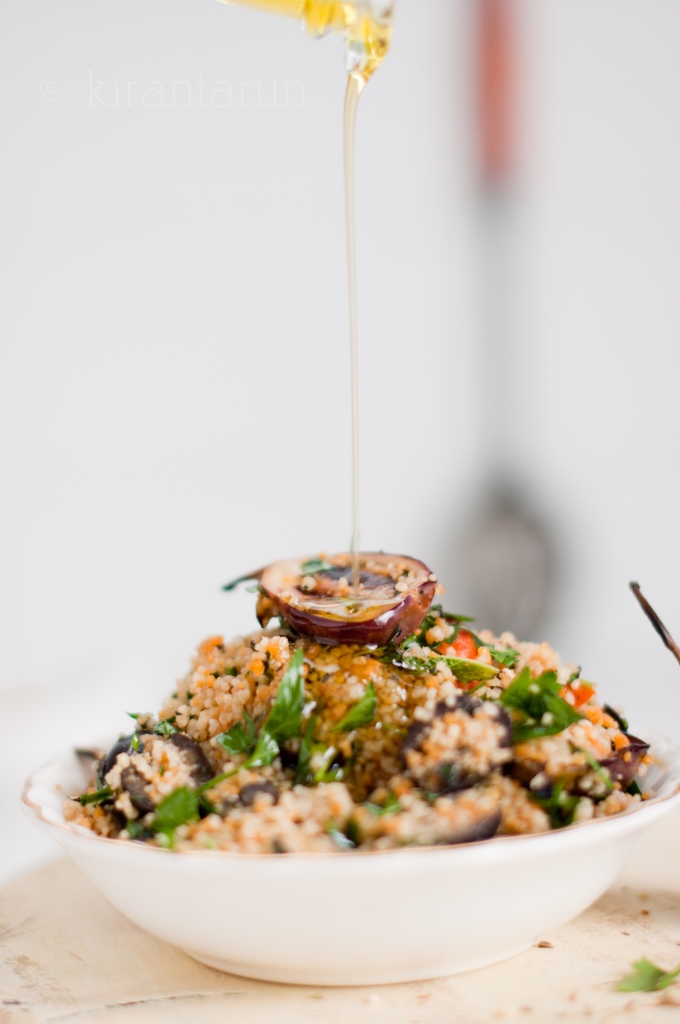 Ok, do me a favor. Set the pumpkin down, switch the grill back on and have fun. I promise you there won't be anyone policing or lecturing you about autumn.
Any embarrassing encounters 30,000 feet up in between clouds?