H
ey there! I'm "hey-ing" all the way from LA. And if you need to know why I'm here, I'll tell you.
There's nothing to hide.
I've joined the Husband on his business trip. So, I'm all cooped up in the hotel room, away from my kitchen and daily chores.
Yeehaw!!
No cooking and cleaning for 2 weeks! In my world, that's a great deal and is considered as vacation.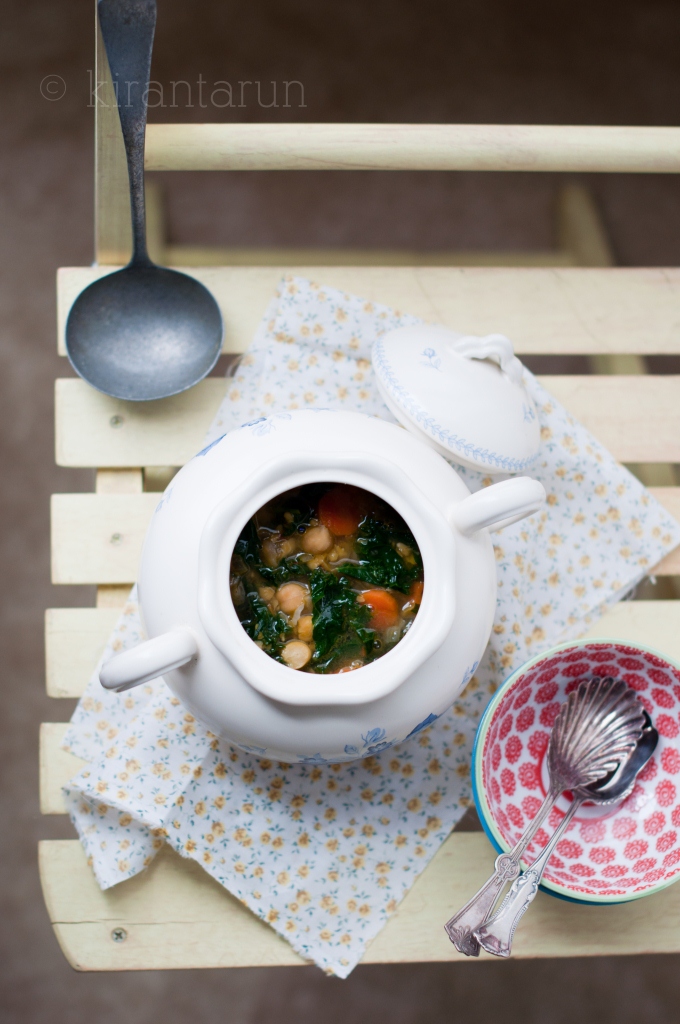 I hope you had your share of sugary Halloween! There weren't any trick or treating this year for us. But I did get a shock of my life when I visited our local library a few days ago to return some books and DVD.
The librarian at our local library made an effort to scare the eff out of people on Halloween — including me — who has a weak heart and was so engrossed in her thoughts, preparing for this trip.
Thank goodness there weren't any fainting incident. And this is no exaggeration.
So, if you ever plan to sneak up on me, just be warned.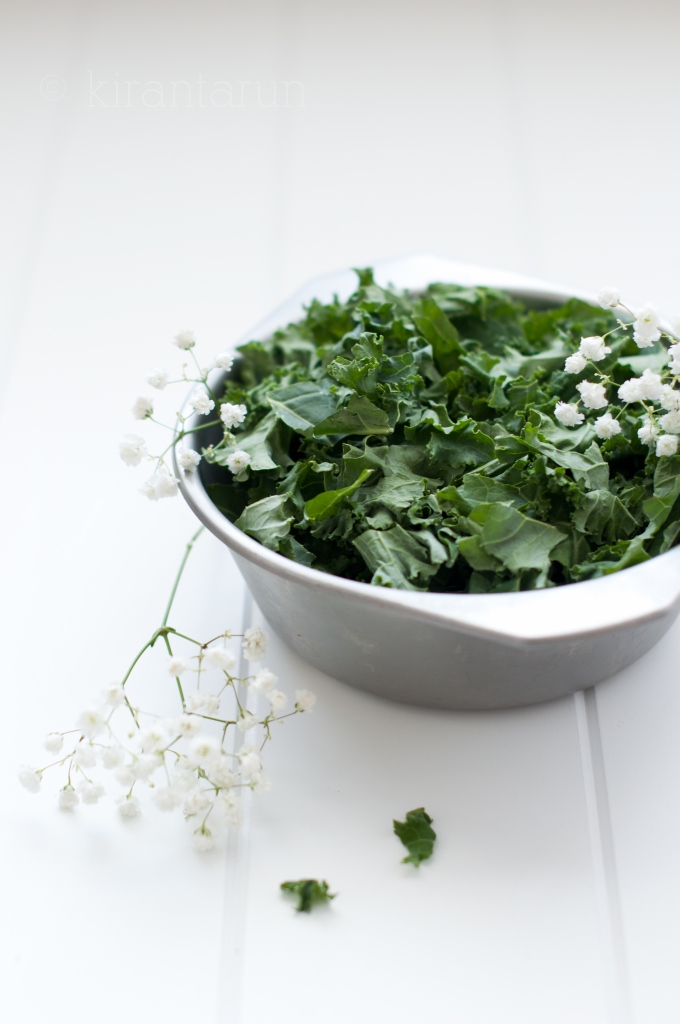 After all the sweets and recovering from being pranked, all I needed to comfort my bruised ego was a huge bowl of hot gingered chickpeas and kale soup.
Being pranked definitely gives a huge bolt not only to the ego, but to creative juices, which was definitely overflowing.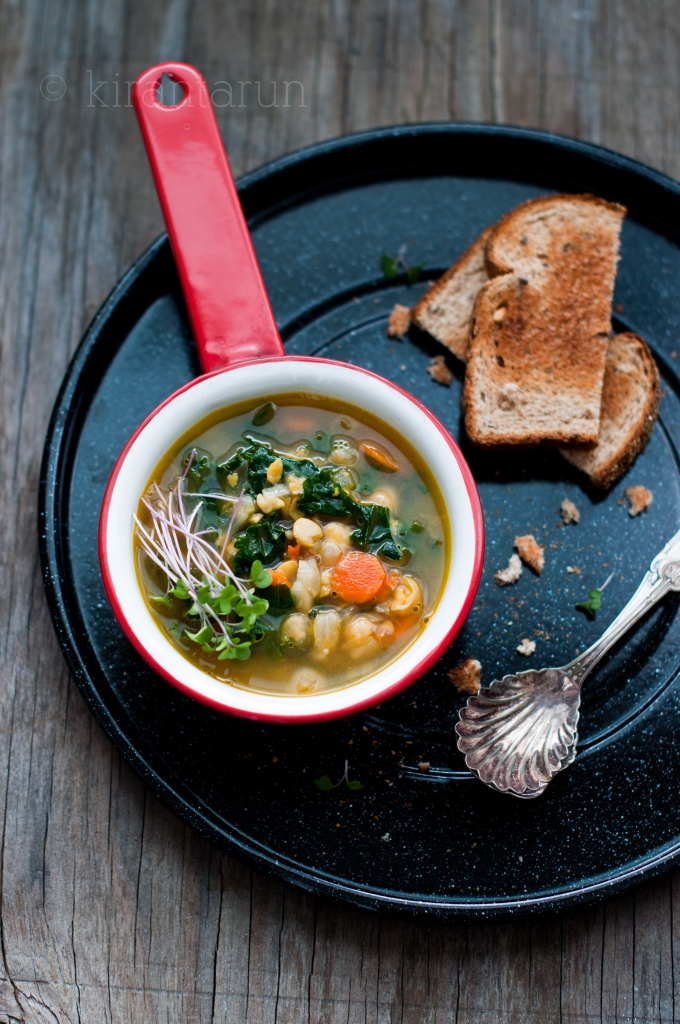 Print This Recipe
Ingredients:
1 lb chickpeas, cooked and drained
1/4 cup onion, chopped
2 tbsp olive oil
2 small carrots, peeled and chopped
1 whole star anise
1 tsp ginger powder
1 tsp cumin powder
2 small bay leaves
1/2 tsp cinnamon powder
pinch of saffron (or turmeric powder)
1/2 tsp salt
3 cups vegetable broth
1/2 tsp red pepper flakes (optional)
2 big handfuls of fresh kale, chopped
Directions:
Heat a huge pot on medium. Once heated, add olive oil.
Throw in chopped onions and carrots. Cook until tender, which would take about 5 minutes.
Add star anise, ginger, cumin + cinnamon powder, bay leaves and saffron. Cook for a minute just to develop flavors from all spices.
Add cooked and drained chickpeas with salt and vegetable broth. Stir and bring to a gentle simmer. Cover and simmer on low for 15 minutes.
Discard whole star anise and bay leaves from broth. Add handfuls of fresh chopped kale. Stir and allow kale to wilt for 5 minutes on simmer before serving.
Optional: add red pepper flakes if you need a "zing" 😉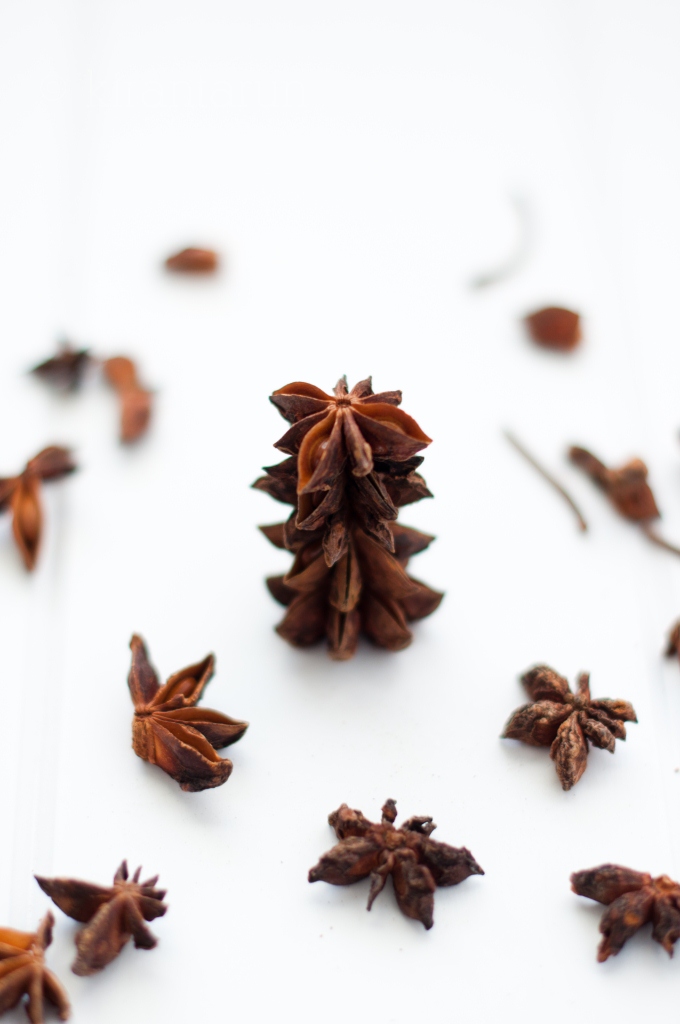 And just for your info — this soup was consumed days ago. Not today, because we are fasting. I just had to put it out there because some of you may question us later 😉
While we would be in LA for 2 weeks, we would be visiting San Francisco next weekend as well. If you (LA & SFO peeps) want to meet up for eats or coffee, send me an email and I'll organize something 🙂
Were you pranked during Halloween, or are you one of those people who enjoys pranking the eff out of people?