Serves 4, as a side
Ingredients:
1 lbs of bhindi
4 tbsp mustard oil, or any preferred cooking oil
3/4 tsp cumin seeds
1 medium onion, chopped
1 green chili, chopped
1/4 tsp turmeric powder
3/4 tsp coriander powder
1/2 tsp red chili powder
4 to 5 garlic cloves, sliced
1/2 tsp mango powder (aamchur)
3/4 tsp salt
1/4 tsp garam masala
Directions:
Rinse bhindi and wipe it completely dry with paper towels. Allow to air dry before cooking. Less moisture will ensure less sliminess.
Once bhindi is completely dry, remove the tops and slice lengthwise.
Heat a heavy bottomed skillet or karahi on medium-high. Add mustard oil. Wait for oil to begin smoking before adding cumin seeds.
Once cumin seeds begins to spurt/crackle, add chopped onions, green chili and turmeric powder. Stir to cook for 2 minutes, or until onions are translucent.
Throw in sliced bhindi and stir fry for a good 5 to 7 minutes. Once bhindi has lightly blistered, sprinkle in coriander powder, red chili powder and sliced garlic. Fry for a minute before lowering the heat, putting on a lid to cook for at least 5 minutes.
Every now and then, stir in between.
Once bhindi is almost tender, sprinkle in mango powder, salt and garam masala. Stir to coat and increase the heat to medium-high. Stir fry for 2 more minutes.
Serve immediately.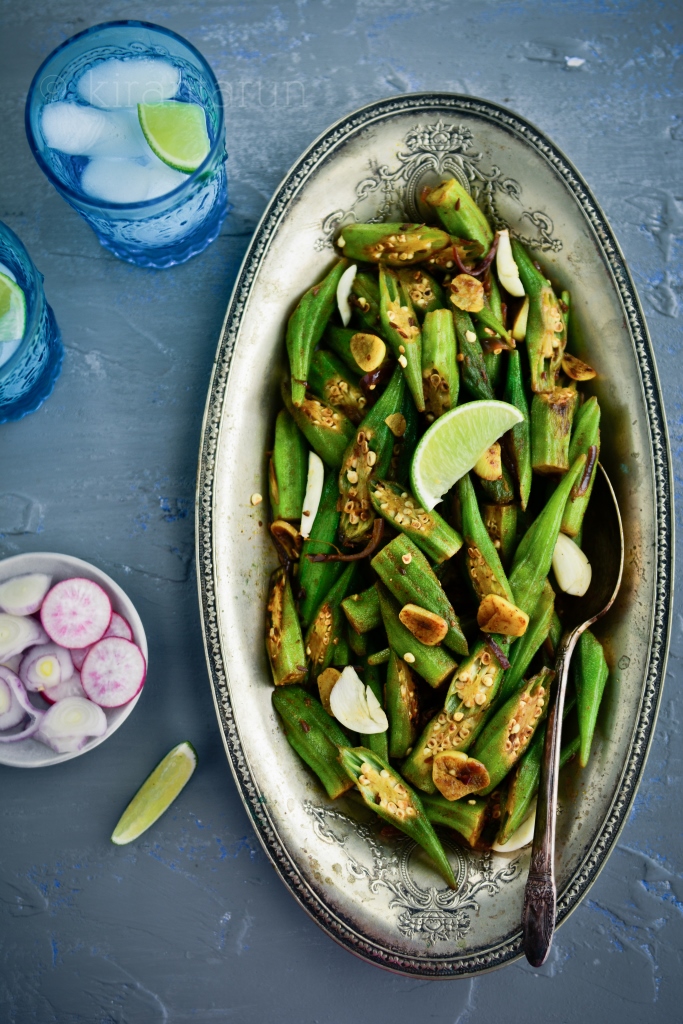 It is said that, "less is more". Not that I'm agreeable when it comes to spices and garlic. Load 'em up! 😉
Do you love or hate bhindi? My personal advice, never hate.