H
i friends!
How's summer treating ya?
I'm totally loving this time of the year but it's hard to maintain all the excitement throughout the day due to the fact that it has been pouring down rain every single day.
Even more impossible to go out and grill. So I'm bringing summer onto my plate from the coziness and comfort of my dull and dark kitchen.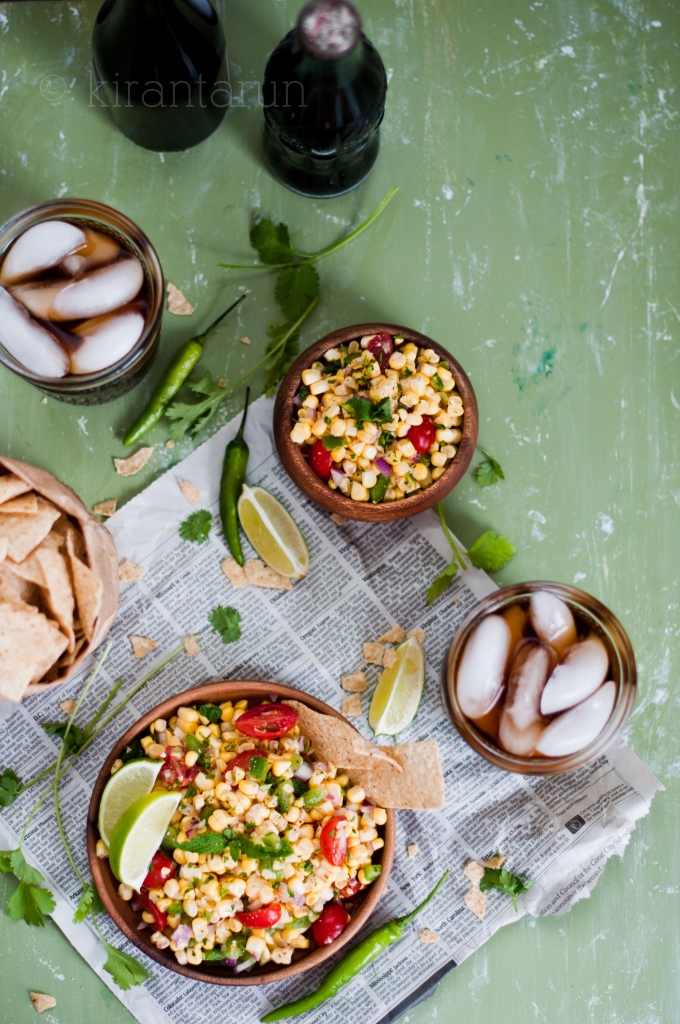 Shucking fresh corn, slicing through yummy corn kernels, eating it all by the fistful definitely brings back so many childhood memories.
Except in those memories, there weren't any corn kernel clean-ups involved. There's a trick to slicing corn kernels and collecting it all into a bundt pan, but I don't own one. And if you do, you need to try this trick.
It'll save you precious time and skin moisturizer due to the need of recuperating your hands from all the clean-ups. Trust me, you don't want to spend your summer collecting strayed corn kernels all over the kitchen.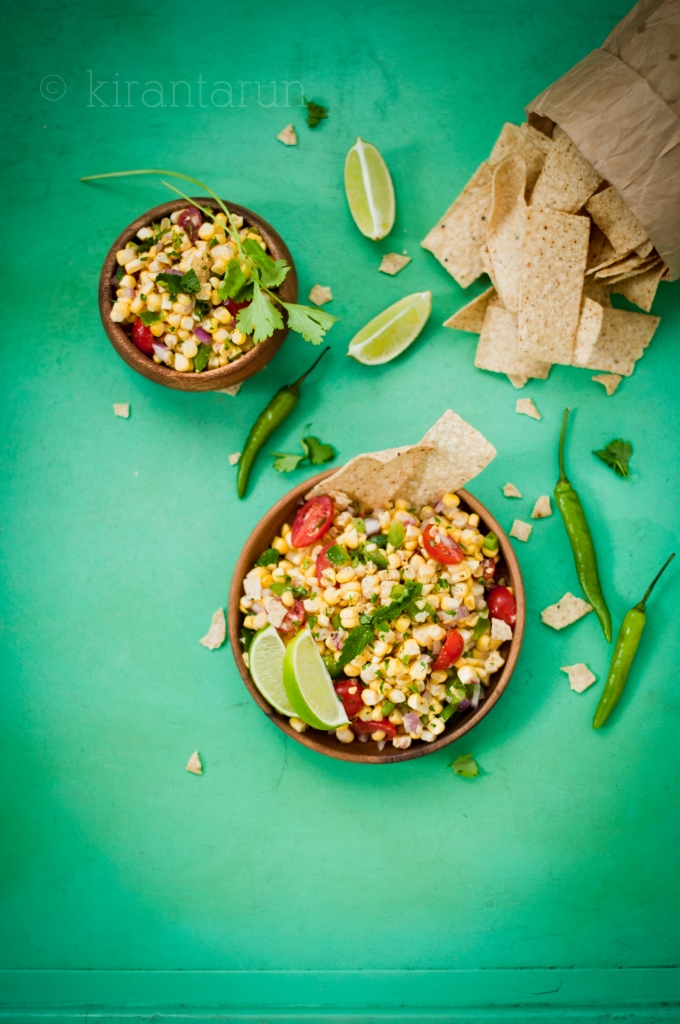 You can definitely grill a lot of ingredients here, but I love the idea of savoring fresh summer ingredients in every morsel. A little bit of sweetness from corn, a bite of onion, a hint of warmth from toasted cumin.
This salsa is different. There's texture and robust flavors. It's not a soggy salsa, or a salsa that would make any chips way too soggy.
Apparently, soggy food makes my head spin. That is not a good thing, my friend. But this salsa is, so go and make it.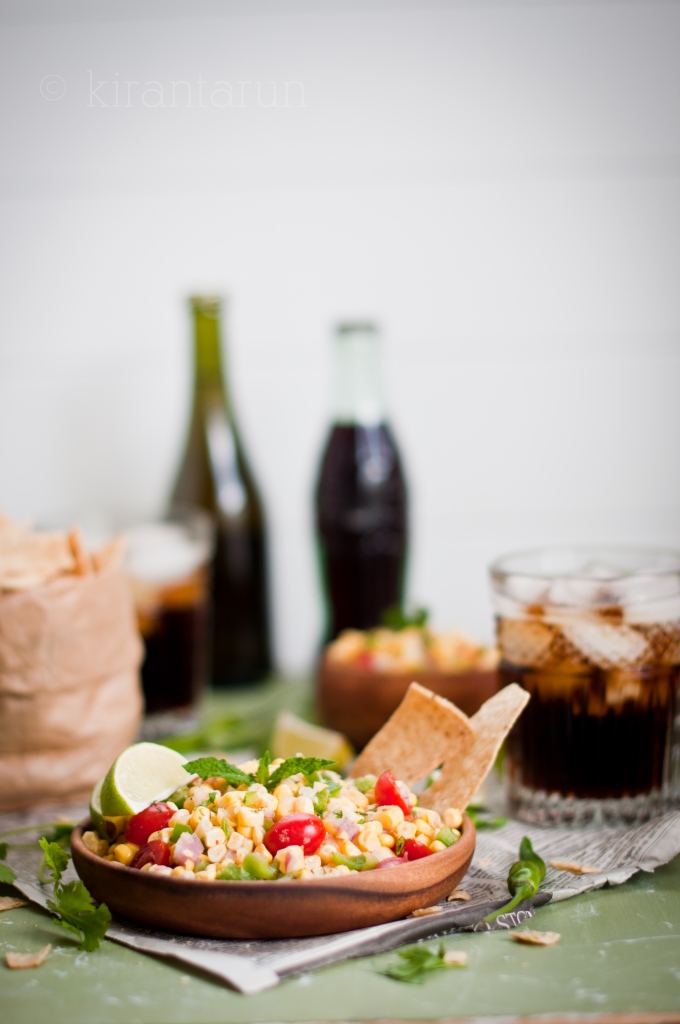 Print This Recipe
Ingredients:
3 ears of fresh corn
1/2 heaping cup of grape tomatoes
1/4 cup chopped red onion
1/2 green bell pepper, chopped
2 green chilies (or 1 jalapeno), finely diced
zest of 1 lime
juice of 1/2 lime
1/2 tsp toasted cumin powder
1/2 tsp black salt
1/4 tsp black pepper
2 heaping tbsp chopped cilantro
Directions:
Slice kernels from fresh corn. Add all ingredients into a huge bowl. Toss and serve immediately with chips and icy cold beverage.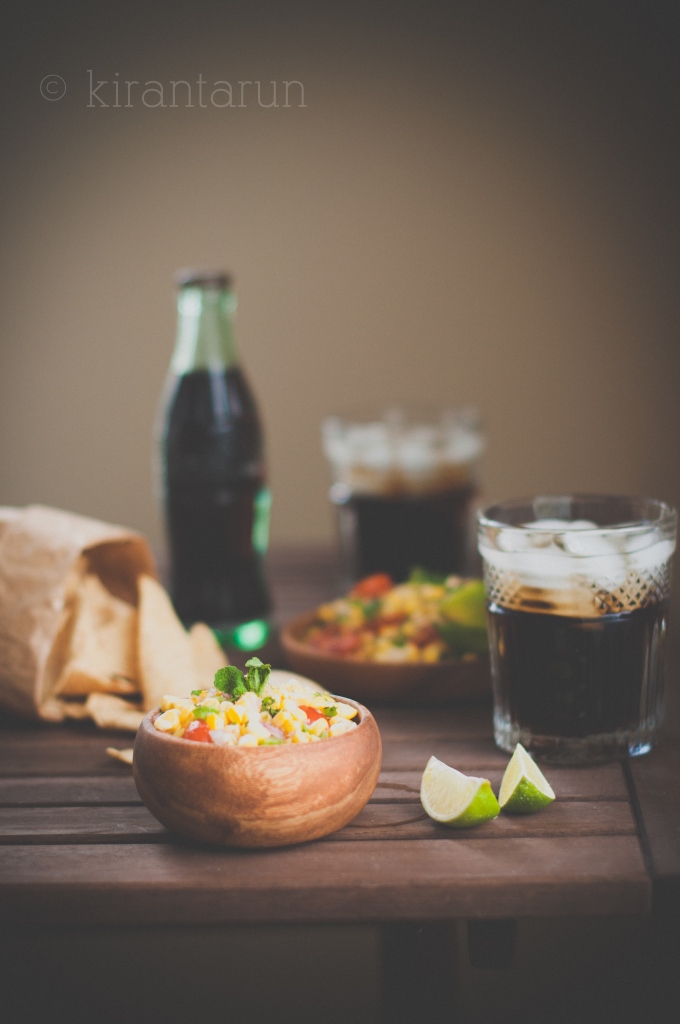 Hope your week is off to a great start. If its pouring down rain, don't allow it to damper your appetite for a delicious summer indulgence 🙂
Do you have any kitchen tips/tricks to share?