Wow, where do I start?!?
Firstly, I apologize for the lateness in publishing a post yesterday — a stiff neck and shoulder pain is the culprit. I can't sit too long in front of the computer to blog. So if you think I am ignoring your emails etc, sorry, and I blame it all on the pain.
So where was I?
We attended Food Blog Forum last weekend, courtesy of lovely sponsors: Walt Disney World, Kitchen Aid, Oxo, Le Creuset, Whole Foods, Land O'Lakes and many more!
When I said "we", well, the Husband got to explore Disney theme parks while I studied. Win some, lose some 😀
Not only did I learnt so much, but I finally met so many wonderful people in real life! That my friend, is worth sacrificing the visit to Animal Kingdom (yeah, the Husband played all day.)
The forum begins with a welcome reception at Grand Floridian Resort. Like many others whom might not be able to willingly admit, I was quite intimidated. Not with the settings, but meeting so many friends that I know would be as wonderful in real life. With constant communication over Blog, Twitter, Facebook etc, you'd think meeting in real life would be easy.
Mmmm.. yeah, it kinda makes sense. We all came together with the same purpose: The love for food and photography. Sharing common interests definitely made it easier to mingle.
Of course, yummy spreads of foods definitely helped ease into conversations 😉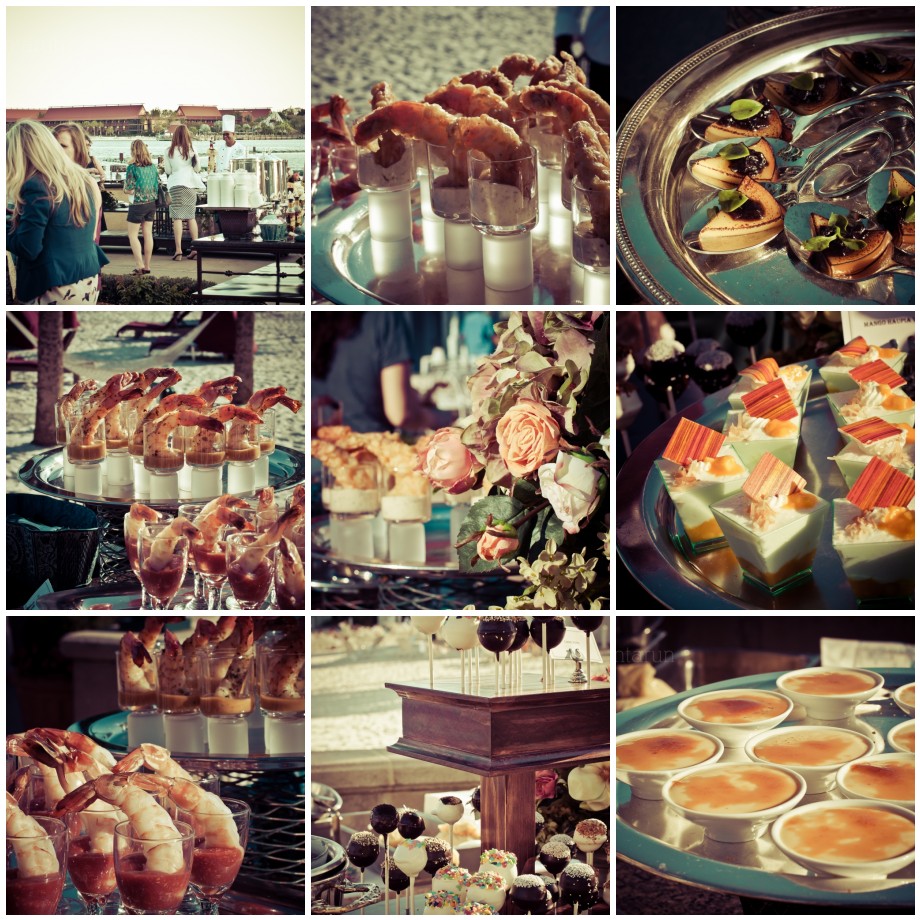 We chatted, hugged it out and laughed all while stuffing ourselves silly with scrumptious foods. Disney definitely has my vote as the best event organizer ever! There were jumbo shrimp cocktails, cake pops, creme brulee, fancy salads and macarons.
Oh macarons. I was so busy sampling and totally forgot to take photos.
You'd think that with all the appetizers at welcome reception, we'd skip dinner. No way! The Husband, Emily and I hopped on a bus to make our way towards Downtown Disney for dinner at Wolfgang Puck Express.
Again, there's no photo because we were busy eating. We thought Emily would enjoy getting on a boat ride, and we did that before heading back to the hotel to crash hard for an early morning alarm.
Day 2 started bright and early at Epcot — which by the way, it's the best place to host a food forum. Only regret is I didn't get to stumble into Mickey or Minnie before hand.
But I did get a chance to mingle with Angie from Bakerella, aka Queen of Cake Pops, aka the most down to earth, friendly and kind friend 🙂
Scott Hair welcomed everyone to the forum with much enthusiasm and sense of humor, it's kinda infectious. We were told to get on our feet and utilize our speed dating skills to go say "hi" to the next person on the floor. It was hilarity at it's finest.
I grabbed at the chance to go and say hello and hugged it out with Merry & Lauren. Wish we had more time to play catch up!
Scott and Jaden are truly a match made in social media heaven. Their words of wisdom definitely resonates through the blogging world. The most cherished advice from them:
"be a dreamer and a supporter. Help someone else live their dreams."
"someone helped me a few years ago, and its my turn now to extend help."
So inspiring and humbling!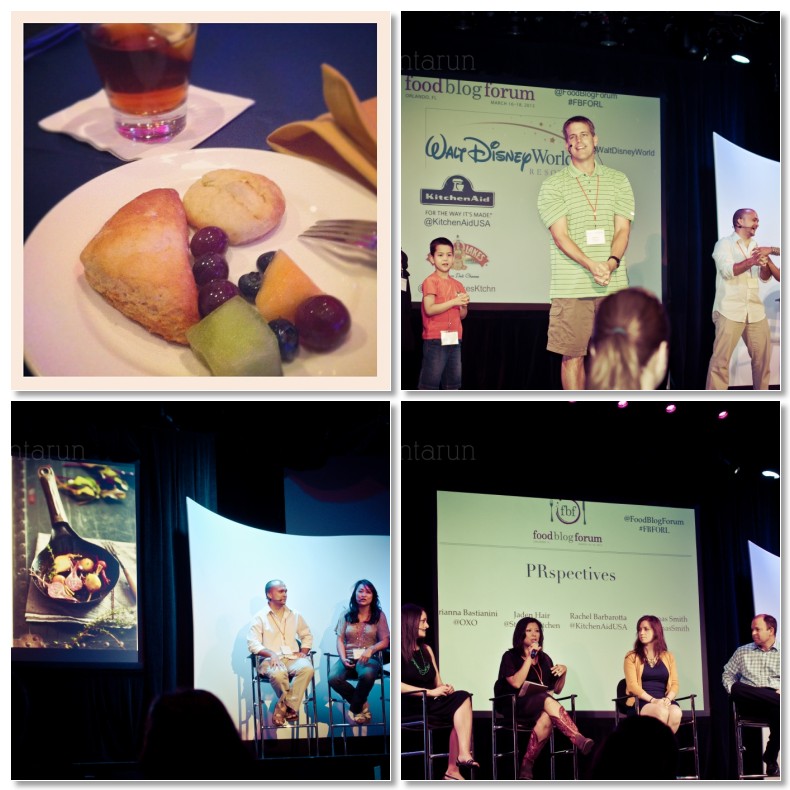 Anyways, the first topic was Food Styling & Photography by Todd & Diane Porter of White & Rice Couple. I love them for they'd taught me:
Blog is about story-telling. Capture it with your lens and write your story.
Try to find the "light" that works with you. Manage it.
Find the perfect time of the day for the light that works for your styling.
There's thousands of recipes on margarita. Don't ever doubt posting your recipe. The story-telling would always be different and can be distinguished.
Don't compare your photographs with others. Give yourself credit too.
Your eyes are your lens, and your heart is the shutter. Embrace your visual voice and photography.
I LOVED this session too much, that I shed a lot of tear. It was emotional and I'm happy the speakers truly connected with the audience.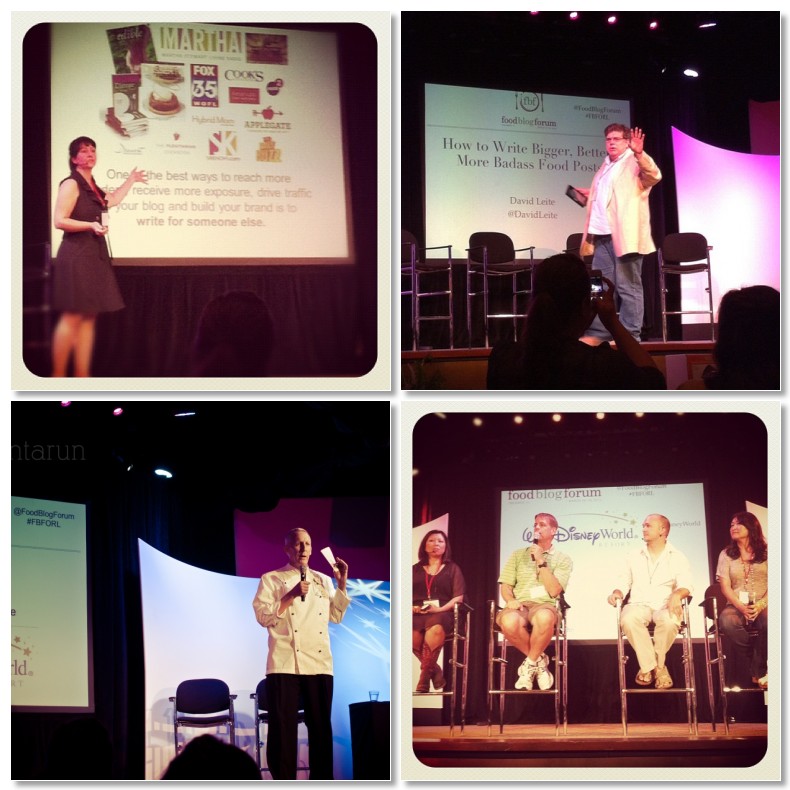 The following topic was PR perspectives, and the speakers were brand ambassadors from Kitchen Aid, Oxo, Disney and Jaden publisher of Steamy Kitchen. I learnt that:
brand tracks engagement within their social media campaigns.
they follow "talking about this" stat on Facebook.
don't be  discouraged to work with brands. Numbers are important but it's necessary to have a quality content.
in order to work with a brand, it needs to be a brand you're passionate about and it needs to be authentic.
There were many breaks in between as well, and whole lotta giveaways graciously sponsored by event organizers.
The next speaker was David Leite on how to write a bigger, better and more badass food posts. I'd learnt that:
present who you are in a consistent way possible.
don't overindulge with "I". Blogging should be a story-telling about something larger than yourself.
don't write just adhering to facts facts facts because it doesn't allow you to be creative.
think about fiction when you are writing blog posts – plot, setting, character, symbol etc.
don't run away from personal conflict – it's great for story-telling.
readers has to know YOU through YOUR stories.
take DELICIOUS out and use another verb.
the more specific you are about your life, the more universal your blog would be.
blog writing should be honest, authentic and as specific as much as possible.
create food memories and engage in food experiences with your loved ones.
learn to write the English language.
get specifics with the goals and the reason you want to achieve it. Take action and "ask" to reach that goal.
use powerful language and protect your work.
Phew! That's a long list and it proves without a doubt, David definitely fits into the "blogging guru" category.
I've known Dawn Viola through Facebook and the blogging world for a while now, and had the pleasure of hugging it out and listening to her speaking on how to turn blogging into professional writing. Here's what I've learnt:
have a well designed blog or website where people can easily contact you.
decide what feels right for you — free or paid writing opportunities.
pitch what you love, because you'll write about it.
have a great idea? Bottle it up in a above-the-fold pitch email to whom it may concern.
treat your email like a billboard to capture PR/brand's attention.
Dawn is such a great story-teller & speaker. She is so bubbly in person and I am so glad to have met her. Best thing, we live in Central Florida so this wouldn't be the last time we mingle, for sure 😀
Before we knew it, lunch time loomed and we were whisked by Disney cast members into a huge lunch reception that was bedazzling. I almost pinched myself, it was that surreal. Everything was super classy and I am sure it was beyond the event organizer's expectations as well. We were gobsmacked by the arrangements and Disney's hospitality. From the setting, to array of amazing foods and the opportunity to speak to the foodies from Disney (chef, sous chefs etc), it was definitely a foodie's dream that came true!
The only thing I would mention about desserts? IT WAS PHENOMENAL!
After returning from lunch, we headed into round-table discussions where I watched a food photography demo, learnt all about copyright from talented Elise, discussed PR pitch with Jaden and publication with Angie & Alison.
As soon as the event wrapped up, I headed back to the hotel for some relaxation before heading back out to watch Illuminations at Epcot. We had a front row reserved with desserts in tow.
Disney did it once again, with so much style!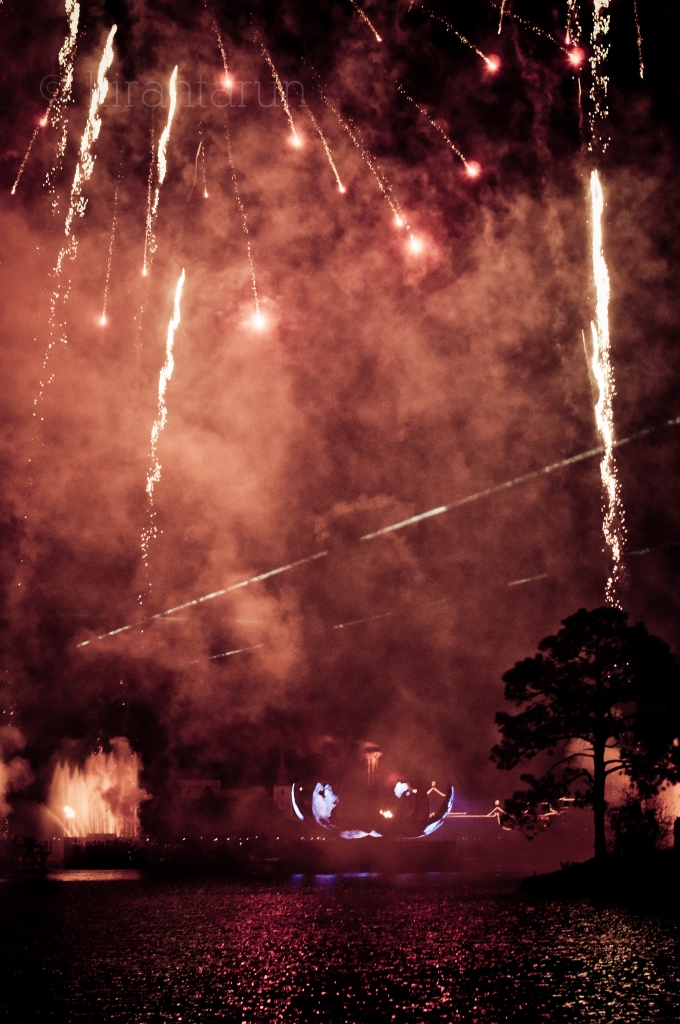 Whole Foods were gracious to host our farewell brunch the next morning. With great foods, natural lighting (for photos, of course) and heavy hearts, I bid goodbye to many friends sharing the same passion: my love for food + photography.
I'm sure I didn't get a chance to speak or take a photo with each and every one at the forum. But the ones that I met, touched me beyond words of encouragement and I cannot be more grateful to the event organizers and sponsors for realizing this event.
Thank you so much to Jaden & Scott, Julie, Dawn, Walt Disney World and all event sponsors for making this a truly foodie extravaganza event!
The best part about the whole experience was absolutely learning. There's no age to keep learning from each other. I've soaked it all and now its time to reboot, recharge and take this blog of mine to another level.
Hope you are having a great weekend — what is your words of encouragement or wisdom? Have you attended a food blogging conference or event that had a positive impact on you?